Dads are simply the best. They give great life advice, they fix things at home like a pro, they say 'yes' when mum says 'no', and they never fail to make us laugh with their dad jokes. This Father's Day, help your kids show their appreciation for dad by crafting a personal greeting card for him! Below, we've rounded up some really cute Father's Day card ideas that kids can make for the most important man in their life.
Clever Father's Day Card Ideas

That Kids Can DIY For Dad
Nothing beats a handmade card.
1. Tuxedo Card 
If dad has a dapper sense of style and loves dressing up, this classic suit and tie card will put a smile on his face. Assist your kid to cut, fold, and paste the colour paper strategically to form a nice tux. Then, use actual buttons for a 3D touch. Once done, write a heartfelt note inside!
Supplies you'll need: 
Colour paper in

black, red

, and

white

Scissors 

Glue stick
2. Bow Tie Card
Is the tux a little too complicated? Then try this bow tie card instead. It requires a lot less folding, and relies instead on drawing, cutting, and pasting. It's more straightforward for your child to make and will impress dad all the same.
Supplies you'll need:
3. Trophy Card 
Have your kid announce the winner for the best dad award category by presenting this fun trophy card to dad. That's a cute way to let daddy know he's #1! There's already a free template for this Father's Day card idea, so you'll have a perfect trophy outline to work with. 
Supplies you'll need: 
4. French Fries Card 
For dads who are amazing chefs, this Father's Day card idea is an adorable way to let him know all the reasons why he's awesome. Your kid can write down all the qualities they love about dad on each fry too. How cute!
Supplies you'll need: 
Colour paper

in red, white, and yellow

Black marker pen 

Scissors

Glue

Ruler

Pencil
Related: Waffle, Shoestring & 5 Other French Fries Recipes To Make At Home
5. Reading Glasses Card 
Does dad's signature look involve a pair of reading glasses? Then this optical card design with a descending font size will crack him up a little! Add a cheeky message in the smallest font (like asking for an allowance increase). Then, embellish the card with a pair of paper glasses with solid-coloured or metallic frames.
Supplies you'll need: 
6. Handyman Card 
If dad is literally Bob the Builder at home, mending everything from sink leaks to a broken heart, this is a suitable Father's Day card idea for him. Get your children to show their favourite handyman how much they care by crafting this cute little handy dad card design that's dressed up in dungarees, complete with mini tools in the pocket!
Supplies you'll need: 
Colour paper in assorted colours 

Scissors

Glue

Marker
7. Punny Cards
Dad jokes will never get old, and they can be truly funny sometimes. If dad loves coming up with corny jokes to make you laugh, he'll appreciate the wordplay on these punny cards. Don't forget to accompany the pun with a doodle that perfectly matches it. Bonus: This simple design is great for kids of all ages (especially if they love drawing)!
Supplies you'll need: 
8. Paper Wallet Card 
Your younger kids may not be able to afford a real wallet for dad, but that doesn't mean they can't make one out of paper. Besides getting to include a sweet message and their favourite photo with dad, this clever card design is also great for sneaking in a gift card so dad can treat himself to something nice!
Supplies you'll need: 
Black colour paper 

Scissors

Ruler

Glue

Photo with dad 

Gift card (optional)
9. Popcorn Card
Here's a cute Father's Day card idea that your kid can consider if dad is a movie buff. It's relatively easy, but it'll put your kid's fine motor skills to the test with all the popcorn they'll need to cut out. You could even slip in some movie tickets for a family outing at the cinema, which will really make dad's day.
Supplies you'll need: 
Colour paper in white, red, and yellow

Pencil

Ruler

Scissors

Glue

Yellow colour pencil

Red and black marker pens
10. Galaxy Card
Tell dad he's out of this world with this galaxy-themed Father's Day card idea. It's minimal, elegant, and surprisingly, much easier than it looks. The kids can add their own artistic flair and even paint the galaxy in another shape that reminds them of daddy dearest.
Supplies you'll need:
11. Lottery Ticket Card
Dad struck the jackpot when he had the kids. So why not let him relive some of that happiness with this creative Father's Day card idea? This lottery ticket card comes with three scratch-off boxes that reveal the jackpot prizes dad can win. It's an interesting craft to get the kids involved in, and they'll also get to brainstorm the prizes for dad!
Supplies you'll need:
Colour paper in assorted colours or prints

White and black markers

Scissors

Glue stick

Small plastic cup and spoon
10 sen coin
12. Origami Card
Looking for something special that will give dad a little surprise? Well, this Father's Day card idea fits the bill! The origami techniques are simple enough for kids to follow, and you'll only need a handful of stationery supplies you can find at home. Let the kids get creative with their surprise message—they're only limited by their imagination.
Supplies you'll need:
13. Pop-Up Handprint Card
Simple to make with a sweet message to boot, this pop-up card is an art and craft project that's perfect for when you're pressed for time. It will also remind dad how tiny his kiddo's hands were years later!
Supplies you'll need:
Blue and white colour paper

Pencil

Scissors

Ruler

Pen
14. Superhero Card
If dad is a superhero in your child's eyes, this Spiderman-inspired Father's Day card idea will perfectly capture the message. Using only hand prints and a drawn-on spiderweb motif, let your little one tell dad just how much they look up to him. Not a fan of superheroes? How about a rocket, BBQ grill, or golf handprint card instead?
Supplies you'll need:
Red and white colour paper

Scissors

Glue

Black marker
15. Yoda Pop-Up Card
Is dad a diehard Star Wars fan? Then make this card, you must. Paper Yoda will take quite a bit of effort to shape up, but there's always the free template that you can easily print and cut out to make things a little simpler!
Supplies you'll need:
Light blue colour paper

Scissors

Pencil

Black pen

Glue stick
Make Dad's Heart Melt With These DIY

Father's Day Card Ideas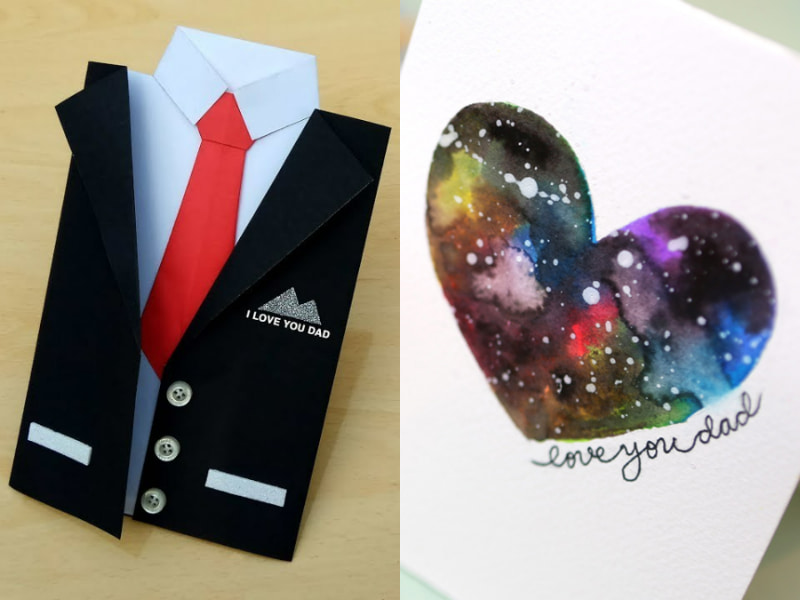 Nothing is better than receiving a handmade card from your kids, which is why dad will surely appreciate one of these Father's Day card ideas. The best part is that you can pick a design that truly suits his personality.
Looking for more ways to keep your kids occupied at home? Try these simple exercises for children or family-friendly card games. We've also got a list of practical gifts for dad if you're searching for the perfect Father's Day present to accompany the card!