So you're probably thinking, "This person not only wants to tell me what good nasi lemak is but also where serves it best?" Well yes, it's our job to inform and we've done sufficient research to reach a point of conclusion. That said, with a dish so sacred and precious to our heritage as Malaysians, you're absolutely within your right to disagree (please offer up your picks!) with the list. But one thing we know for absolute certainty: Our nasi lemak is better than the ones across the Causeway. Sorry, not sorry! Let's cut to the chase; these are the places for the best nasi lemak in KL and PJ. 
Where To Get The

Best

Nasi Lemak

In KL

 
We're hungry already.
1. Nasi Lemak Tanglin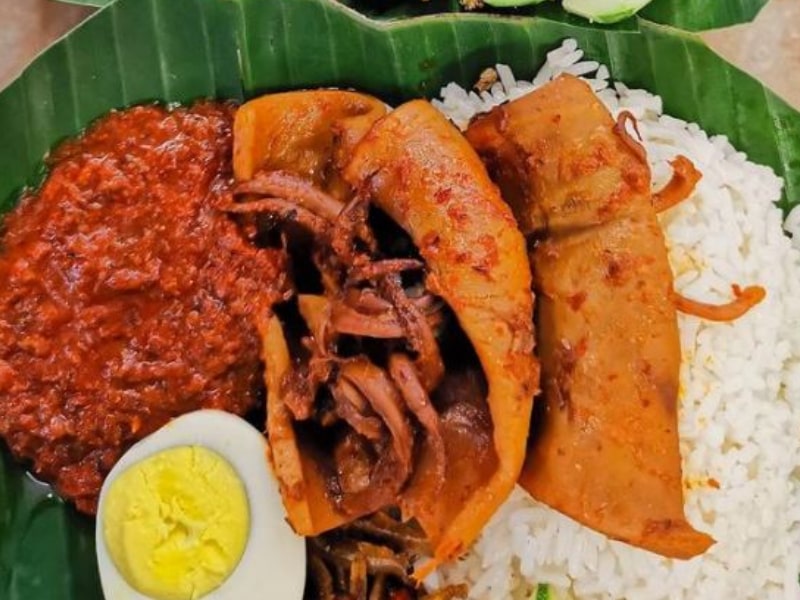 An OG of the scene and an expected contender for the best nasi lemak in KL, Nasi Lemak Tanglin has been consistently drawing customers since 1948. That's seven decades in the game! Now run by second-generation family members and apart from operational upgrades, the recipe remains unchanged. During lunchtime, hordes of white-collar workers descend on the location and line up patiently for their fare of warm nasi lemak, sambal, and accompanying dishes that include rendang, sambal sotong, sambal kerang, and more. 
Address: Kompleks Makan Tanglin, Gerai, No. 6, Jalan Cenderasari, Wilayah Persekutuan, 50480 Kuala Lumpur
Opening Hours: Daily, 7am – 12.30pm
Contact: 017-277 3176
2.  Nasi Lemak Wanjo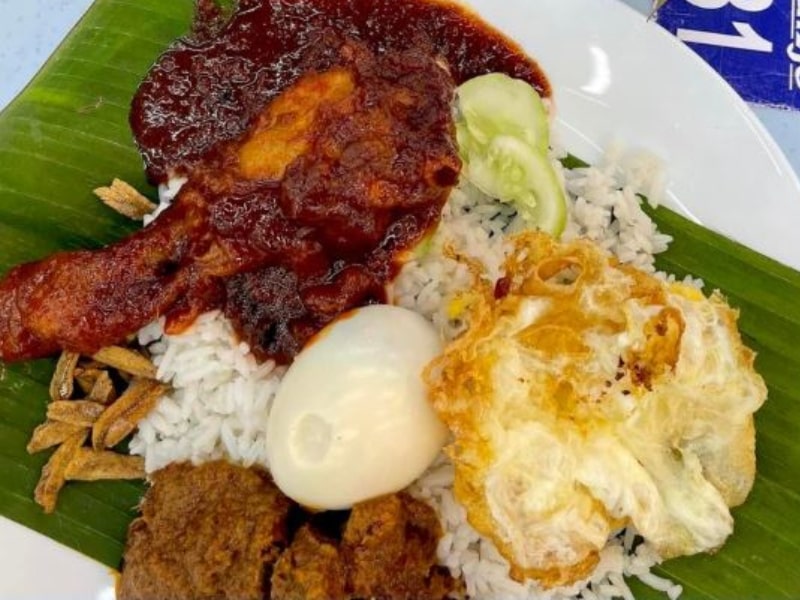 Another legacy nasi lemak joint, Nasi Lemak Wanjo started from humble beginnings as a roadside stall peddling steaming hot coconut milk rice to hungry patrons. It still calls Kampung Baru home but instead of a stall, it now operates out of a refurbished outlet. There's always an endless stream of customers during all hours of the day patiently waiting to pair their nasi lemak with preferred side dishes, whether that's fried chicken, ayam mask merah, and/or paru goreng! 
Address: 8, Jalan Raja Muda Musa, Kampung Baru, 50300 Kuala Lumpur
Opening Hours:
Sat – Thurs: 6am – 12am
Fri: 6am – 1pm, 2pm – 2am
Contact: 011-6336 1963
3.  Nasi Lemak Ujang Corner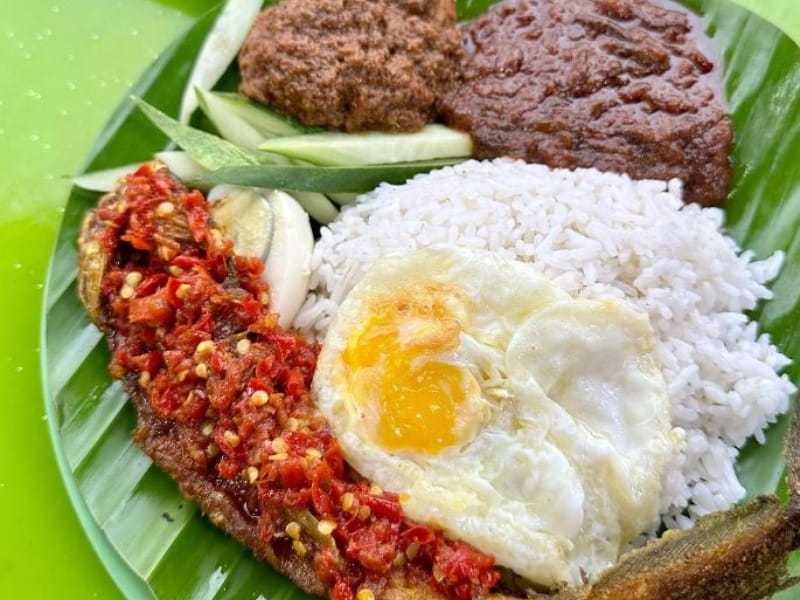 This is one of those IYKYK spots and it's undeniably among the best nasi lemak you can savour in KL. The rice is great on its own but we would be remiss if we didn't mention the sambal sotong that packs a fiery punch thanks to a secret blend of spices and chillies. Not a fan of cuttlefish? The beef rendang is a worthy substitute. 
Address: Gerai MPS No. 1, Gerai Taman Greenwood, Jln Batu Caves, Taman Greenwood, 68100 Batu Caves
Opening Hours: 
Mon: 4pm – 12am
Tues – Sat: 8am – 12am
Sun: 8am – 3pm
Contact: 017-333 7791
4.  Nasi Lemak Peel Road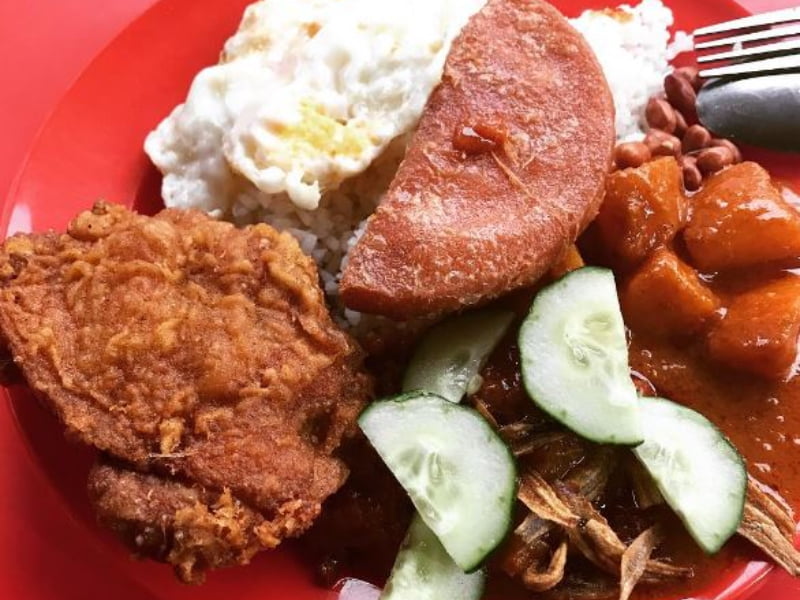 Fancy Chinese-style nasi lemak with a porky twist? Brave the Cheras traffic and head to Nasi Lemak Peel Road for an alternative but nonetheless scrumptious take on the classic dish. Side dishes run the gamut of usuals from fried chicken to rendang, but the star of the show is the wild boar curry. Throw in a fried egg, crunchy long beans, a generous dollop of sambal, and enjoy a meal fit for a king. 
Address: 92, Jalan Peel, Maluri, 55100 Kuala Lumpur
Opening Hours:
Fri – Wed: 11am – 8pm
Contact: 012-698 5122
5. Big Tree Head Mamak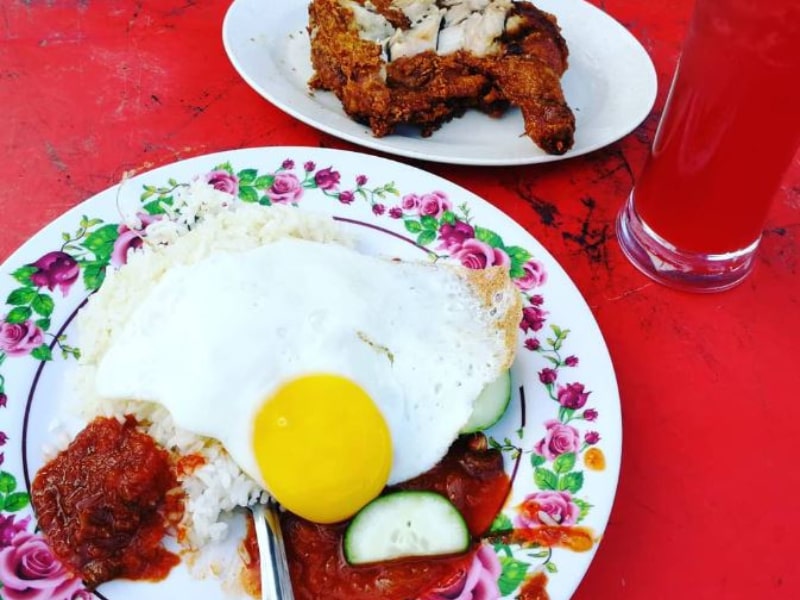 Those living in Kepong don't have to travel far for stellar nasi lemak. For years, residents of the bustling KL town come to Big Tree Head Mamak for a serving of freshly steamed nasi lemak, crispy fried chicken, and addictively sweet-spicy sambal. Options for side dishes are limited compared to the other spots on this list, but with a fried chicken this good, you probably won't want anything else. 
Address: Persiaran Mergastua, Kepong Baru, 52100 Kuala Lumpur
Opening Hours: Daily, 2.30pm – 2am
Contact: N/A
6. Nasi Lemak Alor Corner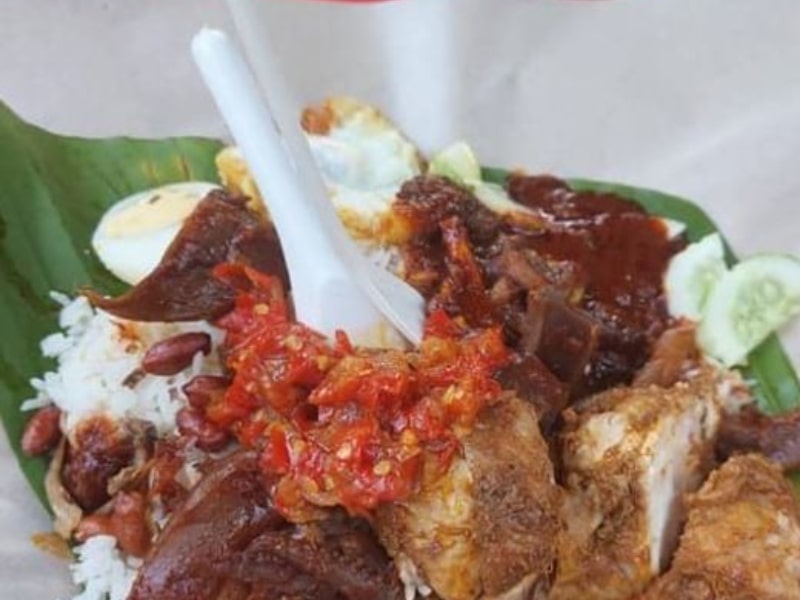 Affordable eats don't come to mind at Bukit Bintang, a tourist enclave known for exorbitant shopping sprees and upscale restaurants. But sitting right next to Exit A of the Bukit Bintang MRT Stop is a bustling breakfast-lunch spot where a meal will set you back for less than RM12 and by metropolitan standards, an absolute steal. Nasi Lemak Alor Corner's premise is simple; order a plain nasi lemak set of sambal, chopped cucumbers, peanuts, anchovies, and boiled egg, then top it off with your protein of choice. Fried chicken is the go-to here but beef rendang is of equal quality. Now if this isn't the best and most affordable nasi lemak in KL, it certainly should be considered. 
Address: Changkat Bukit Bintang, Bukit Bintang, 50200 Kuala Lumpur
Opening Hours:
Tues – Sun: 8am – 11.30am
Contact: 017-311 7449
KL's Too Far? Consider These

Best

Nasi Lemak

Locations In PJ

Instead 
Yes yes, Village Park is here. 
1. Village Park Restaurant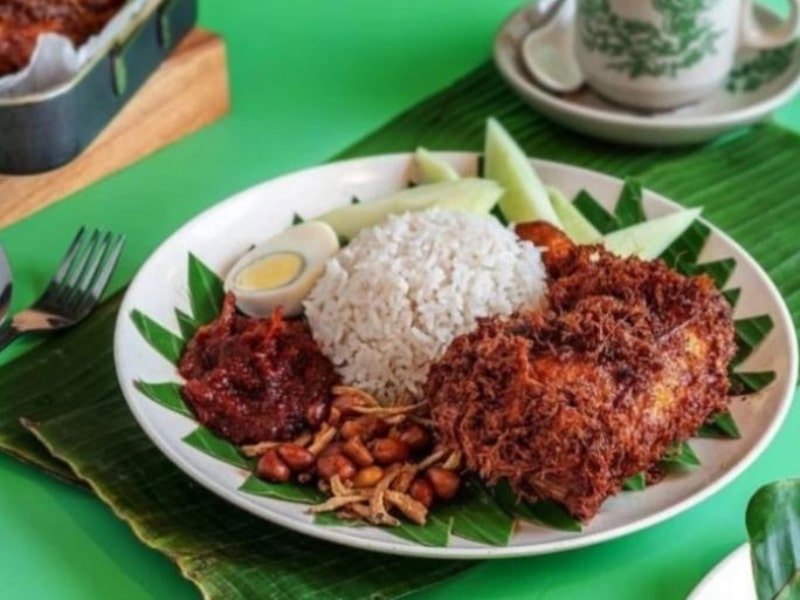 It'd be sacrilegious for us to not list Village Park Nasi Lemak. Widely known as the best nasi lemak spot in PJ—or in the country if you ask a staunch fan—the Damansara Uptown establishment's crown jewel is the nasi lemak and fried chicken combo. Each plate is filled to the brim with rice freshly scooped out of a massive bamboo steamer, splashes of spicy sambal, crispy peanuts and anchovies, and a substantial piece of pipping hot ayam goreng. 
Address: 5, Jalan SS 21/37, Damansara Utama, 47400 Petaling Jaya
Opening Hours: Daily, 6.30am – 5.30pm
Contact: 012-273 8438
2. Nasi Lemak Bumbung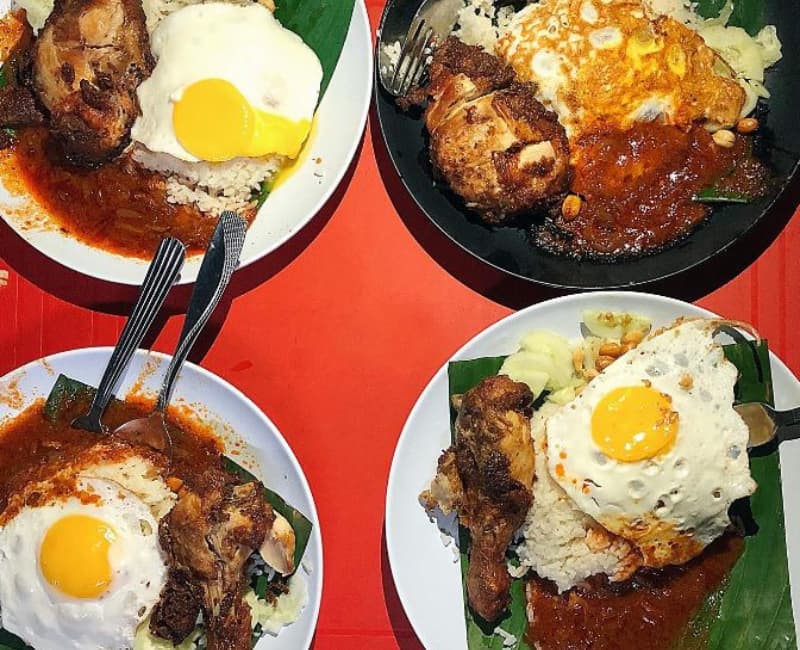 A popular supper haunt, Nasi Lemak Bumbung lights up an otherwise mundane alleyway at Taman Sea come sundown. Colourful makeshift plastic chairs and tables are occupied by hungry Malaysians from all walks of life enjoying a fresh plate of nasi lemak and spice-laden fried chicken. The stall also makes a pretty mean Indomie if you have room for seconds. 
Address: 6, Jalan 21/11b, Sea Park, 46300 Petaling Jaya
Opening Hours: Daily, 4pm – 12am
Contact: 011-2311 3576
3. Botak Nasi Lemak
Consciously proclaiming itself as the "second best nasi lemak in Petaling Jaya" (we're assuming the first spot belongs to Village Park), Botak Nasi Lemak is proof that the silver medal isn't necessarily a bad thing. Join the self-service line and pick your protein of fried chicken, curry chicken, sambal sotong or a combination. Not in the mood for nasi lemak? Opt for a noodle dish like mee siam or mee goreng instead. 
Address: 13, Jalan SS 3/37, Taman Universiti, 47300 Petaling Jaya
Opening Hours: 
Tues – Sun: 7am – 2.30pm
Contact: 019-700 7193
4.  Nasi Lemak Medan Selera 223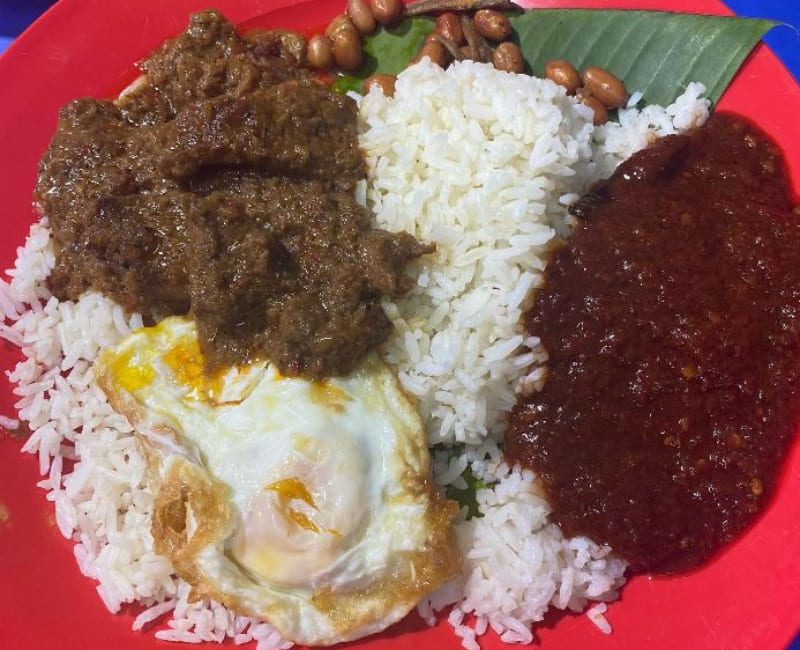 A hotspot among PJ folks seeking late-night eats, Nasi Lemak Medan Selera is a split base of two stalls: Nasi Lemak Panas Yati and Nasi Lemak Panas Suri. Both serve freshly wrapped nasi lemak that comes with a hard-boiled egg, anchovies, peanuts, and a delicious dollop of sambal. The differentiating factor lies in the sambal; Yati's leans on spicy while Suri dials down on the sweetness. Take your pick!
Address: Medan Selera Jaya, 223, Jalan 51a/223, Seksyen 51a, 46100 Petaling Jaya
Opening Hours: Daily, 7am – 1am
Contact: N/A
Bookmark These Locations For The

Best

Nasi Lemak

In KL

&

PJ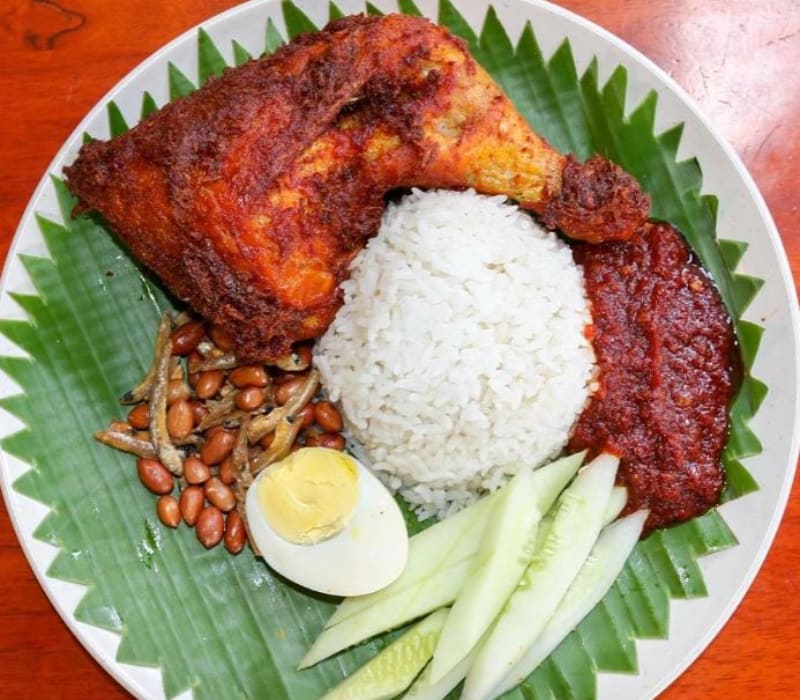 If there's one dish that's capable of uniting Malaysians, it has to be nasi lemak. No matter one's socioeconomic background, the humble, approachable, and downright delicious rice combo will tangle tastebuds all the same. And the best part? It's one of those meals that you can have any time of the day; breakfast, lunch, dinner, supper or even as a teatime snack. If reading this list has got you hankering for a quintessential Malaysian meal, get going to these restaurants for the best nasi lemak in KL and PJ! 
For more on our country's colourfully diverse and flavourful culinary greatness, check out our guides on the fluffiest roti canai to sink your teeth into, Ipoh's most sought-after dim sum joints, chicken rice stalls around the Klang Valley, and the sloppiest Ramly burgers.  
Cover image sourced from @villageparkofficial via Instagram.