Ah, someone's craving chicken rice, eh? You're at the right place. The unofficial national dish (the crown belongs to nasi lemak, of course) is available practically everywhere and anytime, but we're here only to parade the juiciest birds and fluffiest grains. Served roasted or steamed, the best chicken rice in KL and PJ thrives on a series of simple components that work harmoniously together: tender chicken, fragrant rice, and punchy chilli sauce. Enough talking cock—flock to these spots ASAP for your kai fan fix. 
Where To Devour The

Best Chicken Rice In KL
Some spots sell out by 1pm!
1. Kam Kee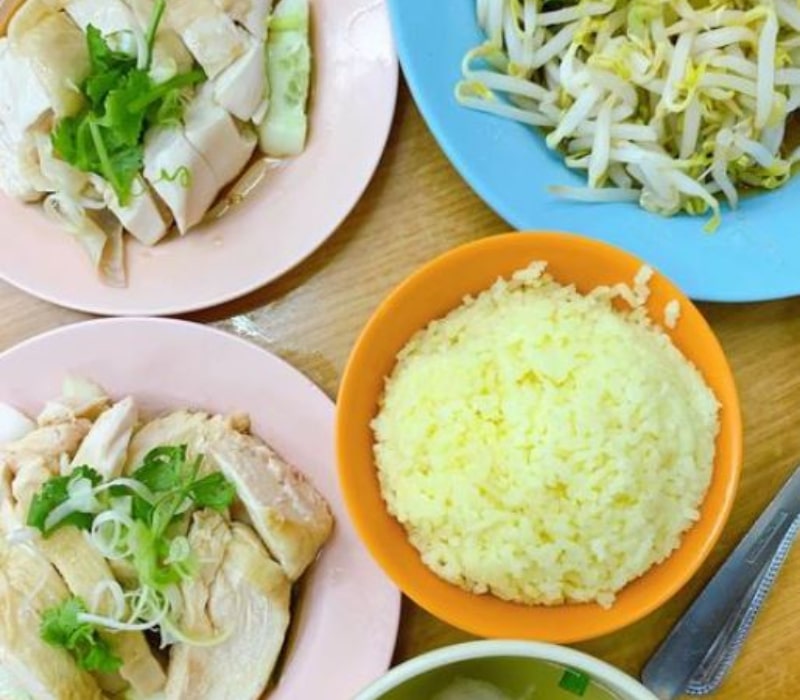 Kam Kee at Jalan Sultan ranks high on every best chicken rice in KL list, including this one. And for good reason. The free-range chicken, either roasted or steamed, is juicy and moist. The rice is fluffy and the side dishes, like the salted vegetable soup and blanched bean sprouts, are equally delicious. If you're looking for variety, the roast pork is worth checking too. 
Address: 42, Jalan Sultan, City Centre, 50000 Kuala Lumpur
Opening Hours: 
Thurs – Tues: 10am – 3pm
Contact: 017-629 4188
2. Kum Kee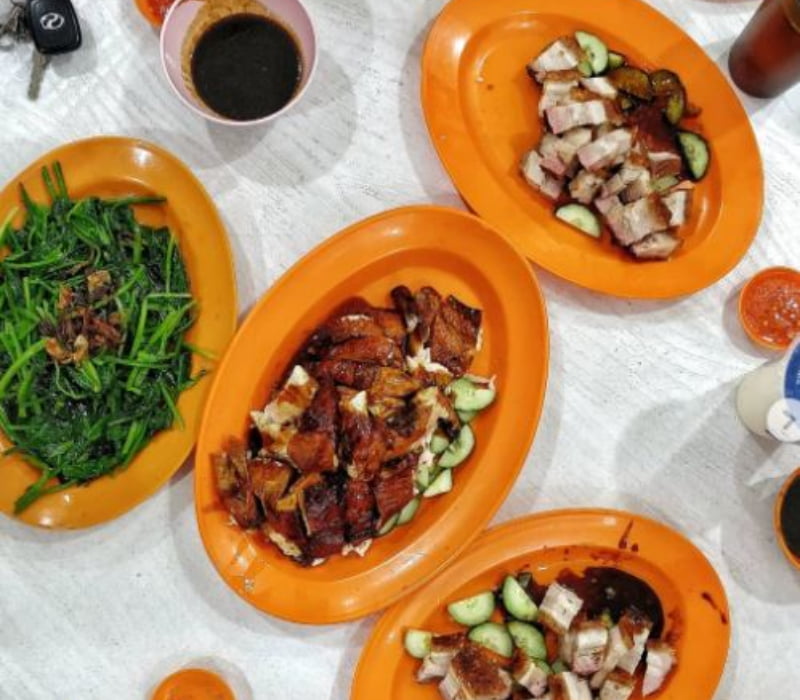 Not related to Kam Kee, this Kuchai Lama staple is a reliable spot for aromatic roast chicken, though the crispy siew yoke is widely regarded as the star of the show. Despite being covered in crackling skin for added crunch, the meat isn't dry at all from being drenched in light soy sauce. 
Address: 93, Jalan Rukun 2, Happy Garden, 58200 Kuala Lumpur
Opening Hours:
Mon: 9am – 9.30pm
Tues – Sun: 9am – 4pm, 5pm – 9.30pm
Contact: 012-633 8614
3. Hainanese Chicken Rice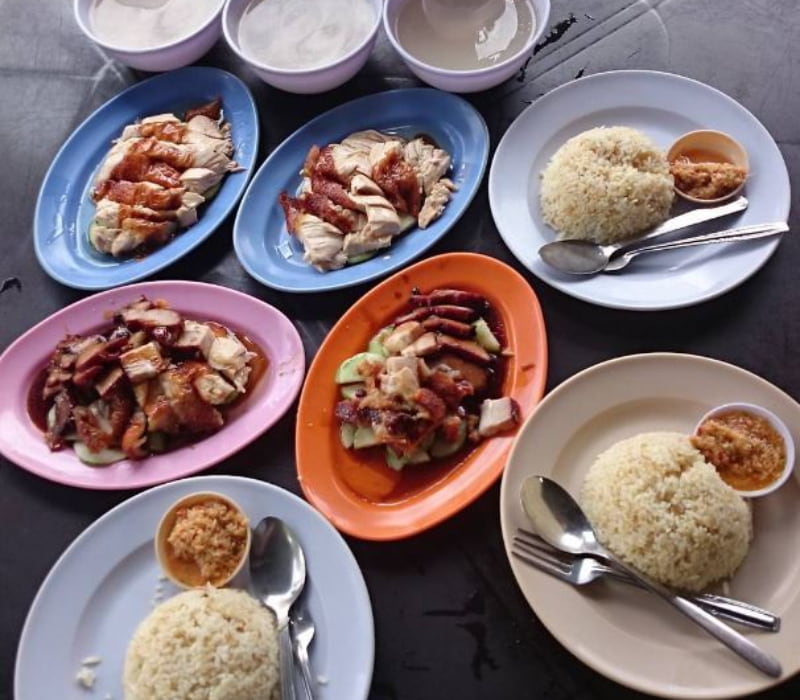 If you're looking for the best traditional Hainanese chicken rice in KL, the restaurant is a pretty safe bet. Definitely order the Hainanese-style poached chicken, which is moist and juicy, making it the choice companion for a plate of fragrant rice. Meanwhile, the soup, steeped for hours from chicken stock, is rich and flavourful. 
Address: 651-1A, Tingkat Bawah, Jalan Ipoh Batu 4 1/2, 51200 Kuala Lumpur
Opening Hours:
Tues – Sun: 8am – 6pm
Contact: 012-392 2992
4. Chee Meng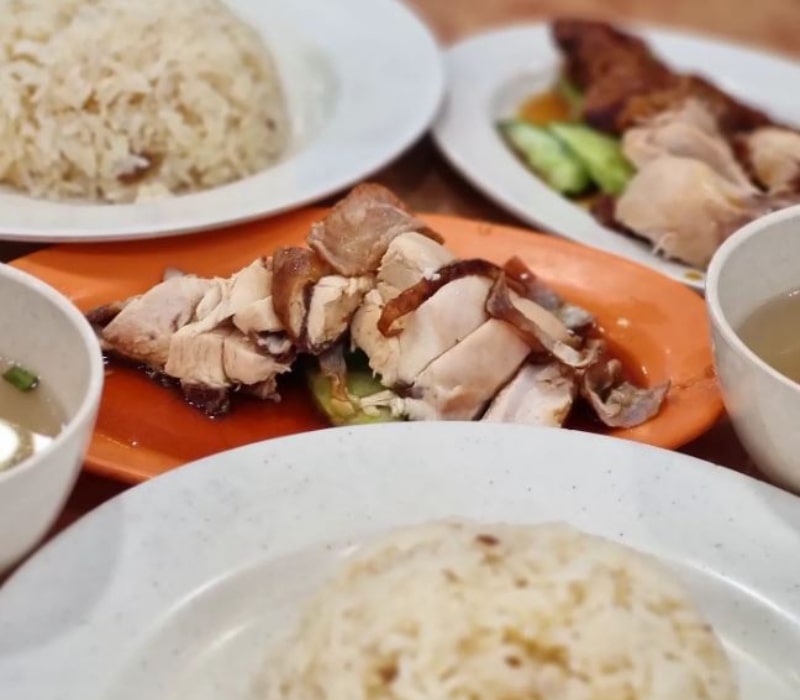 The Bukit Bintang branch of famous chicken rice chain Chee Meng is heavily-frequented partly due to its strategic location, but most certainly due to the lip-smacking roasted chicken. That said, there's more to the menu than the typical fare. You'll also find ala carte dishes like sambal squid, crispy lemon chicken, steamed tofu, and more. As expected, the place gets jam-packed during peak meal hours. 
Address: 50, Bukit Bintang St, Bukit Bintang, 55100 Kuala Lumpur
Opening Hours: Daily, 11am – 8.30pm
Contact: 03-2110 5663
5. Canton-Z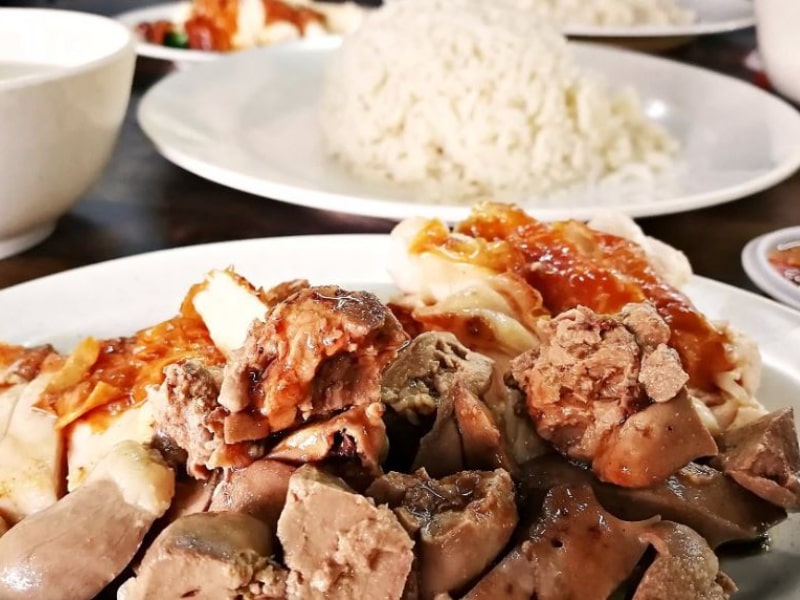 Utterly delicious drumsticks at wallet-friendly prices in KL? It's no wonder this unassuming stall in Happy Garden is seen with snaking lines of hungry patrons around the clock. The portion is generous with layers of chicken parts of your choosing atop feathery grains of ginger-laced rice. When it comes to the best chicken rice in KL, this is probably as close as it gets. 
Address: Happy Garden, Jalan Perisa, Taman Bukit Indah, 58200 Kuala Lumpur
Opening Hours:
Tues – Sun: 9am – 3.30pm
Contact: 018-269 7300
6. Zheng Kee Chicken Rice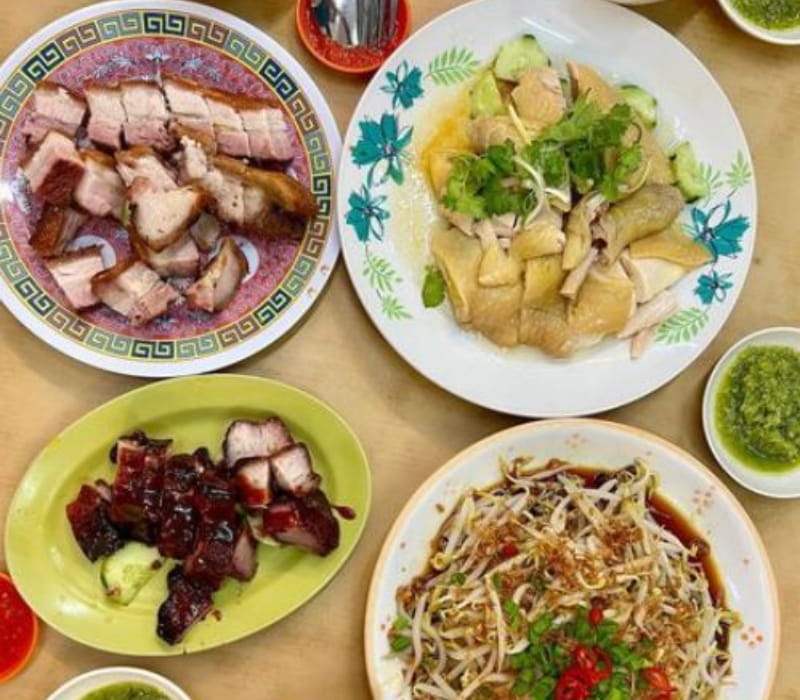 What makes Zheng Kee stand out from the competitors are the double-boiled soups, which include classics like lotus root and peanuts to unique combinations such as coconut and chicken. For the main course, you can't go wrong with the roasted chicken, but the steamed variant is equally tasty as well. 
Address: Jalan 17/42, Taman Kok Doh, 51200 Kuala Lumpur
Opening Hours:
Thurs – Tues: 10am – 3pm
Contact: 012-383 0621
7. Wong Mei Kee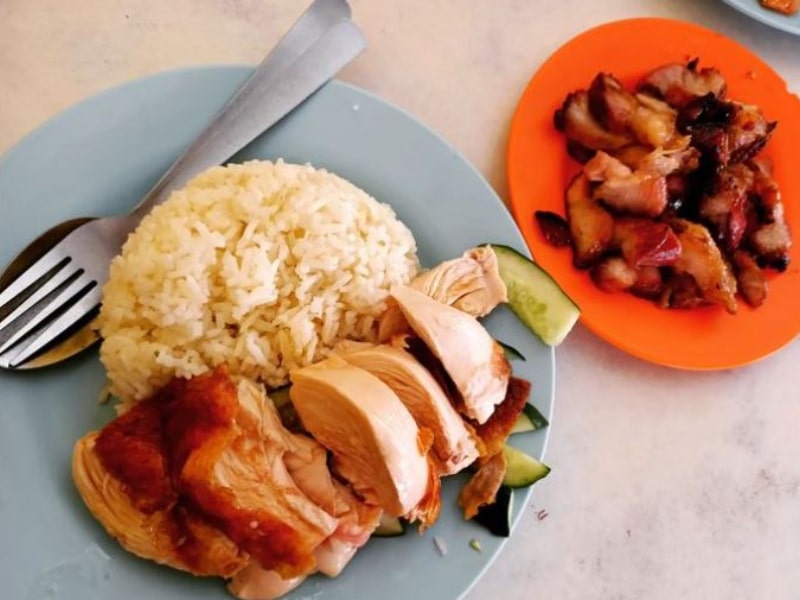 At any given time during opening hours, there's a queue of diners waiting with bated breath outside Wong Mei Kee that stretches along the pavement—all for a slice of its sinfully decadent roast pork and divine roast chicken. Fair warning: There's no guarantee you'll get what you want at your turn, but coming early definitely up the chances of doing so. 
Address: 30, Jalan Nyonya, Pudu, 55100 Kuala Lumpur
Opening Hours:
Wed – Sun: 12pm – 3pm
Contact: 03-2145 2512
Don't Skip The

Best Chicken Rice Spots In PJ

Either
Good birds are aplenty in vibrant Petaling Jaya. 
8. Wong Kee Chicken Rice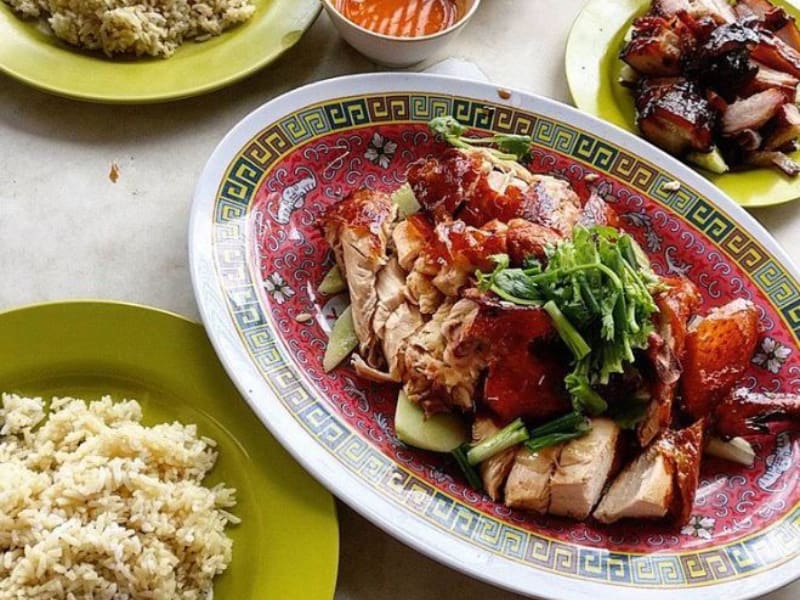 From a humble stall to its own restaurant, Section 17-famous Wong Kee has come a long way but the quality of its chicken rice remains consistent throughout the years. Consistently tasty, that is. Known as the best chicken rice restaurant in PJ in the hearts of regulars, Wong Kee's roasted goodies sell out as early as 11am on weekends. So if you want to catch this bird, you better be an early worm. 
Address: 931, Jalan 17/38, Seksyen 17, 46400 Petaling Jaya
Opening Hours:
Tues – Wed: 9am – 3pm
Fri – Sun: 9am – 3pm
Contact: 010-520 1071
9.  Tasty Chicken Rice Restaurant 
It doesn't get any more obvious than this—and reviews prove there's no exaggeration at play either. The roast chicken is sublime and the steamed alternative is succulent. Pair the proteins with the ginger-laced rice and chilli sauce subtly layered with vinegar and lime, and you'll have, well, a tasty plate of chicken rice right before your eyes. 
Address: 22A-1, Jalan PJU 5/16, Dataran Sunway, 47810 Petaling Jaya
Opening Hours:
Mon: 9.30am – 1.30pm
Tues – Sun: 9am – 3.30pm
Contact: 012-219 5591
10. Kie Kee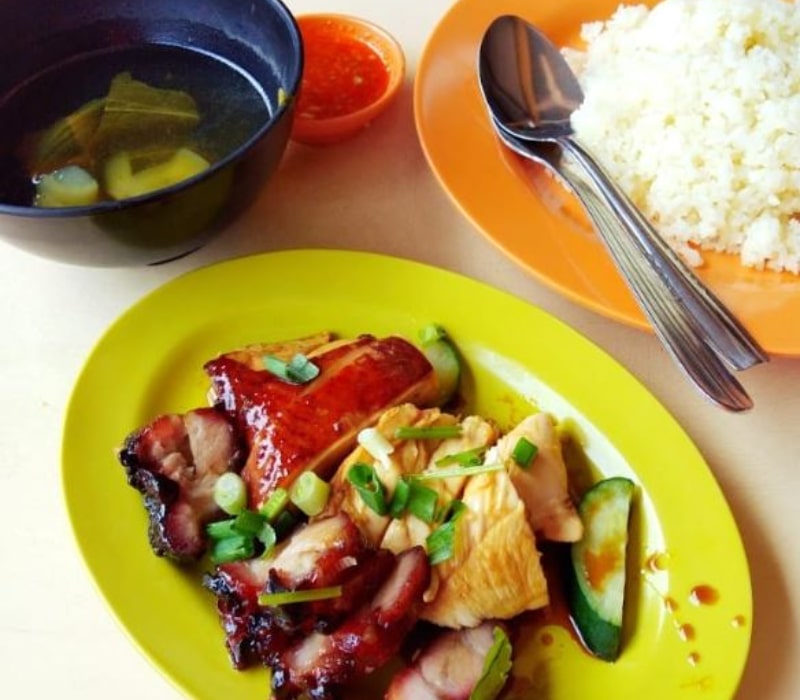 Located in a stripped-down food court in the older, often-forgotten part of the city, Kie Kee's chicken rice has been lauded as among the best in PJ because of how juicy and tender the proteins are. This is primarily due to the preparation process; each serving of chicken is soaked in a blend of fragrant soy sauces and topped with generous helpings of coriander. 
Address: 23, Jln Othman, Pjs 4, 46000 Petaling Jaya
Opening Hours:
Wed – Mon: 10am – 3pm
Contact: 010-204 8088
11. Hoe Fong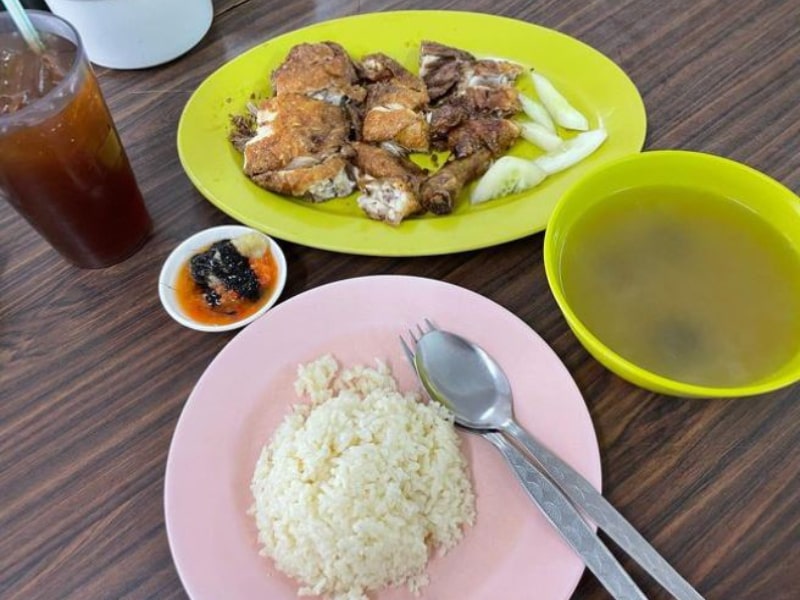 Hoe Fong's style of chicken rice isn't the typical variant. Instead of roasted or steamed, the chicken here is fried. But don't be mistaken, it's not dry at all. In fact, reviews say the chicken is tender and moist on the inside despite being encased by sheets of crispy skin. You have fiery chilli sauce and minced garlic as condiments. 
Address: 25A, Jalan 21/17, Sea Park, 46300 Petaling Jaya
Opening Hours: Daily, 8am – 4pm
Contact: 016-276 1472
Satisfy Your Hunger With The

Best Chicken Rice In KL

&

PJ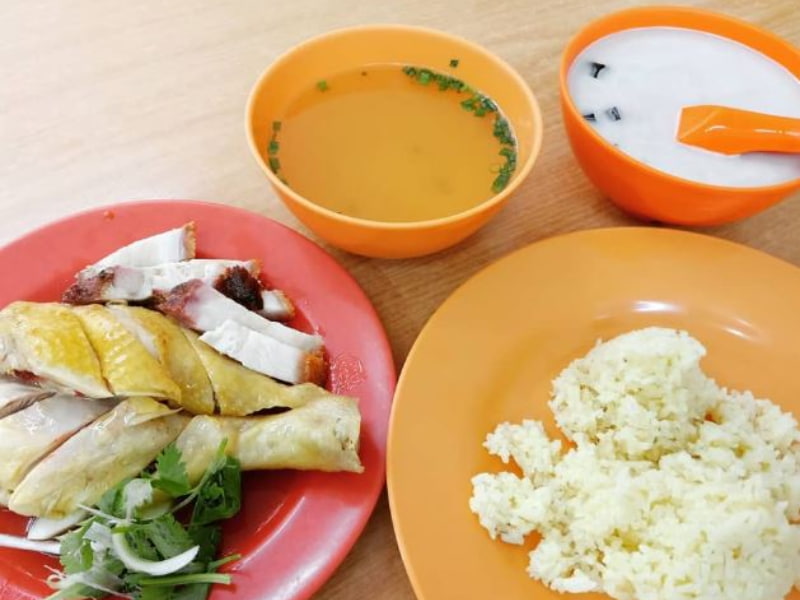 This is our attempt at listing some of the best chicken rice locations in KL and PJ, so please let us know if you think we've missed out on a good spot! Looking for more affordable and delicious eats in the Klang Valley? Check out these Chinese restaurants for wallet-friendly homecooked favourites or these Hokkien mee stalls for some sinfully greasy noodles.