For many (yours truly included), dim sum is peak comfort food. Like silky kaya on warm toast or rich nasi lemak with sambal, we can all agree that it's always a good time for a tray of fresh siew mai. But where else can you get good dim sum in Malaysia apart from the Klang Valley? Ipoh comes to mind. In fact, Ipoh folks take their dim sum so seriously that they have no qualms about claiming that theirs is the best nationwide. Much like how Penangites hold their char kuey teow in the highest regard. So without dragging on further, these are the places to get the freshest bao, har gao, siew mai, and everything in between. 
Where To Get The

Best Dim Sum In Ipoh
Dim sum-body say lao sha bao? 
1. Ming Court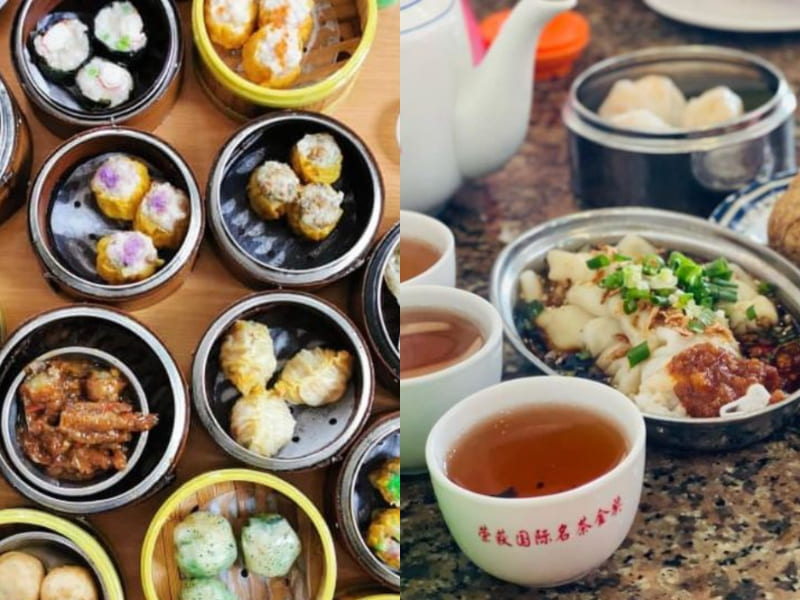 A busy tourist destination, Ming Court is often touted as the go-to spot for the best dim sum in Ipoh and because of this, the restaurant is consistently packed on weekends and public holidays. So if waiting isn't your game, come early (read: 7am) or late in the afternoon when the crowd tapers off. It's all about the classics here and Ming Court has nailed them down to a tee. Whether it's chee cheong fun or char siew bao, the quality and freshness are guaranteed. 
Address: 36, Jalan Leong Sin Nam, Kampung Jawa, 30300 Ipoh
Opening Hours: 
Mon – Wed: 6am – 1.30pm
Fri: 6am – 1.30pm
Sat – Sun: 6am – 2pm
Contact: 05-255 7134
2. Chooi Yue Dim Sum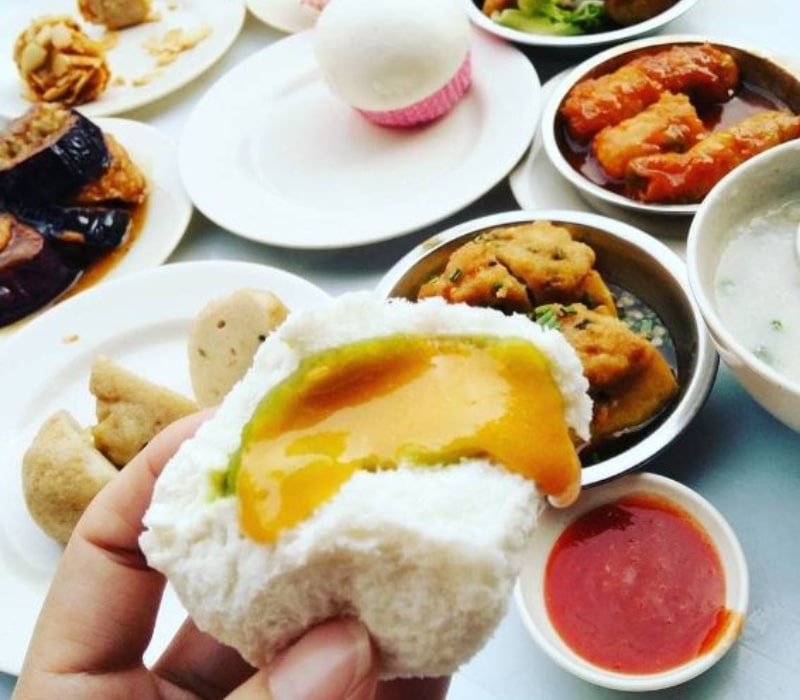 Occupying a prominent corner lot with bright oriental fixtures plastered across the frontage, Chooi Yue Dim Sum is as busy as the aforementioned Ming Court on any given day. But Chooi Yue is spacious and you won't have to hover too long to snatch a seat. Still, we reckon half an hour is a reasonable expectation. The restaurant is known for its lao sha bao mixed with pandan essence. Exercise caution when eating one because the warm insides tend to spill out if the bite's too big, possibly scalding your tongue in the process. Everything else is fairly standard with fried radish cake and spicy dumplings at the forefront of popularity.
Address: 2, 4 & 6, Tingkat Taman Ipoh 12, Taman Ipoh Selatan, 31400 Ipoh
Opening Hours: 7am – 1pm, closed on Thurs
Contact: 016-534 5965
3. Foh San Restaurant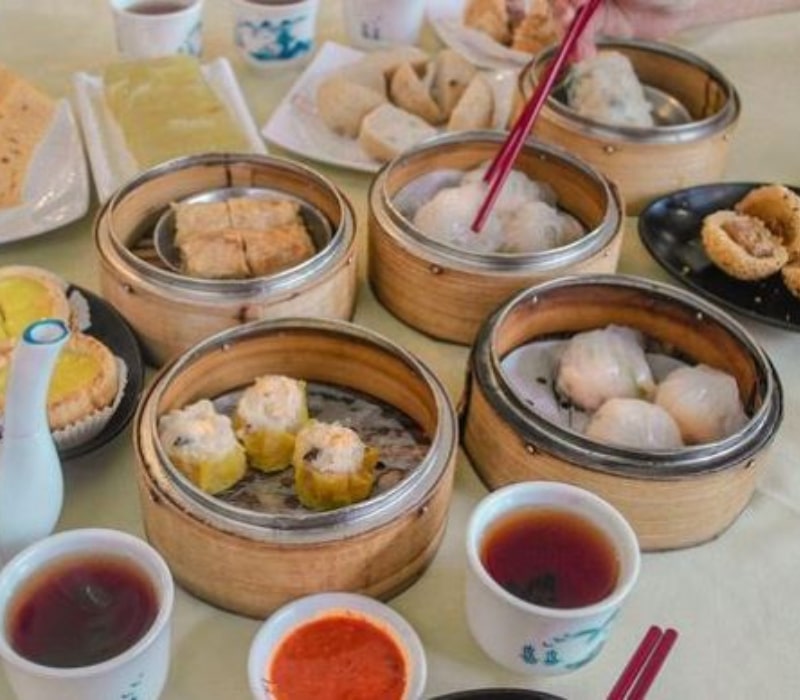 Standing out in opulent fashion thanks to its grandiose decor, Foh San pays as much attention to its design language as it does to its delicious and reasonably-priced morsels. The selection here is diverse and you'll find everything from egg tarts and wu gok to fried radish cake and braised chicken feet. One thing to note: It closes at 2.30pm so plan your visit accordingly.
Address: 51, Jalan Leong Sin Nam, 30300 Ipoh
Opening Hours: Wed – Mon: 7am – 2.30pm
Contact: 05-254 0308
4. Yoke Fook Moon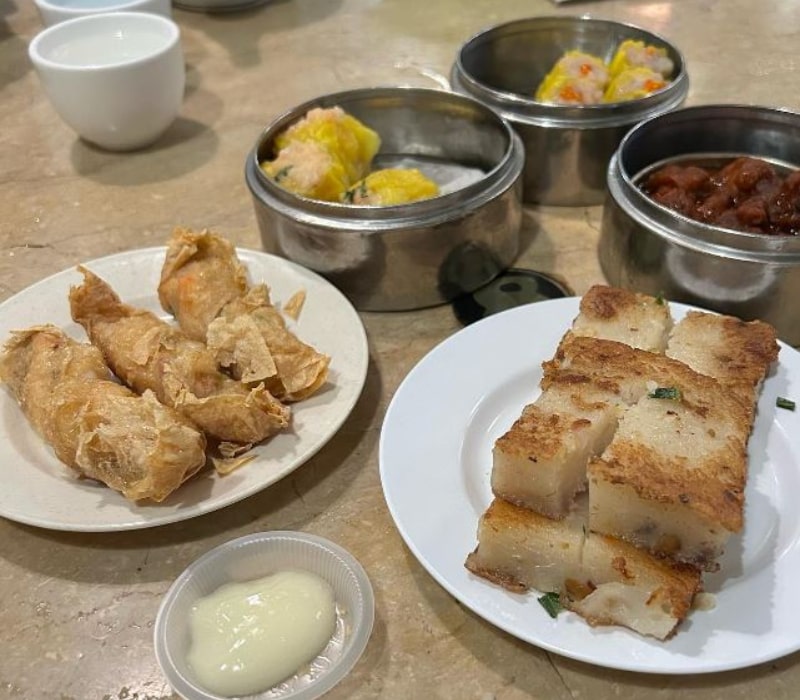 Yoke Fook Moon is the best place to get dim sum in Ipoh at night because it's one of the few spots that operates beyond sundown. But it's not just convenience that warrants a visit. The dim sum is authentic, fresh, and served without frills. Most patrons rave about the har gao generously stuffed with huge prawns. Overwhelmed with the choices? Flag down the friendly aunties for suggestions!
Address: 65-69, Jalan Leong Sin Nam, 30300 Ipoh
Opening Hours:
Wed – Mon: 8am – 2pm, 5pm – 9pm
Contact: 012-501 5616
5. Hong Kong Dim Sum BFB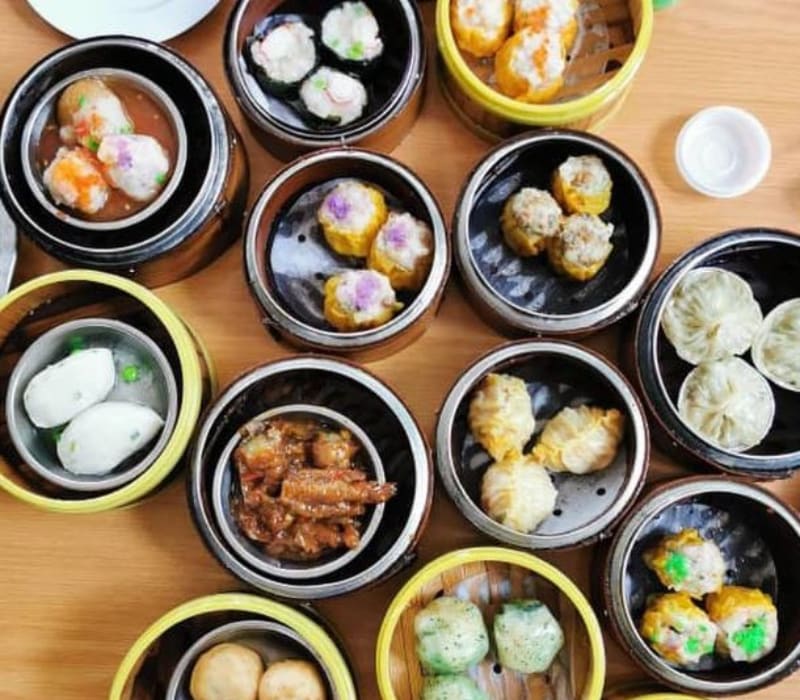 Situated from the hustle and bustle of Dim Sum Street in downtown Ipoh, Hong Kong Dim Sum BFB sits close to the Lost World of Tambun water park. Though busy, you won't have to clamour for seats because there are plenty of tables in and out of the premises, making it a less stressful brunch experience. What's good? The steamed fish balls, loh mai kai, and bacon rolls are solid options to start with. 
Address: Persiaran Bandar Baru Tambun, Bandar Baru Tambun, 31400 Ipoh
Opening Hours: Daily, 7am – 2pm
Contact: 010-220 3812
6. Soon Yuen Dim Sum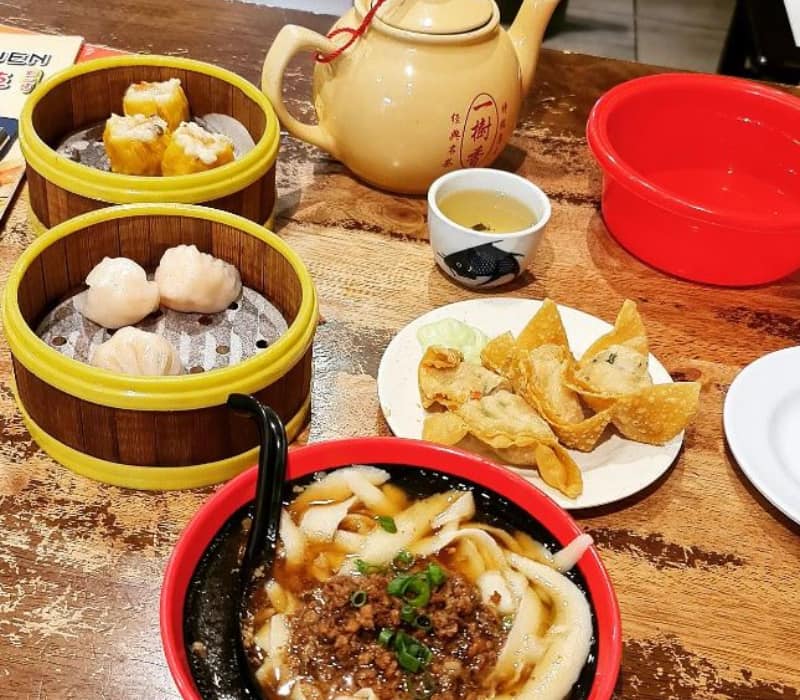 Looking for a comfortable and air-conditioned place to enjoy dim sum? Soon Yuen is probably the best option Ipoh for just that. It has the setting of a grand Chinese restaurant, complete with weighty marble chairs and tables and watercolour paintings, but the prices are anything but extravagant. Try the xiao long bao for an explosion of umami in every bite or the knife-cut spicy Szechuan noodles if you can stand the heat. 
Address: 160, Pusat Perdagangan, 162, Jalan Tasek Timur, Taman Tasek Indra, 31400 Ipoh
Opening Hours: Daily, 7.30am – 2pm
Contact: 011-1146 1668
7. Zui Le Xuan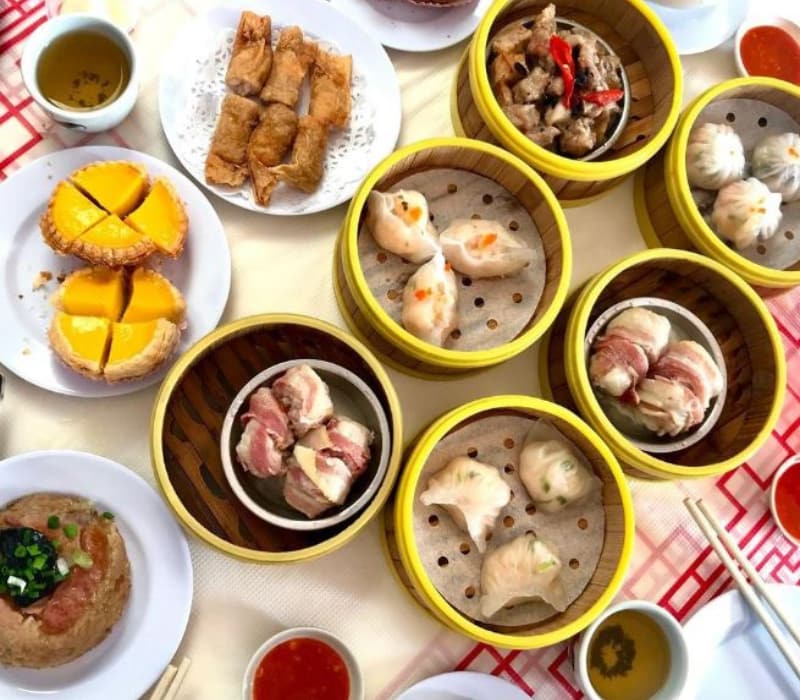 A favourite among locals (a positive sign), Zui Le Xuan is a reliable location for fuss-free, high-quality traditional dim sum. It goes without saying that staples such as siew mai and har gao are almost faultless, but the house specials like yellow wine chicken bun and ginger chicken bun are worth the calories if you're feeling adventurous. 
Address: 28, Jalan Ng Seong Teik, Taman Pertama, 30100 Ipoh
Opening Hours:
Wed – Mon: 7am – 1pm
Contact: 012-486 0883
8. Greentown Dimsum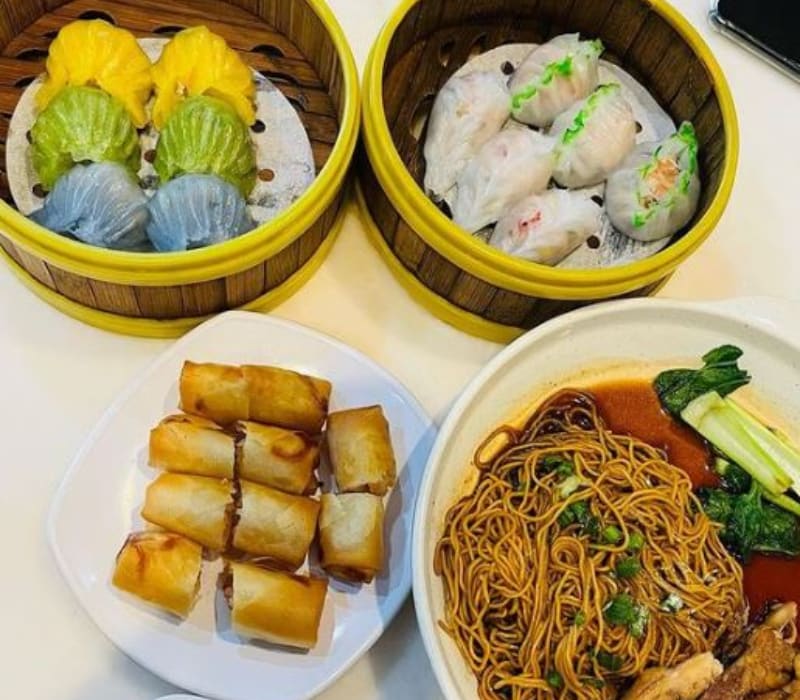 The best spot for halal dim sum in Ipoh, Greentown is a quaint cafe to chow down on scrumptious fare in comfort. You'll find a wide variety of options including dumplings, stir-fried dishes, and egg tarts. For convenience and to eliminate decision fatigue, get the sets for the best of everything. 
Address: 10, Persiaran Greentown 4, Greentown Avenue, 30450 Ipoh
Opening Hours: 
Wed – Sun: 8.30am – 6.30pm
Contact: 012-398 2010
Related: 7 Halal Chinese Restaurants In KL For Yummy Dim Sum And Tasty Dishes
9. Sun Kim Aik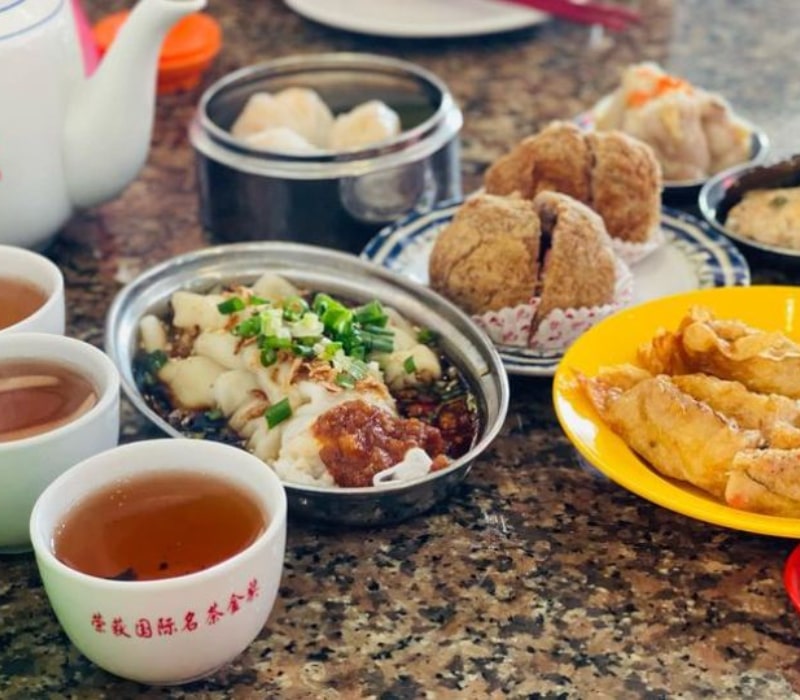 An age-old establishment that has served generations of locals since 1979, it's safe to say Sun Kim Aik knows a thing or two about good dim sum. Tourists are few and far between here so getting a table isn't too much of an ordeal. Pretty much anything off the tray is fresh and tasty, but if you had to choose, the chee cheong fun and loh mai gai are easy crowd favourites. 
Address: Jalan Lahat, Taman Falim, 30100 Ipoh
Opening Hours: 
Thurs – Tues: 6am – 12pm
Contact: 05-282 2634
Don't Forget To Visit These

Best Dim Sum

Spots If You're In

Ipoh
Dim sum is one of those things that can be enjoyed throughout the day. From dusk to dawn, there'll always be someone who is craving a warm, steaming tray of impeccable siew mai. And there's probably no better place to be than Ipoh, where some of the best dim sum places in the country can be found. We've got more Ipoh grub to whet your appetites; check out these eateries where locals live and die by. And when you're ready to move on, book a stay at any of these charming boutique hotels in Penang to eat your way around the island-state, covering everything from hippy cafes to nasi kandar. 
Cover image sourced from @leosfoodtrail and @siling.qiu96 via Instagram.