Penang's charm isn't just mouthwatering grub. It's also the unmatched ensemble of heritage buildings dating back to the island-state's storied history. These colonial structures are one of the many reasons why Georgetown was inscribed, along with Melaka, as a UNESCO site in 2008. In retaining these old-world buildings alive in a modern century context, some of them have been repurposed into soulful boutique hotels. If you're planning a visit and not keen on the usual accommodations, here are some of the best boutique hotels in Penang to check out. Granted, not all are heritage buildings, but it doesn't make them any less enticing or Instagram-worthy. 
Note: Room prices are accurate at the time of writing. 
Book A Stay At The

Best

Unique

Boutique Hotels In Penang

 
These are not big hotels, which means rooms are scarcely limited. If you're visiting during peak season, book ahead of time. 
1. Carnarvon House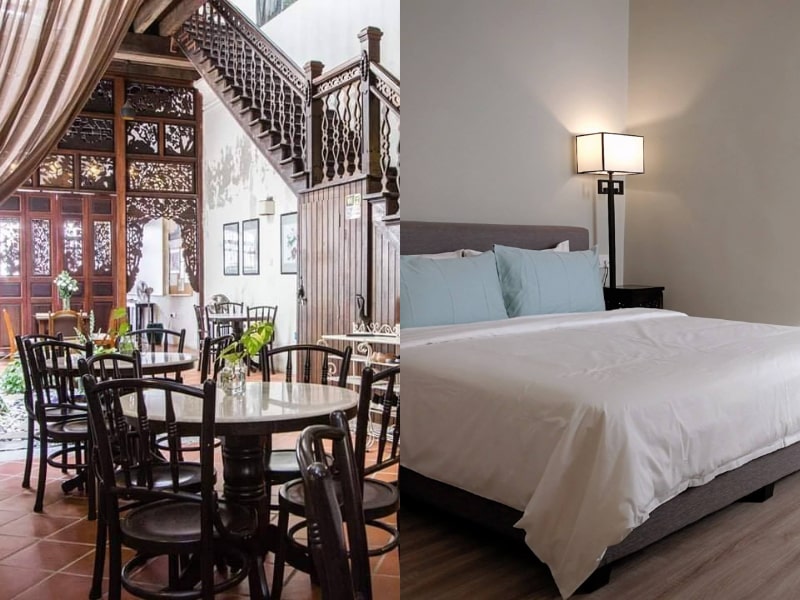 Surrounded by Georgetown's best eateries and tourist attractions, this unique hotel in Penang takes shape in the form of a 19th-century straits house. Keeping to minimal (but tasteful) furnishings, the Carnarvon House is able to keep prices affordable despite its strategic location and heritage facade. Though basic, the rooms are well-equipped with cushy mattresses, spacious wardrobes, and nightstands for a quiet night-in. Washrooms are shared with other occupants and there's a common area for lounging. 
Address: 28, Lorong Carnarvon, George Town, 10100 George Town
Contact: 012-520 3304
Room Prices Start At: RM153 per night
2. Noordin Mews
For an unforgettable stay that's rooted in heritage, head to Noordin Mews. The hotel was once a Peranakan house in the 1920s, and years of neglect had left it in disarray. With those days gone, the property is now an eclectic mix of modern touches and traditional aesthetics, so you can relive the past without needing to sacrifice the comforts of today such as Wi-Fi and air conditioning. Inside, the rooms are themed after the Shanghainese hotels of old. And if you've got a furry friend, they're welcome too! It's no wonder Noordin Mews is rated as one of the best pet-friendly boutique hotels in Penang. 
Address: 53, Lebuh Noordin, 10300 George Town
Contact: 04-263 7125
Room Prices Start At: From RM415
Website | Facebook | Instagram
3.  Yeng Keng Hotel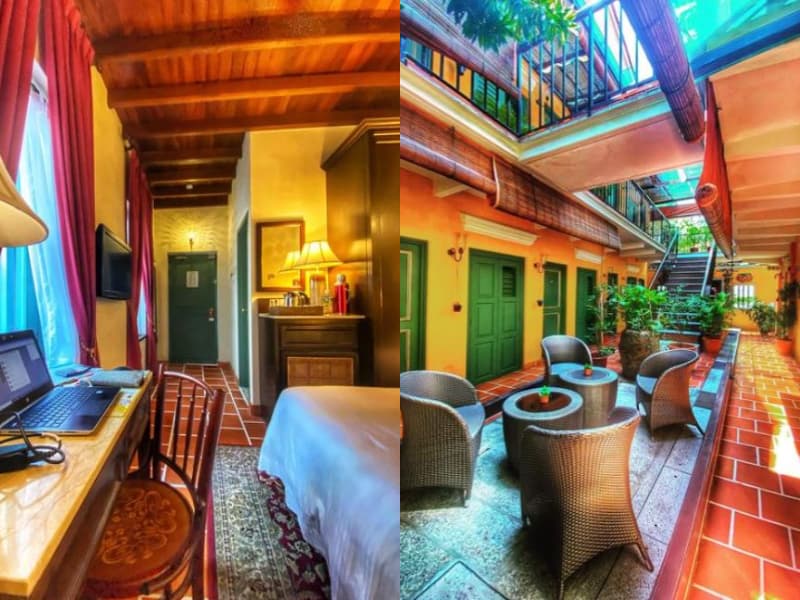 Located in the heart of Georgetown where tourist attractions—including St George's Church and the Penang Museum & Art Gallery—are within reach, the rustic Yeng Keng Hotel is one of the best boutique hotels for a heritage-inspired stay in Penang. Once an Anglo-Indian bungalow, it now houses 19 thematically unique rooms and suites, on-site bar and restaurant, and a dedicated event space for private functions. 
Address: 362 & 366, Chulia Street, World Heritage City of George Town, 10200 Penang
Contact: 04-262 2177
Room Prices Start At: RM320 per night
Website | Facebook | Instagram
4.  Seven Terraces 
A prime example of effective heritage preservation, Seven Terraces is a compound of Anglo-Chinese shophouses that have since been remodeled into suites and apartments. But save for only modern appliances like air-conditioners and lights, much of the hotel is decked out in vintage furniture and fine china. Take the Argus Apartment for example. It's a two-floor duplex suitable for a small family, and comes complete with a spacious living room and bedrooms, all surrounded by charming maroon fixtures. 
Address: Stewart Ln, Georgetown, 10200 George Town
Contact: 04-264 2333
Room Prices Start At: RM590 per night
5. Ren i Tang Heritage Inn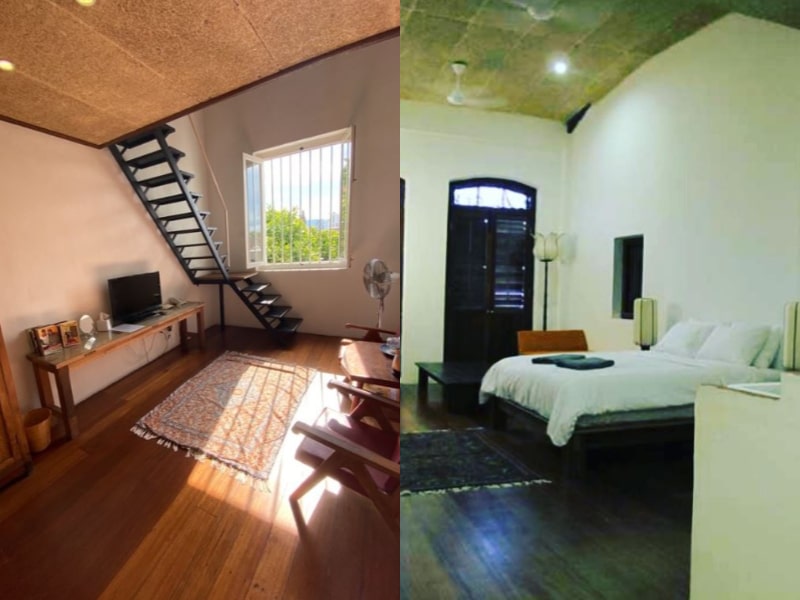 Ren i Tang Heritage Inn used to welcome the sick into its halls as shop attendants dispense medication from pull-out wooden drawers. After a painstaking restoration exercise that took years, the building has been transformed into a dwelling place of 17 rooms furnished with snooze-worthy beds and age-old trinkets that you'll want to bring home (don't), though some remnants of the past like air wells for transporting herbs and five-foot walkways still remain, which certainly adds to the overall appeal. 
Address: 82-A Lebuh Penang, 10200 George Town
Contact: 04-250 8383
Room Prices Start At: RM520 per night
6. Cheong Fatt Tze – The Blue Mansion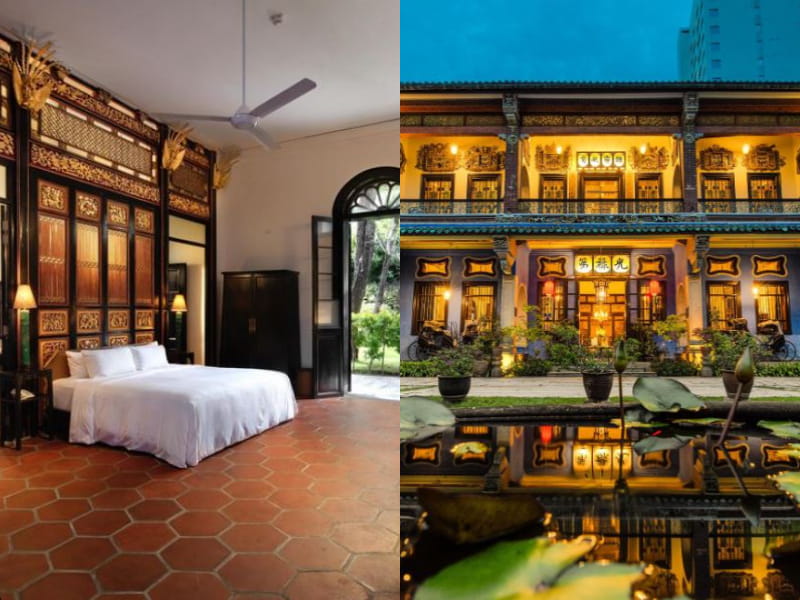 Just its cameo in Crazy Rich Asians is enough to validate this beautiful property among the best (and most recognisable) boutique hotels in Penang. Constructed in the late 1900s by the namesake tycoon, the mansion was the it place for social events and parties until the passing of Cheong Fatt Tze. Years of disrepair ensued before a group of conservationists restored the mansion to its former glory. Today, luxurious suites and photogenic decorations adorn all corners and every walkway, welcoming guests to spend the night at a historic estate. 
Address: 14, Lebuh Leith, George Town, 10200 George Town
Contact: 04-262 0006
Room Prices Start At: RM676 per night
Website | Facebook | Instagram 
7. Savv Hotel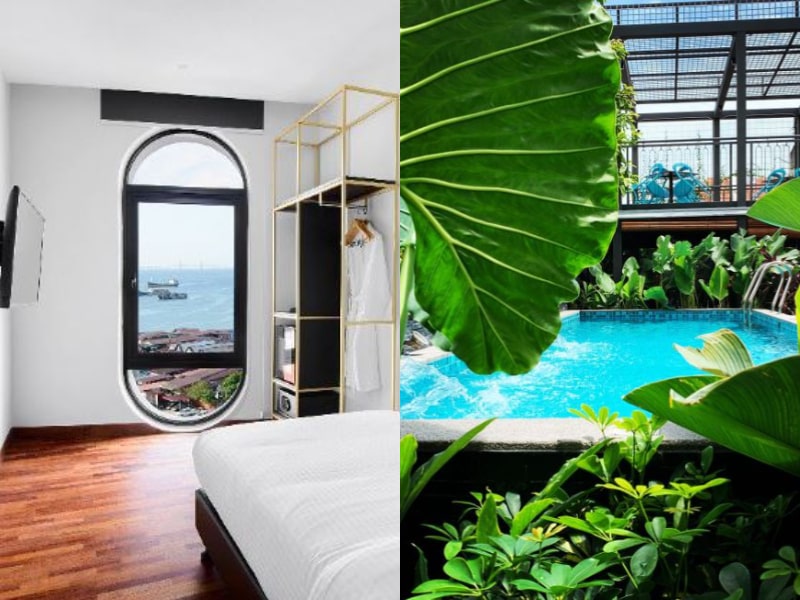 Perched above ground overlooking the Clan Jetties of Georgetown, Savv Hotel is another unique boutique hotel in Penang with a past life. The heritage building was used for port commercial purposes in the seventies. In fact, much of its former shell can still be seen despite a thorough renovation that took place in 2018. Take your pick from a total of 46 contemporary rooms, ranging from suites to studios. When night falls, head up to Trees@Savv for a delicious cocktail surrounded by greenery. 
Address: 39C, Pengkalan Weld, 10300 George Town
Contact: 04-261 6228
Room Prices Start At: RM287 per night
Website | Facebook | Instagram
8. The Edison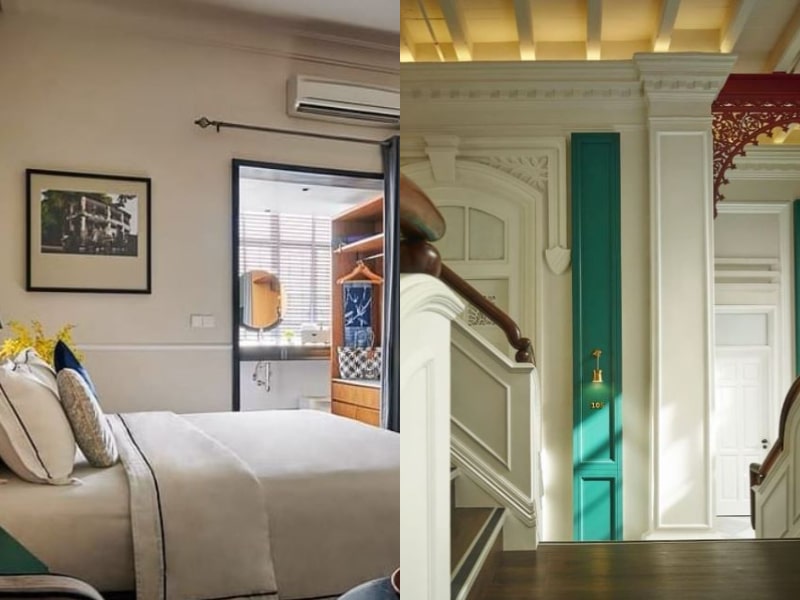 When colonial charm meets contemporary chic, and you have The Edison. The striking property was the brainchild of a Hakka tycoon, and it was only in 2014 that it went through a facelift, marrying modern sensibilities and vintage design language, and renamed as The Edison. The rooms here are plush and pretty; think premium bath amenities, featherlite pillows, and blackout curtains. And you don't have to worry about waking up hungry either because each room is bundled with complimentary continental breakfast. 
Address: 15, Lebuh Leith, 10200 George Town
Contact: 04-262 2990
Room Prices Start At: RM680 per night
Website | Facebook | Instagram 
9. Areca Hotel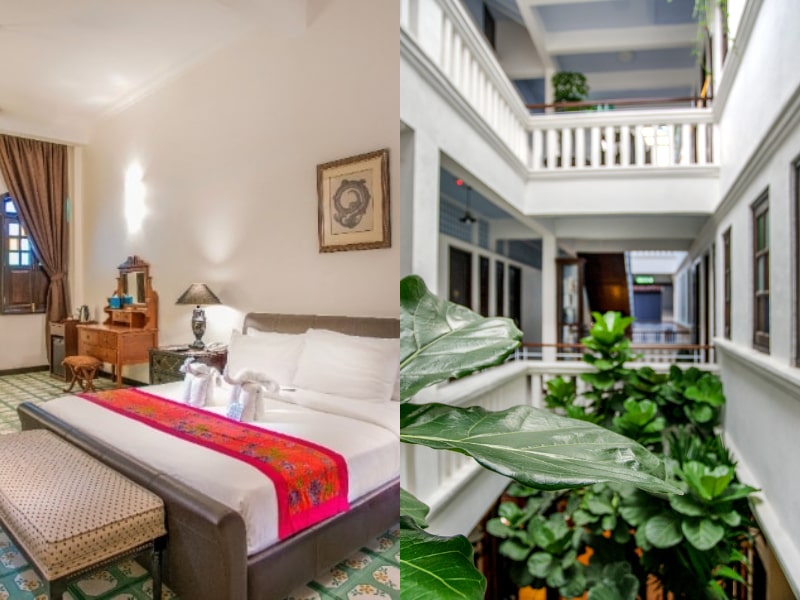 Situated along Jalan Khoo Sian Ewe within the UNESCO World Heritage Zone, Areca Hotel provides a comfortable lodging experience for anyone from backpacking couples to families with young children in tow. Apart from 48 rooms across 12 refurbished shophouses, Areca also prides itself on its best-in-class family-friendly facilities among boutique hotels in Penang, including playrooms and baby-changing rooms. 
Address: No.5, Jalan Khoo Sian Ewe, 10050 George Town
Contact: 04-261 0050
Room Prices Start At: RM230 per night
After Feasting And Exploring, Rest Your Head At These

Best

And

Unique

Boutique Hotels In Penang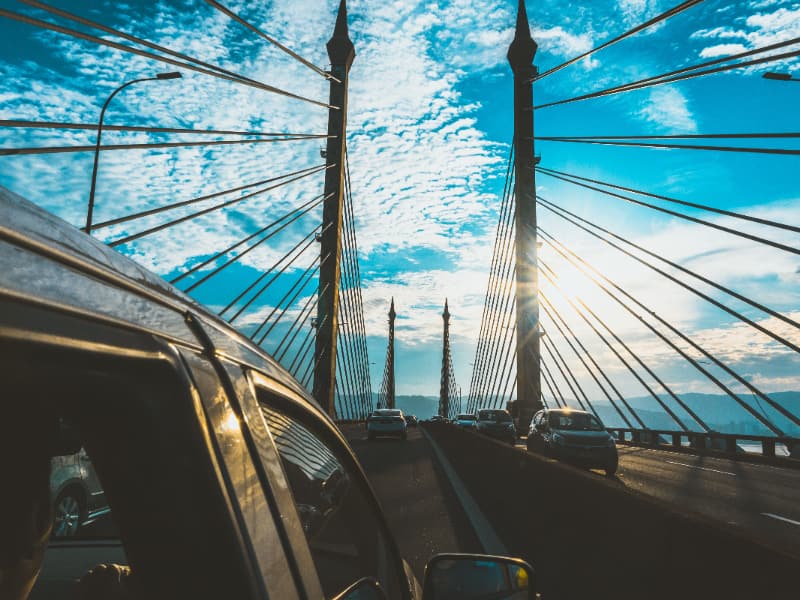 Forgo the commercial chains and choose to spend the night at the best boutique hotels in Penang. Full of intrigue and rich in history, these properties will certainly make your trip even more memorable. Not sure where to eat in Penang? Well, just know you'll never go hungry. Bookmark our recommendations of best cafes for brunch and cuppa, local-approved breakfast spots, and food-coma-inducing nasi kandar.