Sipping on cocktails after hours is one of the best ways to unwind. But going out is expensive, especially anything booze-related. If you prefer to stay home and save a couple of bucks, why not give mixology a try? Contrary to popular belief, there's no need for any complexity when crafting cocktails. In fact, there's a variety of tasty yet easy cocktail recipes to quench your thirst. You might be surprised at how easy it is to replicate a Margarita or Pornstar Martini cocktail recipe—and just how much you've been overpaying for them.
Get your shakers and jiggers ready, we're going to teach you how to make cocktails.
Play Bartender With These

Cocktail Recipes

To Try At Home
Old Fashioned 
When thinking about how to make cocktails, it's mandatory to start with the classic of all classic drinks: the Old Fashioned. It's concocted in the glass that you serve in, with bourbon commonly used as the base spirit. For sweeteners, a simple syrup works well, but purists believe sugar cubes are more authentic to the cocktail's history. Finally, a few dashes of bitters to top off this alcoholic beverage that'll never go out of style.
Recipe Ingredients:
Manhattan
The Manhattan's lineage dates back to the late 1800s, where it was invented in New York City's Manhattan Club (so the story goes). Since then, it has become a staple at any cocktail bar for its simplicity. And it's a cocktail recipe that every bartender should know by heart. Accurate measurements are key, so use a jigger. Serve chilled in an elegant coupe glass.
Recipe Ingredients: 
Margarita 
The Margarita is one of the most popular cocktails in the world for good reason. Fusing the tanginess of lime and sweetness of orange liqueur with the distinctive heaviness of tequila, it's an appetising drink that ticks all the right boxes. Follow this Margarita cocktail recipe to impress your loved ones with a tried-and-true classic.
Recipe Ingredients: 
Pornstar Martini
There are many variations to the Martini, of which the most classic is a simple concoction of gin, dry vermouth, ice, and lemon twist. So instead of the usual, we're including a pornstar martini cocktail recipe here. The attention-grabbing drink has become one of the most ordered cocktails in the UK after its debut by mixologist Douglas Ankrah. The secret ingredients? Passion fruit and vanilla vodka.
Recipe Ingredients:
Daiquiri
A ridiculously simple cocktail recipe, the Daiquiri comprises three common ingredients. It's a shaken drink though, so you'll need a cocktail shaker for this. And don't skimp on the ice—a Daquiri is only a Daiquiri if it's cold. 
Recipe Ingredients: 
Negroni
Looks can be deceiving; such is the case with the Negroni. While you'll only need Campari, gin, and sweet vermouth, the taste is multi-faceted. A well-made Negroni is bitter, sweet, dry, and refreshing all at once.
Recipe Ingredients:
Cosmopolitan 
If Sex and the City was a cocktail, it'd be the Cosmopolitan. It was a series regular and many of the show's characters lamented over their predicaments over the cocktail. One thing to note: Don't drown your drink in cranberry juice. The juice is only meant to be an accent, not a star. 
Recipe Ingredients:
Gin & Tonic
It can't get any easier than the humble Gin & Tonic. That said, your G&T is only as good as the gin. That means if you use quality gin (like Tanqueray and The Botanist), the cocktail will naturally taste richer. Of course, if you're on a budget, more affordable options work too! 
Recipe Ingredients: 
Tom Collins
The Tom Collins is proof that you don't require fancy bitters and intricate infusions when learning how to make cocktails. It features ingredients you probably already have: gin, lemon juice, syrup, and club soda. What ensues is a refreshing concoction that tastes like spiked lemonade, which is perfect for the hot Malaysian weather. 
Recipe Ingredients: 
Sidecar
Straight from the 1920s is the Sidecar, which remains a favourite today. It's a brandy-cognac cocktail mixed with fresh lemon juice for a tart finish. Don't want it too sour? Rim the glass with sugar for a touch of sweetness. 
Recipe Ingredients: 
Paloma
Another refreshing, easy-to-make cocktail recipe! The Paloma hails from Mexico, and it's a drink that oozes tropical flavours. There's grapefruit juice, soda, lime juice, and not forgetting the most important ingredient: tequila. Some people choose to rim the glass with salt, while others add a pinch of salt straight into the glass. In this recipe, it's the former. 
Recipe Ingredients: 
Mojito
The Mojito needs no introduction. It's known around the globe and is easily one of the most ordered drinks at any bar. The cocktail is slightly more labour-intensive than other recipes because it involves muddling the mint.
Recipe Ingredients:
Dark & Stormy
Quite possibly the coolest name for a cocktail, the Dark & Stormy comes off the coast of sunny Caribbean. Made with dark rum and ginger beer, the drink is served over ice with a slice of lime in a tall highball glass. 
Recipe Ingredients:
Stay In And Have A Good Time At Home With These

Cocktail Recipes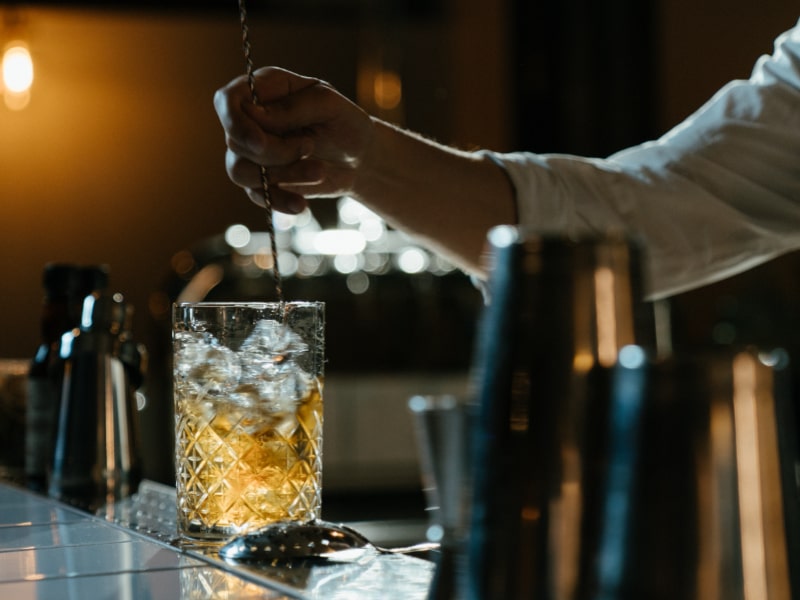 Mixology is science. Think about it—you mix oddly-coloured fluids in hopes to create a harmonious solution. Sure, it may require a few tries to nail down these cocktail recipes, but it's all worth it in the end. Know of someone who wants to learn how to make cocktails? Forward this article to them!
Prefer to enjoy your booze without all the work? Check out these online alcohol delivery platforms for your fix, sent right to your doorstep. Looking for wine options? Our handy guide will help you out. And if craft beer is more of your thing, check out what's been trending in the local craft beer scene.