Between the mouthwatering food and vibrant culture intertwined with a colonial past, Unesco-listed Melaka is also a congregation of charming accommodations. The best hotels and homestays in Melaka aren't just places for slumber; they're an extension of the state's architectural heritage. So if the only aspect lacking from your itinerary is where to crash, the following places will fill the gap. 
Note: Rooms prices are accurate at the time of writing.
Book A Stay At These

Best Hotels

&

Homestays

In

Melaka

 
Tasteful furniture and great hospitality. Need we say more?
1. Timez Hotel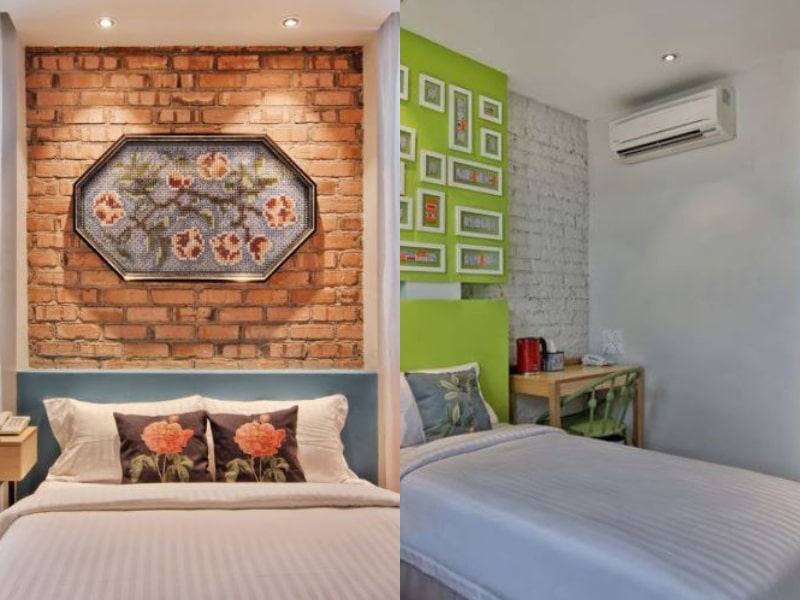 Once a pre-war heritage building, Timez Hotel hovers over the row of shophouses that it shares space with. While staying true to the design language of its former shell, modern touches are seen everywhere on the property, from the landscaped walkway to the thematic rooms inspired by Peranakan, Chinese, and Dutch cultures. The close proximity to Jonker Street means food options are plentiful should you choose not to dine on-site.
Address: 31, Jalan Hang Kasturi, 75200 Melaka
Contact: 06-281 2109 (Call) | 017-375 7378 (WhatsApp)
Room prices start at: RM350 per night
Website | Facebook | Instagram
2.  The Nest House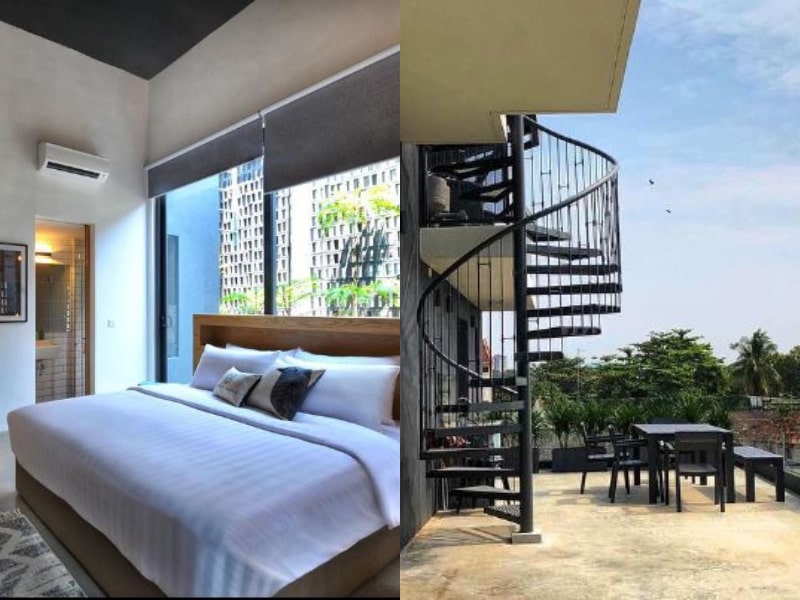 Among the best homestays in Melaka, The Nest House only has 10 rooms. So not only will you get dedicated care and attention, but your privacy is also guaranteed. And the strategic location—just behind Jalan Merdeka Raya that's bustling with cafes and restaurants—is a plus point. If budget permits, go for the King Room that comes with an en-suite bathroom and a private garden overlooking the streets below. 
Address: No. 7, Lorong 1, Banda Hilir, 75000 Malacca
Contact: 06-283 1118
Room prices start at: RM168 per night
Website | Facebook | Instagram
Related: 9 Best Cafes In Melaka With Instagrammable Old School Decor & Good Coffee
3.  Jonker Boutique Hotel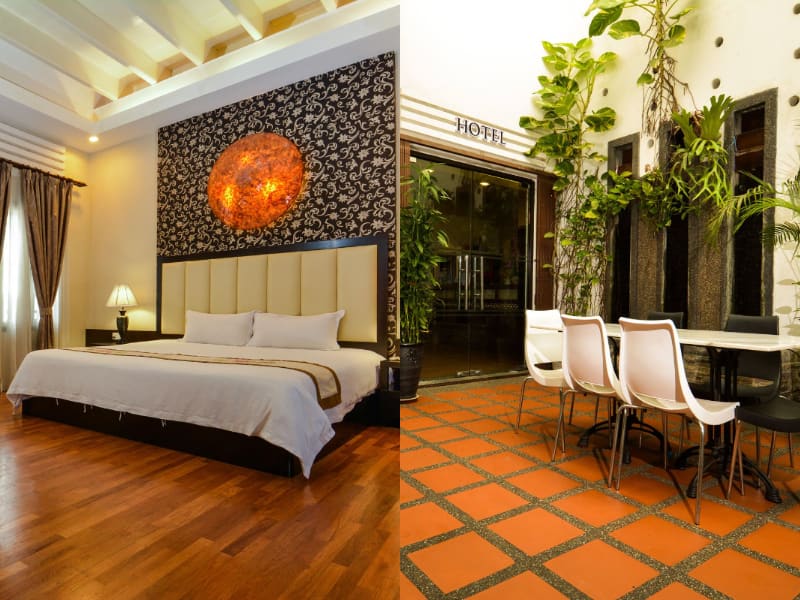 Well, it can't get any more convenient than this. If you're searching for the best hotel in Melaka on Jonker Street, this is it. The two-storey building is located near the main square of Jonker Street, which means everything the vibrant tourist attraction has to offer is within walking distance. You don't have to worry about the parking situation either because the hotel offers private on-site parking. And in terms of rooms, the options range from couple-specific ones to family-friendly suites. 
Address: 84, Jalan Tokong, Kampung Tiga, 75200 Melaka
Contact: 06-282 5151
Room prices start at: RM339 per night
Website | Facebook | Instagram
4.  Rosa Malacca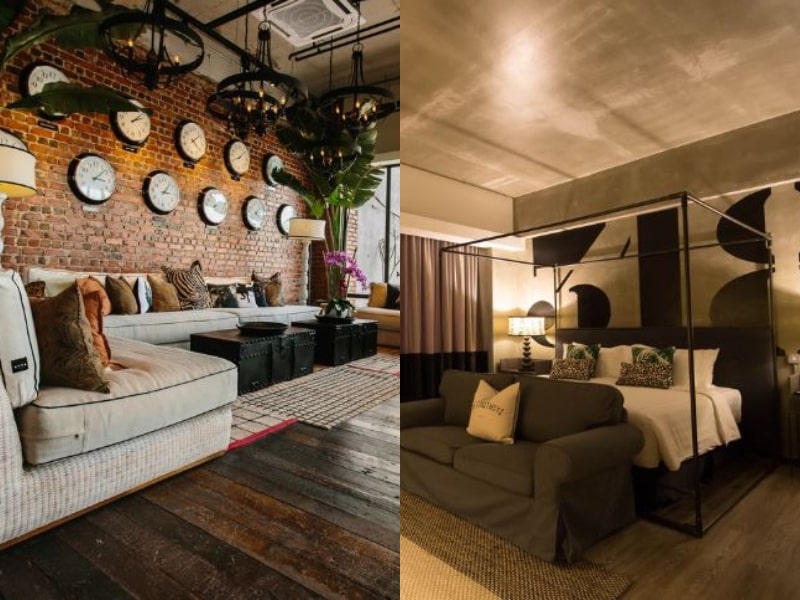 A recipient of multiple design awards, Rosa Malacca is an architectural standout among a sea of rustic monuments. There are brick walls, pop art paintings, striking wooden panelling, and brown-accented furnishing. It's pretty much a Pinterest board of aesthetically pleasing objects. Apart from the modern facade, the hotel also houses a Halal-certified cafe and a souvenir shop. Meanwhile, the room selection spans twin chambers to family suites that can accommodate up to six people. 
Address: 212, Jalan Parameswara, 75000 Melaka
Contact: 06-2819888
Room prices start at: RM437 per night
Website | Facebook | Instagram
5.  1825 Gallery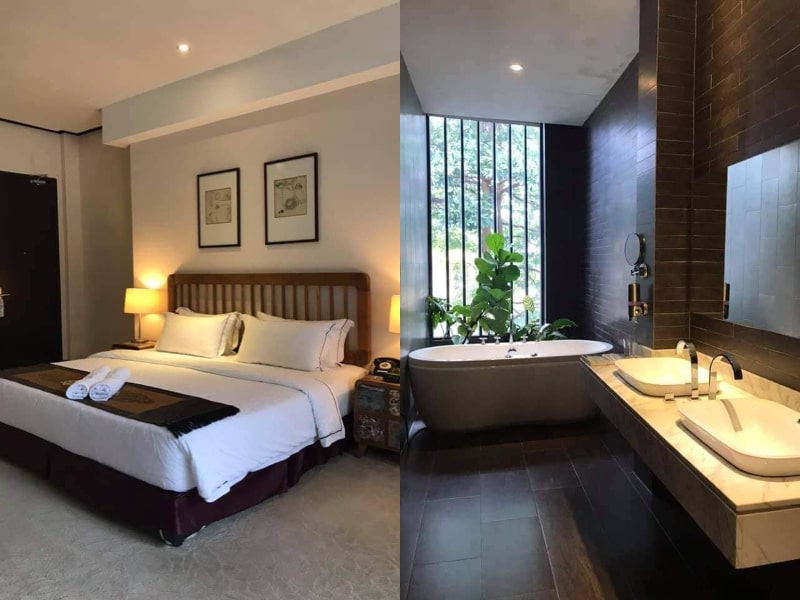 Live next to the streaming waters of the Melaka River at 1825 Gallery, a unique boutique hotel that perfectly blends the architectural integrity of Chinese and Western designs. Interior-wise, sturdy timber panels cover the walkways while fine chinas greet visitors at the entrance. There's plenty of greenery too, much of which circles the fountain pond in the lobby. Pro-tip: Get rooms with balconies for panoramic views of the river. 
Address: 27, 29, 31, Jalan Bunga Raya, 75100 Melaka
Contact: 06-288 2868
Room prices start at: RM171 per night
Website | Facebook | Instagram 
6. The Rucksack Caratel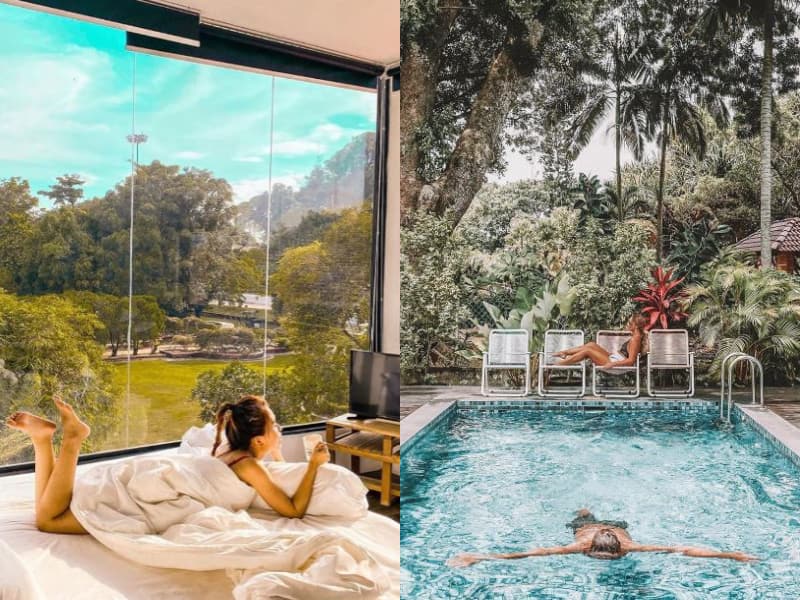 Retreat to The Rucksack Caratel after a long day of eating and exploring, one of the best nature-themed hotels in Melaka. Impressionable leafy trees and potted plants are generously littered at the hotel grounds, briefly duping you into thinking this isn't downtown Melaka. Sunlight's plenty in the rooms too, piercing through the crystal clear floor-to-ceiling windows to illuminate the pristine sheets and pieces of furniture. 
Address: 107, Jalan Banda Kaba, Bandar Hilir, 75000 Melaka
Contact: 06-292 2107
Room prices start at: RM161 per night
Website | Facebook | Instagram 
7. The Rubber Escape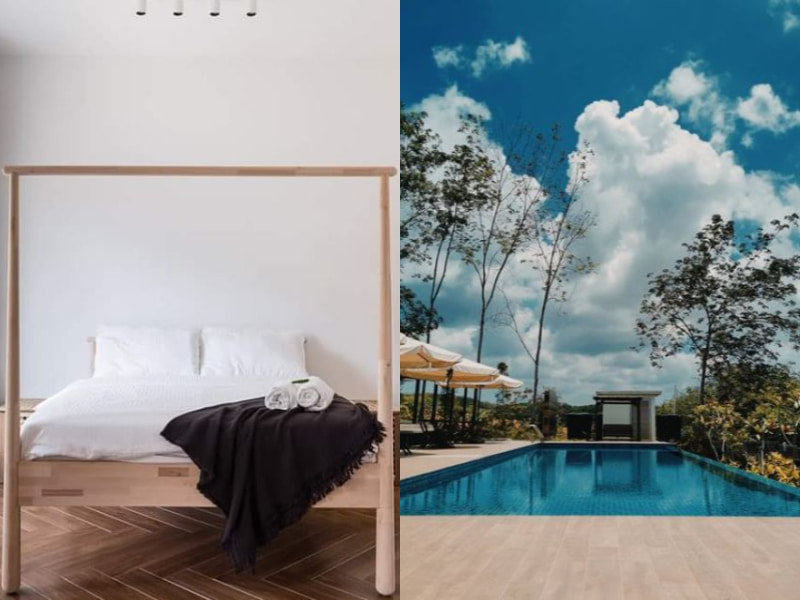 The gorgeous homestay is among the best in Melaka for accommodation options away from the CBD. Sitting on a rubber estate, there are 12 cosy rooms, which are essentially duplexes, for you to choose from. Each room varies in configuration but minimalism is obvious in all of them, which is a refreshing departure from design-busy hotel rooms. And when you feel like taking a swim to burn off all the chicken rice balls you've devoured the day before, a 50-feet infinity pool awaits.
Address: Lot 2443, The Rubber Escape, Jalan Satelit Lendu, Alor Gajah, 78000 Melaka
Contact: 017-678 3611
Room prices start at: RM368 per night
Website | Facebook | Instagram 
8. Liu Men Hotel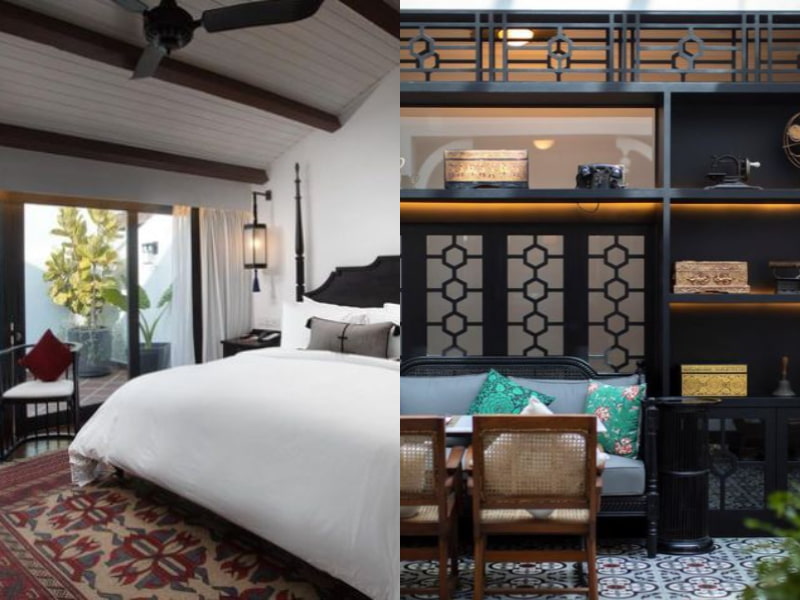 Liu Men opened its doors fairly recently in 2021, and the pre-Japanese occupation shophouses that it took over paint a striking contrast to other hotels in the Jonker Walk area. Colonial elements of the past are still evident, but they're now intertwined with Peranakan and Chinese designs native to Melaka. To further cement the hotel's respect for local flair, the suites are named after the state's most recognisable historical personalities. 
Address: 46-56, Jalan Tokong, Kampung Dua, 75200 Melaka
Contact: 06-288 1161
Room prices start at: RM670 per night
Website | Facebook | Instagram
9.  The Majestic Malacca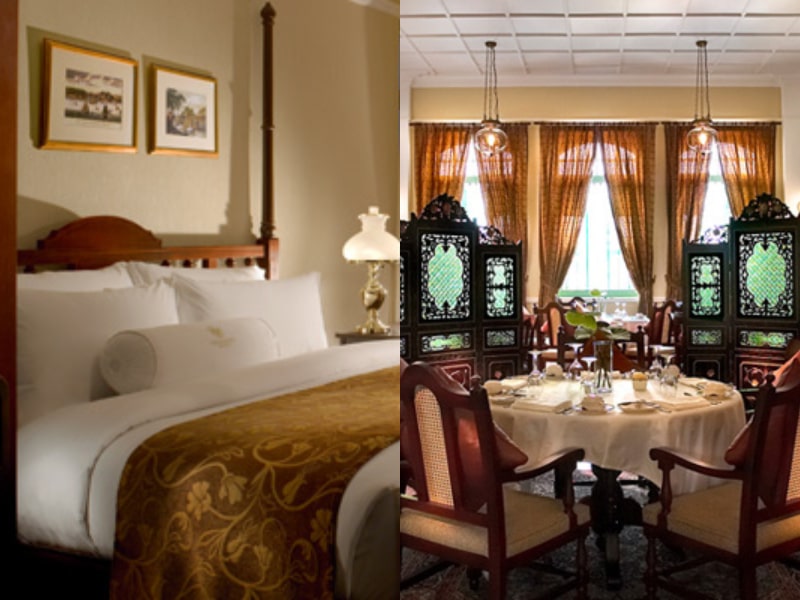 If you don't mind paying premium prices, The Majestic Malacca is one of the best luxurious hotel stays in Melaka that money can buy. Managed by the YTL Group, the distinctive building is a masterclass of fusing the new and old; bespoke furnishings that call back to the Melaka of old, marble floorings in the bathrooms (with clawfoot bathtubs nonetheless), and a grand lobby apt for a movie set. For those looking to take a break from conventional street food, dress up for a lip-smacking meal at The Mansion, the hotel's in-house restaurant where Kristang cuisine takes centre stage. 
Address: 188 Jalan Bunga Raya, 75100 Melaka
Contact: 03-2783 1000 | 06-289 8000
Room prices start at: RM300 per night 
Related: Where To Get Really Authentic And Delicious Nyonya Food In Melaka
Spend The Night At These

Best Hotels

&

Homestays

In

Melaka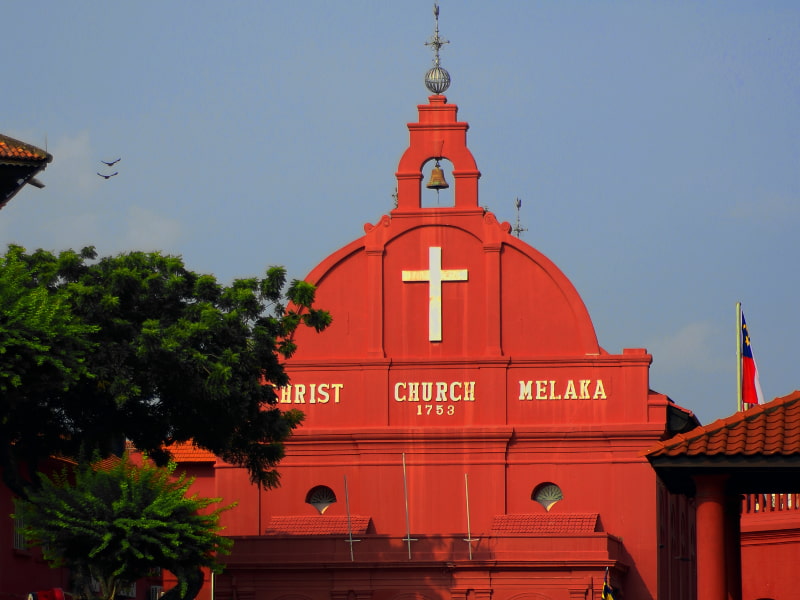 Apart from scouring tasty eats and visiting places of interest, tie up your holiday plans with the best hotels in Melaka. Vastly different from the boutique hotels most Klang Valley dwellers are familiar with, these pitstops offer modern comfort and traditional decor in convenient packages for travel groups of different sizes. So get booking to avoid missing out! Detouring to Penang instead? There's no shortage of memorable stays at the island-state as well.