Gaming keyboards exist for a number of reasons. Unlike conventional keyboards, gaming keyboards are designed to enhance gaming performance as well as comfort for the user. Some may include mechanical keys that are much easier to press and provide more tactile feedback, while some come with dedicated macro keys that can be pre-programmed to perform certain actions with a quick press. And of course, there's the unicorn vomit RGB elements that light up the keyboard like a Christmas tree—a must-have component for anyone who calls themselves a gamer. Gaming keyboards can be pricey, but you'll also find plenty that you can get at a bargain. They still do the job well while looking pretty. Read on if you are hunting for the best budget gaming keyboards on the market!
7

Best Budget Gaming Keyboards

To Buy In Malaysia
Here are our recommended picks for the best budget gaming keyboards to get if you have less than RM100 to spend on one. Enjoy the best value when you opt for the combo packages!
AULA F2088 True Mechanical Gaming Keyboard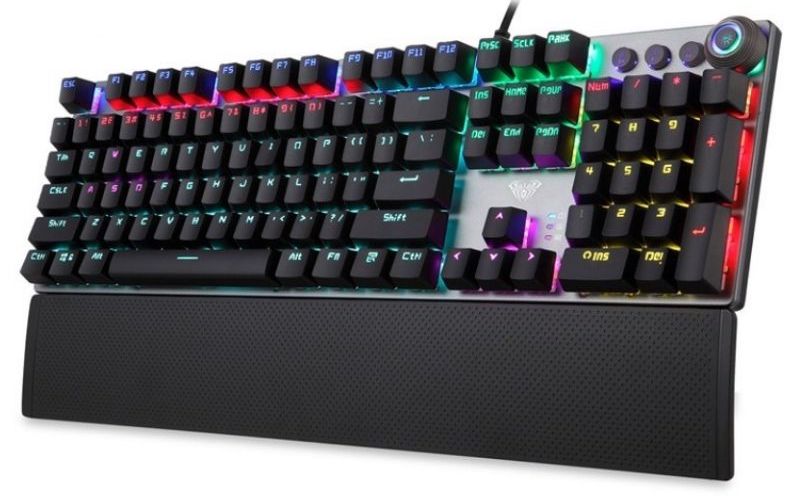 The AULA F2088 features 104 anti-ghosting keys which ensure that multiple keypresses can be registered without error. This is crucial for gamers who often have to press several keys simultaneously to perform actions and manoeuvres.
A multi-functional alloy knob is also a great addition that you usually won't find on a keyboard. You can quickly control the volume and adjust the keyboard's lighting effect, among others, by simply rotating the knob. On top of that, a detachable, non-slip magnetic wrist rest is also included for added comfort. Put all these together and you have one of the best budget gaming keyboards available today.
Armaggeddon MKA-2C Pro Psychraven Mechanical Gaming Keyboard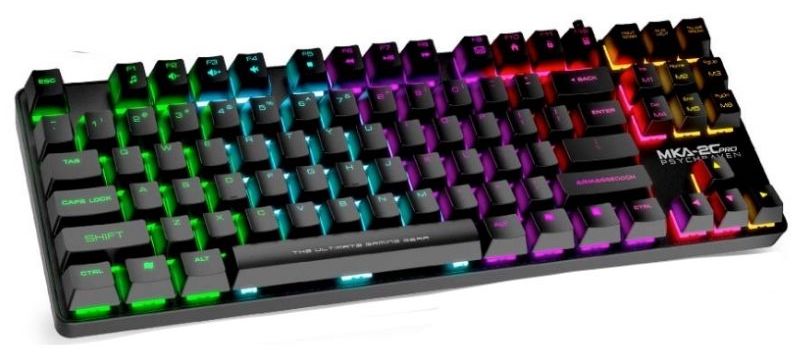 The Armaggeddon MKA-2C Pro Psychraven is a compact gaming keyboard with hot-swappable keys. This means you can easily replace the default blue switches with your preferred switch type. A keycap puller and a switch puller are conveniently included in the package, so you will have the necessary tools to change things up from the get-go.
Moreover, the keyboard comes with 26 anti-ghosting keys, nine backlight effects, and high-quality KevlarTech keycaps with a lifetime fade proof warranty.
Armaggeddon AK6880 Kalashnikov Gaming Membrane Keyboard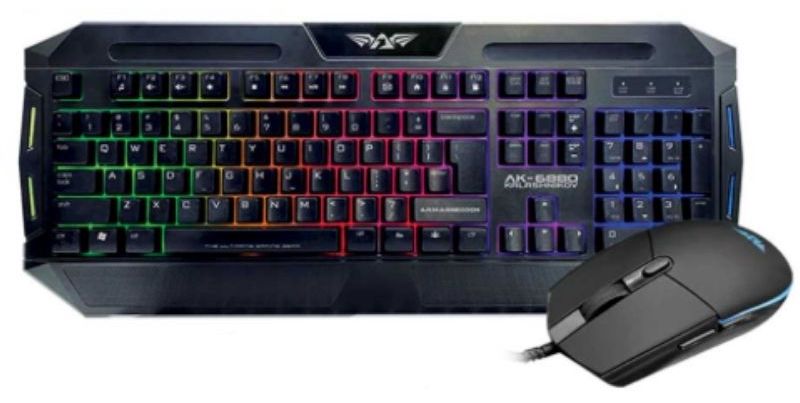 If you can do without a mechanical gaming keyboard, the Armaggeddon AK6880 with membrane keys is worth looking into. The soft and silent keys are ideal if you are not a fan of noisy and clicky keys or if you are sharing a room with someone. You will also find 19 anti-ghosting keys and a textured armrest.
For less than RM70 (at the time of writing), you will also be getting a gaming mouse bundled together—great for those looking for some good bundle deals without too much fuss.
Alcatroz XKB-100 Gaming Keyboard

Is it possible to get a good gaming keyboard for under RM30 (price is at the time of writing)? The answer is yes, according to Alcatroz. The super-budget XKB-100 isn't going to set your gaming world on fire, but it comes equipped with some fine, useful features despite its price tag.
Besides the anti-ghosting feature on the all-important WASD and arrow keys, this keyboard is also spill-proof—a safety net for the hydrated gamers who would always have a cup of drink sitting next to the keyboard. Plus, you even get a free mouse pad too.
Alcatroz XC1000 Gaming Keyboard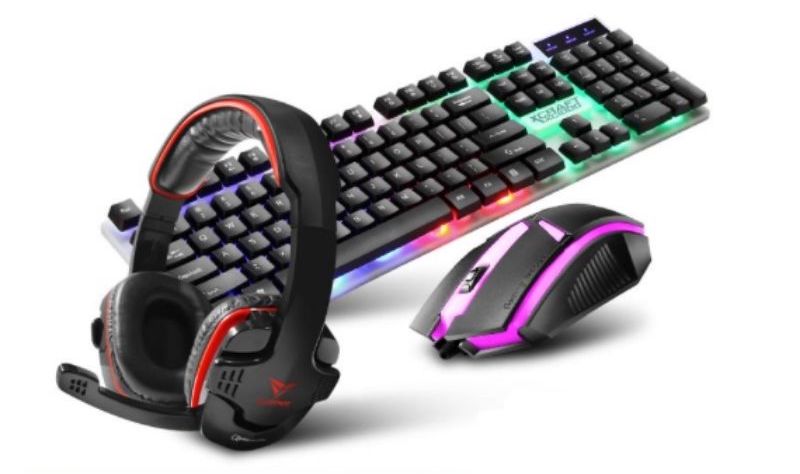 As far as best budget gaming keyboard deals go, the Alcatroz XC1000 is decent for its price point with features such as silent, spill-proof keys (with a lifespan of up to 10 million keystrokes) and 12 shortcut keys. 
But what makes this an even better deal for budget seekers is that it comes in a combo set with not just a gaming mouse but also a gaming headphone with a microphone! Throw in a mouse pad as a freebie, and you get yourself a complete set of gaming peripherals without even having to visit the three-digit realm of expenses.
VictSing PC356 Mechanical Gaming Keyboard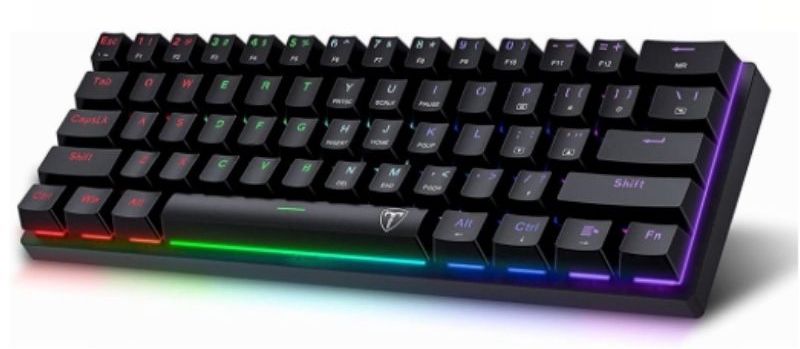 If your keyboard does not stay stationary on your desk and often goes places with you, check out the VictSing PC356. The compact, portable, and lightweight form factor slips effortlessly into a backpack, making travelling with it a breeze.
Despite its smaller size, it is still a full-featured gaming keyboard with mechanical blue switches and a highly-customisable "rainbow" RGB backlight. It comes with a detachable Type-C cable too, which is something you won't find on the majority of gaming keyboards.
Fantech K613L Pink Sakura Edition Gaming Keyboard

This one is for the girl gamers. Add even more pretty aesthetics to your gaming setup with the Fantech K613L Pink Sakura Edition. Not just an eye candy, this keyboard has a durable build with an aluminium alloy cover.
Counting in features such as anti-ghosting keys and RGB modes, this keyboard is no less capable than the others. Girls, too, can kick some butts with befitting hardware. 
Save Cost On Your Gaming Setup With These

Best Budget Gaming Keyboards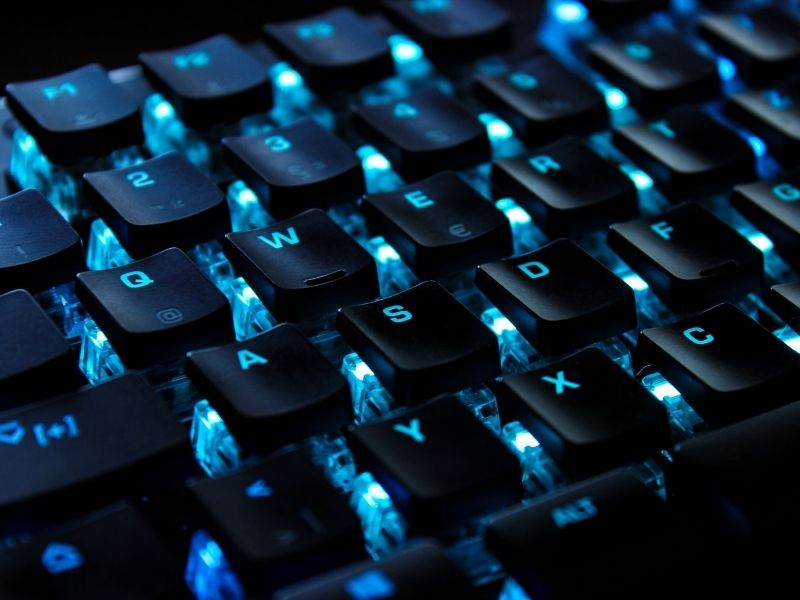 Gaming doesn't have to be an expensive hobby if you know where to look for parts. Besides budget gaming keyboards, consider these best gaming mouse for under RM100 too. If you like to see even more budget content, dive into our little guide on how to set up a gaming room on a budget!
Check out Tech Thursday for 1-day only lowest price, unbeatable deals, and extra 20% Coins Cashback every Thursday!