Welcome back to TikTok Fashion 101, where we break down all the different aesthetics and what you need to recreate the style! In today's topic, we're looking into the vast world of the vintage aesthetic. Fashion is constantly recycled, and the youths of this generation are looking to the past for inspiration. So before we dive into the different vintage outfits for women through the decades, let's first define what the term actually means. 
What Is Vintage Aesthetic?
Unlike the previous TikTok aesthetics we've discussed, the vintage aesthetic is a lot broader and isn't exactly tied down to one particular style. It's more of a general term that refers to the fashion from the previous decades and categorises them under one big umbrella. So any era that's about 15 to 100 years old is considered vintage; those that go beyond 100 can be viewed as antique. In short, there is absolutely nothing new about this aesthetic at all. 
'60s

Vintage-Inspired Outfits For Women
'60s fashion was a revolutionary time for fashion, as it encouraged more room for self-expression. There were many subcultures that derived from the '60s, such as the Beatnik and the Hippie, but were predominantly known for their Mod style of clothing. These outfits can be identified by straight cuts, bold geometric prints, and psychedelic flower prints. 
Dresses: Shift Mod Dresses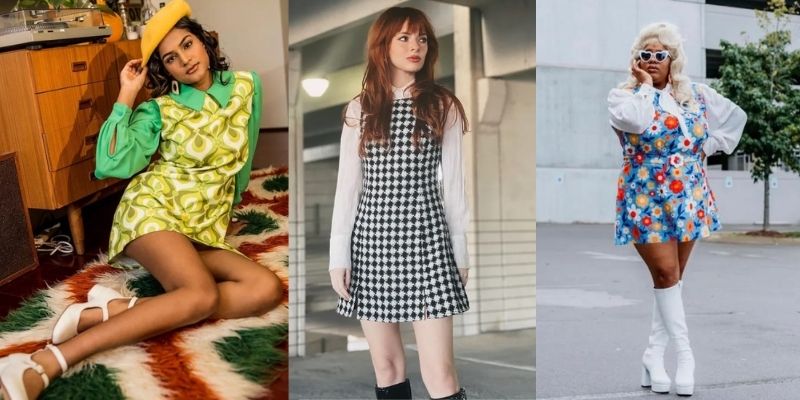 Moving on from the '50s maxi-length, full-circle swing dresses, the '60s began embracing shift dresses with shorter hems that stopped just above the knee. And as opposed to the '50s cinched-in waistline, the '60s were all about featuring looser, A-lined silhouettes. Punchy, vibrant colours were typically the preferred choice to make a bold statement. Otherwise, you could also opt for a simple yet modern black and white colour palette. 
Shop this style (outfit 1): 
Shop this style (outfit 2):
Shop this style (outfit 3):
Skirts: A-line Mini Skirts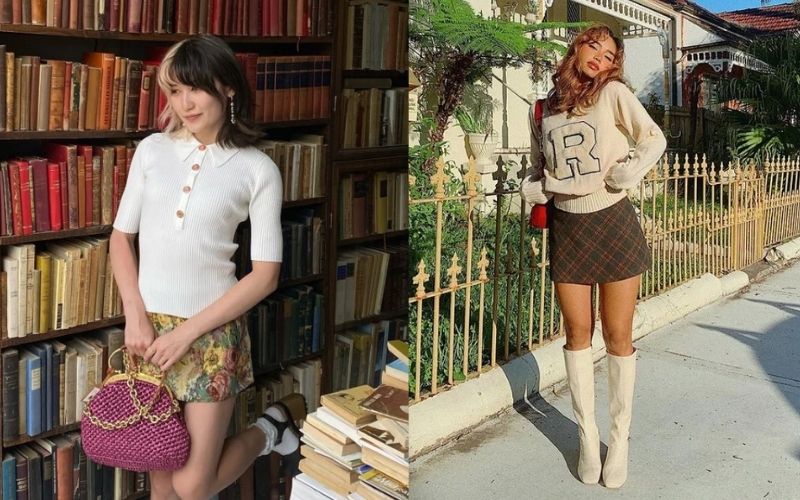 Similarly, even A-lined mini skirts were popularised during the '60s. After all, this was a time when youth culture prevailed, and nothing is more youthful than rebelling against traditional norms. Teenagers no longer wanted to dress like their parents. Hence, showing off the legs was a direct form of defiance to conformity. 
Shop this style (outfit 1):
Shop this style (outfit 2):
Tops: High-Neck/Turtleneck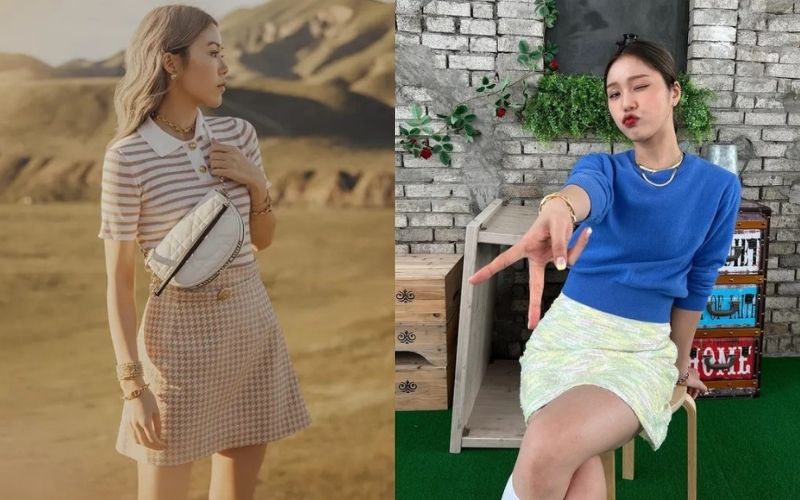 Always opt for a high neckline when choosing a top to complete your '60s vintage aesthetic outfit. It can be a polo shirt, turtleneck sweater, or a puffy-sleeved top, as long as it covers a portion of your neck, you've got the '60s-inspired look down pat! 
Shop this style (outfit 1):
Shop this style (outfit 2):
Shoes: Go-go Boots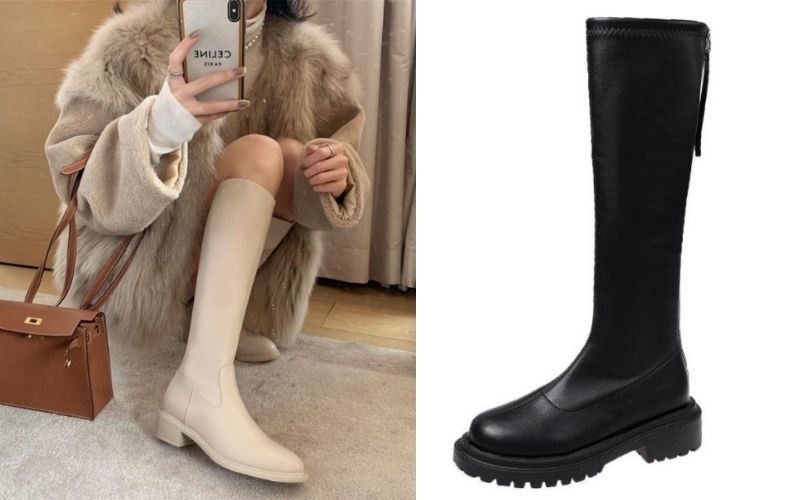 As for shoes, no '60s vintage outfit for women is complete without the iconic go-go boots! You can opt for whatever primary colour that you'd like–blue, green, yellow, or red–to draw attention to your footwear. Otherwise, you could keep it simple with a classic pair of white or black go-go boots for better versatility. 
'70s

Vintage-Inspired Outfits For Women
The '70s was when the hippie, boho-chic, and disco vintage outfit aesthetics reigned. Common motifs that you would typically find in a '70s outfit are florals, paisley, and psychedelic art. On top of that, clothes inspired by menswear were on the rise, as women began to have more freedom with what they wore. Initially, skirts and dresses were the preferred choices for formal events. It was only in the '70s that pants and suits began to become part of the mainstream in womenswear. 
Dresses: Wrap Dresses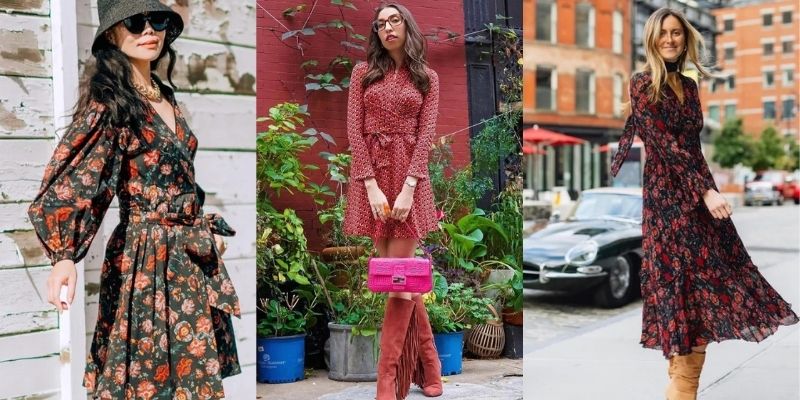 Diane von Fürstenberg's signature wrap dress made its official debut in 1974. It was a smashing success and they sold over five million dresses in just two years! Offering both style and comfort, the wrap dress quickly became a wardrobe staple for women and never went away. It was professional enough for work, but could easily transition from day to night with the right choice of accessories.  
Shop this style: 
Bottoms: Flared Jeans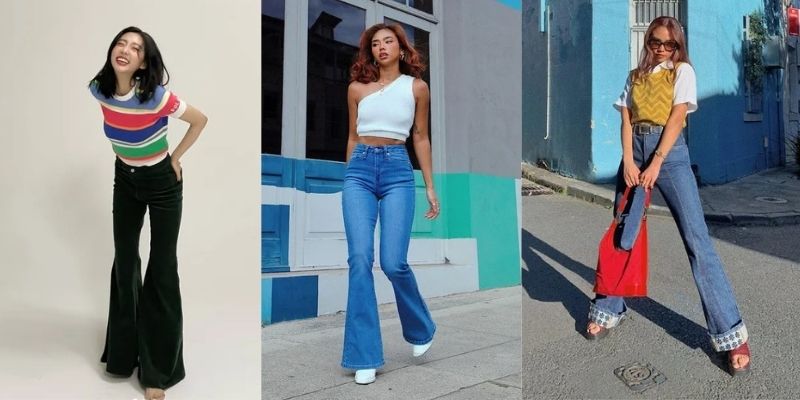 When it comes to pants for a '70s-inspired vintage aesthetic outfit, flared jeans always come to mind. Back then, flared jeans were worn by hippies as a form of support to the working class. Meanwhile, feminists used these denim bottoms as a way to display gender equality. Plus, as women started having more employment opportunities, flared jeans were the perfect solution for practical womenswear. 
Shop this style (outfit 1):
Shop this style (outfit 2):
Shop this style (outfit 3):
One Piece: Jumpsuits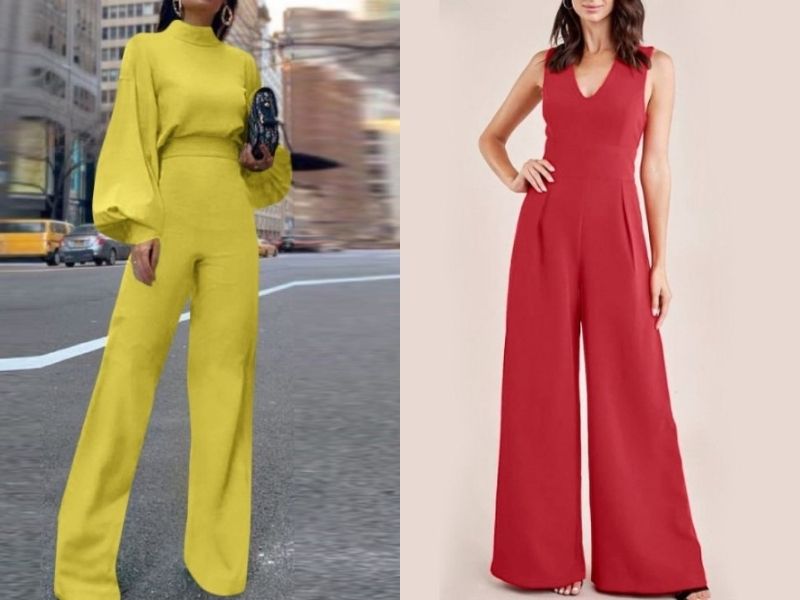 Blend both elements of a one-piece dress with flared jeans and you've got the glamorous disco-party jumpsuit! Apart from their brightly coloured fabrics, jumpsuits provided a more functional alternative to dresses, especially when getting groovy on the dance floor. 
Shop this style:
Shoes: Clogs & Platform Shoes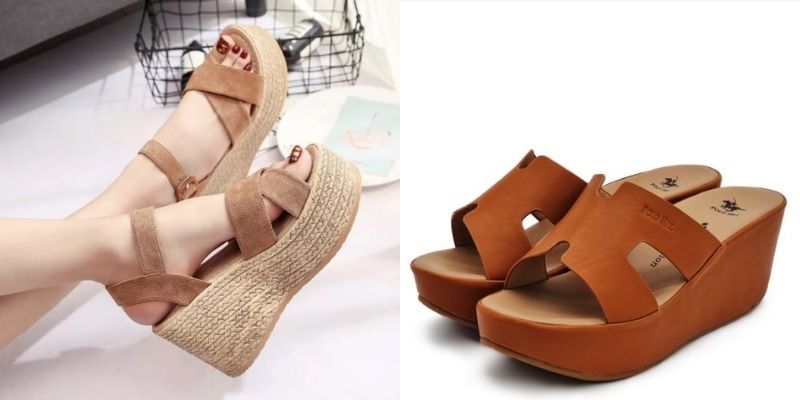 For most '70s vintage outfits for women, the taller the shoe, the better. Platform shoes were the go-to style for a night out at the disco. Alternatively, you could also find the ladies sporting clogs or wedges for their casual everyday look. 
Shop this style: 
'80s

Vintage-Inspired Outfits For Women
The '80s was a splash of colours and a whole lot of flair, making it one of the boldest decades of women's fashion. This is when the 'more is more' mentality reigned. Dramatic shoulder pads, striking neon colours, and power suits were some of the few trends that dominated the '80s. 
Tops: Casual Colourful T-Shirts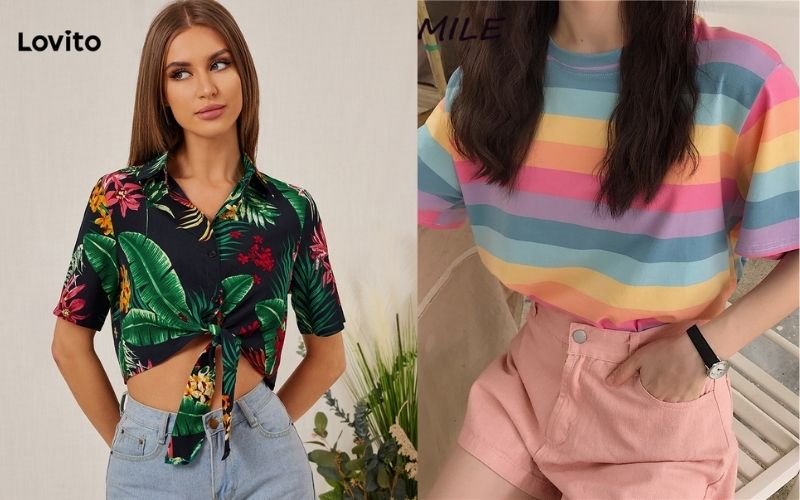 Shirts with loud prints in vivid hues were common in many vintage outfits for women. Popular motifs included tropical designs, stripes, and eclectic graphic T-shirts. They were usually styled with a simple pair of jeans for a fun and relaxed look. 
Outerwear: Windbreakers, Blazers, Denim & Leather Jackets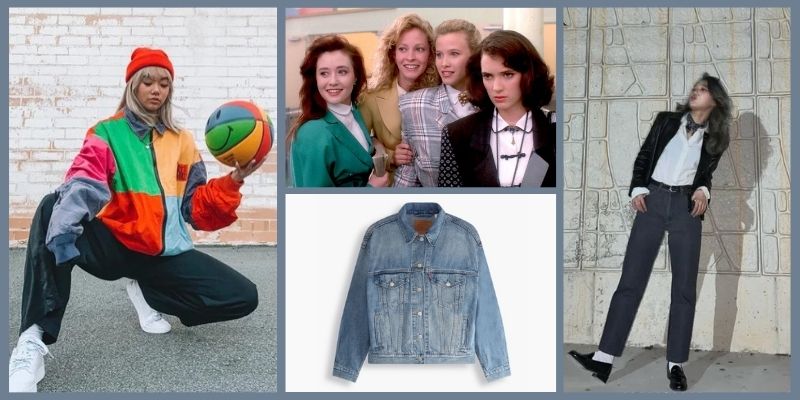 Women in the '80s had a wide range of choices for outerwear. Colour-block windbreakers were usually associated with athletic workout wear, but could also be worn for daily wear. Think of it as the '80s version of the athleisure trend. 
Meanwhile, padded blazers offered a preppier vibe in contrast to the punkish rebelliousness of the leather jacket and the ruggedness of the denim jacket. 
Shop this style (outfit 1):
Shop this style (outfit 2):
Bottoms: High-waisted Jeans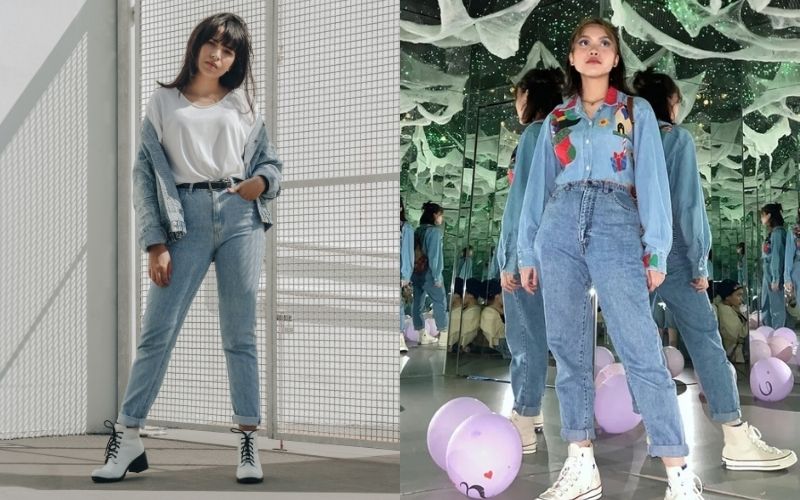 Just like outerwear, women had a variety of jeans options to choose from in the '80s. But the style that prevailed over all? High-waisted with a tapered or straight cut silhouette. And thanks to the Levi's 501 jeans campaign, the double denim-on-denim became a classic hit trend that still persists even today. 
Shop this style (outfit 1):
Shop this style (outfit 2):
Shoes: Reebok, Converse Sneakers, & Doc Martens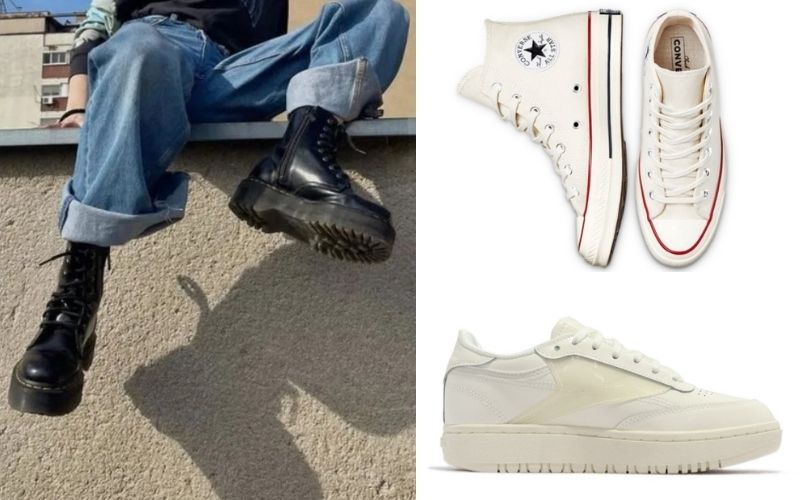 The '80s had a major aerobics craze, so you'd see almost everyone sporting some form of Reebok sneakers. And if it wasn't Reeboks, then Converse Chuck Taylors was the shoe choice everyone went for. Vans were mostly seen in the skateboarding scene while Doc Martens were hit among teens and the punk rock subculture. 
'90s

Vintage-Inspired Outfits For Women
'90s fashion was filled with many iconic fashion moments that are coming back in style this year! Grunge, hip hop, and preppy were just some of the main trends of the decade. Here's what you need to recreate these vintage aesthetic outfits. 
Tops: Flannel Shirts, Oversized Graphic T-Shirts, White Button-Up Shirts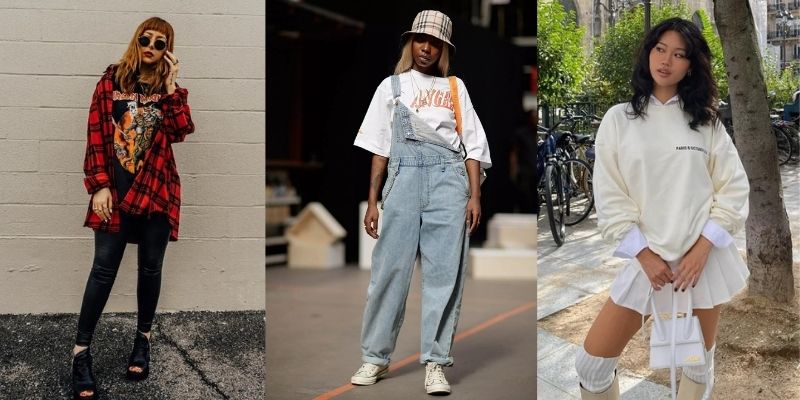 No '90s grunge vintage-inspired outfit for women is ever complete without an oversized flannel shirt. They're usually thrown over as a loose outerwear, and are the key piece to nailing the edgy aesthetic. Oversized graphic T-shirts were a common choice for the hip-hop look and are typically paired with denim overalls. Meanwhile, white turtleneck tops and button-up shirts were a staple in every preppy girl's wardrobe. 
Shop this style (outfit 1):
Shop this style (outfit 2):
Shop this style (outfit 3):
Bottoms: Ripped Jeans, Plaid Skirts, Baggy Trousers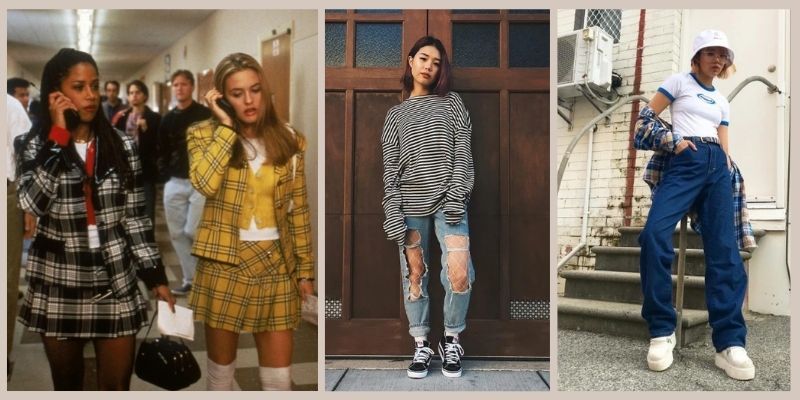 For bottoms, ripped jeans are the preferred choice to channel the '90s grunge attitude. You can opt for a fully distressed look to get the full effect. Otherwise, just a simple rip at the knees is enough to pay homage to the aesthetic while giving it a subtle, modern flair. As for the preppy style, draw inspiration from the cast of Clueless to emulate their signature plaid skirt outfits. Meanwhile, the hip-hop style is usually completed with wide-leg baggy trousers for an effortless, oversized look. 
Shop this style (outfit 1):
Shop this style (outfit 2):
Shop this style (outfit 3):
Shoes: Combat Boots, Chunky Fila Sneakers
Just like in the'80s, heavy-duty combat boots were also a favoured shoe choice in the '90s within the grunge community. This rugged footwear was worn with just about everything—from feminine slip dresses to gritty ripped jeans and flannels. 
Chunky Fila sneakers were at their peak in the '90s. Though they were mostly popular among dads and kids, their resurgence in recent years has been a hit among many fashion influencers. 
Travel Back In Time With These V

intage-Inspired Outfits For Women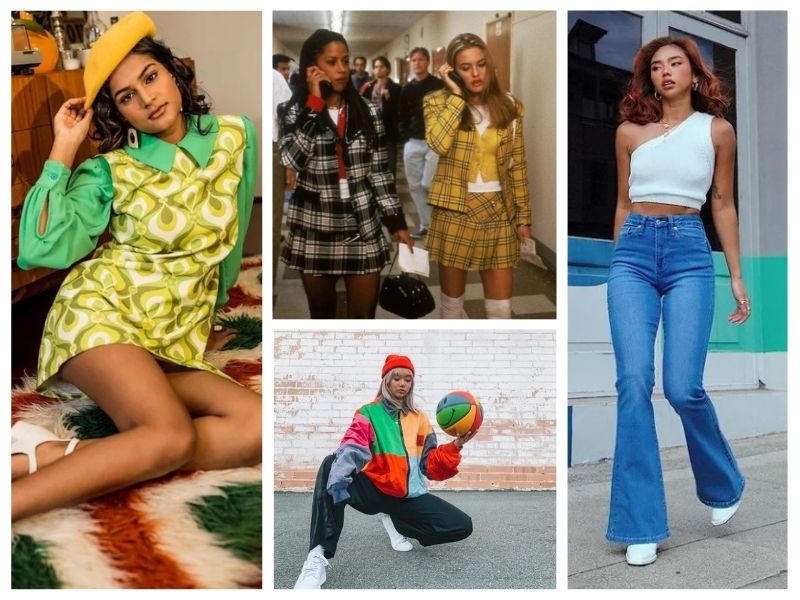 From the '60s to the '90s, tell us your favourite fashion decade in the comments below! Eager to move on to your next TikTok Fashion lesson? Then check out our guide on how to achieve the soft girl or e-girl aesthetic. Don't forget to check out Style By Shopee to be up to date with all the latest fashion trends.