Hair colour trends have been thriving in full bloom this year, with everyone itching for some sort of eye-catching style change. Today, we'll be shining the spotlight on two-tone hair and how you can incorporate the eye-catching look into your mane. Without further ado, let's dive into these seven different ways to rock two-toned hair for your bold new hair transformation. 
Two-Tone Hair

Colour Ideas That Everyone Will Notice
Half and Half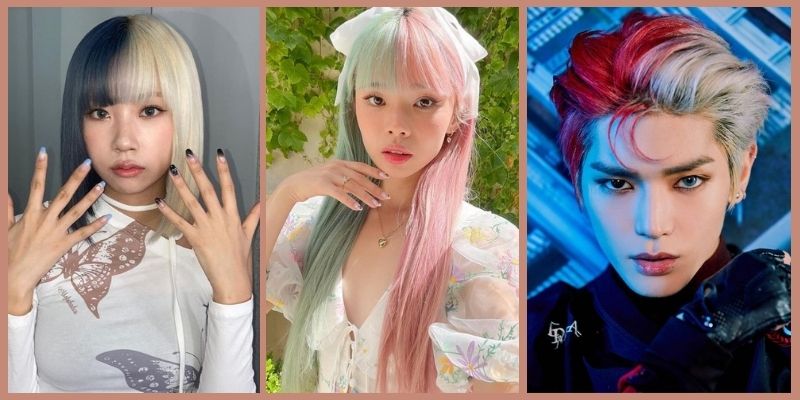 The half and half style is definitely not for the faint of heart. It's one of the boldest types of two-toned hair that involves splitting your mane into separate colours on both sides of your head. The most prominent aspect of this style is the crisp line that extends from the roots down to the tips of the hair. This is key in creating that perfectly symmetrical look that the trend is well known for. 
And the fun part is that you're not limited to any colour! You can experiment with pastel hues as beauty and fashion YouTuber, Mei Yan, has done with her long locks. Anime fans can also channel their inner Todoroki like SuperM's Taeyong with the character's striking red and white tones. Meanwhile, Disney enthusiasts can rock their Cruella Deville persona with black and white colours. 
Face-Framing Streaks/Money Piece Hair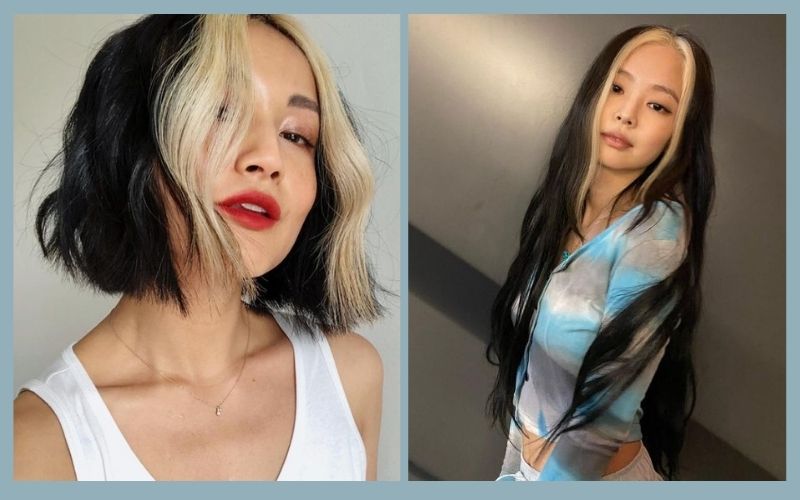 Can't commit to dyeing their whole head? Then the money piece hair is the way to go. All it requires is highlighting your face-framing strands in a brighter colour while leaving the rest of your hair in a darker shade. Luckily for most of us Asians with naturally black hair, we can keep our tresses bleach-free. But even if you have a lighter hue, the same concept still applies. Thin to chunky blonde streaks are a popular choice with this look, but feel free to choose whatever shades you'd like. 
One Dyed Streak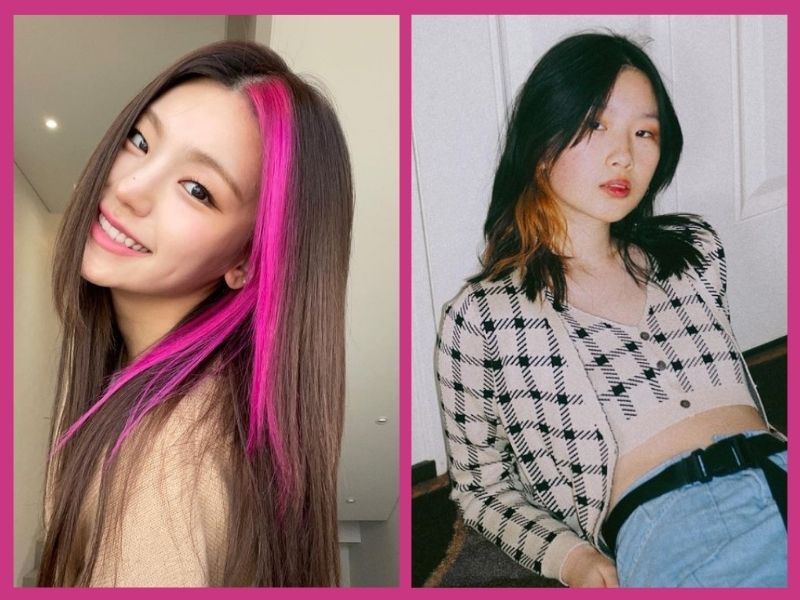 The money piece style already looks cool enough, but there's something about a lone dyed streak that gives a whole lot of attitude. Plus, it's also a beginner-friendly colour job for anyone who impulsively bought a box dye, but still has no idea how to use it. Itzy Yeji's hot pink streak contrasts beautifully against her ebony locks, giving a powerful vibe during the group's Loco comeback. Or you could also draw inspiration from Jenn's hidden orange hue for a more subtle look. 
Dyed Bangs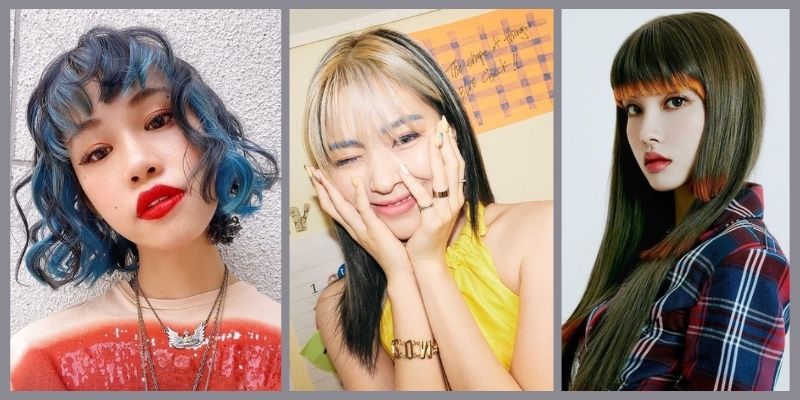 We all know that the right type of bangs can bring out the best in our features. So why not take it up a notch with this two-tone hair trend? For an edgier look, take cues from this partially dyed blue bangs or Itzy Ryujin's fully dyed fringe and half bleached highlights. Otherwise, you can opt for a more minimal option with STAYC Yoon's coloured tips instead. 
Dip Dye/Ombre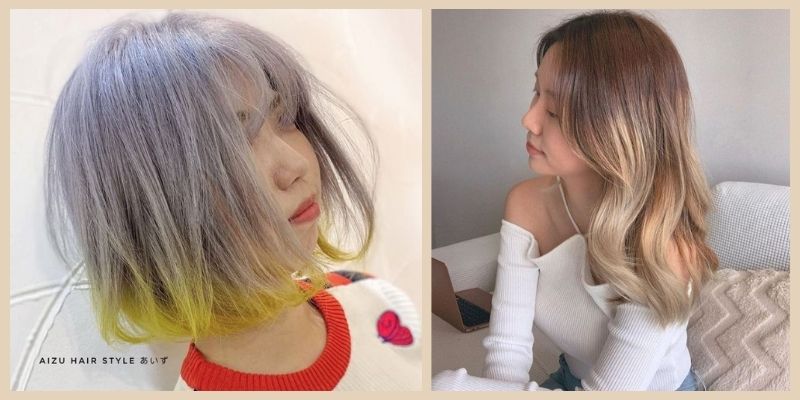 On the opposite end of the spectrum is the dip dye method. While dyed bangs focus on the upper section, dip dye is all about bringing attention to the tips of your hair. Your roots are usually left unbleached or in a darker shade, which creates a dramatic line between the top and bottom. 
If you prefer something less severe, you could ask for an ombre style instead. And no, it is not the same as dip dye hair. Even though the two techniques are somewhat similar in concepts, ombre hair creates a more natural effect. It gives a gradient look as it transitions from darker roots to lighter ends. 
Highlights/Balayage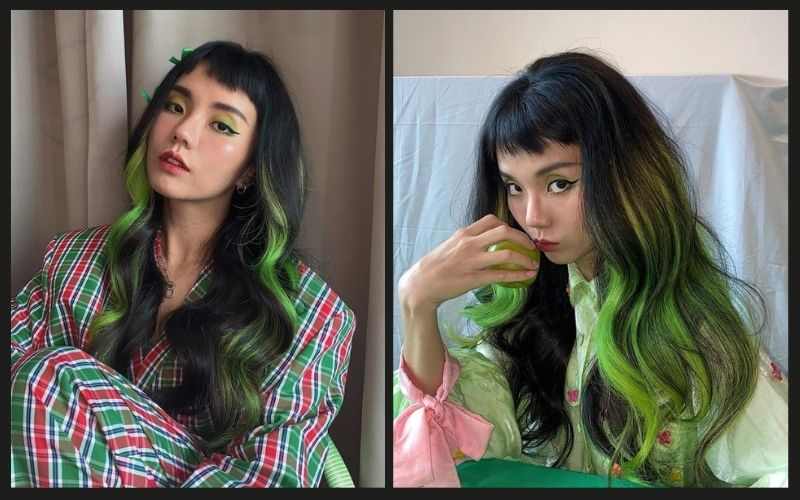 Highlights might be a better option for those who want an even distribution of hair colour. A few key strands dyed in a bright neon hue will allow you to make a statement without being too over the top. Otherwise, you can also consider the balayage technique to get a softer look. The main difference between highlights and balayage is where the colour starts. Traditional highlights are normally painted from the roots to the ends whereas balayage begins at the mid-length of the hair. 
Peekaboo Hair/Hidden Colour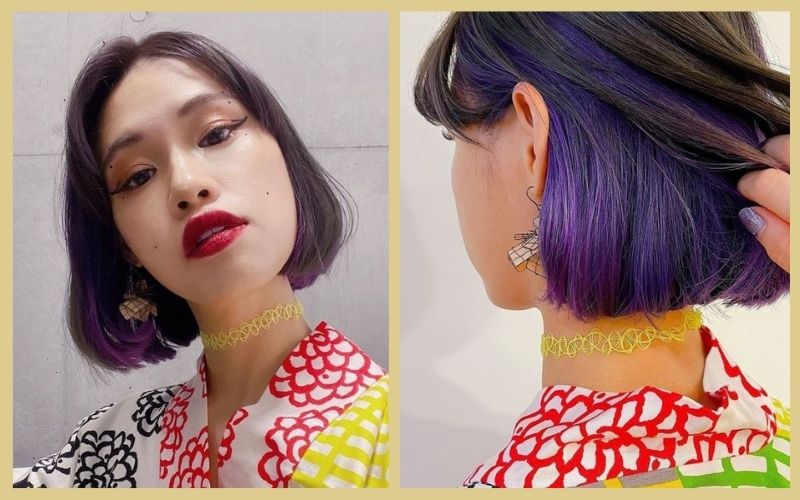 The two-tone hair look doesn't get any more low-key than this. Like its cheeky namesake, this dye job features hidden layers of colour. It involves keeping your natural hue at the top portion of your hair while concealing a vibrant shade underneath. When you wear your hair down, the bright shades are almost fully covered, with hints of streaks peeking through. But tie it up in a half up-do, and you can proudly reveal your colourful locks for everyone to see!
Look Chic & Trendy With

Two-Tone Hair 
From half and half to peekaboo layers, there are so many different ways to wear your two-tone hair. Let us know which style is your favourite in the comments below! While you're at it, why not add more spunk to your coloured locks and get a wolf cut or mullet haircut too? Or learn more about your favourite K-pop idol's go-to shades from our guide on trendy Korean hair colours.