Hari Raya is fast approaching, and you know what that means? It's time to start searching for your brand new traditional outfit! After all, you want to look picture-perfect in your baju raya for the festive season. Not sure what to wear? Fret not, we've put together a guide on the different types of traditional Malay clothing to help you find your best Hari Raya outfit. 
Types Of

Traditional Malay Clothing

For Women
Baju Kurung Kedah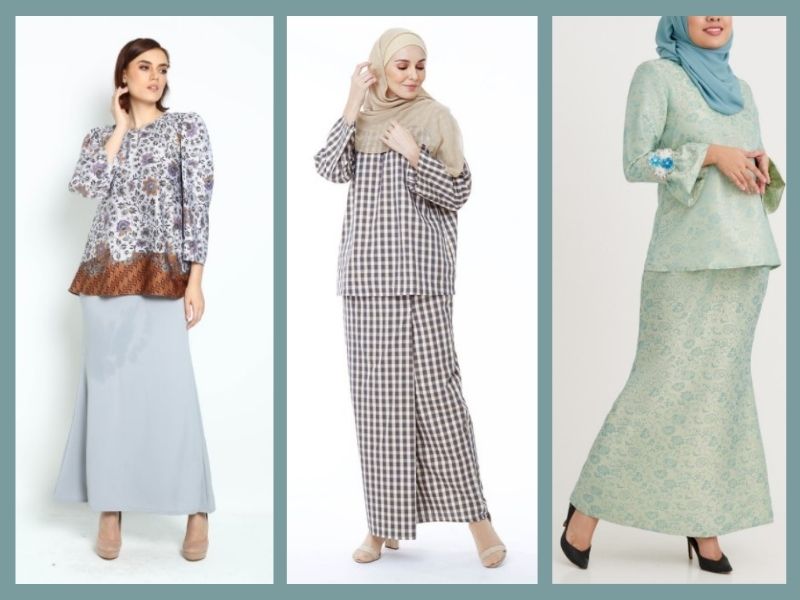 The baju kurung Kedah features a shorter blouse hem that cuts off at the hips and three-quarter sleeves. This traditional Malay clothing for women has a boxy yet tapered fit that makes it easy to move around. Thus, you can go about the day's tasks without any difficulties! Pair the top with either a batik sarong or a long, ankle-length skirt. You could use a kain pelikat that's tied securely in the front; wear a bold motif for a striking look. 
Baju Kurung Pesak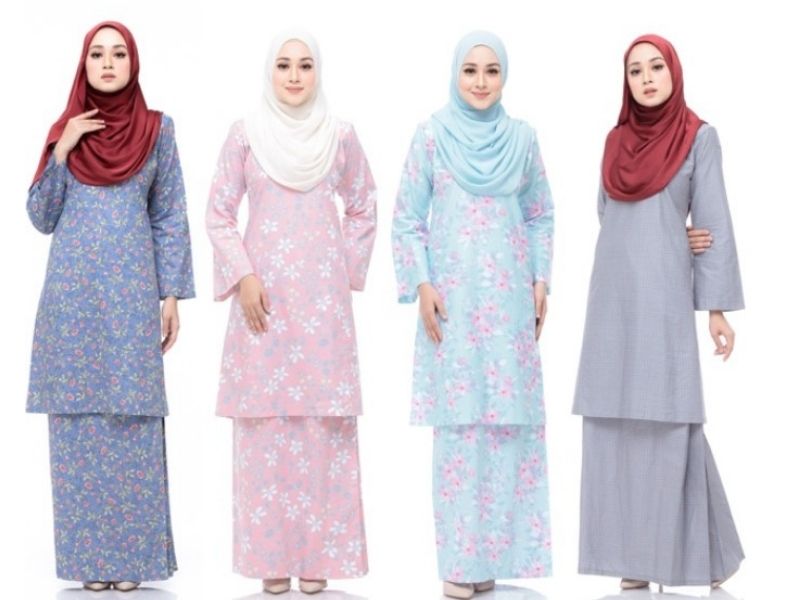 Need some comfortable traditional Malay clothing? Then, consider the baju kurung pesak. Compared to your regular baju kurung, the blouse top is longer and falls below the knees. In addition, there are two types of styles to choose: baju kurung pesak buluh and baju kurung pesak gantung. 
The baju kurung pesak buluh is more structured in design with two side pesaks and a straight cut. Pesaks are an additional cloth sewn around or under the armpit area; it provides more flexibility to the outfit. Meanwhile, its matching sarong bottom has triple side pleats. These pleats are really forgiving on the body. After all, it leaves plenty of room to accommodate your food baby during all the joyous feasting!
On the other hand, the baju kurung pesak gantung has a similar design. The difference is that the pesak stitching begins just a couple of centimetres below the armholes.
Baju Kurung Pahang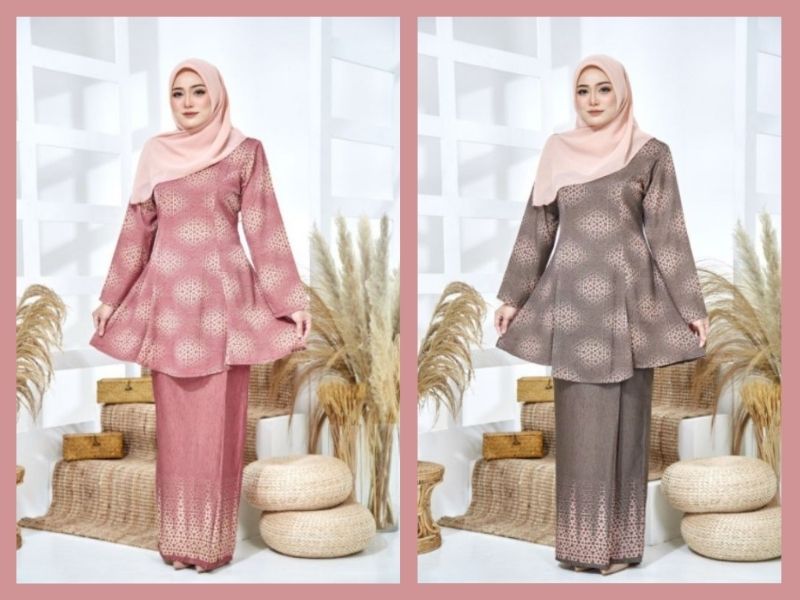 Baju kurung Pahang is a traditional Malay clothing that's usually worn on more formal occasions. Its origins stem from the relationship between the two states of Pahang and Riau. This kurung was initially known as baju kurung riau-pahang.
Like the baju kurung pesak, this style consists of a longer blouse hem that flares out towards the end. Pair the accented piece with a more fitted kurung bottom to finish off the look. This will flatter your body's proportions and balance out the entire outfit. 
Modern Baju Kurung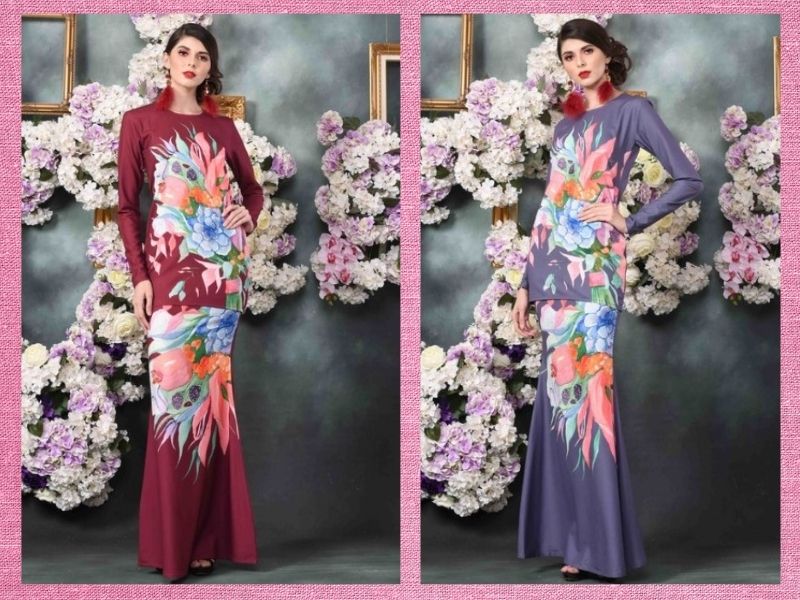 The humble baju kurung has certainly progressed over the years in Muslimah fashion with newer designs and cuts. Currently, most modern baju kurung styles are more closely trimmed to the body. Blouse tops are typically shaped with a prominent, cinched-in waist and don't have a pesak. Instead, it's replaced with zipping and darts instead. 
Meanwhile, the kurung bottoms fall over the hips and legs in a mermaid silhouette or a long A-line skirt. The bottoms can be worn in either a wrapped or pleated style. So, if you're looking for traditional Malay clothing to reflect your trendy sense of fashion, then this look is for you. 
Baju Kebaya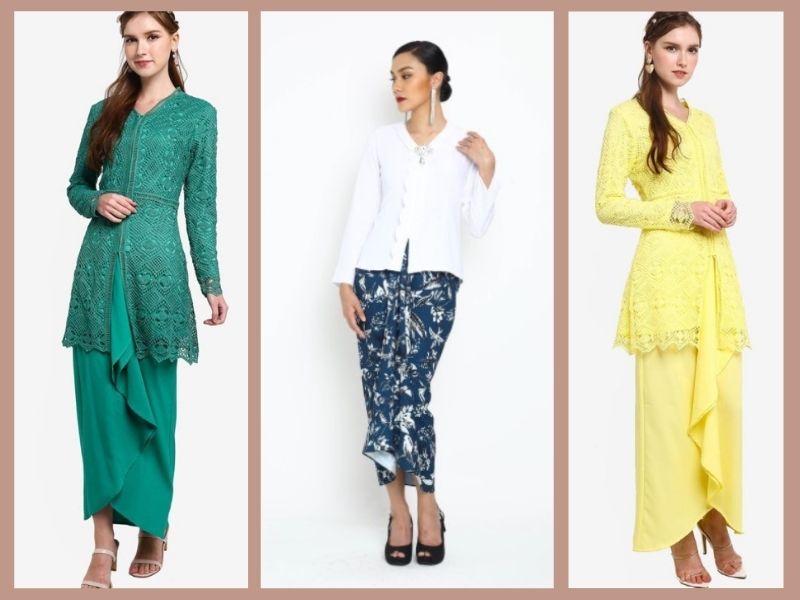 Baju Kebaya is known for its intricate lace trimmings and floral-patterned embroidery. As such, this traditional Malay clothing is the embodiment of all things elegant and feminine. Just like most modern baju kurung styles, the baju kebaya features a well-defined waist to highlight your figure modestly and fashionably. 
Also, the kebaya has a top blouse with (typically) a sheer design worn over a kemben or torso wrap. Ladies fasten the central opening using a kerosang (statement brooch), securing the flaps of the blouse in place. The blouse is usually paired with an A-line or mermaid silhouette skirt; you can also pair it with a long kain or sarong wrapped around the hips. 
Types Of

Traditional Malay Clothing

For Men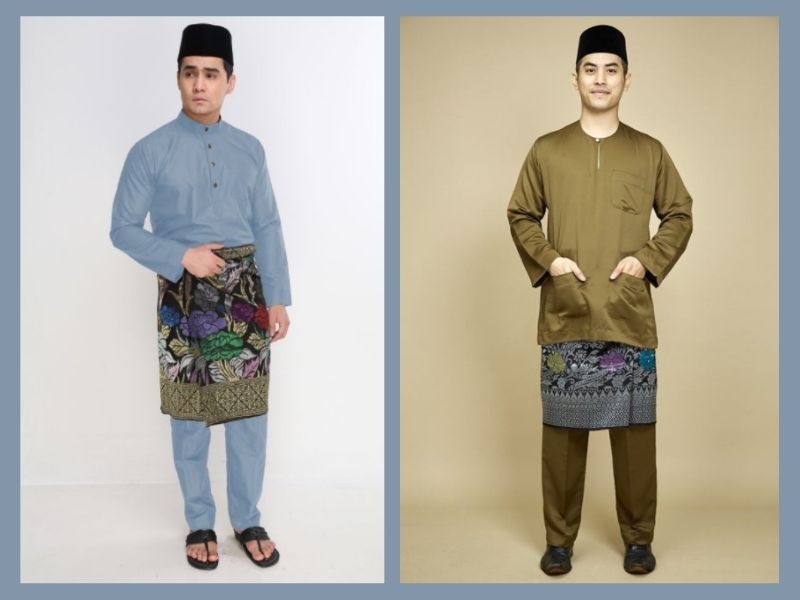 Baju Melayu Cekak Musang
The baju melayu cekak musang is a timeless design when it comes to traditional Malay clothing for men. You need three main pieces to complete this look: a tailored long-sleeved shirt, a smart pair of trousers, and kain sampin. The top features a five-button stand-up and a round collar, layered neatly underneath a kain sampin around the waistline. 
Baju Melayu Teluk Belanga
Meanwhile, the baju melayu teluk belanga style favours a more semi-formal attire through its tulang beluk (round-neck collar) and a subtle slit in the middle secured by a single button. Another difference is that the top is layered over the kain sampin, instead of under it. Lastly, complete the look with a songkok for the finishing touch to your traditional Muslimin wear. 
Look Festive & Stylish With These

Traditional Malay Clothing

On Hari Raya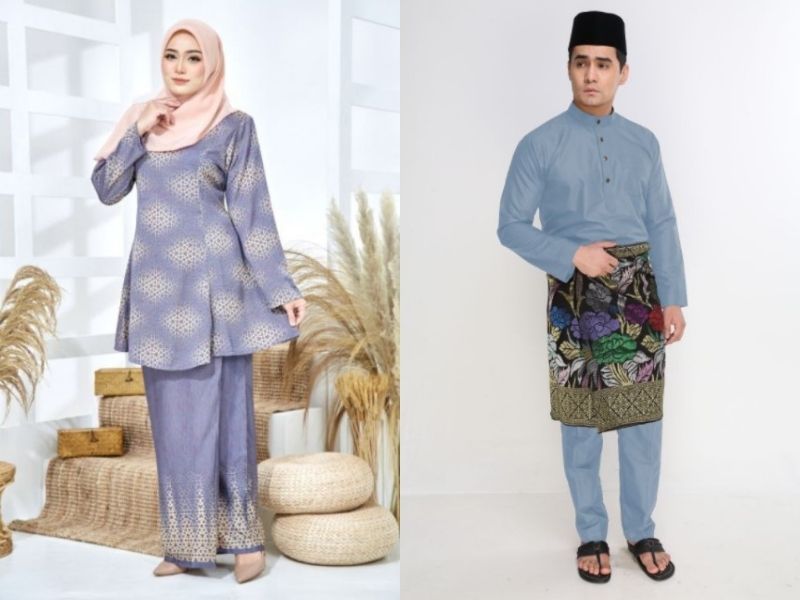 Now that you're aware of the different types of traditional Malay clothing, it's time to find a style that captures your personality and fashion sense the best! For ladies, it doesn't end with putting together your outfit and hijab. Take some time to tackle your makeup next to tie the whole look together.
Don't be afraid to go extra glamorous with a bold eye look. You can also try graphic liners and metallic eyeshadow to help you to stand out from the crowd. Otherwise, you can't go wrong with a classic smokey eye for its sophisticated appeal.
We hope you have a wonderful celebration with loved ones this festive season, especially since you'll be meeting after months of lockdown. Stay safe and Selamat Hari Raya!