Not a fan of fermented food but want to get a healthy dose of gut-friendly bacteria in your system? This calls for the best probiotics in Malaysia, and chances are, you already know that. Just like fermented food, probiotics contain 'good' and beneficial bacteria that help break down food, produce vitamins, and protect us against disease-causing pathogens, except they come in easily digestible powder or capsule forms. But how exactly do they work in our body and what are the best probiotics to buy in Malaysia? Keep reading because we gut the 101 down below.
What Are Probiotics Good For?
Probiotics contain live bacteria that, if consumed, can help maintain the health of your digestive system. Now, you might think that all bacteria are bad, but that's not at all the case with probiotics. They're actually made of 'good' bacteria that keep you healthy by: 
Replenishing the 'good' bacteria that you lose from your body, for example from taking a course of antibiotics or charcoal, and

Restoring the balance of 'good' and 'bad' bacteria in your gut to keep your body working optimally.
Probiotics are commonly used to alleviate gastrointestinal symptoms such as gas, bloating, and constipation, but there has also been research indicating its positive effects on eczema, urinary and vaginal health, preventing colds, and oral health.
These Are The

Best Probiotics

You Can Find In

Malaysia
Take your pick from capsules, powder, or gummies.
1. Lacto-5 Locally Derived Probiotics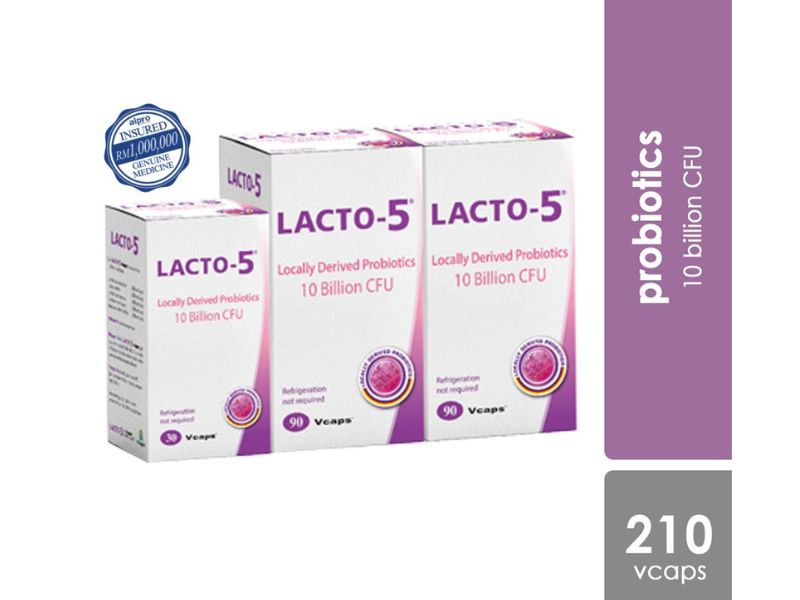 Contains: Lactobacillus acidophilus, Bacillus subtillis, Lactobacillus rhamnosus, Bifidobacterium longum, Streptococcus thermophilus
One of the best selling points of Lacto-5's probiotics is the fact that it's specifically formulated for Malaysians. These Halal-certified probiotics are comprised of five locally derived bacteria strains, which have been found to live longer and adapt better to our guts. Taken consistently, Lacto-5 not only helps improve digestion, it also strengthens the immune system, reduces lactose intolerance, and enhances mineral absorption. Plus, it's versatile enough for kids and adults, so there's no need to purchase separate probiotics for the family.
2. VitaHealth Probiotic 6 + Inulin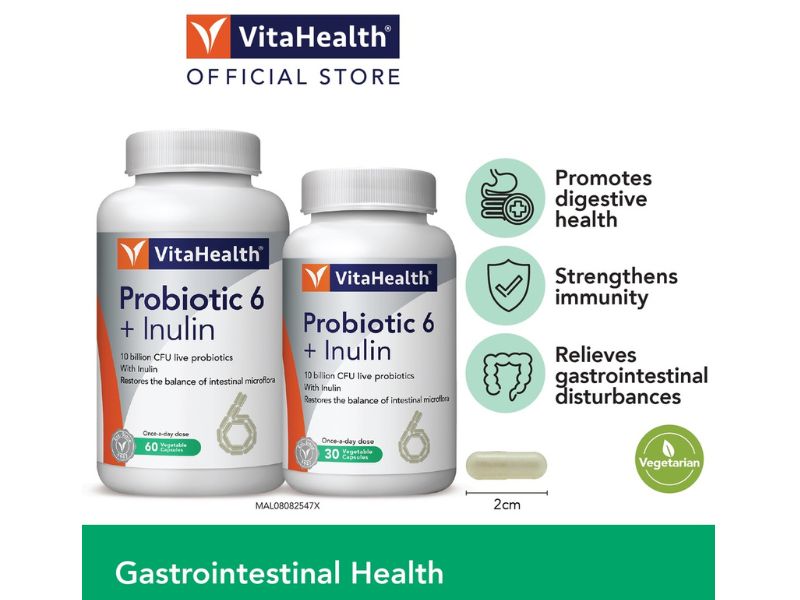 Contains: Lactobacillus acidophilus, Lactobacillus casei, Lactobacillus plantarum, Lactobacillus bulgaricus, Bifidobacterium infantis, Bifidobacterium longum, inulin
Carrying 10 billion live probiotics in a single capsule, this VitaHealth probiotic supplement will provide a much-needed boost of good bacteria to your intestinal microflora. This helps restore balance in the gut, leading to improved digestive functions, immune response, and overall health. On top of six probiotic strains, the supplement also contains inulin, a form of prebiotic that stimulates the growth of beneficial bacteria in your gut. For folks on the go, VitaHealth's fridge-free formulation means you can fulfil your once-a-day anywhere—just carry them in a pill case wherever you go.
3. GKB Probio+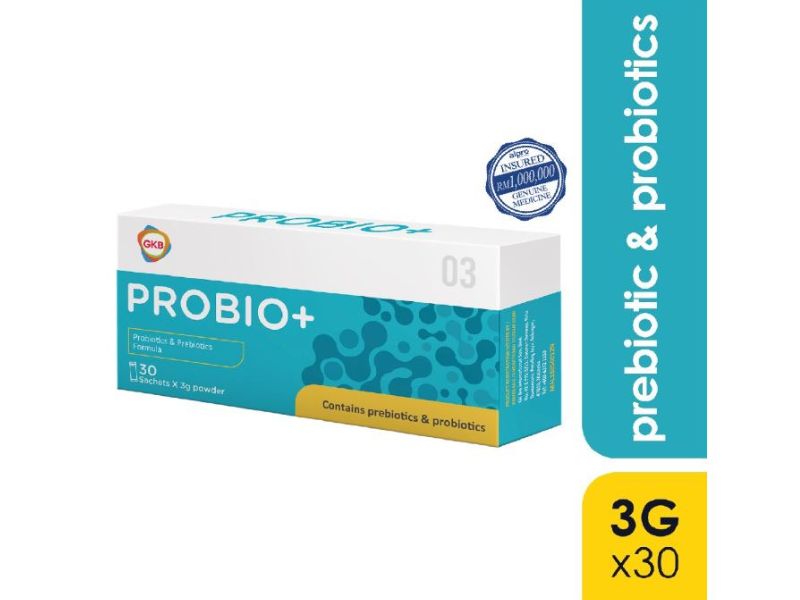 Contains: Lactobacillus rhamnosus, Lactobacillus helveticus, Lactobacillus fermentum, Bifidobacterium longum, Streptococcus thermophilus, fructooligosaccharides, inulin
The best-selling GKB Probio+ is a two-in-one probiotic in Malaysia that contains both pro and prebiotics. The five strains of probiotics add living bacteria into your system, while the two types of prebiotics feed existing microbes. Both work in symbiosis to maintain the balance in your gut flora, which is key in strengthening immunity and building resistance towards digestion issues like constipation and diarrhoea. The Halal-certified Probio+ comes in ready-to-eat granule form, providing a whopping 20 billion probiotics per sachet.
4. 21st Century Probiotics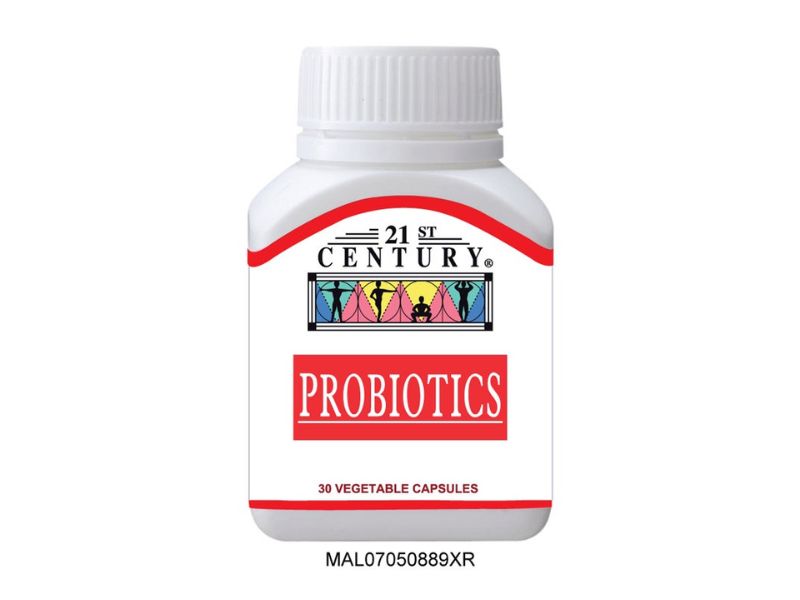 Contains: Lactobacillus acidophilus, Lactobacillus selvarius, Bifidobacterium bifidum, Streptococcus thermophilus
In terms of quality and affordability, 21st Century Probiotics offer one of the best value for money in Malaysia. The 30-capsule bottle is priced at under RM20, and it doesn't skimp on probiotics either—each capsule contains 8 billion via a blend of four 'friendly' bacterias. You can swallow the capsules whole with water or pull them apart and dissolve the contents in juice or milk for the kids.
5. Swisse Ultibiotic Daily Digestive Probiotic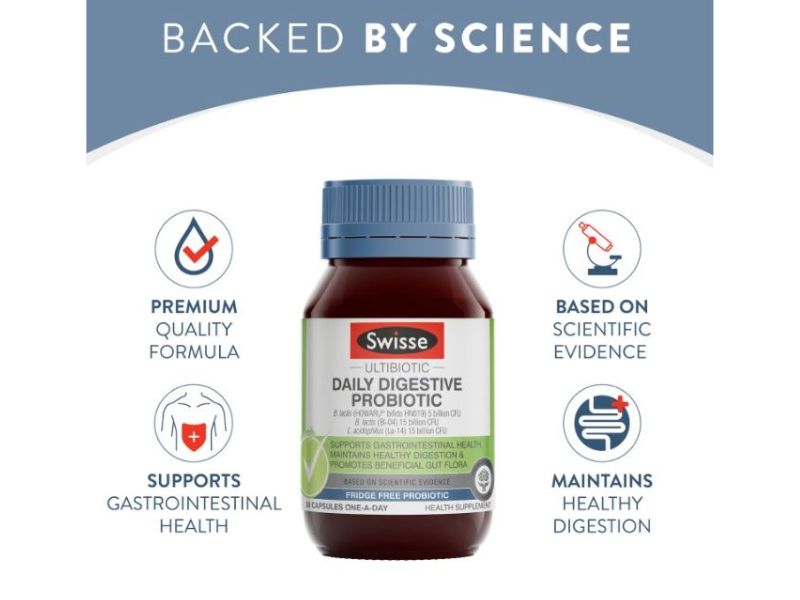 Contains: Bifidobacterium lactis, Bifidobacterium lactis, Lactobacillus acidophilus
A capsule a day keeps digestive problems away, and that's exactly what the Swisse Ultibiotic Daily Digestive Probiotic does for both kids and adults. The premium quality formula combines three clinically trialled strains of bacteria, which work together to promote beneficial gut flora, support healthy digestion, and maintain general well-being. Even better, it's safe for those with dietary sensitivities, as there's no added lactose, gluten, yeast, egg, soy, artificial flavours, or colours in these supplements.
6. Bio-Life A. B. Adult Gold Pre & Pro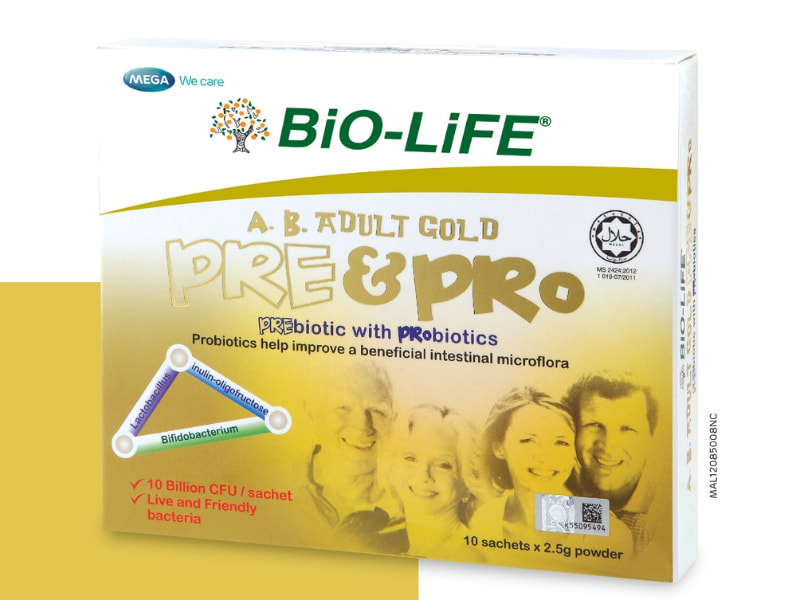 Contains: Lactobacillus plantarum, Bifidobacterium lactis, chicory inulin
The Bio-Life A. B. Adult Gold Pre & Pro is one of the best probiotics in Malaysia for seniors looking to maintain healthy bowel movements. The gut-friendly combination of probiotics and prebiotic helps restore gut flora, resulting in better intestinal health, improved bowel movement, and more effective nutrient absorption—all of which are important when you're in your golden years. On the other hand, Bio-Life also offers a Junior version, which contains a different strain of probiotic that better suits children's needs.
7. Kordel's Protect Probiotic Powder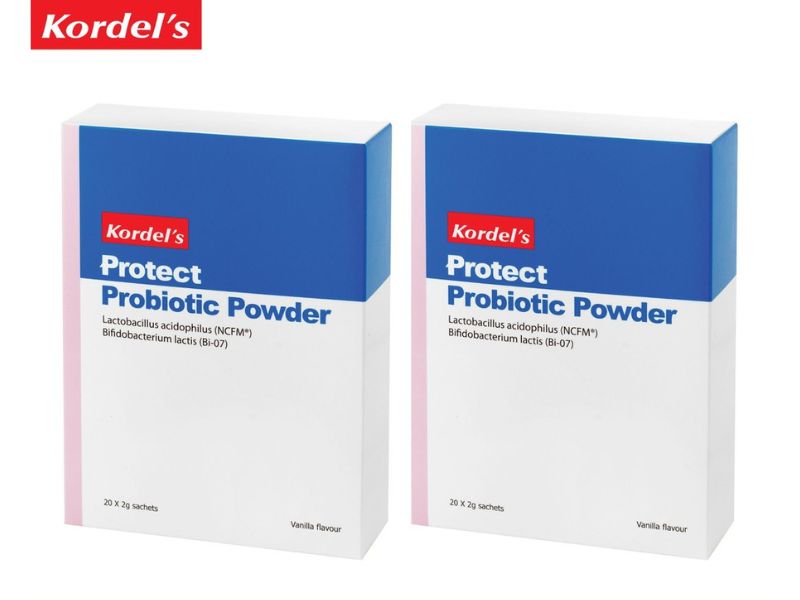 Contains: Lactobacillus acidophilus, Bifidobacterium lactis
Imported from and made in the USA, this probiotic powder by Kordel's is clinically proven to boost children's immunity, helping them keep healthy even through flu season. (Don't worry, it's potent enough for adults too!) Each sachet contains 10 billion active probiotics that are antibiotic-resistant and highly tolerant towards stomach acid. After all, the hardier the bacteria, the longer it stays in the gastro-intestinal tract. And if your little one is a picky eater, the vanilla-flavoured powder is easy to consume and familiar on the palate.
8. HEXBIO Granule Probiotic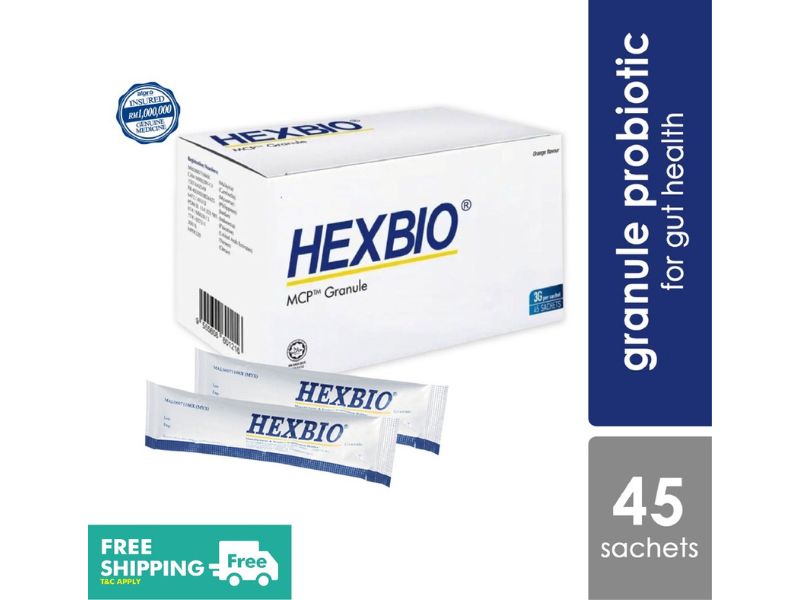 Contains: Lactobacillus acidophilus, Lactobacillus casei, Lactobacillus lactis, Bifidobacterium bifidum, Bifidobacterium infantis, Bifidobacterium longum
Looking for Halal- and GMP-certified probiotics? HEXBIO is among the best probiotics in Malaysia that fulfil both criteria. Made for busy working adults, these probiotics help you cope with stress and keep illnesses at bay simply by replacing the good bacteria in your gut. And it's no wonder HEXBIO is recommended by doctors and widely used in hospitals; each serving contains six beneficial strains of bacteria and a total of 30 billion probiotics—the highest in this list! It's also free from sugar, gluten, and other common allergens, and therefore ideal for diabetics, and those with gluten and lactose intolerance.
9. Swisse Probiotic & Prebiotic Gummies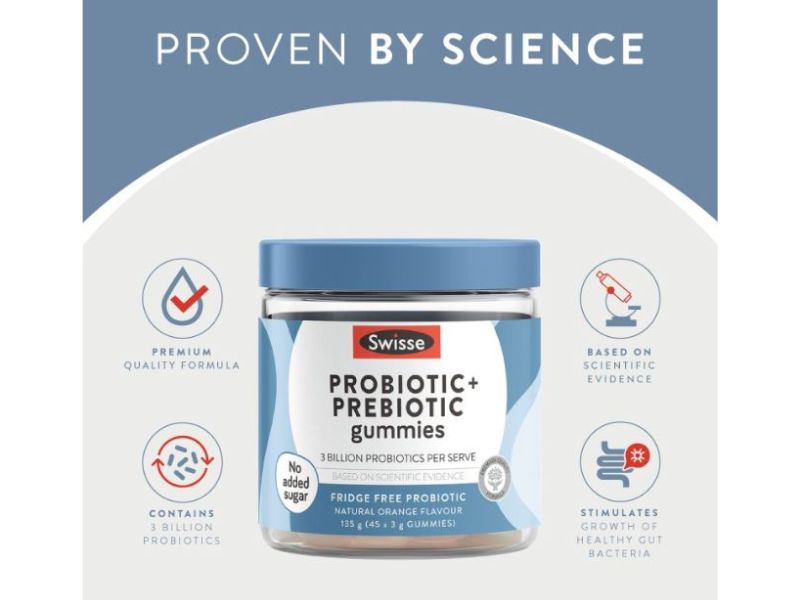 Contains: 3 Billion CFU probiotics, inulin
If you struggle with swallowing pills, these chewable probiotic gummies by Swisse won't trigger any deep-rooted traumas. In fact, it would feel just like snacking on candy, except it's not actually sweet. Instead, each serving of these pastilles is packed with natural orange flavour, 3 billion beneficial bacteria, and a natural prebiotic that feeds the good bacteria already in your gut. Think the kids would enjoy this too? You're in luck! Swisse also produces gummies for little ones, with a slightly lower dosage of probiotics.
Give Your Digestive Health A Positive Boost With The

Best Probiotics In Malaysia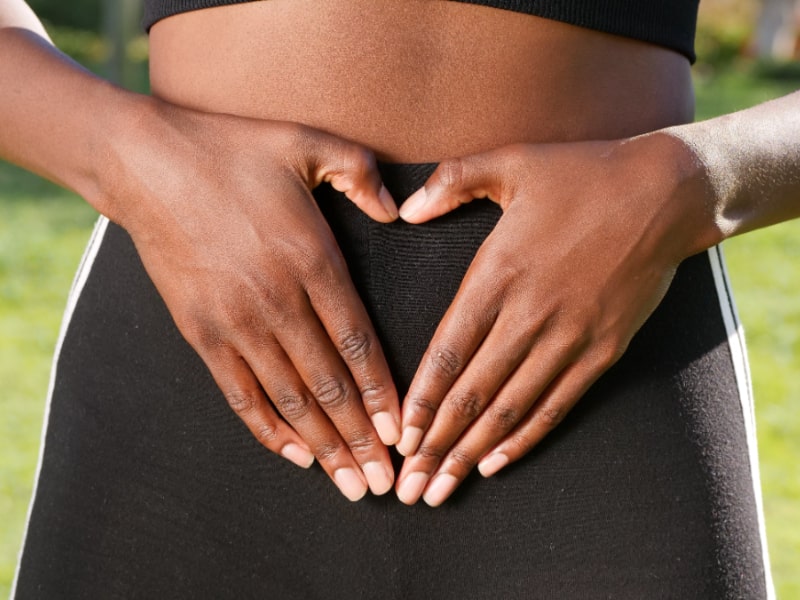 Generally, probiotics don't require a doctor's prescription. But if you're affected by diet restrictions or health concerns, it's definitely advisable to consult a doctor before you start taking any of these best probiotics in Malaysia. When you've got the green light, be sure to follow the recommended dosage on the label for best results.
Although these best probiotics in Malaysia don't target the skin specifically, the best collagen supplements in Malaysia and some lifestyle changes can help you achieve a glowing complexion from the inside out. If nothing else, leave it to the professionals for a proper dermatological solution.
Don't want to miss out on the best deals and vouchers when you restock your supplements? Here's a pro tip: You can find them all at the Shopee Health And Beauty Hub!