Smokey eye makeup looks are known for their sexy, sultry appeal, but they're also very easy to mess up. The wrong application can leave you looking sleep-deprived or like you've just been punched in the face twice. Not cute at all. So, unless panda eyes are what you're going for, here are some easy but effective tips to create a flawless smokey eye. 
Beginner-Friendly Tips To Nailing The Smokey Eye Makeup 
Always Prep Your Eyes With An Eyeshadow Primer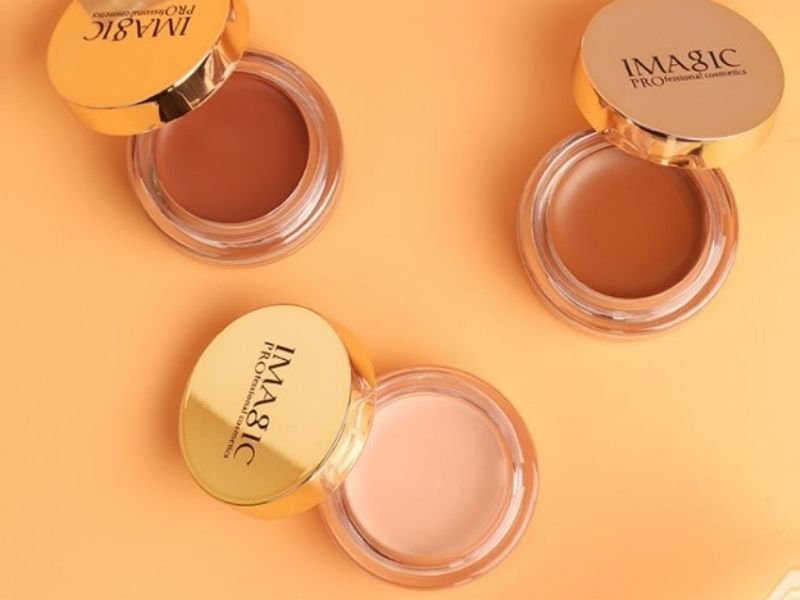 Prepping your eyelids with an eyeshadow primer is a crucial step to creating any smokey eye makeup look. Eyeshadow primers serve as a barrier between your skin and makeup. In doing so, they shield your eyeshadows from interacting with the skin's natural oils. So, if you have particularly oily lids, primers are a must to keep your eye makeup from smudging, creasing, or fading. Plus, they make it easier to blend your eyeshadow too while ensuring it stays in place for longer. 
Stick To Three Eyeshadows Max For Any Smokey Eye Makeup
Smokey eye makeup is all about blending your eyeshadow and fading it from dark to light. This is what creates that sensual ombre smokey effect. As such, you wouldn't want to overwhelm it with too many eyeshadow pigments and textures. There's nothing worse than a muddy mix of colours that don't gel well together. It's completely fine to just use one eyeshadow if you're not confident with using more than that. 
However, for those who want more dimension, three shadow colours are all you need to create a standard smokey eye look. Be sure to use the right eyeshadow brush to create a seamless blend. Additionally, your eyeshadow hues don't need to be strictly black and greys. You can play around with other cool tones or use warm tones if they suit your skin tone better. Or to go for a complete wild card, opt for rainbow colours instead. Whatever you choose, as long as you have your dark to medium to light shades, you're all set. 
Apply Kohl Eyeliner Close To The Lash Line And Blend It Upwards
This is one of the easiest ways to create your classic smokey eye makeup. It doesn't require too much effort nor skill, and you don't have to worry about being so neat with your application either. However, blending is especially important with this technique, as it will help sheer out the harsh pigments from the eyeliner and diffuse it into the desired smokey effect. What you do need to take note of is where you place your eyeliner.
It's best to keep it close to the lash line and then blend upwards to avoid taking the pigment too high up to the brow bone. You can easily adjust the intensity of your smokey eye makeup to fit the look you're going for. Simply draw in more layers and pack on another cool-toned (preferably grey) eyeshadow with a flat shader brush to build it up into a vampy night-time look. Or keep it simple with just the eyeliner smudged out over the lids for an effortless smokey eye that's suitable for daytime. 
Use Cream Formulas For A Quick Smokey Eye Makeup Look 
Besides eyeliner, long-wearing cream shadows are perfect for makeup beginners. Most of the time, you don't even need to use a brush for application. You can easily tap them on and blend with just your fingers. And that's pretty much all there is to it; they're that easy! Not forgetting you don't have to deal with fallout either. Seriously, it can't possibly get any easier than that. 
Although, if you do prefer using makeup brushes, make sure to use ones with synthetic bristles, as natural-hair brushes will only absorb the product. You can also opt for an eyeshadow stick to be more detailed and precise with your application. The technique is the same as the previous method with the kohl liner, so just repeat the process. 
Place The Darkest Shadow On The Outer Corners Of Your Eyes 
You don't necessarily need to sweep the black eyeshadow across the lids, especially if you're a beginner. Sure, admittedly that technique can make for a very impressive and dramatic eye look. However, if you're not well-versed at blending or are using the wrong tools, this is where you can quickly transform those smouldering smokey eyes into the infamous raccoon eyes. So, for those still new to makeup, we'd suggest using a less extreme approach. 
Instead, concentrate the dark eyeshadow on the outer thirds of your eye, forming a V-shaped gradient. Start with your transition or mid-tone shade (which you'll also be using as a base) and apply it all over the lids, blending it up into the crease. Then, use the darkest shade to line your eyes before taking it inwards just a third of your lids and crease. Keep intensifying the colour till you're satisfied with the effect. Finish off the look with a highlighting shade to brighten up the eye. 
Use Glitter/Shimmer Toppers To Make Your Smokey Eye Makeup Pop 
Glitter toppers add an extra dash of glamour to any makeup look. Particularly with smokey eyes, they're a sure and simple way to lessen the harshness of the dark eyeshadow if you've accidentally gone a little too heavy-handed. Have a glitter glue on hand so the glitter particles will stick securely onto the eyeshadow. Pat the glue thinly over the inner third of your eye socket. Try to remain as still as you can or look downwards into a mirror for even distribution. 
Do the same with your glitter toppers and gently pat them onto areas you've applied your glue using a fluffy brush. This will pack in the loose pigments neatly. If you're not too fond of the mess that glitter pigments tend to make during the application, then opt for metallic or shimmer eyeshadows instead. They may not offer the same sparkly effect but are still just as reflective to provide the dazzling shine that you want. 
Create Your Smokey Eye Makeup With Ease For Your Next Romantic Date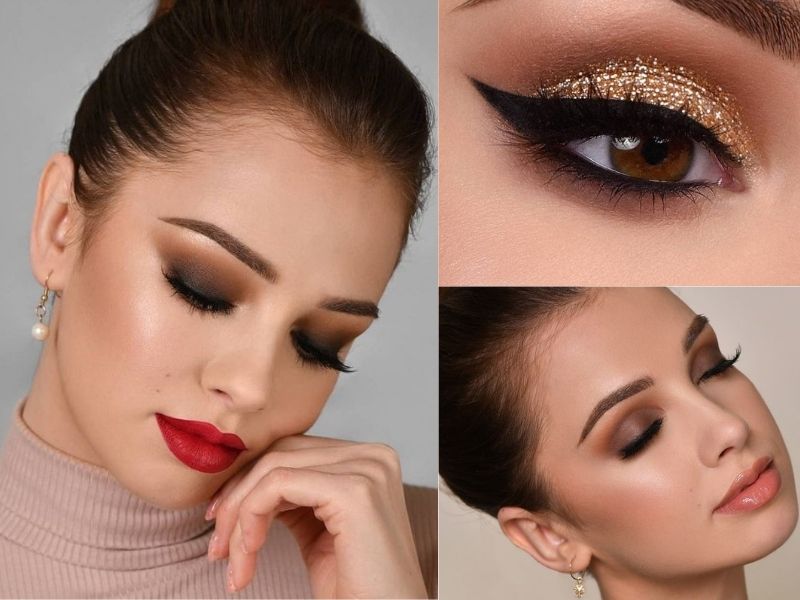 We hope these tips will help you master the sexy smokey eye makeup just in time for Valentine's Day. Even if you don't quite get the hang of it on your first few tries, don't sweat it. Practice makes perfect and over time, you'll be a pro at blending out your eyeshadow to create an effortless smokey eye effect. Don't forget to check out our other article on simple date night makeup looks for more beauty-related content.