The Deepavali festive season is quickly descending upon us and we're excited, to say the least. After all, it's a joyous celebration to get together with friends and family over mouth-watering meals and yummy snacks. And since taking #ootd photos for the 'gram is usually standard practice, it's time to plan your outfits beforehand. Not too well-versed in the language of traditional clothing? Then sit tight as we take you through the different types of traditional Indian clothing for men and women, so you can rock your best stylish self on Deepavali.
Types Of

Traditional Indian Clothing For

Women 
Saree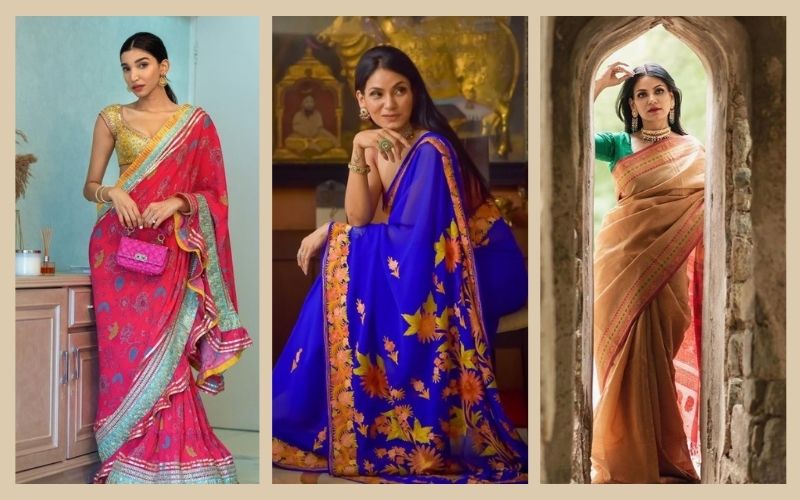 The saree is perhaps one of the most common types of traditional Indian clothing for women. This single piece of garment can usually be around 4.5 to 9 metres long and 1 metre wide. One end is wrapped around the waist as a skirt. Meanwhile, the other end is draped loosely over the shoulder, keeping the midriff bare. They are then worn over a matching petticoat or long underskirt, together with a cropped, fitted bodice or choli. 
Lehenga Choli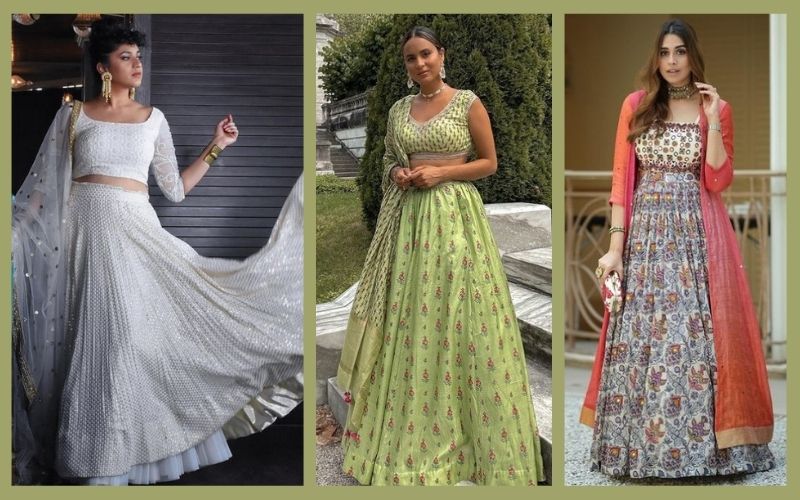 Lehenga Choli is a three-piece traditional Indian clothing that's frequently worn during special events like weddings or festivals. It consists of a long maxi, ankle-length skirt (lehenga), and a fitting blouse (choli) adorned with intricate embroidery or embellishments. The look is then finished with a long shawl (aka dupatta) for added elegance and sophistication. 
Punjabi Suit/Salwar Kameez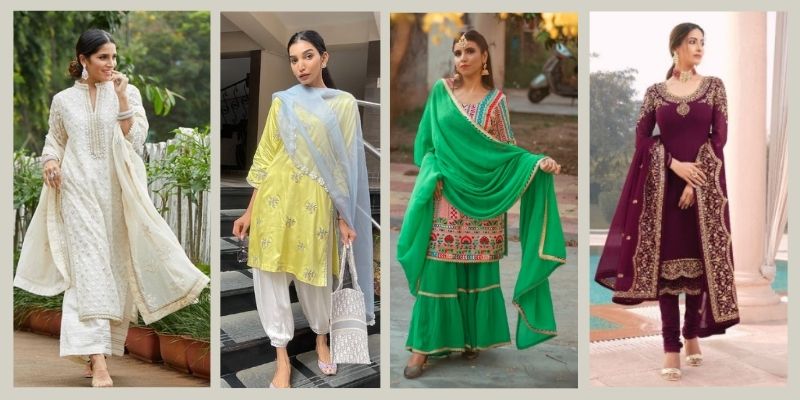 A Salwar Kameez ensemble (or sometimes referred to as Punjabi Suit) is made up of a pair of pleated pants (salwar) and a long, knee-length tunic top (kameez). The bottoms are tight-fitting around both the waist and ankles. That said, other variations also include looser-fitting designs, such as harem pants with elastic ankles, culottes, or sharara pants (loose wide-leg bottoms) for a more voluminous and baggier silhouette. Meanwhile, the tunic top is kept loose, with the side seams split open just below the waistline to provide better movement. 
Anarkali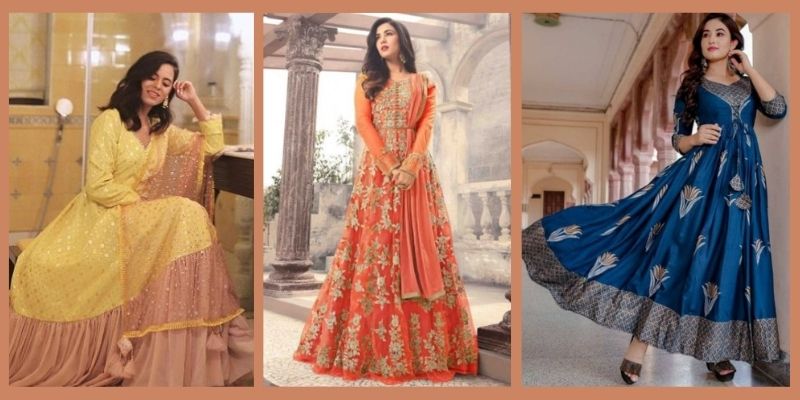 This traditional Indian clothing features a long, frock-type garment to create a flattering and flowy silhouette. It has a bodice cinched in below the chest area before flaring out towards the hem of the dress. The length of an Anarkali dress usually ends at the knees. However, over time, it has evolved to floor-length pieces—an equally popular choice among women. It is then paired with an accompanying churidar (tight-fitted trousers) to match the top. Otherwise, you can also pair it with palazzo pants for a trendier and more relaxed fit. 
Types Of

Traditional Indian Clothing

For

Men
Kurta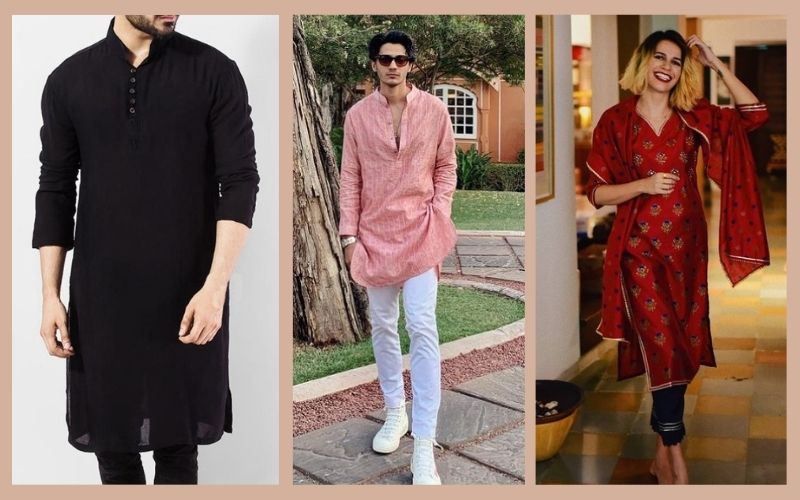 When it comes to traditional Indian clothing for men, the Kurta is the go-to top of choice. It's a loose-fitting shirt that stops at or just below the knees of the wearer. Most traditional kurtas are collarless, though stand-up or Mandarin collars are used in newer styles. The sleeves of the kurta are uncuffed and fall to the wrists without tapering. On the other hand, ladies wear a more feminine version of the kurta called a kurti. The difference? The side slits for kurtis go above the waist, leaving the sides of the midriff exposed.
Dhoti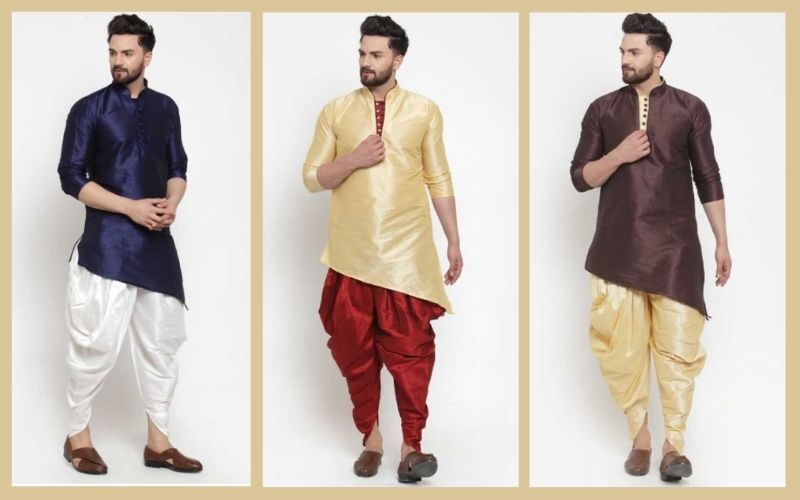 As for the bottoms, most traditional Indian clothes for men are worn with a dhoti. This long unstitched cloth is about 4.5 metres long in length and wrapped around the waist and legs. After that, you tie a knot around the waist to secure it in place. Dhotis are typically paired with a kurta but are also occasionally worn with sherwanis for formal events.
Sherwani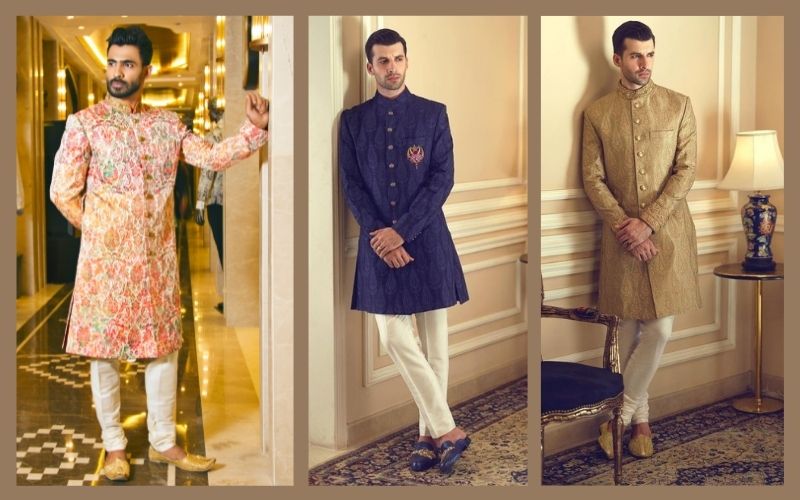 Sherwanis are a long coat-like jacket that stops at knee length. They bear a similar resemblance to the Achkan and are famous for their regal and polished appearance. It's crucial to always wear something underneath your sherwani. Otherwise, it can be rather uncomfortable. They're usually worn over a kurta, but layering a T-shirt underneath also works. As for the bottoms, you can either go for dhotis, leggings, churidars, or slim-fit pants to complete your traditional wear outfit. 
Celebrate The Festival Of Lights In Style With These

Traditional Indian Clothing

For

Men

& Women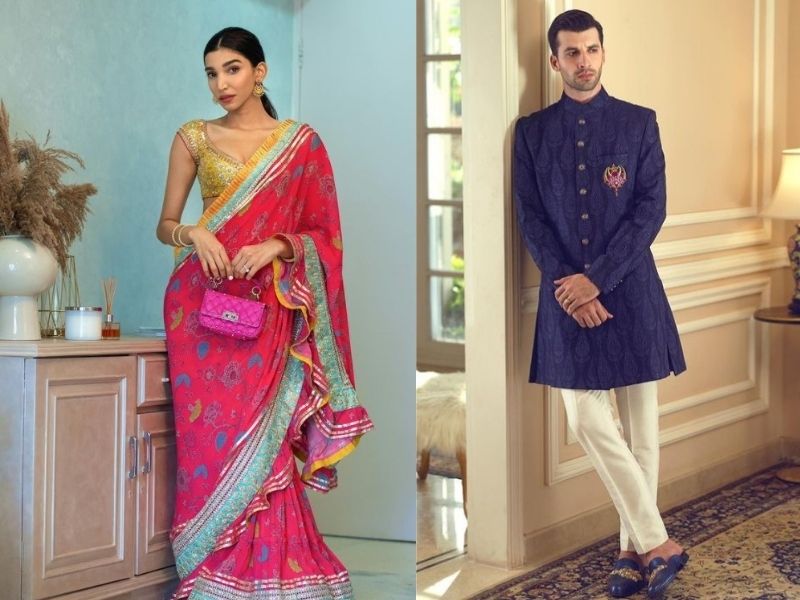 From elegant sarees to dashing sherwanis, we hope this list has given you an idea of what to wear for Deepavali. Clearly, there are various types of traditional Indian clothing for men and women, and these are just some of them! Want to try your hand at henna drawing? Then start practising with these simple henna designs to take your Deepavali outfit to the next level. Hungry for some homemade thosai? Read our guide on how to make thosai like those pro Indian aunties.
This year, Shopee is spreading the Deepavali spirit with a hilarious yet heart-warming short film, Deepava-LIT, so be sure to catch it with your family!