Hop into the Year of the Rabbit with renewed bounce! While the general outlook for many of the animal zodiac signs continues to be an optimistic one, there are also those that will need to improve on their luck or carefully manoeuvre their journey to avoid stumbling into a block. That said, we should all enter the new year feeling prepared for what's to come our way while also working on our agility to adapt to any changes as and when they occur. 
Which begs the question—how can you be prepared? Make a list of what you want to accomplish this year, followed by the things and tools that can help you achieve those goals. 
Once you have that list of items, perhaps consider heading over to Shopee to get them since it's currently having the Shopee CNY Sale 2023. Happening from now to 24 January 2023, with peak days Jan 9 CNY Super Huat Sale, Jan 15 CNY Shopee Mall Day, and Jan 18 CNY Reunion Sale, be sure to take advantage of specially-curated collections and features that come with affordable price tags so you not only get what you need, but also enjoy savings. Plus, there's the free shipping with a minimum spend of RM8 vouchers that you can claim and redeem during this Shopee sale*. 
Read on!
Start The Year Strong With This Unmissable Shopee Sale 
The Shopee CNY Sale 2023 is overflowing with promos, deals, bargains, rewards, and more. Let's take a look at what makes this Shopee sale so mouth-watering. 
1. Daily 88% Off Prosperity Deals 
Enjoy selected home and living items, fashion accessories, groceries, and beauty products at 88% off! The deals are limited, but the selection refreshes daily. Not only that, the number of items for the 88% Off Prosperity Deals increases on peak days 9, 15 and 18 January 2023, so you can keep your low-key kiasu-ness at bay. 
2. Win RM8,000 Angpow Daily
Who doesn't love a red packet? Angpows are the best thing to happen during Chinese New Year… unless you're the one giving them out. The anticipation of opening, peeking, and silently counting how many notes of blue, or red, or even green-blue, never fails to excite both young and old. 
On the virtual side of things, you'll get a chance to win RM8,000 angpow (cash prize) daily during this Shopee sale! All you need to do is play Shopee Fortune Cookie and follow these simple steps:  
Crack the Fortune Cookie to collect a golden ticket; 

Collect more tickets for higher chances of winning the cash prize. Tip: you can also claim golden tickets by fulfilling additional tasks;

Correctly answer a question via Shopee Live winner announcement live stream if you are the potential winner.
There will be a draw taking place during the Shopee Live stream where the week's potential winners will be chosen and called on the spot. These potential winners will then have to answer a question correctly in order to win the cash prize! 
The Shopee Live winner announcement live stream will take place on 16, 25 and 31 January at 4pm so be sure to tune in. Who knows, Lady Luck might just be on your side.  
3. 2023 Zodiac Fortune 
Have no time to visit the feng shui master? Then let us tell you your fortune! Here, we've put together horoscope readings for all animal zodiac signs: Rat, Ox, Tiger, Rabbit, Dragon, Snake, Horse, Goat, Monkey, Rooster, Dog, and Pig. Dive deeper into what 2023 has in store for your health, career, and love, as well as how you can improve your luck through lucky gemstones, colours, numbers and directions. 
Click here for your horoscope readings as we enter the Year of the Rabbit. 
Related: Decorate Your Home With These Lucky Plants This CNY For More Ong Mali!
4. RM8 Fatt Choi Deals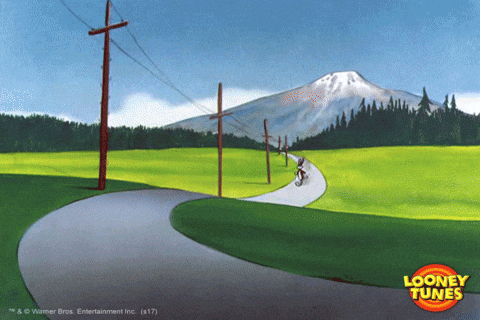 Gong hei gong hei! Prosper this Chinese New Year by grabbing highly discounted items priced at RM8 only on peak days 9, 15 and 18 January, available at 12am and 10pm! Find fashion accessories to complement your OOTD; home and living items to spruce up the house, and groceries to feed your guests, all at really fatt choi deals. 
5. Buy 1 Free 1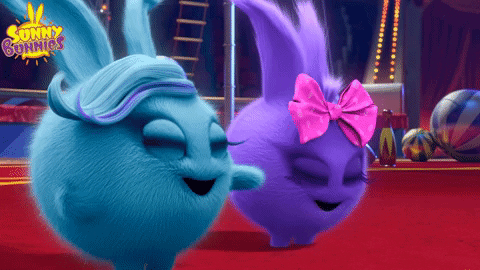 Two is better than one, yes? 
During the Shopee sale, enjoy free gifts or bundle items from a list of curated Buy 1 Free 1 Deals. Find them at this page; or when you see a product listing with a [Buy 1 Free 1] text or Get 1 Free Gift tag. 
6. Shopee Prizes 
Put your luck to the test and play some games during Shopee's sale. Then again, it's also a great way to beat and show off to the cousins whom you've always been compared to by the elders. Not only that, you stand to score some amazing prizes including an HONOR Magic4 Pro and Shopee Coins, if you do win the games. 
From Shopee Farm, Shopee Bubble and Shopee Candy to Shopee Claw, Shopee Pets, Shopee Shake, and Shopee Tap Tap, your afternoon with the cousins at ah ma's will sure to be a noisy one. 
7. Daily Brand Discounts   
This Shopee sale gets exciting with more discounts from brands that are taking part in the CNY Sale to give you a huat-er celebration. 
Throughout the Shopee sale, participating brands will be offering 25% off on selected items from daily essentials and electronics to fashion and lifestyle. To enjoy, you'll need to claim and use the Shopee voucher with 25% Coins Cashback, minimum spend RM40 (capped at RM10). There are also seller vouchers available for you! 
On peak days 9 and 18 January, the discount increases to 30% off with a minimum purchase of RM40 (capped at RM10) while on Jan 15 CNY Shopee Mall Day, there are deals with 50% off and above! All you need to do is spend at least RM30 (capped at RM15). 
Tip: Look out for listings with the Daily Brand Discount tag to enjoy the discount.  
8. Fortune Voucher Drop  
Shopee will be dropping (whoops!) various special vouchers for you to claim and use on peak days 9 and 18 January. You can only claim the vouchers on 8 and 17 January across different time slots when they will be released: 12am, 10am, 12pm, 2pm, 4pm, 6pm, 8pm, and 10pm. 
You can then redeem and enjoy these vouchers on 9 and 18 January at 12am; but best you checkout on the dot because we hear that these vouchers are limited in quantity. 
Hare Off Into The Year Of The Rabbit By Getting All Your Essentials At This Shopee Sale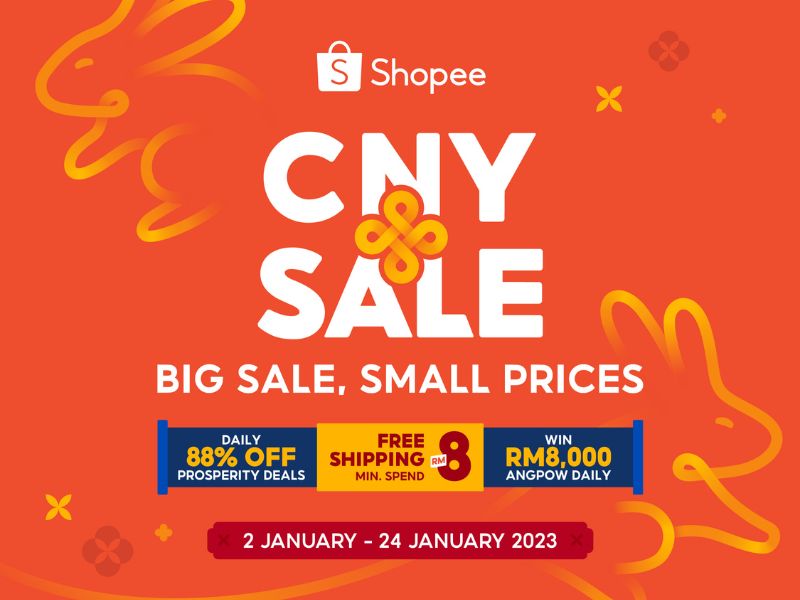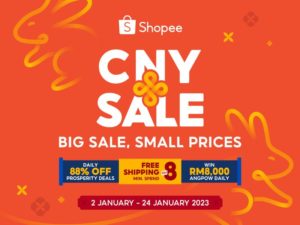 The Shopee CNY Sale 2023 is taking place from now to 24 January 2023. Get all your CNY needs right here with affordability and convenience. 
A friendly reminder: Ensure you have drinks and mandarin oranges ready on standby so you can serve them to your guests, especially those who come unannounced! Stock up on the decadent bak kwa for an enjoyable snack with the family (but please drink a lot of water after that). You might also want to plan your OOTD earlier and not wait till the last minute if you want to stand out from the rest. 
Happy Chinese New Year! 
*Terms and conditions apply.