Give theme parks and water parks a break, and take an educational approach to your family weekends instead. There's so much for kids to see and learn, and one of the best places to do so is at a science centre or museum in Malaysia. Because what could be more mind-blowing to a curious child than marvelling at wildlife up close and tinkering with science exhibits? So gather the family this weekend and experience an awe-inspiring science centre or museum near you!
The Best

Science Centres

and

Museums

In

Malaysia
The wonders of nature and technology come alive in these nine best science centres and museums in Malaysia.
National Science Centre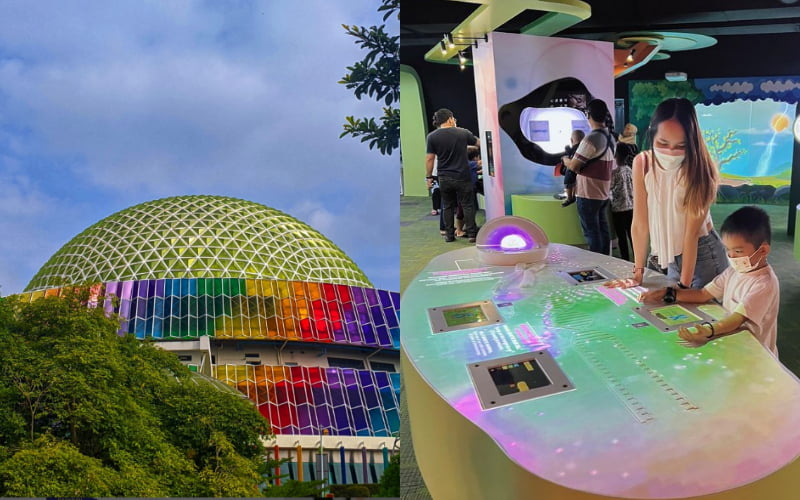 The National Science Centre was built with the aim of fostering an appreciation for science and technology in Malaysia. And we can safely say that it continues to deliver on that front. Within the vibrant domed structure, visitors can roam the spacious exhibition galleries comprising interactive displays, aquariums, and free play zones. The exhibition then carries on outside, where green gardens and play areas await. For a nominal fee, the National Science Centre offers quality edutainment and several hours of productive family time.
Address: Pusat Sains Negara, Persiaran Bukit Kiara, 50662 Bukit Kiara, KL
Contact: 03-2089 3400
Opening Hours: Sat – Thu: 9am – 5pm
Entry Fees:
Children (6 and below) and OKU: Free
Children (ages 7-12) and seniors: RM3
Adults (13 and above): RM6
Website | Facebook | Instagram
Tech Dome Penang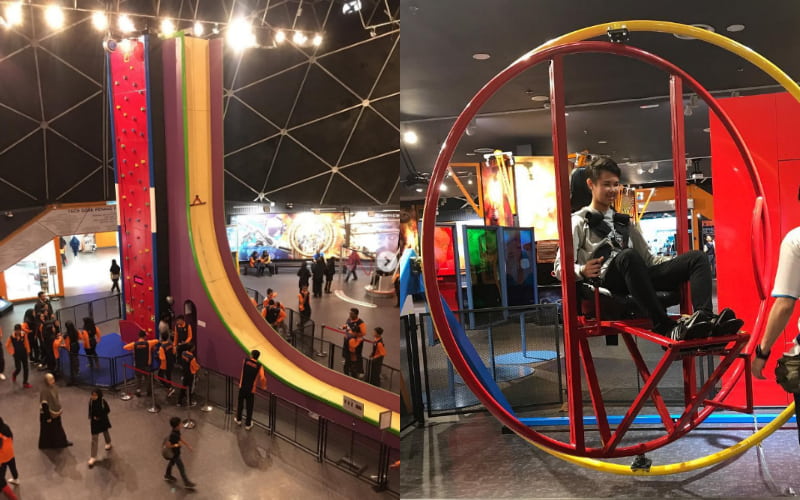 Tech Dome Penang is the go-to for Penangites seeking an experiential science and technology centre closer to home. The geodesic dome packs over 120 interactive exhibits on life tech, robotics, IT, optics, and more, plus an exploration zone for little ones. If you're an adrenaline junkie, take the plunge of your life with the G-Drop, the world's first and tallest free-standing vertical drop slide. But if you're more suited for tamer pursuits, don't miss the PIXO Observatory equipped with the most powerful telescope in Penang.
Address: KOMTAR Geodesic Dome, Jalan Penang, 10000 Georgetown, Penang
Contact: 04-262 6663 / 251 9915
Opening Hours: Daily, 10am – 7pm
Entry Fees: Refer to website
Website | Facebook | Instagram
Aquaria KLCC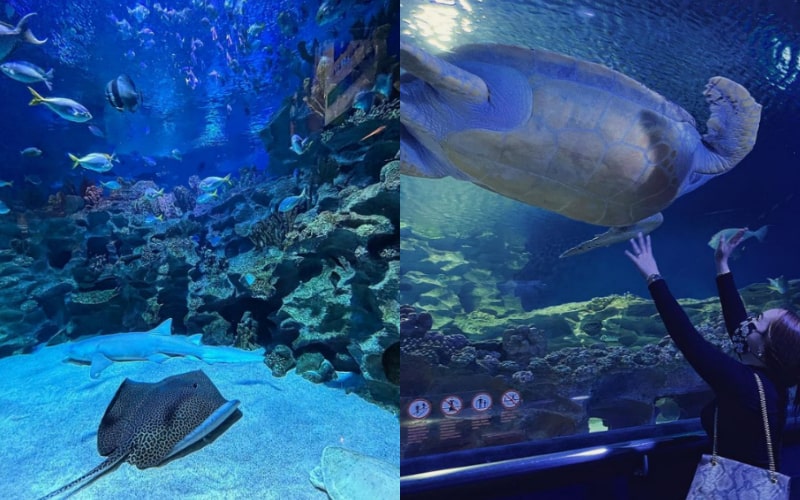 Learn all about the underwater ecosystem at Aquaria KLCC, a bountiful 'living ocean' at the heart of KL. Spanning 60,000 sq ft, this sprawling aquarium takes you on a journey – beginning with the Evolution Zone all the way to the Living Ocean, where you'll traverse the longest underwater tunnel in Malaysia. There, you'll get to admire giant groupers, green sea turtles, and sand tiger sharks up close as they glide over and around you. Don't forget to catch the thrilling feeding sessions that are scheduled throughout the day!
Address: Kuala Lumpur Convention Centre, Jalan Pinang, 50088 KL
Contact: 03-2333 1888
Opening Hours: Daily, 10am – 7pm
Entry Fees:
Children: From RM42
Adults: From RM52
Website | Facebook | Instagram
Petrosains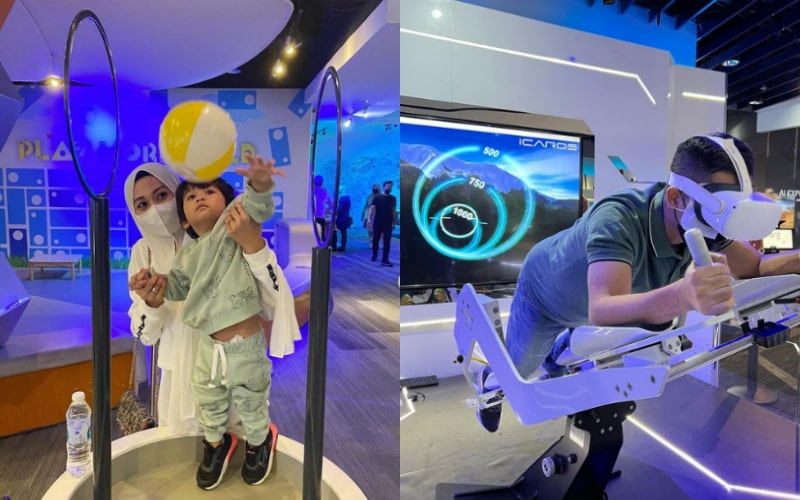 For the past 20 years, Petrosains has been a science centre in Malaysia dedicated to driving STEM (science, technology, engineering, and mathematics) learning. Today, they continue to inspire youngsters through various hands-on and immersive exhibits on energy, tech, and petroleum. While there, be sure your kiddo checks out the F1 simulator, VR fitness simulator, and scaled-down oil rig platform. And if they'd like to dive deeper into the world of robotics after their visit, sign them up for Petrosains's on-site or offline workshops.
Address: Level 4, Suria KLCC, PETRONAS Twin Towers, 50088 KL
Contact: 03-2331 8787
Opening Hours: Mon – Fri: 9.30am – 5.30pm (closed every first Monday of the month); weekend and holidays: 9.30am – 6.30pm
Entry Fees:
Toddlers (3 and below): Free
Children (ages 3-12): From RM7.50
Adults (ages 13-60): From RM18.50
Seniors (61 and above): From RM9 
Website | Facebook | Instagram
Pusat Sains & Kreativiti Terengganu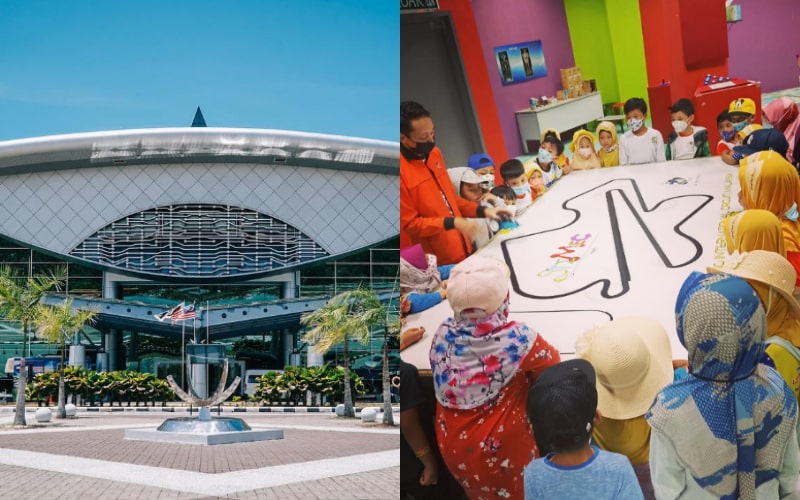 For folks on the east coast of the Peninsular, there's no need to travel all the way to KL to experience the wonders of STEM. Terengganu has its very own Pusat Sains & Kreativiti that's comparable to any other science centre or museum in Malaysia. The sprawling facility holds nine galleries containing a multitude of exhibits related to the concepts of science, technology, and natural phenomena. To keep things interesting, the centre also hosts live science demonstrations, coding and robotics workshops, and 3D Dome Shows.
Address: Kampung Laut, Cendering, 21080 Kuala Terengganu, Terengganu
Contact: 09-617 4004 / 012-964 4003 (WhatsApp)
Opening Hours: Sun – Wed: 9am – 4pm; Thu: 9am – 3pm; Sat and holidays: 9am – 5pm
Entry Fees:
Students (ages 3-17): From RM10
Adults (ages 18-60): From RM12
Website | Facebook | Instagram
National Planetarium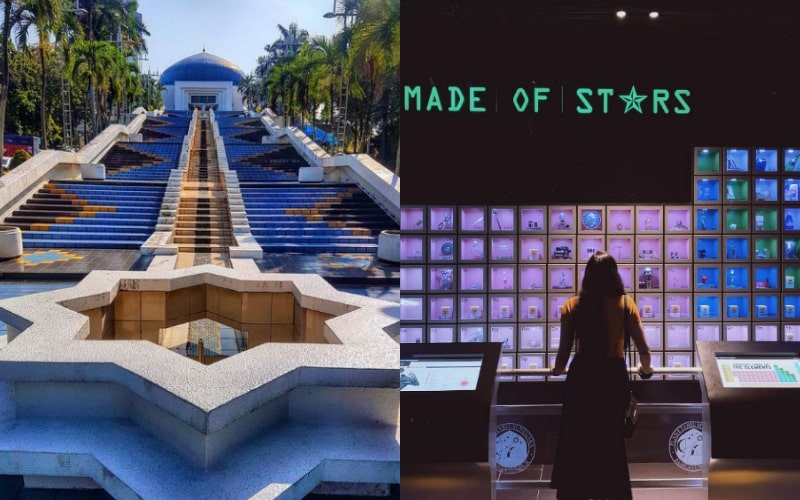 Perched on a hill, the National Planetarium is tucked away in the verdant Perdana Botanical Garden and unveils itself at the top of a 110-step staircase. This public science centre – the only one of its kind in Malaysia – houses a space and astronomy museum, a cavernous domed theatre, and an observatory. Though you'll cover the grounds fairly quickly, the intriguing planetarium show or space pod simulation will further enrich your visit.
Address: 53, Jalan Perdana, 50480 KL
Contact: 03-2273 4303
Opening Hours: Tue – Sun: 9am – 4.30pm
Entry Fees:
Planetarium show: From RM4 (children and students); from RM6 (adults)
Space pod simulation: From RM8 (children); from RM12 (adults)
Website | Facebook | Instagram
Entopia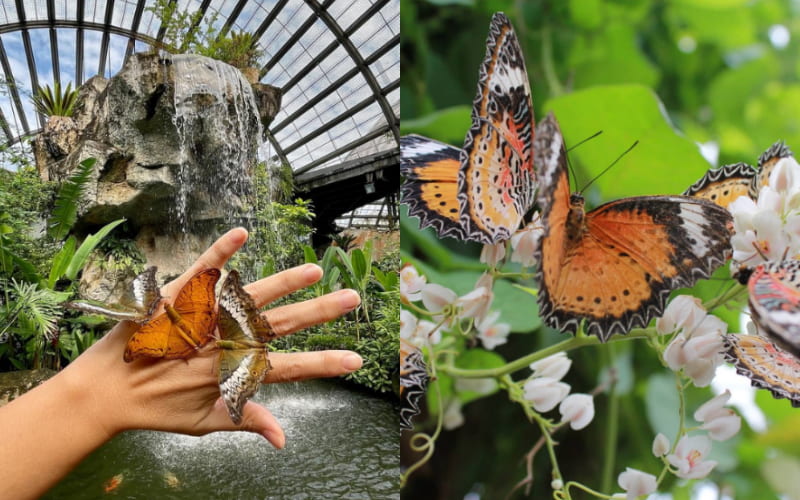 Step into Entopia and let the thriving flora and fauna leave you in awe. This garden-cum-science centre allows Malaysians and tourists of all ages to discover up to 60 species of butterflies, a variety of invertebrates and reptiles, and 200 species of plants! The entire outdoor garden is beautifully landscaped to mimic the real outdoors, so shutterbugs should bring along their cameras. To round off the visit, there's an indoor discovery centre for visitors to learn more about the creatures they encountered.
Address: 830, Jalan Teluk Bahang, 11050 Penang
Contact: 013-425 2830
Opening Hours: Thu – Tue: 9am – 6pm
Entry Fees:
Children (ages 4-12) and seniors (60 and above): From RM29
Adults (13 and above): From RM49
Website | Facebook | Instagram
The Shore Oceanarium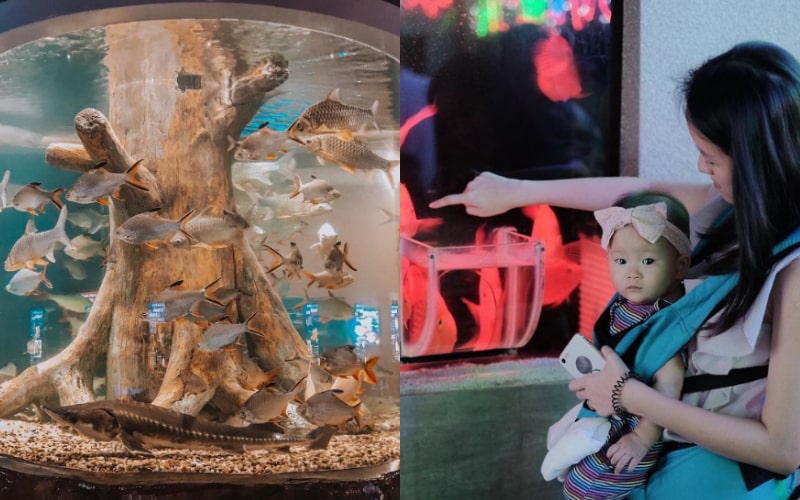 This aquarium in Melaka may be smaller in scale, but it's worth a visit if you're not keen on outstation travel. There's plenty of marine life exhibits to be seen, including a touch pool where patrons can pet live sea creatures with their own hands. On top of that, the kids will especially enjoy the 3D movie screening and a mini 'quest' to win a free gift at the end of the visit.
Address: 2F-01, The Shore Shopping Gallery, 193, Pinggiran @ Sungai Melaka, Jalan Persisiran Bunga Raya, 75100 Melaka
Contact: 06-282 9966
Opening Hours: Thu – Tue: 10.30am – 7pm
Entry Fees:
Children and seniors: RM30
Adults: RM40
Website | Facebook | Instagram
Underwater World Langkawi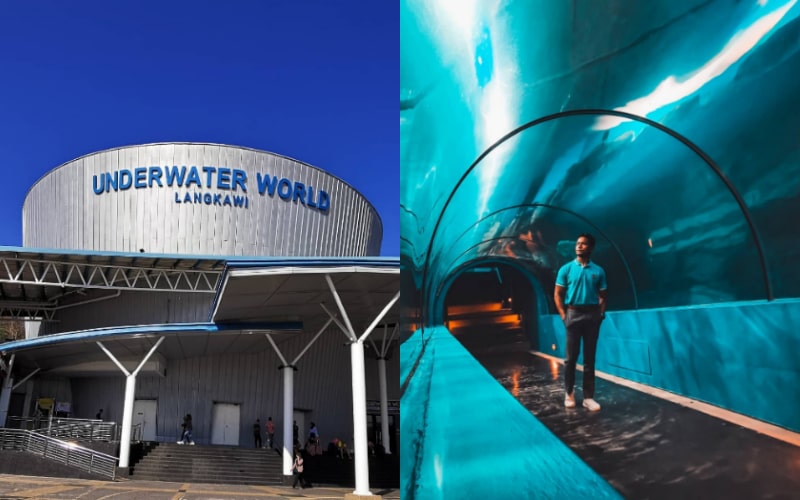 In operation since 1995, the Underwater World Langkawi is the largest purpose-built marine and freshwater science centre in Malaysia. The massive aquarium is organised into several zones, namely River Ecosystem, Tropical Rainforest, Temperate, and Sub-Antarctic. This allows visitors to marvel at marine and freshwater animals that are unique to each environment, in addition to reptiles, invertebrates, and coral reefs. There's also a 3D theatre, underwater tunnel, and mesmerising mermaid shows to complete the experience.
Address: Jalan Pantai Cenang, 07000 Langkawi, Kedah
Contact: 04-955 6100
Opening Hours: Daily, 10am – 6pm; holidays: 9.30am – 6.30pm
Entry Fees:
Children (ages 3-12): From RM26
Adults: From RM36
Seniors (50 and above): From RM29
Website | Facebook | Instagram
Soak Up Knowledge At A

Science Centre

 and

Museum

 In

Malaysia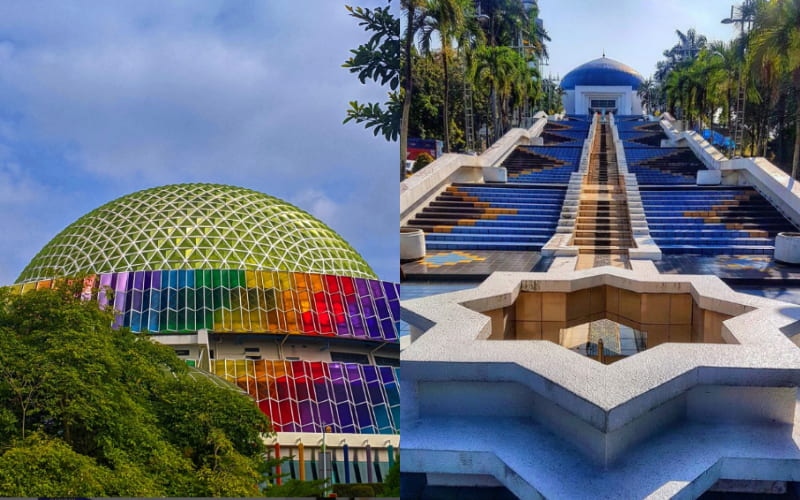 With these exciting science centres and museums in Malaysia, you and your kids will have a blast learning about STEM and the natural ecosystem. If you're planning a visit on the weekend or a public holiday, do check the websites to see if online booking is allowed. That way, you'll avoid the long queues when you get there! And when you're home, help your kids recap what they've learned with these STEM toys and science experiments.