The Ox is the 2nd animal in the Chinese zodiac. Your Chinese zodiac sign is Ox if you are born in the following years: 1925, 1937, 1949, 1961, 1973, 1985, 1997, 2009, 2021.
As the symbol of tenacity and perseverance, the Ox is no stranger to hard work. They're faithful, sympathetic, and possess a quiet strength that allows them to push through even in the most trying seasons. People born in the year of the Ox are also incredibly loyal in practically every aspect of their lives. 
Famous people born in the Year of the Ox: Barack Obama, Walt Disney, Gal Gadot, Chrissy Teigen, BTS Jungkook, and Blackpink Rose & Lisa.
Want to know how lucky the Ox zodiac horoscope is in 2022? Keep scrolling to uncover what the Year of the Tiger has in store for your horoscope.
General Outlook For The

Ox Zodiac 2022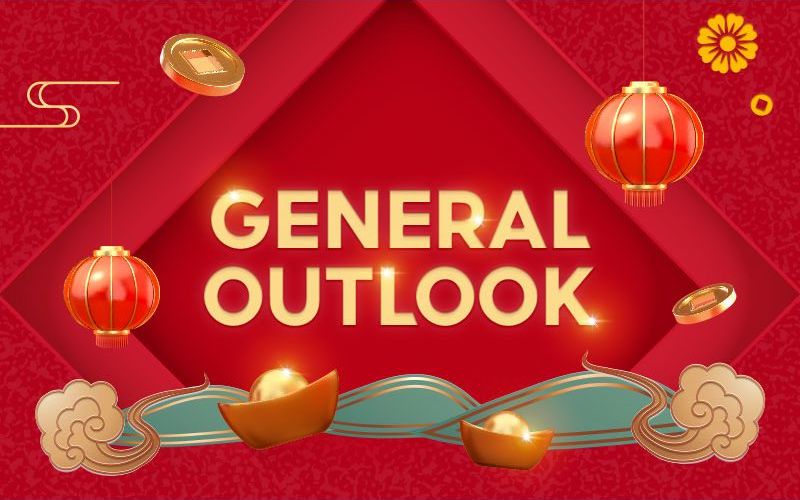 2022 is going to be even more challenging than last year, but one filled with plenty of hope and great opportunities! Work harder towards your goals because you will bear fruit in the long run. Just remember not to overwork yourself. When it comes to love, single Ox can expect to run into a potential romantic connection. Though your finances see no significant progress, they will remain in a stable and consistent state. 
Ox Zodiac 2022

: Health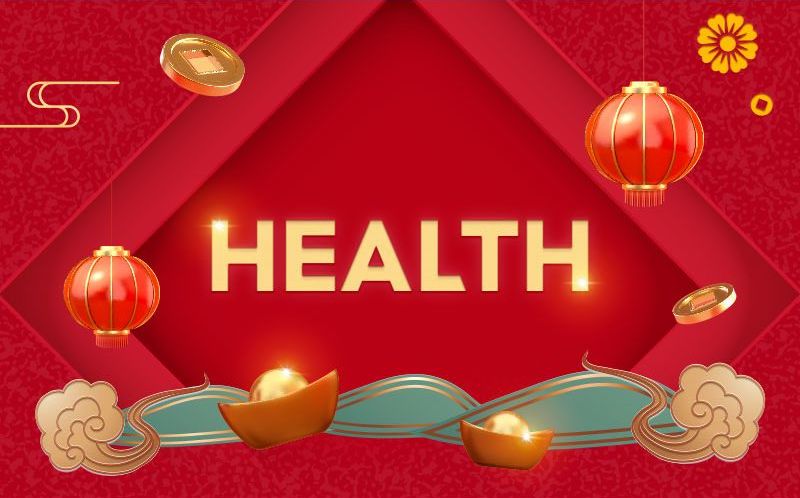 The good news is that there are no serious issues according to your health horoscope in 2022, Ox. That said, minor illnesses are unavoidable, meaning you'll still need to keep a careful watch on your overall health. Some of you might become more susceptible to cardiovascular and cerebrovascular issues. So, it's time to bring up the exercise mat and be more consistent with your weekly workout routines. You should also try to limit your consumption of greasy foods and maintain a healthier diet plan. Take care to build up your immune system with the proper vitamin supplements. 
Besides your physical health, it's also just as essential to prioritise your mental health. Insomnia might become a common problem due to work stress. It's okay to take a break, plan a vacation, listen to music, or do whatever it is you like doing to help soothe your mind. 
Ox Zodiac 2022

: Career & Wealth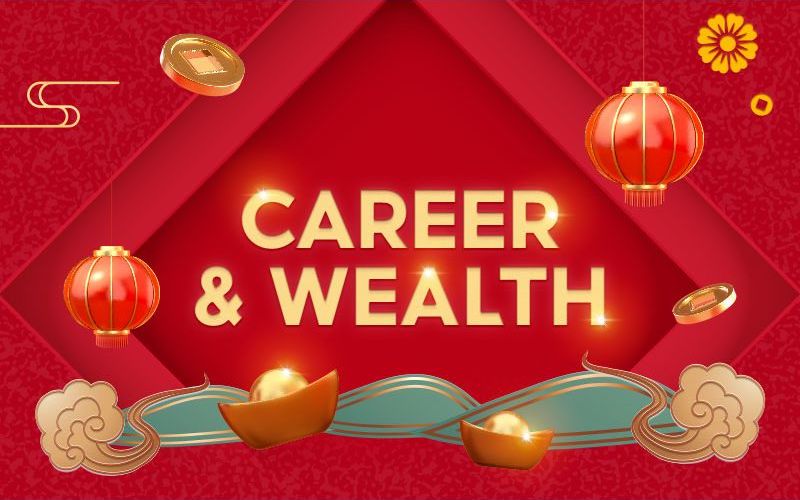 There isn't much career development for the Ox zodiac horoscope in 2022. You're going to want to stay focused on your present work and remain consistent. If you want to stand out against your competition, you'll need to work even harder, strive to meet deadlines, and exercise better self-control. You also shouldn't get arrogant, and always remain grounded and humble in whatever you accomplish. Be aware of who you mix with, because your foes may be around you. 
Your finances will remain in a stable state, with no dramatic upsurge or downfall. It's a favourable year to make investments, more specifically in real estate. You'll also receive help from others for financial advice and improve your fortunes based on these interpersonal relationships. 
Ox Zodiac

2022

: Love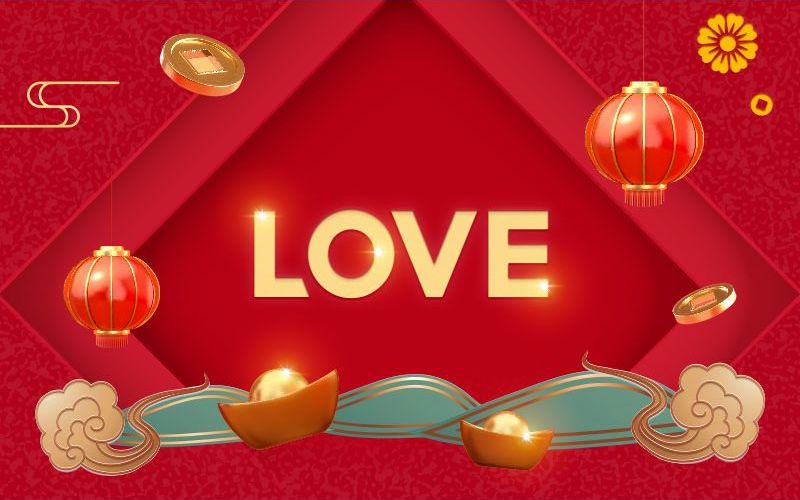 This year, things are beginning to look up for you in the love-life department. Singles might have the opportunity to meet 'the one', but you will have to be proactive in pursuing that potential relationship. Don't ignore the signs, but don't feel too pressured either if the pace isn't going as fast as you want. Remember, feelings take time to grow and getting to know someone is a process you shouldn't rush, especially if you're planning on making them your lifelong partner. 
For married couples, it's a harmonious year overall for you both, with no major setbacks. However, to maintain this steady relationship, you need to take better effort in spending more quality time with your spouse. It can be going cafe-hopping or even trying out a pottery class together. Don't overwhelm yourself so much with work till you neglect your loved ones—it's all about striking the right balance. 
Ox Zodiac 2022

: Lucky Elements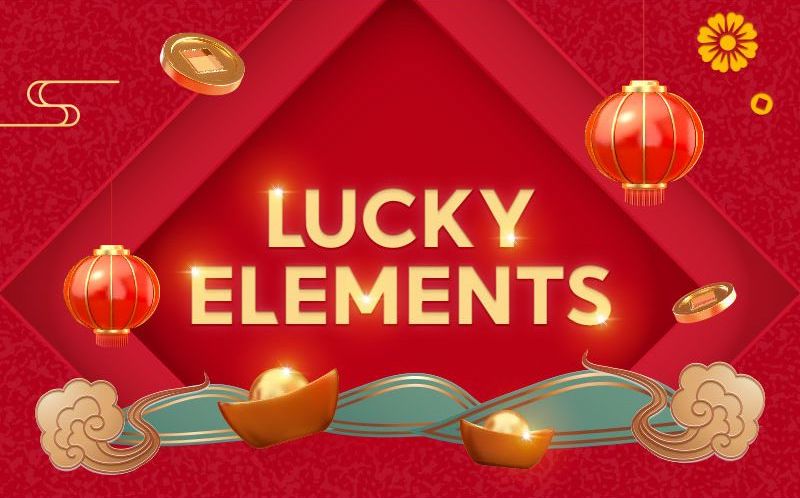 Now that you have a better picture of what your outlook is like this year, here are some other ways to improve your luck. Your lucky colours are yellow, brown, red, purple, pink, and orange, so consider this whenever you're purchasing something new, be it for new clothes or your next eye makeup palette. As for the numbers, your lucky digit is 2028. Meanwhile, your preferred directions are northeast—something to keep in mind when arranging furniture at home. 
The citrine and smoky quartz are your lucky gemstones in 2022. Citrine is known as one of the crystals of abundance, which will help you in obtaining success, wealth, and prosperity this year. On the other hand, the sunstone is a joyful stone will dispel any form of negative energy during challenging times. They look beautiful worn around your wrist as a bracelet or as earrings.
For more specifically curated items for the Ox, click on the button below!
Ox Zodiac 2022

: Forecast Summary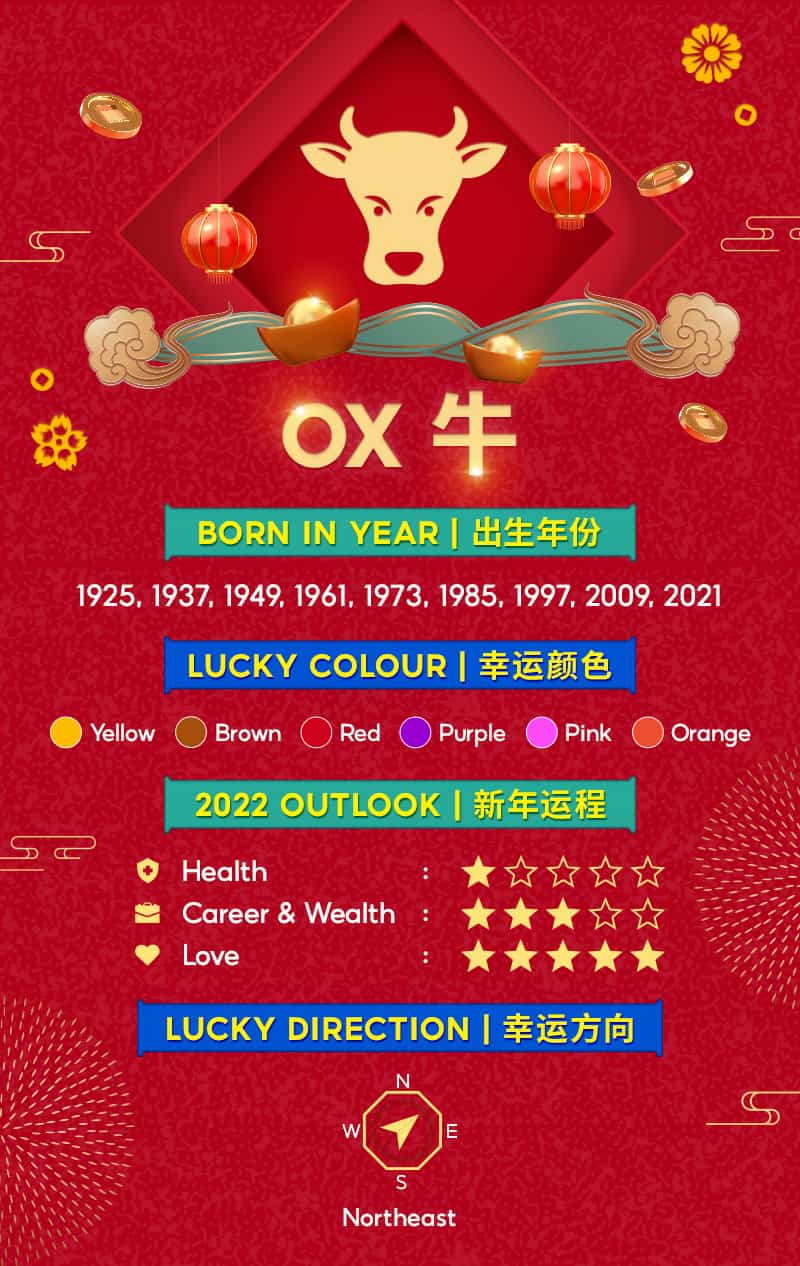 Overall, it's forecasted to be a relatively smooth and fruitful year for the Ox. You'll see positive changes in your career and finances, but you'll have to work just as hard or even harder than before for the results to show. So keep up the good work Ox, your resilience and strength will certainly pay off. Don't forget to be observant of your surroundings, because you never know when love will hit you!
Get ready for to celebrate the Year Of The Tiger with Shopee's CNY Sale! Enjoy amazing deals and promotions from the 18th of January to the 13th of February on all your fashion, home & living needs and more! 
For 2022 Chinese zodiac readings, head over to our dedicated zodiac microsite here.