The Goat is the 8th animal in the Chinese zodiac. Your Chinese zodiac sign is Goat if you are born in the following years: 1931, 1943, 1955, 1967, 1979, 1991, 2003, and 2015.
While athletes and sportspersons like to boast of being called the G.O.A.T., people born under the Goat zodiac sign are not that boisterous. They are shy, gentle, kind, mild-mannered, and sympathetic, but behind that soft exterior lies steely perseverance and inner resilience. Goat people also dislike being the centre of attention, though they enjoy mingling and socialising in groups. Not quite the greatest of all time, but the Goat's qualities are highly admirable.
Famous people born in the year of the Goat: Steve Jobs, Bill Gates, Zhang Ziyi, and Chow Yun-fat. 
What's on the menu for the Goat zodiac in 2023? We dish out all the horoscope predictions and lucky elements you should take note of in the Year of the Rabbit so read on.
General Outlook For 2023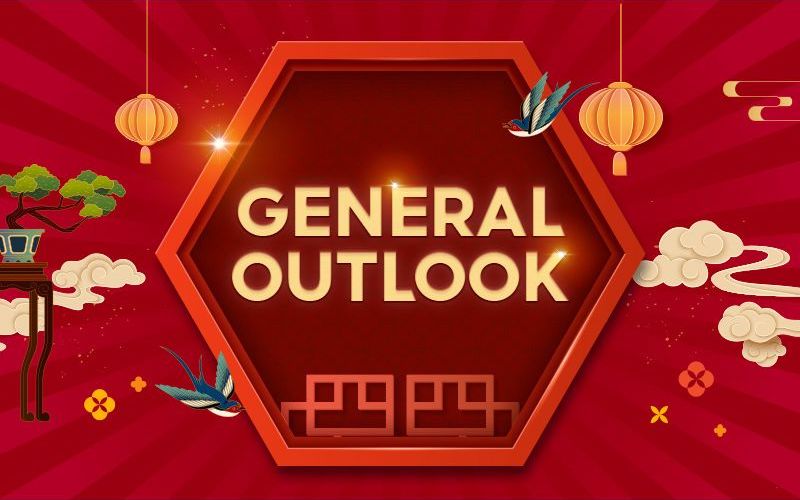 If there's a scenario that can summarise the Goat horoscope in 2023 as a whole, it would be akin to being on a rollercoaster ride. You will experience both highs and lows throughout the year of the Rabbit, with the high points coming in your professional life and the low points concerning your health. But with strong perseverance being one of your assets, you can draw from your inner strength to ride this through to the end, and hope for better luck next year!
Goat Zodiac 2023

: Health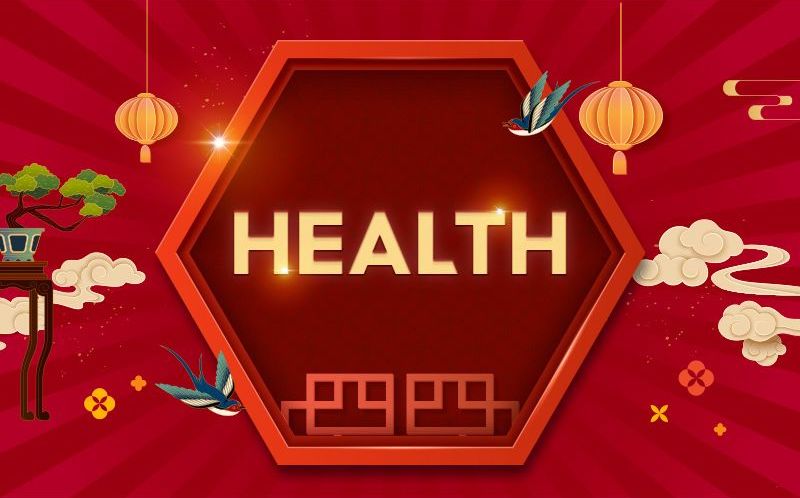 Safety and health should be given extra attention for the Goat horoscope in 2023. For the lucky ones, your health prognosis will be rather average. The usual health recommendations apply, such as finding a balance between work and rest and making time for exercise. Go for a jog or do some yoga which is beneficial to your physical and mental health. 
Meanwhile, the unlucky ones will have to be aware of accidents that could arise from driving and extreme sports activities. Thus, you should be looking into investing in a dashcam and safety equipment (if you are active outdoors).
Goat Zodiac 2023

: Career & Wealth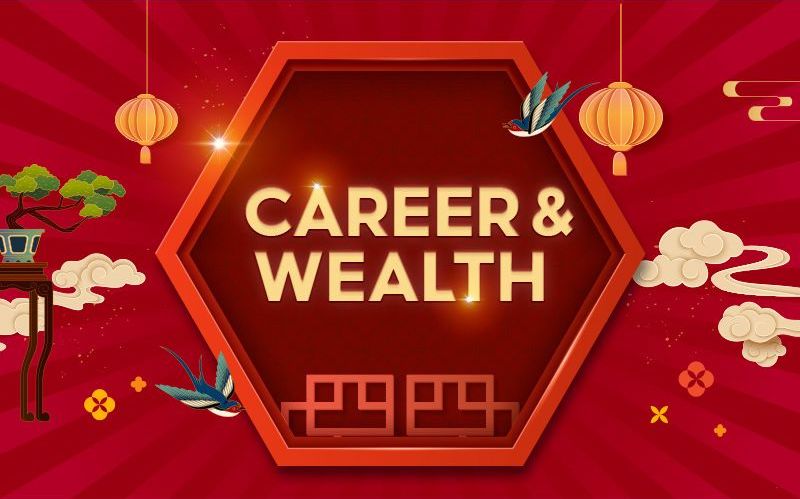 Goat people have reasons to be optimistic about how the new year will treat their career progression. Good things lie ahead with plenty of opportunities, which include bonuses, business travel opportunities, and financial progress. It may come with additional tasks as well, so working hard is a must. 
Consider also upskilling yourselves and deepening your knowledge by taking professional courses. With the global recession expected to hit hard in 2023, it will do your career prospects a world of good.
Goat Zodiac 2023

: Love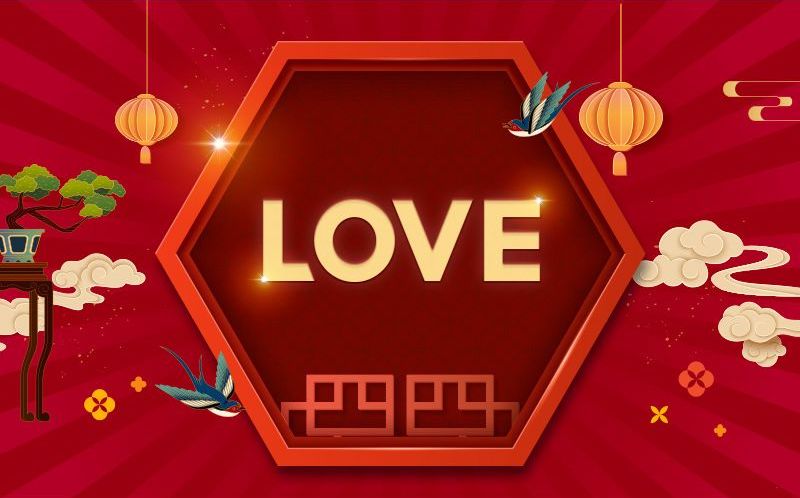 Hoping for a whirlwind romance to happen this year? You might want to keep your expectations in check, Goat. Your luck in relationship matters is forecasted to be rather average. While there will be potential for budding romances, they could quickly take a turn for the worse due to the influence of external factors.
Married Goats, on the other hand, might have to wade through choppy waters as disputes and arguments could quickly erupt. Try to restrain your emotions and whenever possible, put in some effort to strengthen relations. A relationship self-help book might help guide you to long-lasting love.
Goat Zodiac 2023

: Lucky Elements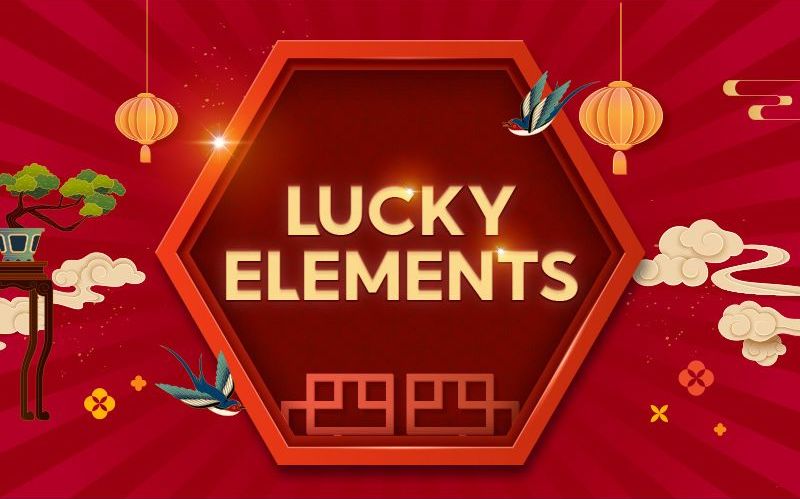 Goat people do not get to enjoy the best of years, so you should consider increasing your luck by incorporating certain elements into your life. If you want to bet on numbers, the figures to note are 2, 7, and 8, while your lucky directions are east, south, and southeast. Keeping a lucky gemstone with you can be influential. Hence, you should seek out Emerald, be it in a necklace, bracelet, or stud earring form. On top of that, you can also fill your wardrobe with red, blue, and white clothing.
Goat Zodiac 2023

: Forecast Summary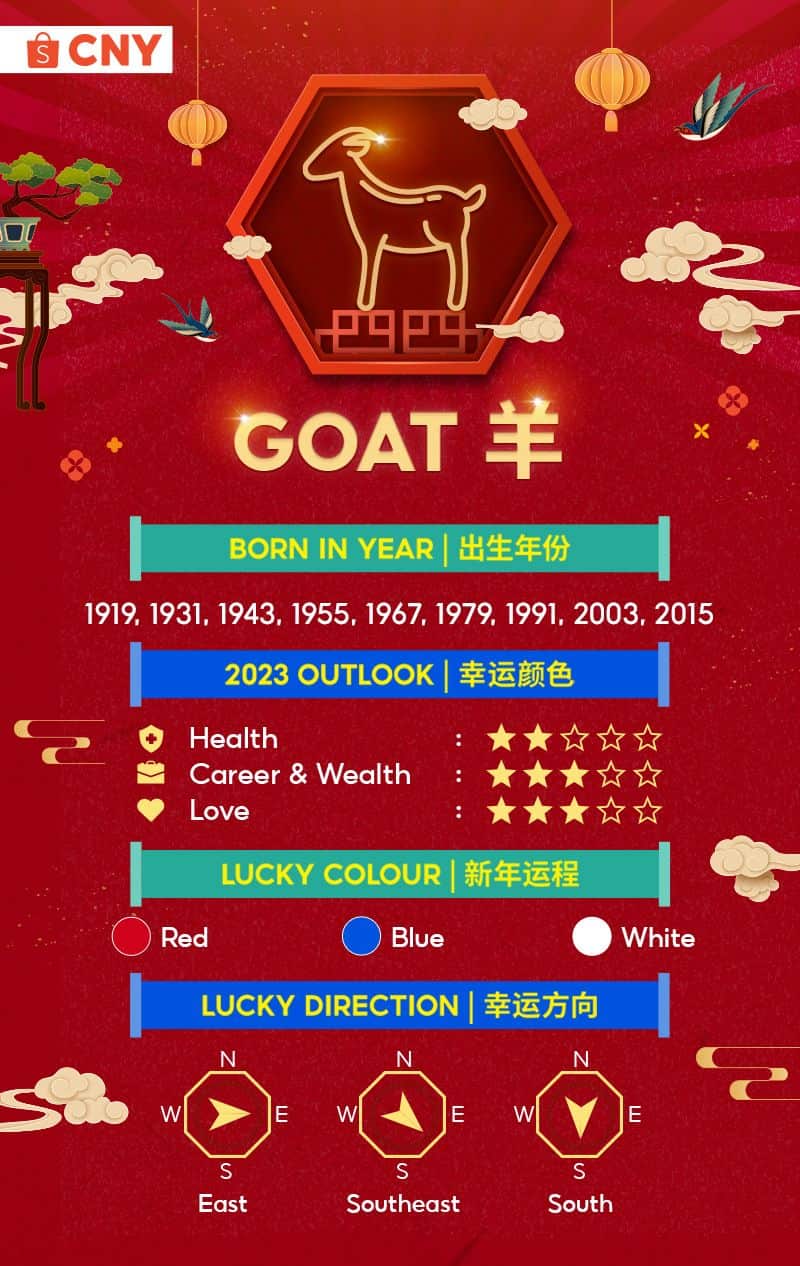 It's a topsy-turvy year for the Goat horoscope in 2023 no doubt. While there are things to be concerned about, the bad is balanced out by the good stuff. As the resilient Goat, you are mentally well-equipped to wade through the year and hopefully emerge stronger by the end of it!
To prepare the Goat for the year ahead, visit the Shopee CNY Sale happening from 2 January to 24 January 2023 for attractive deals offering great savings you can't find anywhere else! From daily essentials like toiletries to the latest smartphones and gadgets, discover products from your favourite brands and more at amazing prices!
Source:
https://astrotalk.com/horoscope-2023 
https://www.chinahighlights.com/travelguide/chinese-zodiac/rabbit.htm
https://www.thechinesezodiac.org/year-of-the-rabbit/