August has arrived and you know what that means—it's Merdeka month in Malaysia! There's a lot to be proud of as this year marks 66 years of harmony and unity in this melting pot of cultures we call home. It's an inherent part of our identity as Malaysians, so it's important to introduce the significance of Merdeka to our anak-anak Malaysia. A fun way to do that is through these kindergarten friendly Merdeka art and craft projects. They'll do more than sharpen your little one's fine motor skills, because they'll also spark conversation, patriotism, and celebrate all things Malaysian.
Fun And Easy

Kindergarten Merdeka Art And Craft

Ideas For Preschoolers
Whether you're a parent or a teacher, we've rounded up 13 kindergarten friendly Merdeka art and craft ideas that are great for kids to try.
1. Jalur Gemilang (Malaysia Flag) Stamping Art
Inculcate patriotism and train your child's focus with this simple stamping project. If you don't have the time to painstakingly draw the Malaysia flag, simply print out the outline template. Then prepare some safe, non-toxic paint for the kids and a couple of cotton buds, and let them fill in the flag. In between, you could even tell the kids the history as well as the symbolic meaning behind the flag's design.
Supplies you'll need: 
2. Merdeka Pinwheel
What's great about this Merdeka pinwheel is that it doesn't require any prep at all! You can purchase the entire set, so all your kiddo needs to do is colour in the stripes, moon, and star, then assemble the pinwheel. Paint, colour, or stamp—anything goes as long as they're in the colours of the national flag.
Supplies you'll need: 
3. Merdeka Headpiece
Another easy Merdeka art and craft idea for kindergarten kids is this Merdeka headpiece. Since the illustration features a Malaysia flag, the hibiscus, and Twin Towers, it provides great talking points for parents and teachers.
Supplies you'll need:
Coloured pencils

Scissors
4. National Day Ribbon
Let your child champion National Day by wearing this DIY rosette fashioned after our Jalur Gemilang. Although it looks intricate, it's relatively easy if you follow the tutorial closely. The only thing that's time-consuming is cutting the strips of paper and pasting them together. But mum and dad can join in on the fun too!
Supplies you'll need: 
5. Bunga Raya Bookmark
Does your kindergartener know how to braid? If they do, they'll find this Merdeka art and craft project right up their alley. Then again, even if they don't, it's very easy to learn. The bookmark starts off with some paper braiding, followed by a drawing of the bunga raya (hibiscus flower). But it doesn't even have to be a hibiscus; it can be anything that reminds your kid of Malaysia, like the wau or rafflesia.
Supplies you'll need: 
Colour paper in white and red

Ruler

Scissors

Glue

Coloured pencils

Marker pen
6. Merdeka Confetti Popper
Since fireworks aren't legally allowed in Malaysia, this festive confetti popper will help your kids celebrate Merdeka with a 'bang'! Made with only a toilet paper tube, balloon, and some cut-up paper confetti, this simple popper is sure to bring some fun and joyful squeals during family time.
Supplies you'll need: 
7. Jalur Gemilang Palm
Featuring motifs of the Jalur Gemilang, this palm fan is perfect for hot days and for waving during the National Day parade. Pro tip: Save your child the trouble of pasting the palm on a cardboard to strengthen its structure by drawing on a thick card stock instead.
Supplies you'll need: 
Pencil

Marker pens

in black, blue, and red

Coloured pencils

Cardboard

Glue

Scissors
8. Flag Hair Bow
This simple Merdeka art and craft will complement your kindergartener's National Day outfit perfectly. And it doesn't even take more than 15 minutes to make! If you'd like to give it a bit more polish, consider wrapping a piece of satin ribbon over the rubber band in the centre.
Supplies you'll need: 
9. Merdeka Egg Puppet
Here's a cute but easy Merdeka-themed art and craft that kindergarteners can do with their parents and siblings, or even friends and teachers. While adults help with emptying and cleaning the egg shells, the kids can handle the rest. That entails cutting, pasting, drawing, and decorating the hat with designs that represent Malaysia. You could also take it a step further and up the fun by getting each family member to make their own egg puppet character. Then, create a storyline for them. This sparks not only creativity but imagination too.  
Supplies you'll need: 
Empty

egg

shell

Glue

White paper

Pencil

Scissors

Coloured pencils

Marker pens in black and red
10. Merdeka Butterfly
How about a pretty flag-patterned butterfly for the little girl in your life? There are two layers to the butterfly, so it'll appear as if it's fluttering! It's a basic art project for preschoolers, though mum and dad may need to assist with drawing the moon and the tricky 14-point star.
Supplies you'll need: 
White paper

Scissors

Pencil

Ruler

Coloured pencils

Tape
11. Merdeka Tanjak
The tanjak, also known as tengkolok, is a traditional Malay headgear typically made from songket cloth. This kindergarten friendly Merdeka art and craft recreates the tanjak, but using only paper and some simple folding techniques. Kids can then draw the Malaysian flag across the front for a patriotic touch.
Supplies you'll need:
White paper
Pencil
Pen
Coloured pencils in blue and yellow
Ruler
12. Woven Bookmark
Now this is a practical art and craft idea that kids can actually put to good use when they read. But if the prep work for this bookmark—the measurements and curved line—is a little too complicated for preschoolers, mum and dad can lend a helping hand. It involves some weaving and decorating with marker pens after, both of which are relatively simple tasks.
Supplies you'll need:
Red and white coloured paper
Ruler
Pencil
Glue
Black and blue marker pens
Masking tape
13. Jalur Gemilang Basket
Looking for something different yet easy to make? Then this Merdeka-themed basket is the art and craft project your preschoolers should try. It's a creative way to reuse plastic bottles, and a cute vessel for keeping little bits and bobs and candies during the Merdeka month and beyond.
Supplies you'll need:
Black and red coloured paper
Scissors
Glue stick
Marker
Spark Patriotism In Preschoolers With These

Kindergarten Merdeka Art And Craft

Ideas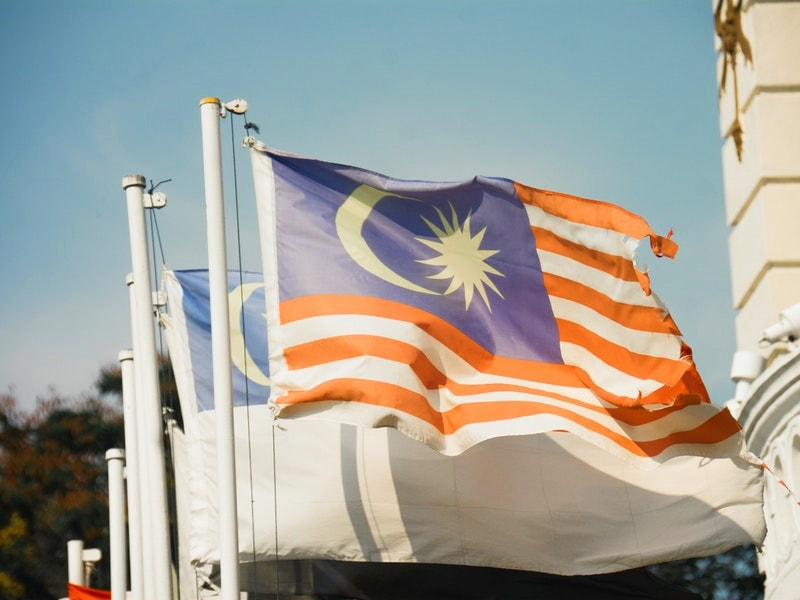 Make the month of August special for your kindergarteners, and try these Merdeka art and craft activities with them. Along the way, you can incorporate bite-sized history lessons on our country's independence, or how our national flag or flower came to be. By the end of it, they'll have a little memento to remember it by and a deeper understanding of their birthplace!
Don't forget to #supportlocal this month (and the rest of the year), and show some love to Malaysian-made movies, indie bands, as well as homegrown fashion, makeup, streetwear brands. And lastly, from all of us at the Shopee Blog, Happy Merdeka to you and your family!