Hair trends for men have been getting longer and longer. And due to the ongoing pandemic, many guys are now more open to growing their hair. Contemplating doing the same, but don't know what look you want to go for? Below, we've compiled a list of the top six hairstyles for long hair men to try this year in 2022. 
6

Hairstyles For Long Hair Men

To Try This Year
Messy Man Bun
The final season of Attack On Titan sees Eren Yeager with his most dramatic hair transformation yet. Throughout the series, we've only ever seen him maintain his cropped, shaggy locks. And rightfully so, because hey, getting stray hair in your eyes is the last thing you'd want when fighting man-eating titans. It's only up to the very end of season 3 part 2 that Eren's sideburns and fringe eventually begin to grow out. 
Now, in season 4, Eren is donning long, collarbone-length hair, tying half of his locks up in a messy man bun. What's great about this hairstyle for long hair men is that you don't need to care about it looking perfect. The more strands you leave out to frame your face, the better!
Product Recommendation: Hairdepot Argan Oil Hair Serum
Wet Mop/Mop TopHair
Yeah, we know, comparing your carefully styled hair to a wet mop of all things sounds off-putting. But then again, what's a TikTok trend without a questionable title attached to it? This long-haired hairstyle for men is typically kept longer at the top of the head while the sides and the back are clipped short. Think of it as the modern adaptation of The Beatles' mop-top—a style that was especially trendy back in the 1960s. However, while The Beatles' mop-top was left straight, this TikTok variation is a lot wavier and heavily textured. 
Product Recommendation: KMS CALIFORNIA Hair Play Sea Salt Spray
Product Recommendation: Sensation Professional Hair Clay + Texturizing
Wolf-Cut 
The wolf-cut was a super hot hairstyle in 2021, and it doesn't seem to be going away anytime soon. From short to long, there are many different versions of this shaggy haircut. Regardless of the length, layers remain a consistent factor in the edgy wolf-cut. Admittedly, this hair trend favours those with naturally wavy hair, but that doesn't mean straight-haired dudes can't pull off the look. Just make sure to ask for choppy layers around the upper portion of your head. 
This will add the desired volume and bounce to your mane. You can go in with a curling iron to add more texture. You could also leave it straight and use a flat iron to create some, light flicked-out waves for a slightly softer look. Or you can dye your layers with a bold hair colour to highlight the shagginess of the hairstyle. The choice is yours, so have fun experimenting with your wolf-cut! 
Product Recommendation: GATSBY Moving Rubber Grunge Mat
Product Recommendation: Schwarzkopf Osis+ Session Extreme Hold Hairspray
Long & Straight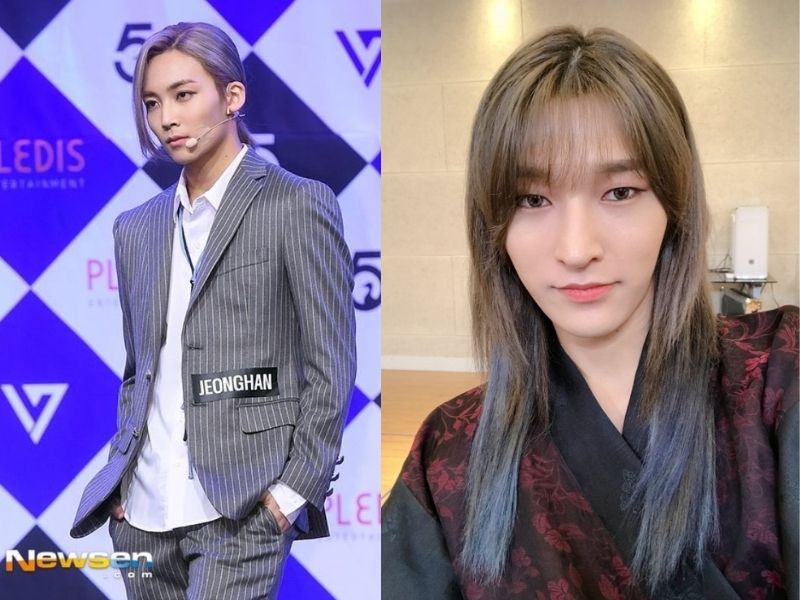 If you're willing to go even longer with your hair, why not try growing them out past your shoulders? Seventeen's Jeonghan and OnlyOneOf's Junji will forever be remembered for their flowing, luscious locks. This hairstyle is perfect for long hair men who want a fuss-free styling routine. Not to mention, you'll also get to rock your naturally straight hair texture without having to expose it to too much heat.
A simple brush and blow-dry should do the trick at creating Jeonghan and Junji's straight hairstyle. But if you want your locks to appear extra sleek and voluminous, you'll need to straighten them with a flat iron. Otherwise, you could also just air-dry your hair to keep the heat styling to a minimum. On days when you don't want your tresses to fall over your face, you can tie it all up in a loose ponytail for a slightly neater look. 
The Mullet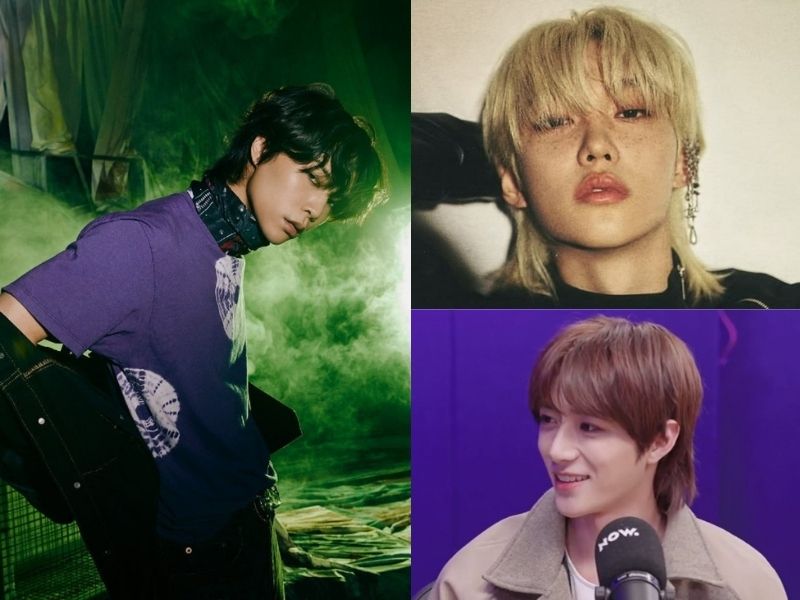 Similar to the wolf-cut, the mullet is another TikTok hair trend that's here to stay in 2022. This semi-long hairstyle is for men who want to take their hair game to the next level. It's also a great transitional look if you're not willing to commit to fully growing out your hair yet. If you don't like the traditional mullet, you can draw inspiration from K-pop idols to get a more modern interpretation of the retro hairstyle. 
Surfer Hair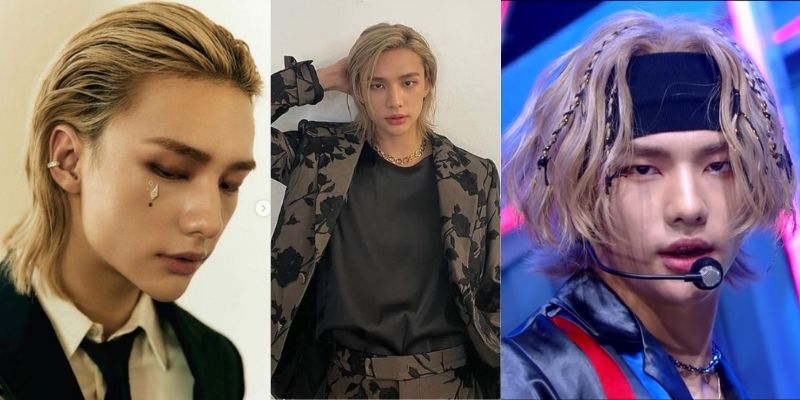 Consider surfer hair as the male version of the ladies' beach waves. The look is all about being intentionally dishevelled for that effortlessly cool vibe. This hairstyle for long hair men looks best with chin to neck-height hair. These lengths will allow you to enjoy more styling freedom and play around with different looks however you want. Stray Kids Hyunjin's viral surfer hair from the God's Menu and Thunderous comebacks still has fans mourning over his decision to cut it short. 
Even now, his windswept locks remain one of his most popular hairstyles to date. From slicked-back to half-updos and side-partings, the lead dancer has pulled off a variety of styles with this look. However, if you want to stick to the quintessential surfer vibe, accessorise your wavy locks with braids and a wide-width headband. 
Rock These Trendy

Hairstyles For Long Hair Men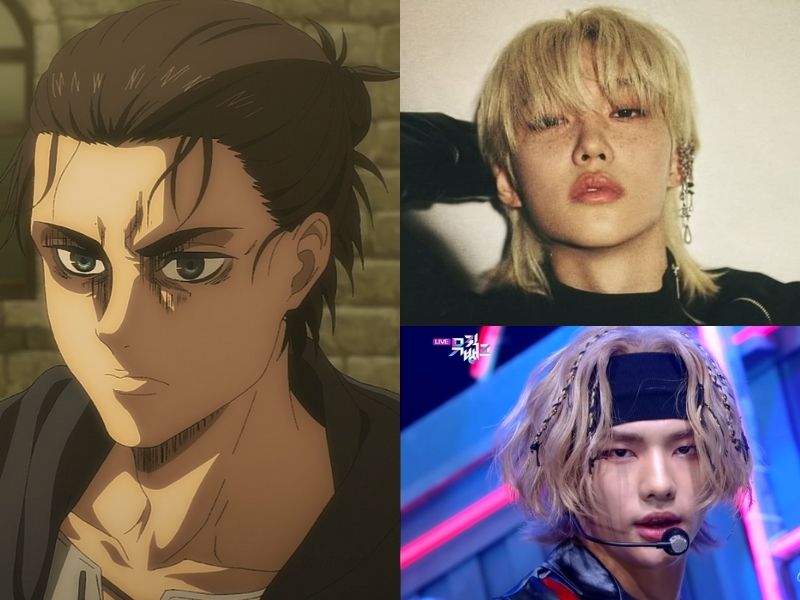 Now that you know about the several types of hairstyles for long hair men, we hope this guide encourages you to flaunt your flowy locks with pride. Alternatively, if you're thinking of cropping your hair short, you can give these neat two-block haircuts a try.
Looking for more hair styling products on a budget? Looking for effective ways to tame your mane into shape? Then don't forget to head over to Shopee's Beauty-carou sale on Feb 15 to enjoy bigger discounts with 20% off vouchers and 10% coin cashback along with free gifts.