Before your TikTok e-boys and e-girls, there was grunge fashion. Popularised by bands like Nirvana, Soundgarden, Pearl Jam, and Alice in Chains, this subculture left a lasting impression on the world and continues to make its relevance known even today. In this article, we'll be showing you what you need to recreate your grunge aesthetic outfit. But before we get started, let's first look into the definition and origins of the grunge style. 
What Is

Grunge Style

?
The grunge style used to be characterised by its grimy and unkempt imagery where it first originated from underground music cultures, specifically in Seattle, Washington during the 1980s and 1990s. Back then, the term was coined in reference to the murky and grinding sound of the region's bands before it eventually became more mainstream as a style aesthetic. 
Fashion-wise, grunge was never concerned with making a statement unlike its punk predecessor. On the contrary, it was effortless and non-conforming to societal expectations. Thus, rejecting anything to do with the materialistic trends of their generation. Moreover, another reason was that grunge artists weren't that well-to-do and often bought their clothing from thrift stores, which resulted in their timeless and gritty style.
Today, it's been reinterpreted into various sub-genres to adjust to one's personal style preferences. Soft grunge, in particular, is incredibly widely adopted as it fuses both mainstream fashion with classic grunge elements. Hence, making the style more versatile and wearable. Below, we've compiled a detailed guide on what you need to nail your grunge aesthetic outfit. 
All The Essentials You Need To Put Together Your

Grunge Aesthetic Outfit 
Colour Palette: Mostly Black With An Optional Pop Of Colour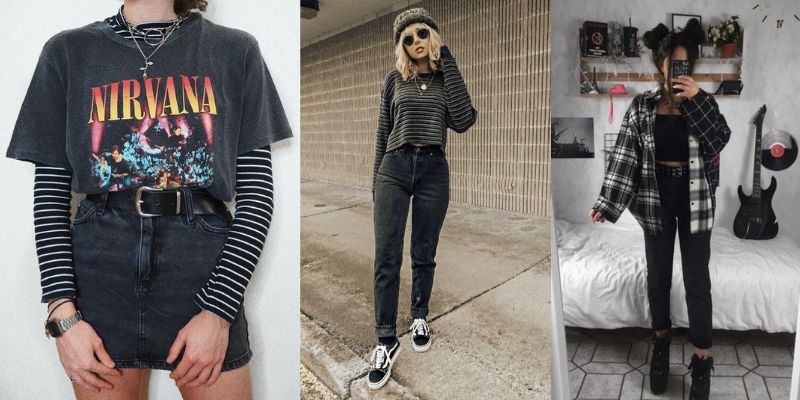 The grunge style typically favours darker hues like black and grey. Nevertheless, you can still use all sorts of colours mixed into your look, so long as you maintain the other elements of the aesthetic. For instance, some of the hues we've seen often styled are red, white, burgundy, emerald green, and mustard yellow. So feel free to experiment with different shades to add a pop of colour to your look. 
Shop this style (outfit 1):
Shop this style (outfit 2):
Shop this style (outfit 3):
Tops: Oversized Graphic T-Shirts, Band Tees, Mesh & Fishnet Tops, Sweaters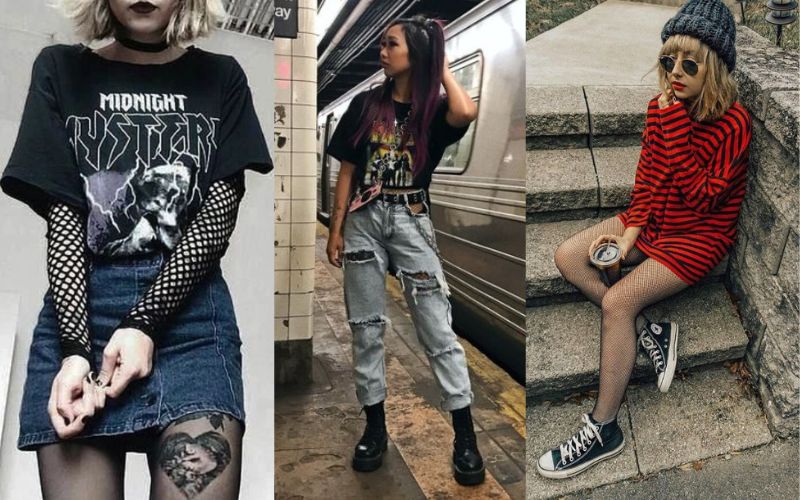 You'll notice tons of oversized graphic T-Shirts, striped sweaters, and band tees in a lot of grunge aesthetic outfits. Furthermore, as grunge artists regularly thrift their pieces, it's common to see most of their T-Shirts looking a little worn in and fading in colour. Otherwise, there are also other more feminine options, such as mesh or fishnet tops to wear as inner-wear pieces.
Shop this style (outfit 1):
Shop this style (outfit 2):
Shop this style (outfit 3):
Outerwear: Flannel Shirts, Leather Jackets, & Denim Jackets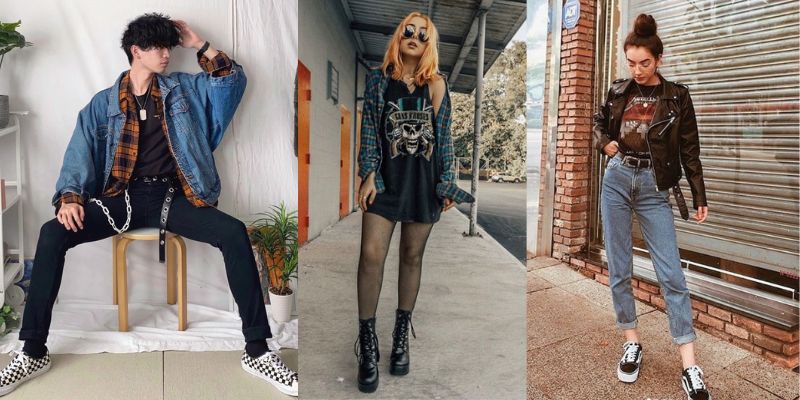 Nothing embodies the grunge style better than flannels. These long-sleeved shirts were a big part of the grunge music scene for their cosy and comfortable design. More often than not, they're typically layered over graphic T-Shirts or tied around the waist. 
Besides flannels, leather and denim jackets are also frequently seen in most grunge aesthetic outfits. And though not as standard, zip-up hoodies and cardigans can also be included so long as they're oversized and keep to the dark colour scheme. 
Shop this style (outfit 1):
Shop this style (outfit 2):
Shop this style (outfit 3):
Bottoms: Black Denim, Ripped Jeans, Plaid Pants & Skirts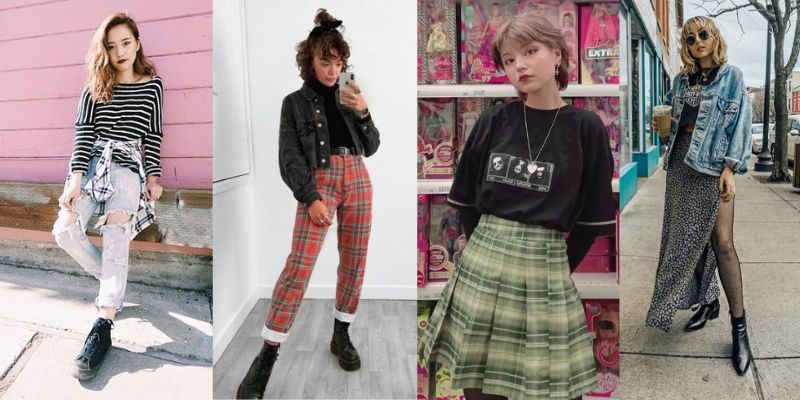 For bottoms, both baggy and skinny jeans can be found in this rugged look, but with a distressed and ripped design. Though black denim is usually the preferred choice, light-wash and acid-wash are also consistently featured in many grunge aesthetic outfits. Otherwise, you could also consider plaid pants as another alternative. 
If you're not too fond of pants, there are several skirt options you can choose from instead. Plaid or black pleated mini skirts are usually more favoured, but sometimes, you'll also see A-line cuts or floral midis for a more streamlined style. 
Shop this style (outfit 1):
Shop this style (outfit 2):
Shop this style (outfit 3):
Shop this style (outfit 4):
Dresses: Slip-Dresses, Oversized T-Shirts, Sleeveless floral Dresses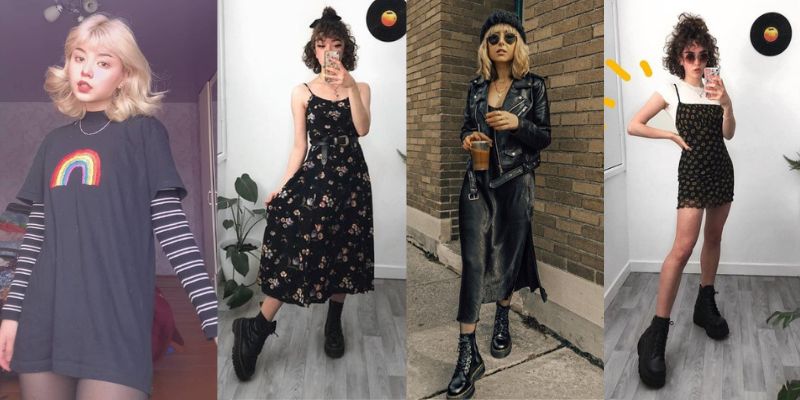 While dresses are not as popular of a choice when it comes to grunge aesthetic outfits, they'll occasionally be featured from time to time. Some styling options include wearing an oversized T-Shirt as a dress with a belt cinched into the waist. Otherwise, slip-on and sleeveless floral dresses offer a more versatile alternative as you can choose to layer over or under your top. Plus, if you're not big on layering, you can also wear it on its own as a one-piece. 
Shop this style (outfit 1):
Shop this style (outfit 2):
Shop this style (outfit 3):
Shop this style (outfit 4):
Shoes: Dr. Martens Combat Boots, High-Top Sneakers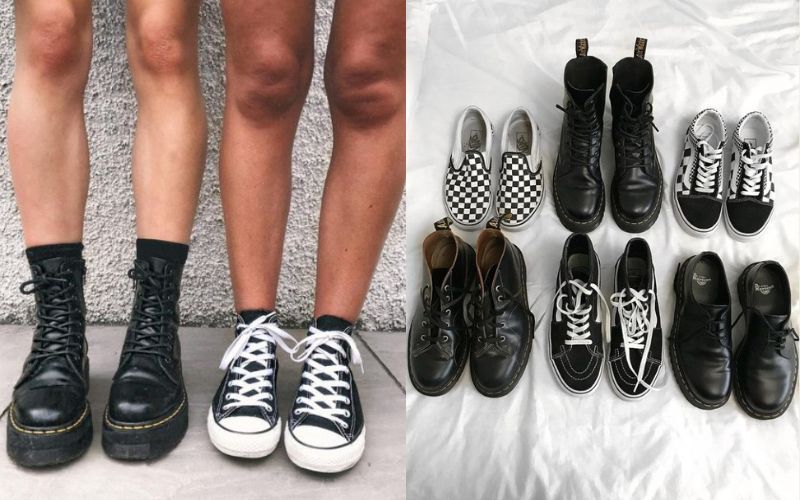 In terms of footwear, closed-toed shoes like high-top sneakers or boots are common in the grunge style. Dr. Martens combat boots are an absolute must in this aesthetic, along with Converse and Vans sneakers. With this look, the more scuffed and worn down they appear, the better. After all, can you really call it grunge if your shoes look completely brand new? So don't worry about looking too perfect and embrace the wear and tear of your old footwear. 
Related: Got Doc Martens? Here Are 14 Ways To Style Them
Accessories: Belt Chains, Beanies, Bandanas, Layered Necklaces & Rings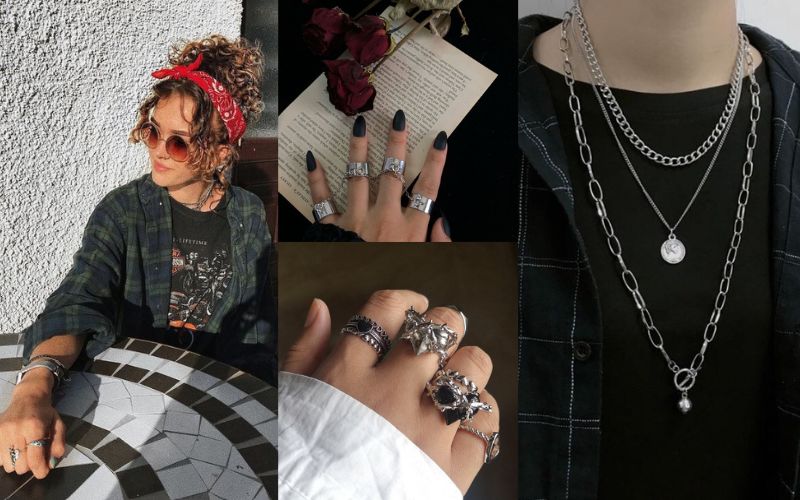 With accessories, beanies and bandanas are the go-to headwear pieces in almost every grunge aesthetic outfit. Whereas for jewellery, it's all about layering stacks upon stacks of silver or black rings and necklaces. Apart from that, you could also enhance your edgy style with a striking belt chain. 
Discover Other Vintage Fashion Aesthetics For More Style Inspo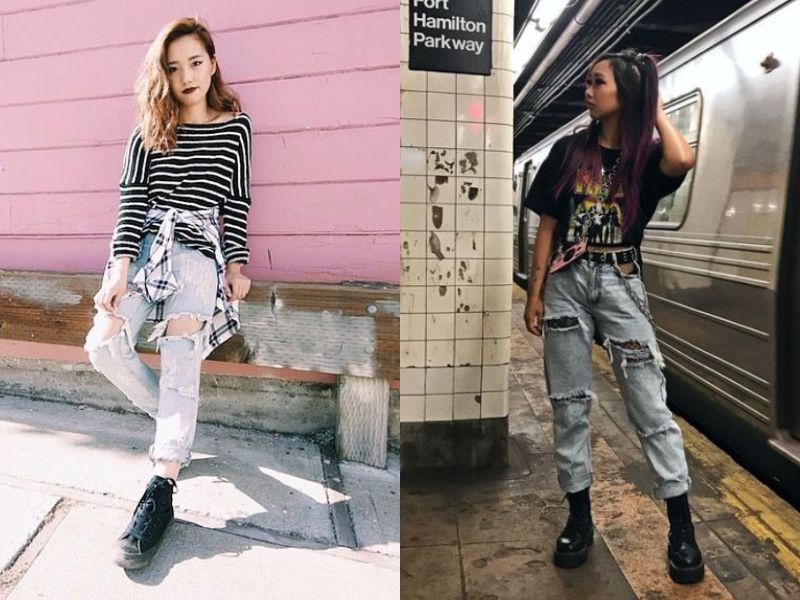 Now that you know what you need to put together your grunge aesthetic outfit, why not explore other retro styles to draw inspiration from? We've compiled a thorough guide that will help you navigate through the vintage fashion of the decades from the '60s to the '90s. 
Find more TikTok style aesthetics and outfit guides here.