Struggling to come up with new date ideas to spend a night in? Then heat up the competitive spirit with these exciting online couple games. Besides being a fun pastime, playing games together can also strengthen your connection as a couple. It improves both your communication and problem-solving skills, as you two work together to achieve a common goal. For LDR (long-distance relationships) sweethearts, this will certainly be your best activity to enjoy together. Here are our top online couple games to play on your next date! 
Best Online Couple Games To Play With Your Significant Other (SO)
Terraria
Platform: PC (Steam), PS4, Nintendo Switch, Xbox One, iOS, and Android
If you're big on thrilling adventures, then this is the best online couple game for both you and your beau. This 2D sandbox game is centred around exploration, combat game-play, building, mining, and crafting to manoeuvre through the world of Terraria. It has a single-player mode to go questing alone. However, for date nights, there's also a multiplayer function to have an additional helping hand. 
After creating your character, you'll have to first build up your low health and mana stats using the few basic tools available. So, you and your partner will need to get creative to look for valuable resources. This can be used to make weapons or other equipment later on. Don't let your guard down, however, because, in the therapeutic process of digging underground caves, you may be suddenly hit with a surprise attack. With random boss battles, goblin invasions, or flying eyeballs, you can trust that there'll never be a dull moment.
Portal 2
Platform: PC (Steam), Xbox 360, and PS3
If you or your partner are gaming beginners, then this online game would be a good starting point. It's a continuation to their first edition of Portal with a co-op setting for a more seamless multiplayer experience. The controls are relatively straightforward to get used to, and the engaging storyline is sure to get anyone hooked.
The game takes place in a run-down facility, about 50 to 50,000 years after the occurrences of the first game. You and your SO will be playing as two independent robots who have to escape the vicinity by passing a string of test chambers set by GLaDOS. It's an especially fun game for those who love problem-solving and challenging puzzles. Plus, the graphics and visuals are amazing! Need we say more?
Overcooked 2
Platform: PC (Steam), Nintendo Switch, Xbox One, and PS4
This online couple game is not only going to require a good amount of teamwork but a whole lot of patience too. We're not going to lie, this cooking simulator has the potential to send tempers flying. There's nothing wrong with a little heated competition, but if either of you is short-fused then it's probably best to avoid this one. Otherwise, it's a must-play game to experience at least once. You're probably still going to scream at each other regardless, but hey, that's part of the fun! 
The storyline puts you, two chefs, through a series of cooking trials to save the Onion Kingdom from their King's blundering mishap. Players will have to work together to overcome various kitchen obstacles, ranging from bossy waiters to collapsing floors and floating work surfaces. Their multiplayer feature can support up to four players, so besides gaming as a couple, you can share the fun with friends too. 
Keep Talking And Nobody Explodes
Platform: PC (Steam), iOS, Android, Nintendo Switch, PS4, and Xbox One.
Want to see how well you or your partner will fare in a life or death situation? Then this game offers the perfect premise in creating that high-suspense scenario. One player has the manual to defuse the bomb while the other player is trapped with the time bomb. Nothing complicated right? 
There's one major catch to this deceptively simple setting. The trapped player who has to disarm the bomb doesn't have the manual to defuse it. Whereas the one who does have the bomb defusal manual can't actually see where the bomb is. This online couple game will have you both gnashing your teeth, as you speedily discuss and think of a solution. The title says it all, so just keep talking to defuse the bomb till the victim gets saved. We promise that the payoff is worth it when you emerge victoriously. 
Stardew Valley
Platform: PC (Steam), Android, iOS, PS4, Nintendo Switch, and Xbox One
Farming simulators have a bad rep for being unbearably boring. However, we assure you that Stardew Valley takes this genre to the next level. It packs in many other features and storylines without seeming overkill but still stays true to its foundation as a farming simulator. The premise starts off with you inheriting your late grandfather's farm, which you have to restore back to life. You get complete control over how you want to grow your farm and can design it any way you'd like. 
There are many different layers that add so much dimension to the game, allowing you to explore various routes. You and your partner can have fun expanding this small-town virtual life, leisurely taking care of your crops and maybe even getting married. Trust us, once you get started, it'll be hard to leave this charming world. It's a fully immersive RPG (role-playing game) that'll let you escape from your real-life worries if only just for a little while. 
Glow Hockey 2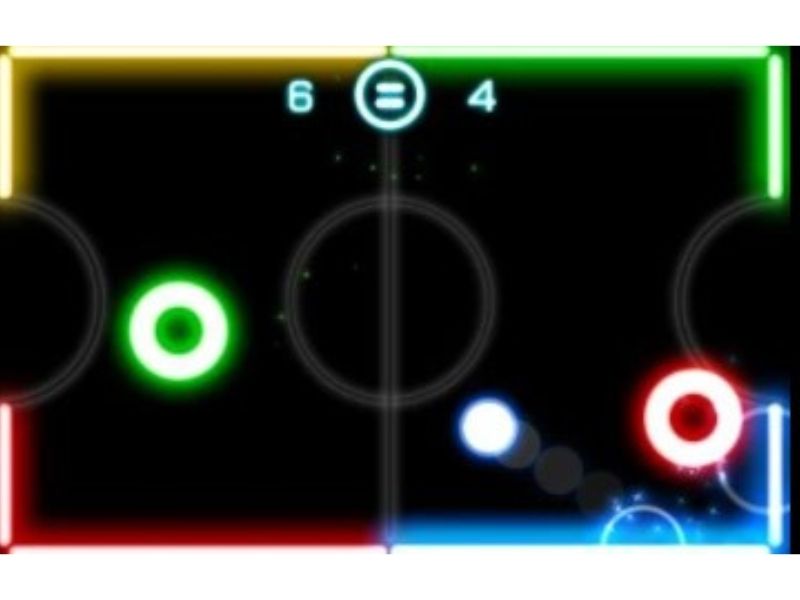 This online game is good for couples who want something less brain heavy to play after work. While it can't be compared to the real thing, it doesn't strip away the exhilarating competitive thrill. With Glow Hockey 2, you and your partner compete against each other in a battle of quick reflexes and speed. There really isn't much strategising or thought needed. All you have to do is to strike your puck to the opponent's goal while protecting your goal at the same time. The first to get to seven goals wins. 
Happy Couple (Love Quiz)
Platform: Android 
For newer, LDR couples struggling to keep the romance alive, this app may be something you'd want to try. It's a love quiz that will help you get to know your partner on a deeper level. Partners will have to answer a set number of questions a day. Some will revolve around you and others will require you to guess your partner's answers. The goal is to try to get a 'match' between you and your partner by giving the same answer. Once you've answered a series of these questions correctly, you'll earn points and gain access to other locked challenges. You'll also get an overview of where you guys matched or mismatched. 
Overall, there's no right or wrong way to play this game, because the goal is all about improving your communication as a couple. You'll be able to ask questions you'd never thought to ask or were too shy to do so while learning daily tips on how to boost your relationship. It's a great online couple game to get the dialogue rolling and bring you closer together. 
Crank Up The Fun On A Date Nights With Online Couple Games 
There are many different ways to make new memories with your loved ones. For instance, partaking in their favourite pastime, like trying out these online couple games, or booking a short staycation. Whatever it is, we hope that your next date night will be an enjoyable one filled with laughter and happiness. For more gaming-related content check our budget gaming phone and multiplayer mobile games articles too.