Ah yes, the brownie. Who can ever deny the irresistible qualities of this decadent dessert? It's soft, made almost 100% with chocolate, and sinfully delicious. Adding to the appeal is that brownies aren't tricky to make. In fact, brownies are often regarded as one of the easiest things to bake. With Christmas approaching, use these easy chocolate brownie recipes to create the perfect dessert that everyone will devour in seconds. It's time to preheat the oven and get cracking!
Make These

Easy Brownies Recipes

For The Ultimate Chocolate Dessert
Classic Brownie
You can't go wrong with a tried and true method. Easy brownie recipes like this is straightforward enough for any baking novice to master, yet rich enough to satisfy a demanding brownie connoisseur. Everything is done in one bowl, with chocolate bars, flour, and eggs slowly whisked together. That said, there is room for error. Careful not to overbake the brownies or risk them becoming too dry. To prevent this from happening, periodically poke the brownies in the oven with a toothpick. A clean toothpick indicates that your brownies are overbaked.
Recipe Ingredients:
140g of chocolate, coarsely chopped

½ cup of unsalted butter, cut into pieces

2 tbsp of unsweetened cocoa powder

1 cup of granulated sugar

1 tsp of

coffee

extract

3 eggs

¾ cup of all-purpose flour

1 tsp of vanilla extract

¼ tsp of salt

¾ cup of

chocolate chips
Fudgy Brownie
Buzzfeed's Tasty creates many easy brownie recipes, and this one is no exception. Like the previous recipe, Tasty's version also uses a one-bowl method, fusing the ingredients in harmony. The key to a fudgy, molten centre lies in the chocolate chunks, which are added mid-way whisking, so it stays moist after baking. Have this with a generous dollop of vanilla ice cream and wait for a wave of bliss to hit you. 
Recipe Ingredients: 
Nutella Brownie
To amp up the richness of your brownies, incorporate Nutella, the hazelnut cocoa spread that's already ridiculously chocolaty on its own. That said, some of the hazelnut flavours might be lost during baking. To punch it up, feel free to add hazelnut essence or hazelnut bits for a crunchy bite. It's an easy chocolate brownie recipe that yields perfect squares of heaven. 
Recipe Ingredients:
Cheesecake Brownie
Why stop at cheesecakes when you can have cheesecake brownies? It's essentially the rich brownie you know and love, but topped with a delectable cheese frosting. The result is a balanced bite that's equal parts sweet and light, thanks to the tanginess of the cream cheese. Plus, the marbling on the cake looks incredibly good in photos—perfect for flaunting on Instagram!
Recipe Ingredients: 
Brownie:
1 tbsp of vanilla extract

1 cup of all-purpose flour

226g of unsalted butter

1 ⅓ cups of semi-sweet chocolate chips

1 egg yolk

¾ cup of cocoa powder

1 cup of granulated sugar

1 cup of

brown sugar

2 eggs

1 tbsp of

coffee powder

1 tbsp of

water

Salt to taste
Cheese Dressing:
453g of

cream cheese

½ cup of sugar

1 tbsp of vanilla extract

1 pinch of salt

2

eggs
Lemon Brownie
Technically, this isn't a brownie due to the omission of chocolate. However, it's a worthy substitute if you feel jelak from too much chocolate but still crave that fudgy and chewy texture in your cakes. Making it is almost identical to the other recipes on this list, with the exception of a silky lemon glaze. The best thing about this easy brownie recipe? It tastes even better overnight. To store, just seal it in an airtight container and pop it in the fridge.
Recipe Ingredients:
Brownie:
142g of unsalted butter

1 ¼ cups of granulated sugar

2 eggs

1 cup of all-purpose flour

½ tsp of salt

2 tbsp of fresh

lemon juice

1 ½ tsp of lemon garnish

½ tsp of natural

lemon extract

¼ cup of

buttermilk
Lemon Glaze:
Walnut Brownie
Walnut brownies are classic brownies with a twist. The addition of walnuts gives the brownies an earthy and slightly bitter aftertaste. It isn't overpowering by any means as the flavours are rather subtle. Not a fan of walnuts? Macadamias or cashews are great alternatives. Tip: Give your brownies enough time to rest, so they don't crumble when you cut into them!
Recipe Ingredients:
Brownie:
128g of

walnuts

200g of milk chocolate, coarsely chopped

125g of butter

¼ cup of cocoa powder

½ cup of sugar

1 tsp of salt

¼ cup of brown sugar

2 eggs

½ tbsp of vanilla essence

¼ tsp of

baking powder

½ cup of all-purpose flour
Garnish:
Chunks of milk chocolate

64g of walnuts, coarsely chopped 
Salted Caramel Brownie
Salted caramel makes everything better, including brownies. Made from a heady mixture of cane sugar, salt, and heavy cream, salted caramel lends a rich umami flavour to take your brownies to the next level. Gooey, rich, and perfect in every way. And the best part about this easy chocolate brownie recipe? It literally takes less than 30 minutes to whip everything up. 
Recipe Ingredients:
310g of

dark chocolate

, coarsely chopped

225g of butter

2 cups of granulated sugar

3 eggs

1 tsp of vanilla essence

125g of flour

⅓ cup of

salted caramel
Make Delectable Treats For Every Occasion With These

Easy Brownie Recipes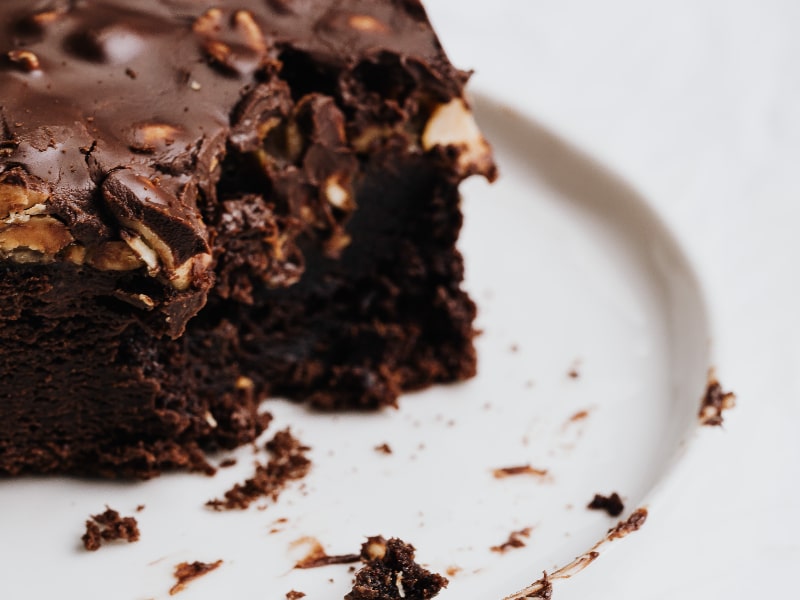 There you have it, a list of easy brownie recipes you can replicate any time of the day for every occasion! As you've probably noticed, the ingredients are about the same across all the recipes, save for some extras. It shouldn't take you too long for you to create trays of sweet treats for friends and family. Want to skip the hassle of baking entirely? Check out these easy dessert recipes that don't require oven-baking at all. 
What's the festive season without a couple of drinks? If you are staying in, get booze delivered right to your doorstep from these trusted online delivery companies. But before you pick your poison, check out our thorough guides on all the types of wines and craft beers people are drinking now.