Time flies—it's CNY season again! Undoubtedly the most important holiday in the Chinese lunar calendar, the festival celebrates all the good things in life: family, health, luck, and wealth. Like in many cultures worldwide, food is a crucial component during CNY with cooks using symbolic ingredients to create mouthwatering dishes. We've gathered a list of Chinese New Year dishes you can make this year with ingredients you can easily find in the supermarket, with each bringing forth a specific meaning to this annual festival. 
Make These

Chinese New Year Dishes

For This Year's Reunion Dinner
1. Steamed Whole Chicken
Why whole chicken? Because it represents togetherness and the importance of a strong family unit. Instead of roasting, steaming gently cooks the chicken while keeping the flesh moist. Overnight seasoning is vital, so don't forget to generously lather the bird with salt the day before cooking. Complement the dish with dipping sauce, concocted with grated ginger and chopped scallion for an appetising aftertaste. 
Recipe Ingredients:
Chicken:
Dipping Sauce: 
2. Ginger Soy Steamed Fish
As far as traditional Chinese New Year food goes, steamed fish is a must-have. The Chinese word for fish is yu, which shares an almost-identical intonation as the Chinese word for "abundance". Hence, it's common for phrases like nian nian you yu—literally means "yearly abundance"—to be uttered during CNY dinners. Steaming a fish is easy in theory, but it's the finer details that make or break the dish, For example, the freshness of the fish. 
Recipe Ingredients:
3. Pan-Fried Dumplings
Also known as guo tie (loosely translates to "pot stick"), pan-fried dumplings are delicious and pretty easy to make. Among Chinese New Year dishes, the humble dumpling's resemblance to gold ingots symbolises wealth. Legend has it that the more dumplings you consume during the CNY celebrations, the more wealth you'll accumulate throughout the year. We can't attest to the legitimacy of that tradition, but what we do know is that it's impossible to stop at just one dumpling. 
Recipe Ingredients:
Filing:
Seasoning:
4. Creamy Butter Prawns
Prawns are also a huge staple ingredient in Chinese New Year dishes because the pronunciation in Cantonese (har) resembles the sound of roaring laughter, translating to an abundance of happiness. There are obviously many ways to cook prawns, but the recipe we're showing here is a popular style often found on restaurant menus. Using a mixture of butter, cream, and curry leaves, the sauce is rich but not overpowering.
Recipe Ingredients:
Prawn Marinade: 
Gravy:
5. Buddha's Delight
It isn't always all meaty dishes during Chinese New Year. You need vegetables to balance out the heavy flavours and one dish that's a staple at every dinner table is the Buddha's Delight or luo han zai in Chinese. Traditionally eaten on the first day of CNY to welcome prosperity, it's a one-pot mixture of multiple vegetables and protein sources. Hence, it's very important to use fresh ingredients because it'll make a world of difference to the dish's overall taste.
Recipe Ingredients:
6. Stir-Fried Scallops With XO Sauce
A spin on traditional Chinese New Year food, this recipe uses rich XO sauce instead of normal soy sauce for a strong umami flavour. This deceptively simple recipe also incorporates an array of boiled vegetables then stir-fried to lock in the flavour. What's the significance of scallops then? Although scallops don't necessarily have a homonym in Chinese, the shape plays a role in their feature on CNY menus. The round shape represents oneness, which plays to the concept of reunion during this season. 
Recipe Ingredients:
7. Fried Nian Gao Sandwich With Yam & Sweet Potato
When it comes to dessert, none is more ubiquitous than the nian gao or "high year" in literal translation—meaning that all good things in life will come at an accelerated rate. Nian gao can be eaten on its own but this recipe turns it into a fried sandwich with yam and sweet potato stuffing. Simply lather the sandwiched nian gao in batter, then dip it into hot oil and fry to golden perfection. Pair it with your preferred hot beverage for a satisfying afternoon tea or supper!
Recipe Ingredients:
Fried Nian Gao:
Batter:
8. Braised Abalone With Fish Maw, Mushrooms & Broccolli 
Due to their premium price tags, abalones are often a treat during the CNY period. And the oblong-shaped delicacy piggybacks two important attributes to usher in the year ahead: assurance and surplus. The sea snail is called bao yu in Cantonese and Mandarin, which translates to "assurance of surplus" despite the slight intonation change between the two pronunciations. This recipe is a tried and true classic and it'll surely impress even the fussiest aunty in the family.
Recipe Ingredients:
Sauce:
Prepare These

Chinese New Year Dishes

To Usher In The Year Of The Rabbit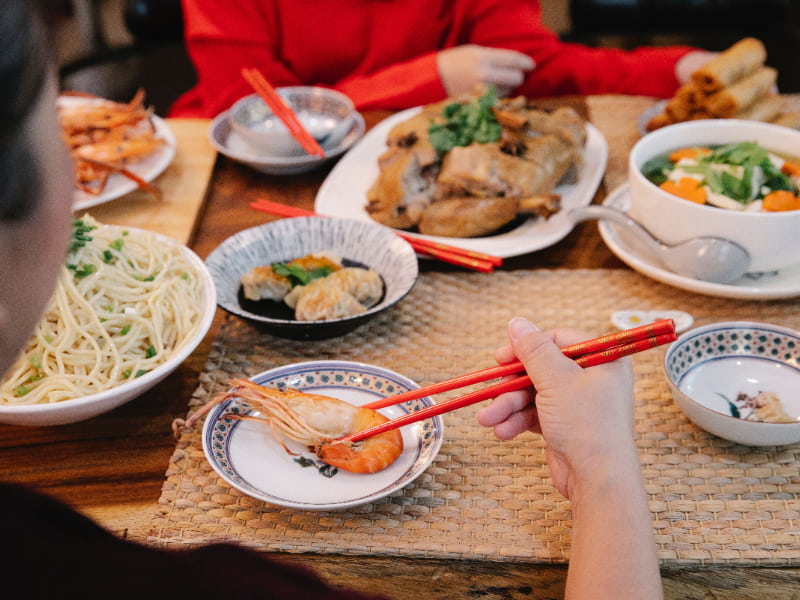 The mention of Chinese New Year brings to mind a few things: red packets, lively gatherings, and lots of palatable food. These things are all anchored in tradition and symbolism, which explains why certain staples are non-negotiable at the dinner table during this time. If you plan to impress your friends and family with Chinese New Year dishes that not only honour tradition but also taste delicious, we hope this list has been helpful! 
Thinking of gifting CNY hampers as a gesture of appreciation? Check out our list of online hamper delivery platforms and delectable cookie gift sets for you to send the perfect care package. Lastly, don't forget to stock on essentials with great prices on our annual CNY sale!