Chinese New Year is just around the corner, which means it's time to stock up on all the seasonal snacks and sweets to properly ring in the new year. Apart from ang paos, the festive decorations, and the tossing of Yee Sang, there's no better way to bond with family than with a yummy batch of cookies. That said, trying to make these scrumptious treats is no easy feat. So, if you need a solution because you're not particularly skilled in the baking department or are just too lazy to bake, don't worry. Here are 12 popular Chinese New Year cookies you can buy online at your convenience! 
Popular Chinese New Year Cookies You Can Find On Shopee Malaysia
1. Pineapple Rolls/Pineapple Tarts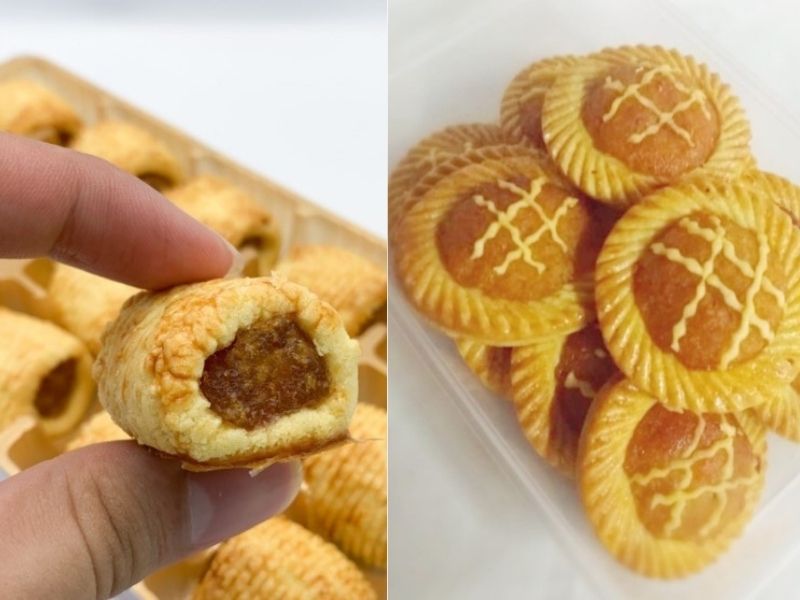 It's not Chinese New Year without these cookies. Pineapple rolls are a favourite across all ages, from uncles and aunties to teens and kids. The sweet and zesty flavour of the pineapple jam fused with the butteriness of the cookie pastry is an addictive taste one can never deny. 
Alternatively, if you prefer a more crumbly sort of pastry then pineapple tarts might be more up your alley. Pineapple is called 'wong lai' in Cantonese and 'ong lai' in Hokkien, which means 'prosperity' or 'good fortune has come'. Hence, eating and serving pineapple rolls or tarts is said to usher in good luck and prosperity to the home.
2. Love Letters/

Kuih Kapit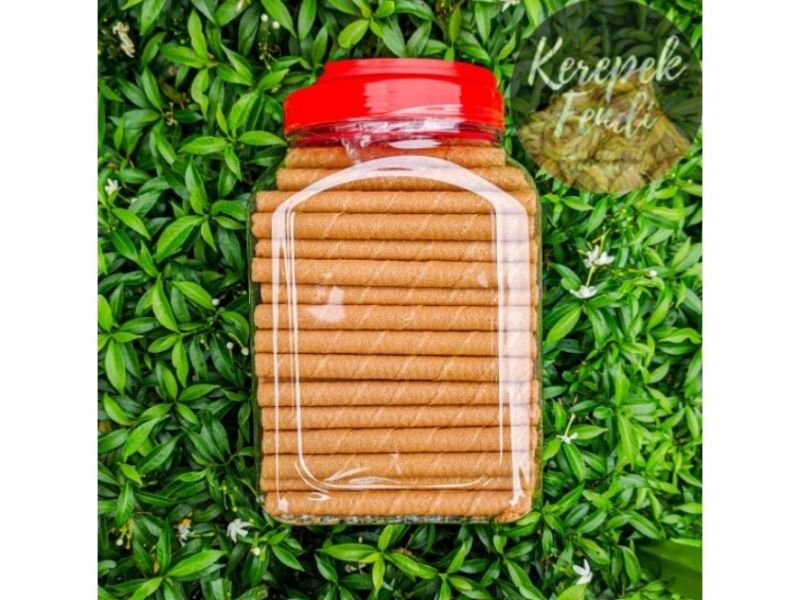 Love letters are said to have come about in the late 19th century in Malaya. Back then, it was forbidden for young women to visit boys without a chaperone. These traditional snacks were a sneaky but effective way for young maidens to pass their romantic messages without getting caught. Their edible nature meant that evidence of any secret meetings was conveniently destroyed. Plus, the act of eating the snack showed that its message was taken to heart. 
While they may not hold the same significance as they used to, these Chinese New Year cookies are still well-loved for their crispy and flaky wafer. 
3. Peanut Cookies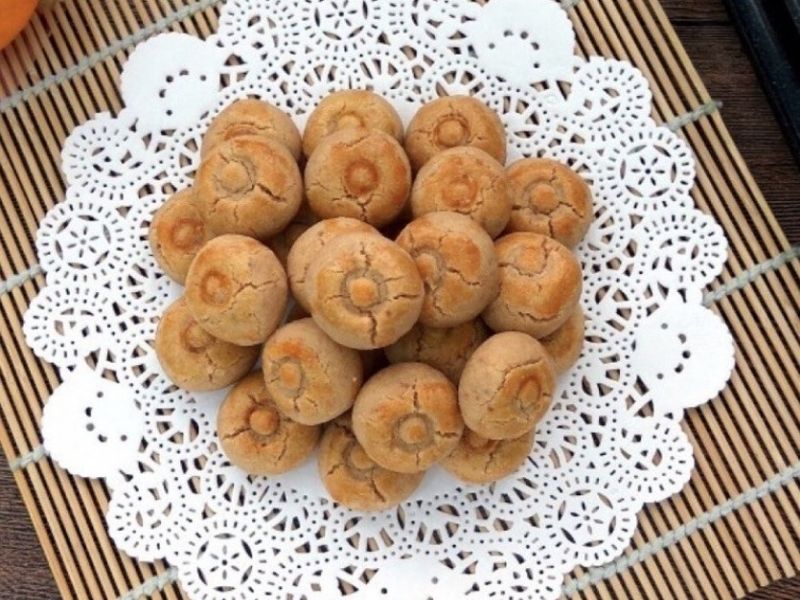 For those who like a combination of sweet and savoury, peanut cookies are for you. Their nutty batter is a melt-in-your-mouth sensation that no one can resist. These Chinese New Year cookies are meant to represent longevity. Peanut is 'fah sung' in Cantonese, which also translates to 'blooming life', symbolising growing prosperity and long life. On the other hand, with the Mandarin version, the second word 'sheng' from 'hua sheng', means to give birth. This conveys the wish for many children. For that reason, it's no surprise that peanut cookies are especially popular among married women and aunties. 
4.

Kuih Bangkit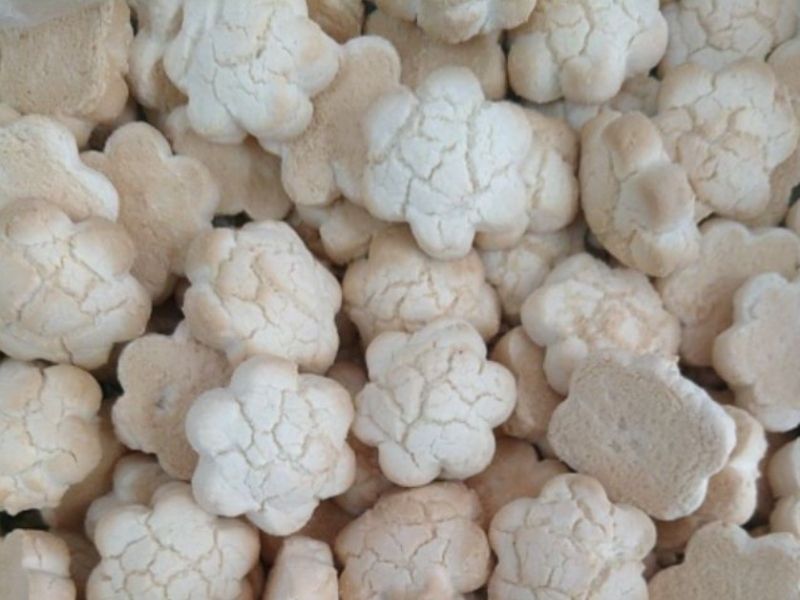 These chalky Chinese New Year cookies are a Nyonya delight and they're made from coconut milk and tapioca flour. Kuih Bangkit has a powdery and airy texture that's gentle to the taste buds, along with a sweetness that's not too overpowering. However, they can be rather sticky at times, so it's better to have a drink on hand to wash it down. The name 'bangkit', which means 'to rise', stems from the way the cookies would rise during the baking process. 
Initially, they were brought as altar offerings for ancestral worship and were moulded into a variety of shapes. Different shapes held different auspicious meanings. For instance, chrysanthemum flowers represented longevity and good fortune, while goldfish-shaped cookies symbolised prosperity.
5. Honeycomb Biscuits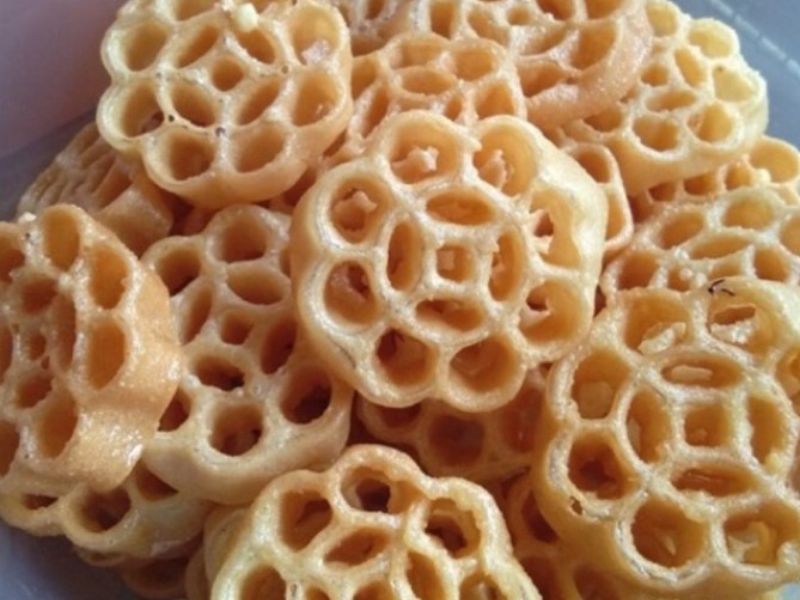 Just like its namesake, these crackers are shaped like honeycombs, though they are also known by several other names too. Some call them Kuih Ros due to their rose-like pattern, while others know them as Kuih Loyang (brass cakes) because of the brass moulds that are used to create their designs. Fun fact: Despite being Chinese New Year cookies, honeycomb biscuits are derived from Scandinavian and Indian origins. Though, they were known as Rosette cookies instead. Thanks to the merging of cultures, many Chinese households get to savour these thin and crunchy deep-fried pastries. Eating this sweet treat is said to usher in a sweet year ahead.
6. Almond London Cookies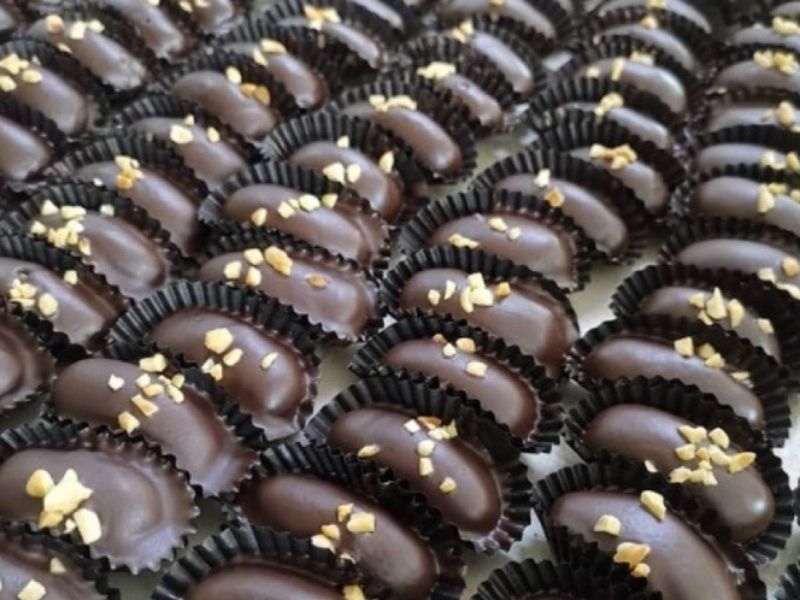 No one knows when, where, or how the name of this Chinese New Year cookie originated, nor is there any particular traditional significance attached to it. It's just one of those treats we somehow came to enjoy during the festive holidays. Regardless of its random title, almond London biscuits are still a delicious titbit that chocolate lovers will greatly appreciate. With roasted almonds covered in cookie dough, a liberal coating of chocolate, and a topping of additional almond nibs, what's not to love about this indulgent dessert? 
7. Peanut Puff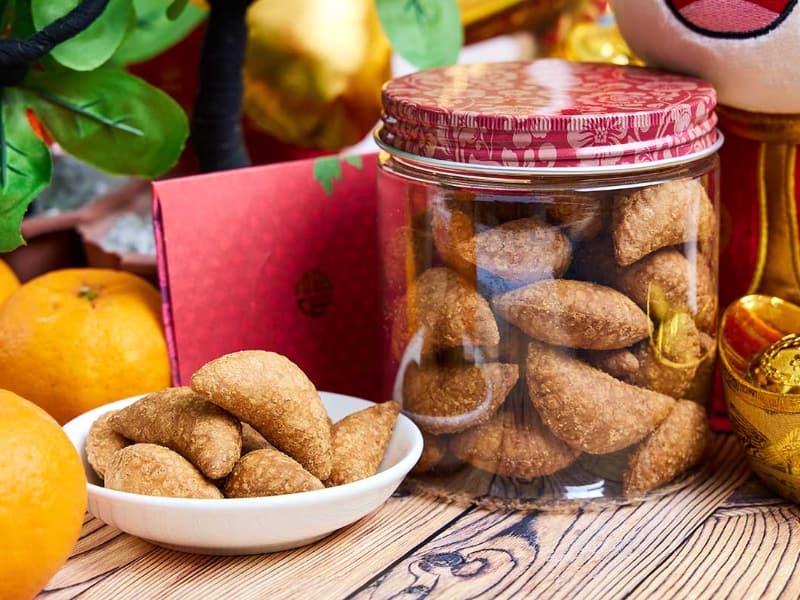 While the exterior of a peanut puff may resemble a mini version of a curry puff, its interior is sweet instead of savoury. The filling is made up of roasted sweet ground peanuts and sesame seeds to symbolise an abundance of wealth and a full wallet. Its appearance is also imitative of an ancient Chinese gold ingot to represent prosperity. These Chinese New Year cookies are extra crunchy with its deep-fried dough and nutty filling. It's always so satisfying to bite into these pastry-like dumplings! Once you start, you'll be reaching for another piece before you know it. 
8. Dragon Cookies
If you love butter cookies then you'll love these Chinese New Year dragon cookies. Well, dragon cookies are deep-fried butter cookies but formed into the shape of a dragon. Their smooth texture makes it extremely difficult to resist finishing a whole jar of them (and don't be surprised if you do). Despite its deceptively simple design, getting the right consistency and its soft finish is a lot trickier than it seems. So, you might want to save the hassle of trying to bake these and opt to purchase them instead. 
9. Mini Shrimp Rolls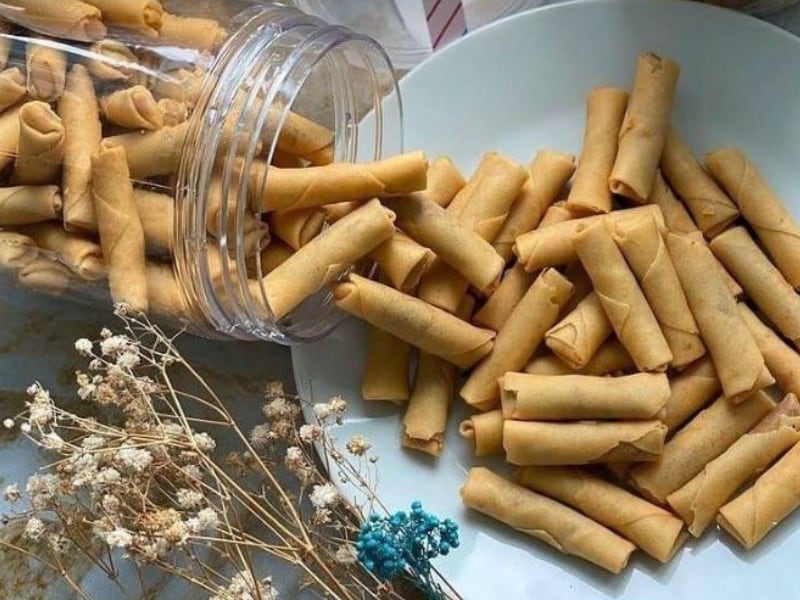 Mini shrimp rolls are tiny, bite-sized snacks that make it all too easy to pop into your mouth. They're usually made with wonton skin that's been deep-fried to golden-brown, crispy perfection and filled with prawn floss. Word is that these salty Chinese New Year cookies were meant to represent the image of gold bars to signify—yup, you guessed it—good fortune and wealth. So, if your relatives are giving you the side-eye for munching on these crispies a tad too much, now you've got a good excuse.
10. Arrowhead Chips/

Nga Ku

Chips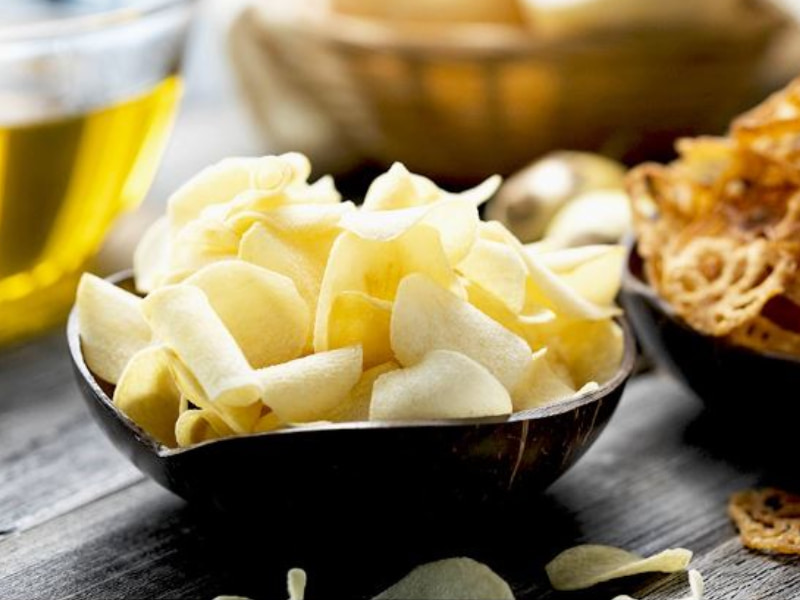 Arrowhead, or nga ku in Cantonese, is a seasonal tuber-like plant that's quite similar to the potato. Its Chinese name loosely translates to 'benevolence', while its upward growing leaves are said to signify continuous growth in the new year. (If not eaten, arrowheads also make for auspicious plants to display at home.) The bulbs of arrowhead plants carry a hint of sweetness as well as a grainier texture, which make them perfect for frying into thin slices of chips. Now, we know arrowhead chips aren't exactly cookies, but you'll often find them alongside other cookies at every home celebrating Chinese New Year. They're deliciously crispy and savoury, and very hard to stop at just a few!
11. Almond Cookies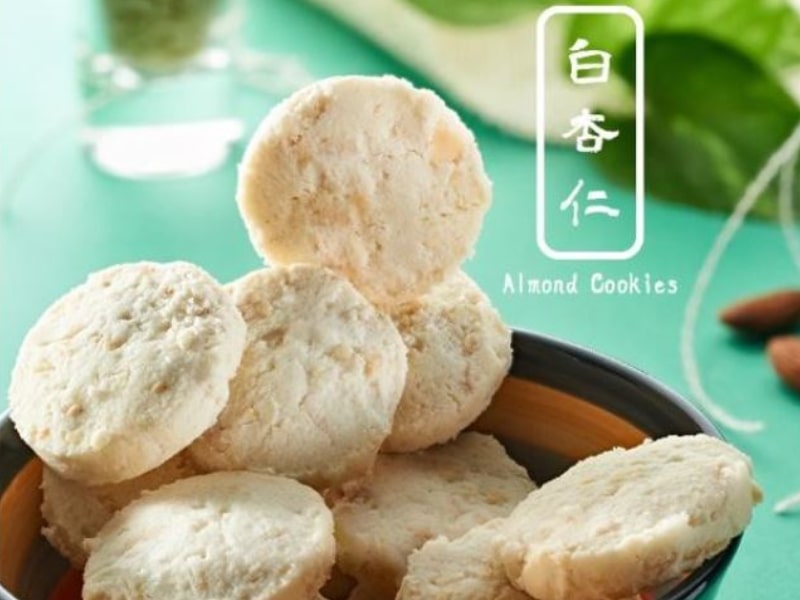 Almond cookies are fixtures during the Chinese New Year as they resemble coins, which symbolise good fortune and prosperity. These fine-crumbed, melt-in-your-mouth cookies have a mild almond flavour, with crunchy slivers of the nut in between. It's savoury and somewhat creamy, although there's absolutely no butter or dairy ingredients in it. If we had to describe it, it's probably the most similar in texture to the crumbly shortbread.
12. Green Pea Cookies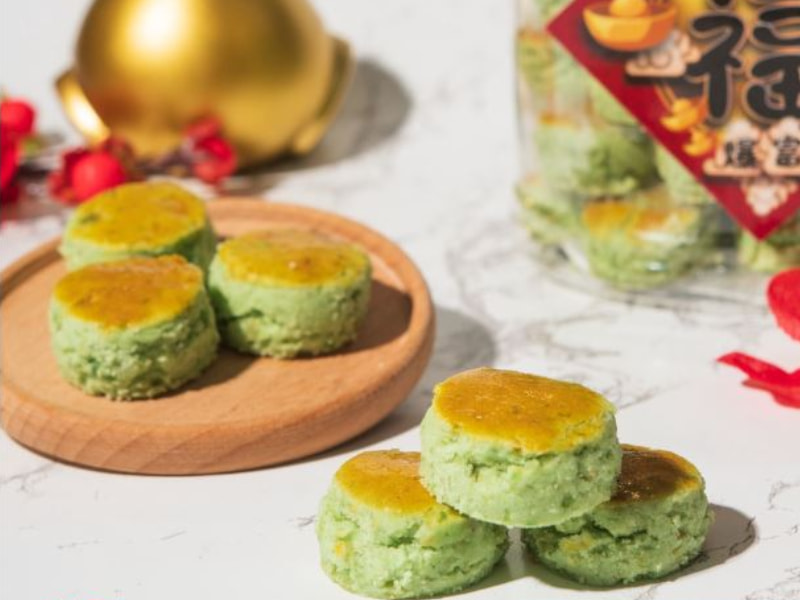 Similar to the almond cookie, here's another Chinese New Year cookie that's a must-have in some households. These cookies take their bright shade of green from the natural colour of peas, which also lend the tender cookies a fragrant and nutty taste. They look a little like jade too—a precious stone associated with nobility and wealth—though not much has been said about the symbolism or significance of the cookie itself.
Enjoy These Chinese New Year Cookies During The Festive Holiday Celebrations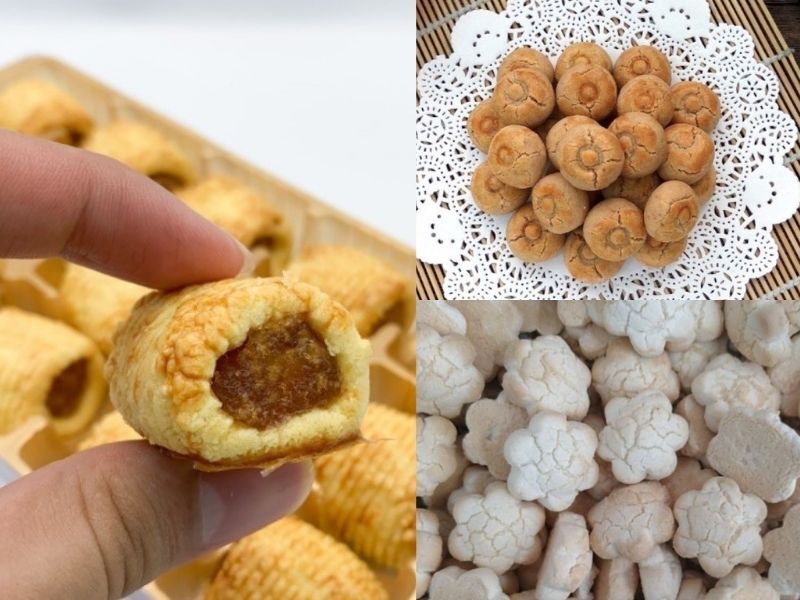 We hope your new year is off to a good start so far. May it be one that'll bring good fortune and prosperity to both you and your family. Wishing you a Happy Lunar New Year and Gong Xi Fa Cai! Don't forget to check out our other article on all the lucky foods you can eat during Chinese New Year. Thinking of sending a hamper? Check out these vendors for great choices!
Before you go, don't forget to check out our 2023 Chinese zodiac predictions and our Chinese New Year Sale! You'll get massive savings on everything you need for a prosperous CNY, from abalones and sea cucumbers to red packets to give the little ones. If you need a good CNY mystery to sink your teeth into, check out Shopee's 2023 CNY video entitled, 'Are they going to make it?'.