The city's great with its shopping and cafe culture, but where's the nearest green lung if you desperately need a getaway? Within an hour's journey from Klang Valley's busiest districts, Janda Baik is a hilly area located at the fringe of Pahang. And the change of scenery here is starkly obvious. Unadulterated lush greenery, waves of chilly air, the sounds of nature, and not a high-rise building in sight—it's hard to believe this pocket of countryside is just a car ride away. So if you're thinking of spending time away from the concrete jungle, here are the best resorts in Janda Baik for your escape. 
Note: Room prices are accurate at the time of writing.
Best Janda Baik Resorts

And Villas

With Nature As The Backdrop 
Some of these locations also double as event spaces, so hit them up if you're looking to host a party or wedding!
1. Tiarasa Escapes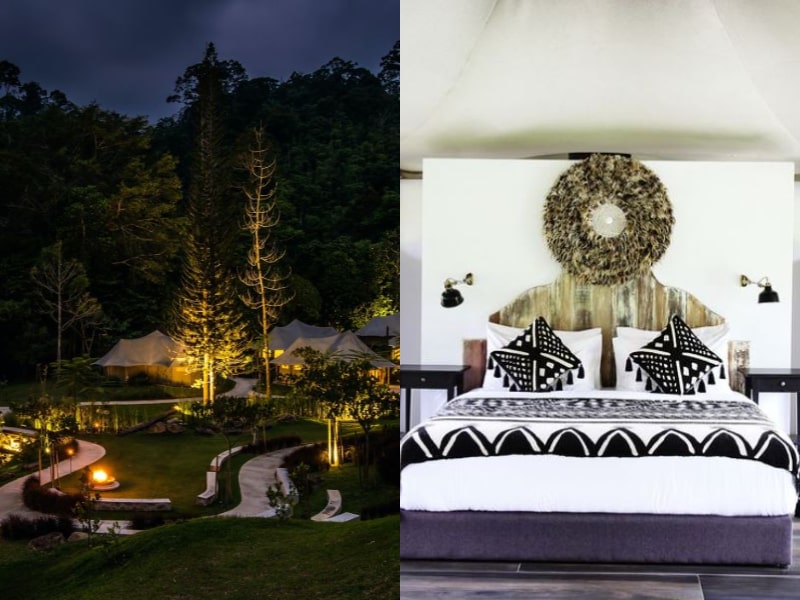 Regulars laud Tiarasa Escapes as one of the best resorts in Janda Baik for its Bohemian-style camps, treetop villas, and well-maintained facilities. Flanked by towering age-old trees and working orchards in seclusion, there's a lot to do at this premium glamping location spread over seven acres of land, from bird-watching and hiking to taking a dip under the stars and BBQ-ing. There's also a bonfire session every day at sundown for you to gather around with your gang and catch up as the majestic flame burns. 
Address: Persiaran Enderong, Kampung Janda Baik, 28750 Bentong, Pahang
Contact: 012-887 7777
Room prices start at: RM990
Website | Facebook | Instagram
2. Harmony Valley Retreat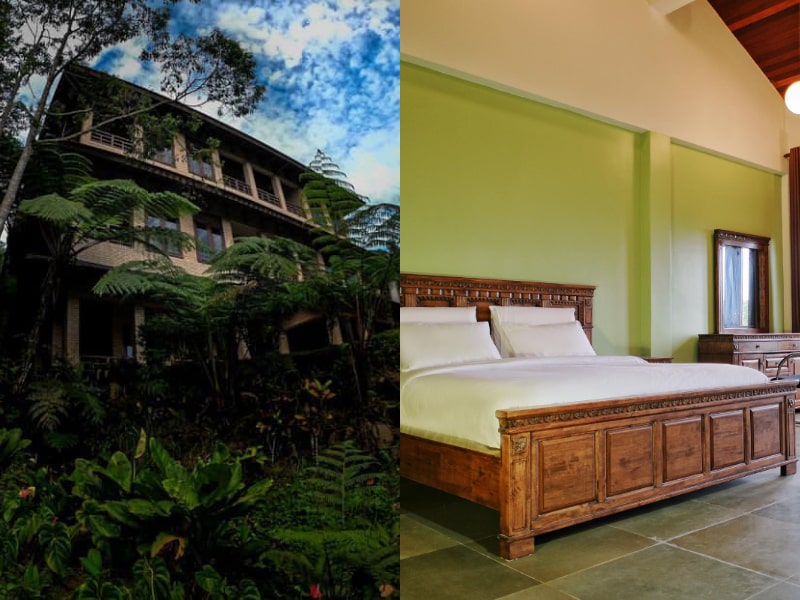 Located next to an organic garden, Harmony Valley Retreat sits on a sprawling compound overlooking the misty mountains of Janda Baik. To prevent overcrowding, there are only 10 well-equipped rooms within the multi-storied mansion, each designed to fit couples or small families. Each booking comes with a complimentary breakfast and free Wi-Fi. There's also an on-site Asian restaurant for lunches and dinners if you aren't keen to drive out for meals. 
Address: Lot 345, Jalan Sum Sum Dua, Tana Rimba, Off Jalan Janda Baik, 28750 Kampung Bukit Tinggi, Pahang
Contact: 09-233 0060
Room prices start at: RM303
3. Happi Village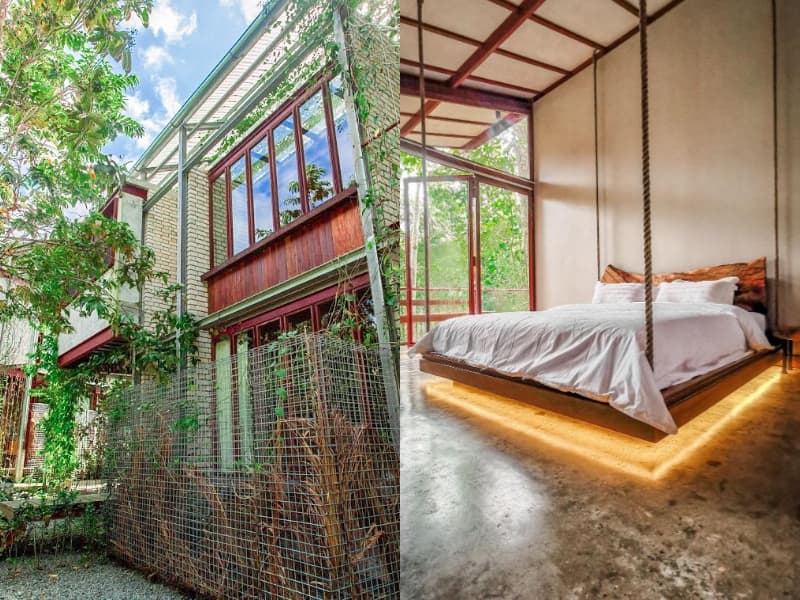 Find immense joy in Happi Village, among the best resorts in Janda Baik for an unforgettable getaway rooted in sustainable living. Spread over the side of a hill, the property hides behind towering trees with imposing views of the mountainside in all directions. And the inner workings of the villa blend seamlessly with the natural surroundings with bare cement, clay bricks, and metal finishings. Meanwhile, crops of fresh fruits, vegetables, and herbs from the neighbouring farms are used for the meals here. 
Address: Lot A848, PT 14333 Kampong, 28750 Kampung Janda Baik, Pahang
Contact: 012-321 7215
Room prices start at: RM320
4. Danau Daun Chalets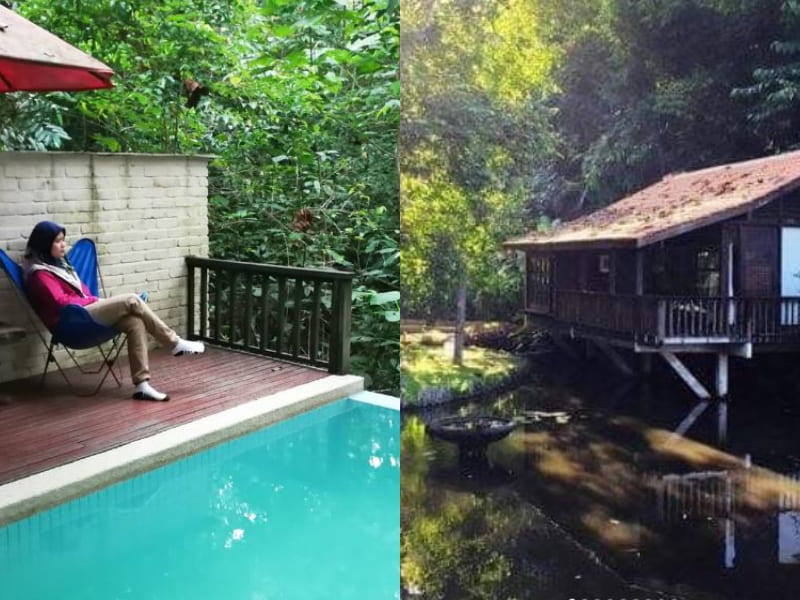 As one of the best villas in Janda Baik for families and small groups, Danau Daun Chalets presents a conducive and comfortable environment for everyone to let loose. There are six chalets to pick from, three of which come with private pools. Each chalet can accommodate up to eight guests and is fitted with a viewing deck and a BBQ pit for cookouts in chilly weather. There's no Wi-Fi here and phone signals are generally pretty choppy, which is great for unplugging from screens and devices.
Address: Lot 5347, Kg. Sum-Sum Hilir, Malaysia, 28750 Kampung Janda Baik, Pahang
Contact: 010-239 7400
Room prices start at: RM320
5. Embun Luxury Villas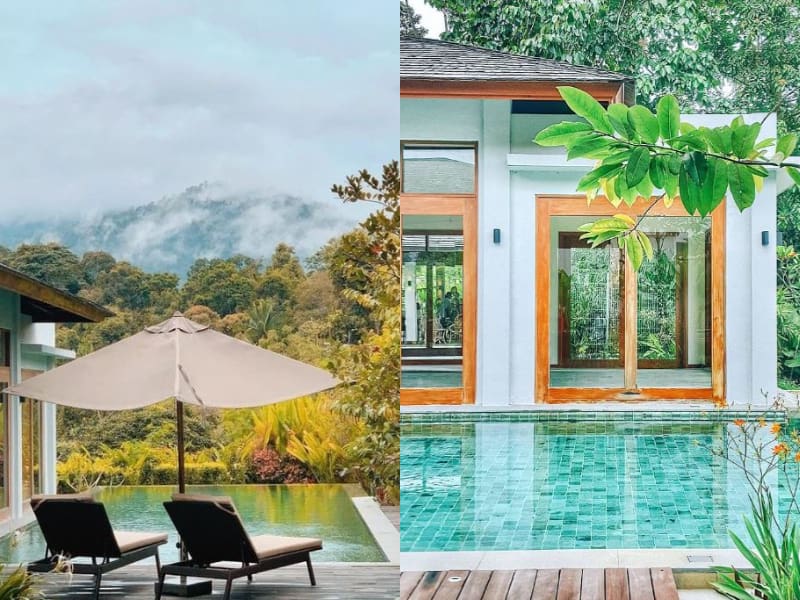 Treat yourself to a premium staycation at Embun Luxury Villas, where the villas are furnished in the style of a five-star hotel. Think expansive living rooms, state-of-the-art electrical appliances, rain showers, marble floors in the bathrooms, and designer pieces that are unique to each villa. Furthermore, there's a clubhouse within walking distance where guests can take a dip in the infinity pool or enjoy a scrumptious meal with forest views to boot. 
Address: Lot 6250 & 6251, Hulu Sum-Sum, Kampung Janda Baik, 28750 Bentong, Pahang
Contact: 09-233 0396 | 09-233 0376
Room prices start at: RM950
6. Enderong Resort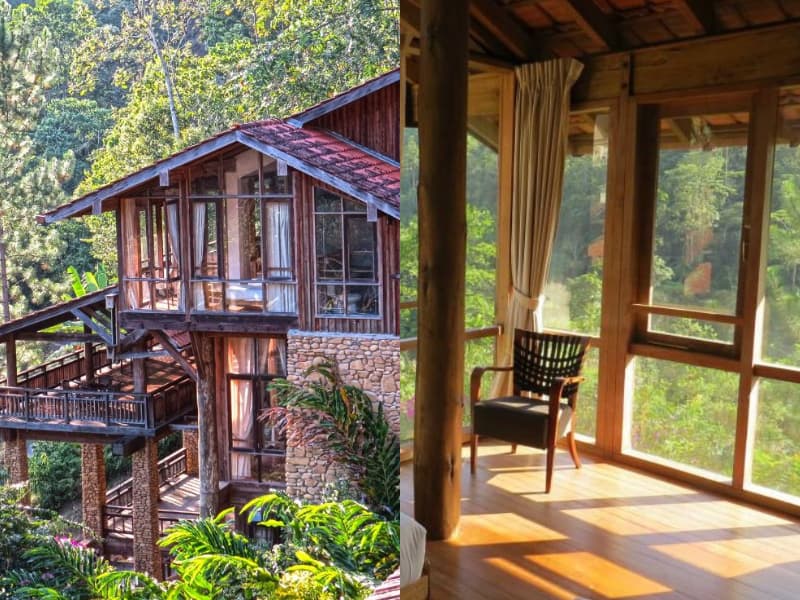 Marvel at the award-winning architectural structure of Enderong Resort, one of the best and most recognisable Janda Baik resorts. The striking timber and stone mansion has eight spacious rooms that can fit up to 26 guests at one time. Separately, the common hall is great for staging parties, corporate functions, and even weddings! Situated 2000 feet above sea level, the property is blessed with breezy mountain winds all year round, which is perfect for those looking to escape the city heat. 
Address: C21, Persiaran Enderong Jalan Tanarimba Pine Tanarimba, Kampung Janda Baik, 28750 Bentong, Pahang
Contact: 09-233 0533 | 09-233 0512
Room prices start at: RM550 
Website | Facebook | Instagram
7. Twinkle Villa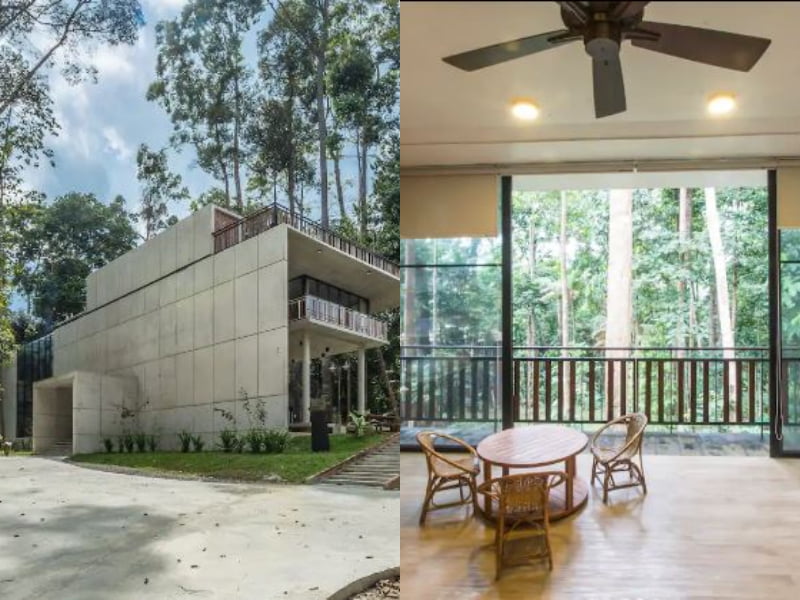 Twinkle Villa comprises four distinctive houses, each with its own design language. But the one that stands out is the Cengal House, the recipient of the 2017 Malaysian Institute of Architect's Gold Award for Building Of The Year. Sitting at the highest point of Tanarimba where misty hillscapes are everywhere, the contemporary homestead has four rooms, a rooftop garden, and a living room embellished with fine art pieces. 
Address: Lot 350, Lorong Sum Sum Dua, Tanarimba, Janda Baik, Bukit Tinggi, 28750 Bentong, Pahang
Contact: DM via social media
Room prices start at: RM486
8. Plateau Farmhouse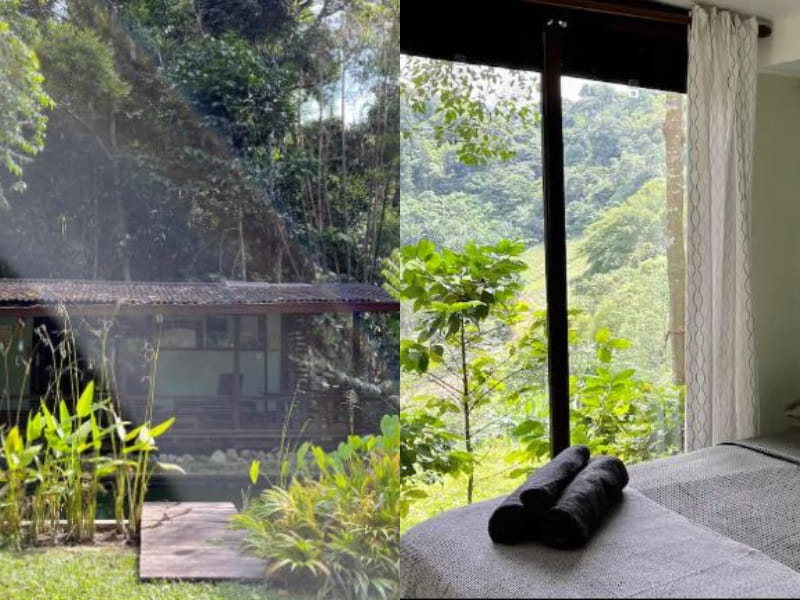 This dwelling place at a working farm where poultry and three friendly Border Collies roam free has enough charm for guests to fall in love with it. The farmhouse is stocked with essentials for a comfortable stay; toiletries, kitchen utensils, and pantry staples are plenty so you only need to bring your personal belongings. But we reckon you'll spend most of your time outdoors roaming the farm or playing fetch with the dogs. Life is simple here even just for a few days. So if you're looking to really slow down, this is one of the best resorts in Janda Baik to do so. 
Address: Jalan Damai 3, Kampung Janda Baik, 28750 Bentong, Pahang
Contact: DM via social media
Room prices start at: RM320
Airbnb | Website | Facebook | Instagram 
Take A Breather At These

Best Resorts

And

Villas

In Janda Baik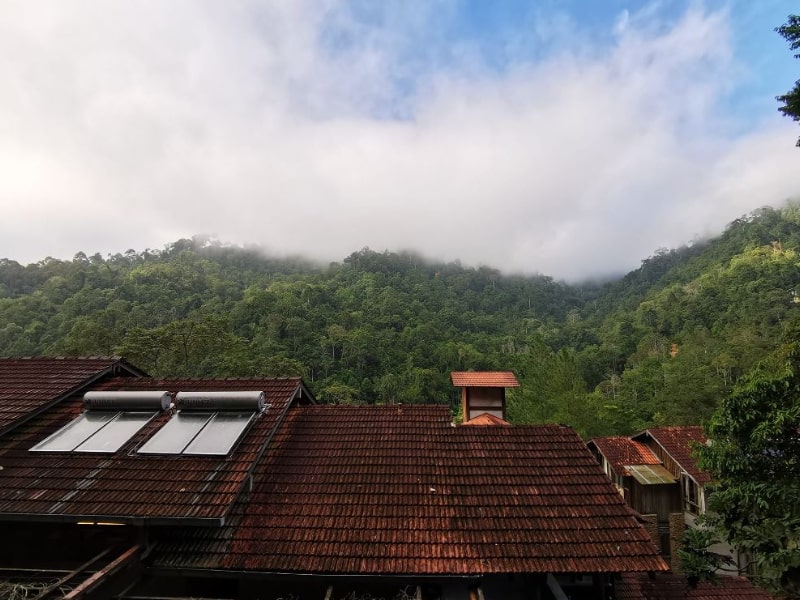 Aside from the clean air and tranquil environment, what makes Janda Baik so appealing to urban dwellers is its close proximity to the Klang Valley. So if you're hoping to break away from boutique hotels for your next staycation, book a weekend at these best Janda Baik resorts and villas. 
Think Janda Baik is not your cup of tea? Check out these Airbnbs at Kuala Kubu Bharu, an equally tranquil travel destination in Hulu Selangor. But if you want to keep it close to home, these beautiful homestays in KL and Selangor are worth checking out.