Ever watched an Architectural Digest video of a celebrity showing off their prized mansion with marbled floors and an Olympic-length pool, and thought, "Damn, I wish this was my house"? No shame, envy is human nature. But unless you're a singer who struck gold with a one-hit-wonder or a socialite who holds permanent residence in tabloid headlines, going home to a multi-million dollar residence is likely an improbable prospect—doesn't mean you can't for a day or two, though! After combing through lists of properties, we've narrowed down the best Airbnb with private pool in KL and Selangor for a staycation worthy of magazine spreads. 
Note: Details for each property are accurate at the time of writing this article.
Airbnbs With Private Pools In KL
When KL's chaos gets to you, escape to these villas and houses on Airbnb for a comforting staycation. 
Corner Bungalow On Hill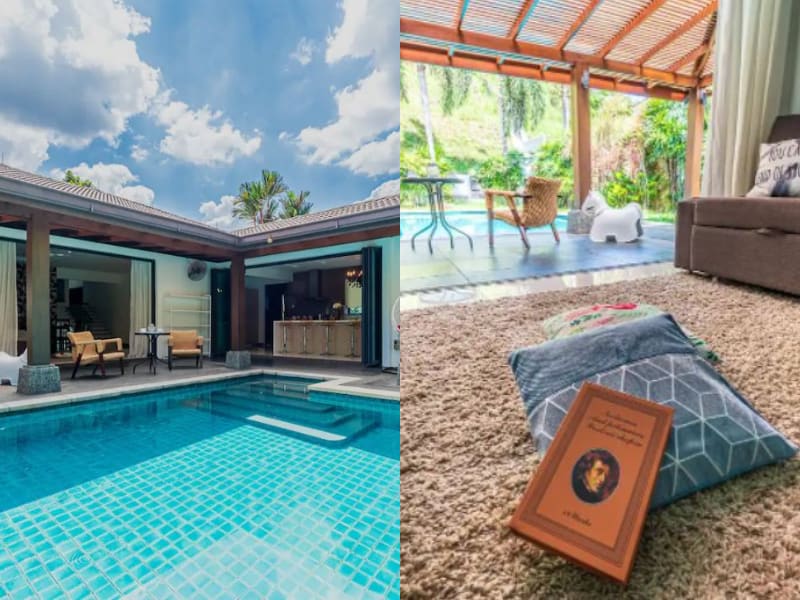 A short 15-minute drive from KL, this lofty three-storey bungalow located in the affluent Bukit Damansara is perfect for big groups. It's furnished with five bedrooms, 16 beds, and six bathrooms to accommodate groups of up to 16 adults! The hallmark of the property is certainly the pool, which is flanked by rattan chairs and a BBQ pit for smoking skewers beside tranquil waters. 
Location: Bukit Damansara
Price per night: From RM2,469
Accommodates: Up to 16 guests 
Book here
Halaman Boutique Guesthouse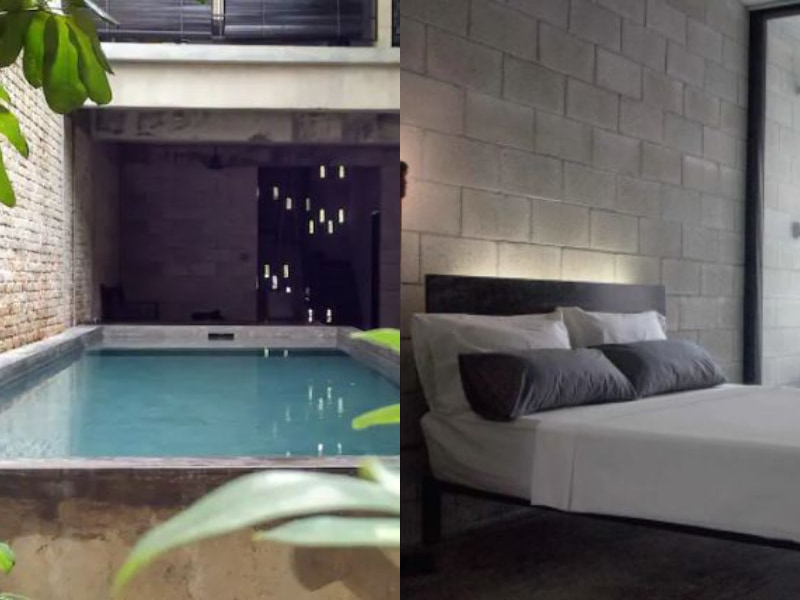 Once a dilapidated shophouse now a charmingly rustic bungalow, Halaman Boutique Guesthouse provides the luxury of a five-star hotel with added privacy. This Airbnb in KL comes with a private pool that sits in the open courtyard, allowing you access for quick dips at any time of the day. 
Location: Kuala Lumpur
Price per night: From RM804
Accommodates: Up to 10 guests 
Book here
The Second Home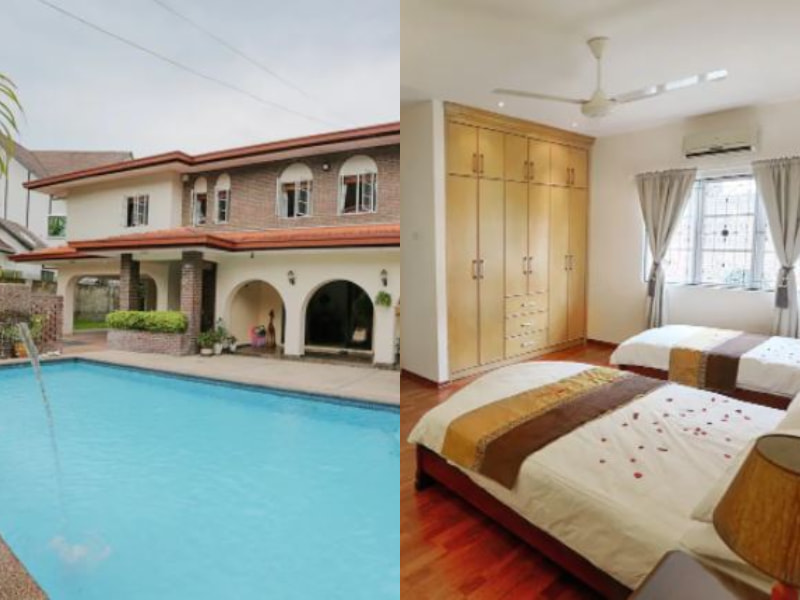 Ditch your abode for a moment and move into The Second Home, a beautiful bungalow in a serene section of Ampang. It sits atop a slope within a private compound that can easily fit up to six vehicles. Inside, there are five bedrooms with nine bathrooms and a fully-equipped kitchen for whipping up tasty meals. 
Location: Ampang
Price per night: From RM986
Accommodates: Up to 14 guests
Book here
Private Pool Bungalow KL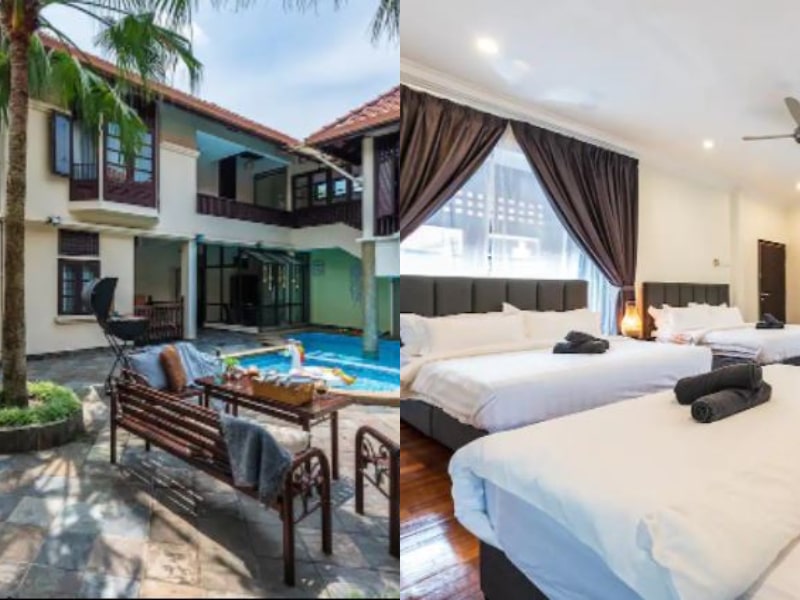 Strategically located near KLCC, this Airbnb with a private pool is great for those who love the city, but not enough to spend the night there. Bring a group of friends because this Balinese-themed property boasts six bedrooms with 17 beds. There's also a kids' wading pool for little ones to splash around under the sun. 
Location: Kuala Lumpur
Price per night: From RM2,606
Accommodates: Up to 16 guests
Book here
L'motichan Aqva Aria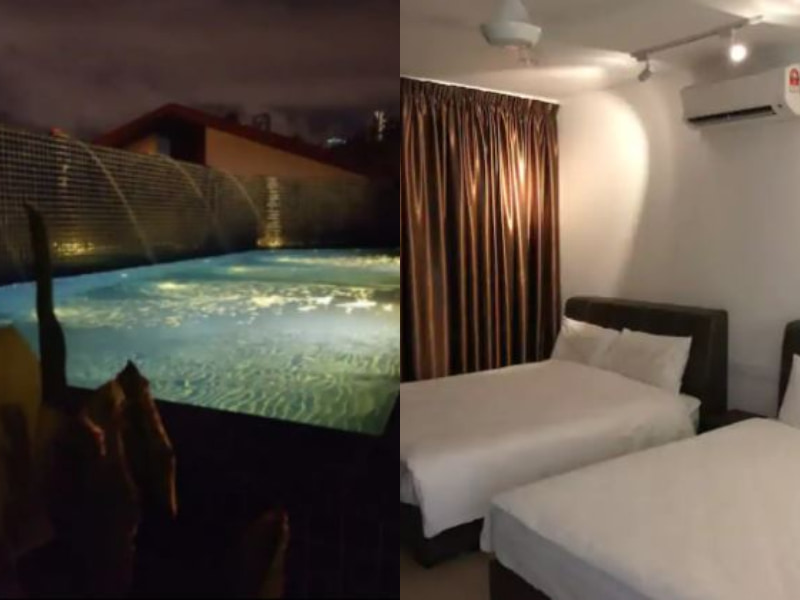 Occupying an entire floor within a sprawling villa is a space suitable for corporate retreats, birthday parties, and short stays. It comes with four sizeable bedrooms comprising 18 beds and four bathrooms to share. Apart from a plunge pool, there's also a jacuzzi and a recreational room complete with table tennis and karaoke equipment.
Location: Kuala Lumpur
Price per night: From RM1,219
Accommodates: Up to 16 guest
Book here
Villa Sri Ananda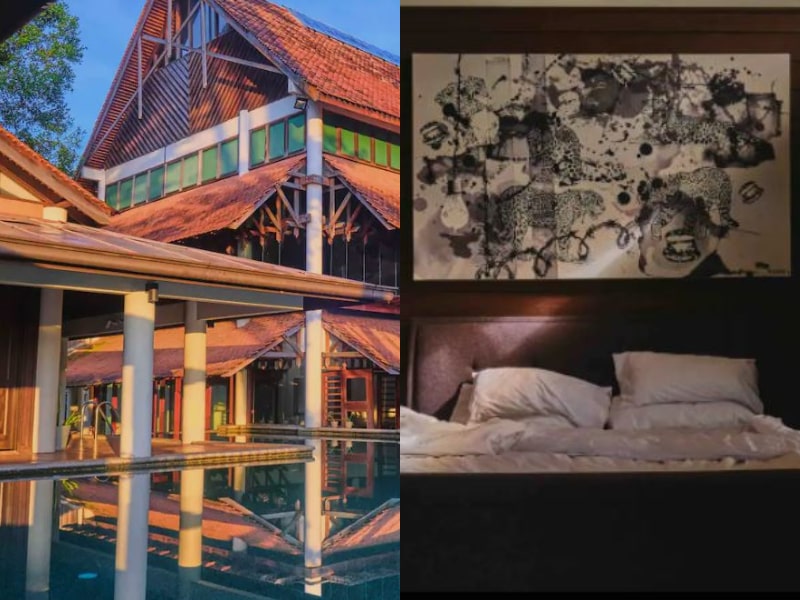 Searching for a villa-like homestay on Airbnb with a private pool in KL? Your wish comes true in Villa Sri Ananda, which could easily be mistaken for a Balinese resort—except that it's located in the heart of KL! Designed by a renowned local architect, the property is segmented into two living spaces; each consisting of quarters with en suite bathrooms and a pool. Downstairs, there's a multi-purpose hall big enough to host a banquet of up to 50 pax. 
Location: Kuala Lumpur
Price per night: From RM2,786
Accommodates: Up to 16 guests
Book now
That's Not All, Don't Forget These Airbnbs In Selangor With Private Pools Too!
Escape from the noise at these Airbnbs in Selangor where serenity and peace meet. 
PJ Brickhouse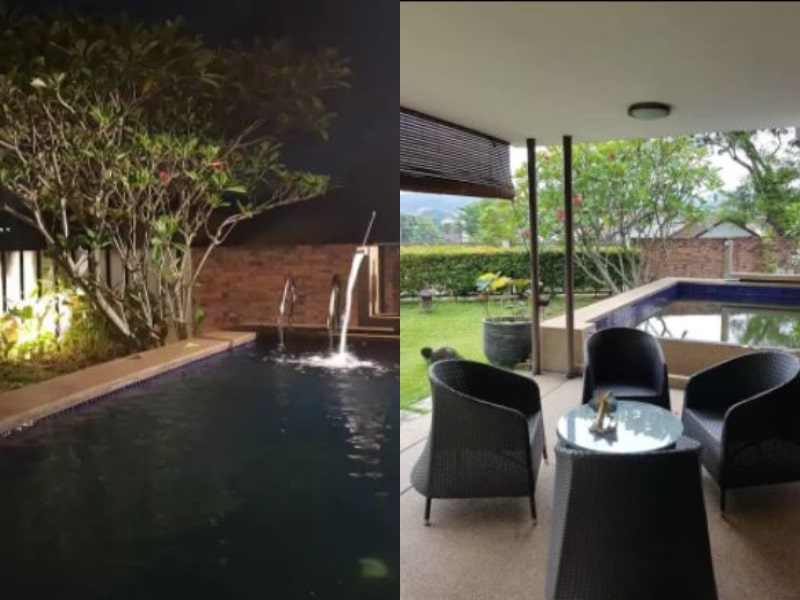 A cosy single storey bungalow along Jalan Gasing in the heart of Petaling Jaya, PJ Brickhouse is great for intimate family gatherings and lively staycations with your favourite peers. Its welcoming atmosphere stems from a quaint garden space, an open kitchen floor, and of course: an inviting pool. 
Location: Petaling Jaya 
Price per night: From RM686
Accommodates: Up to 12 guests
Book here
Villa Adina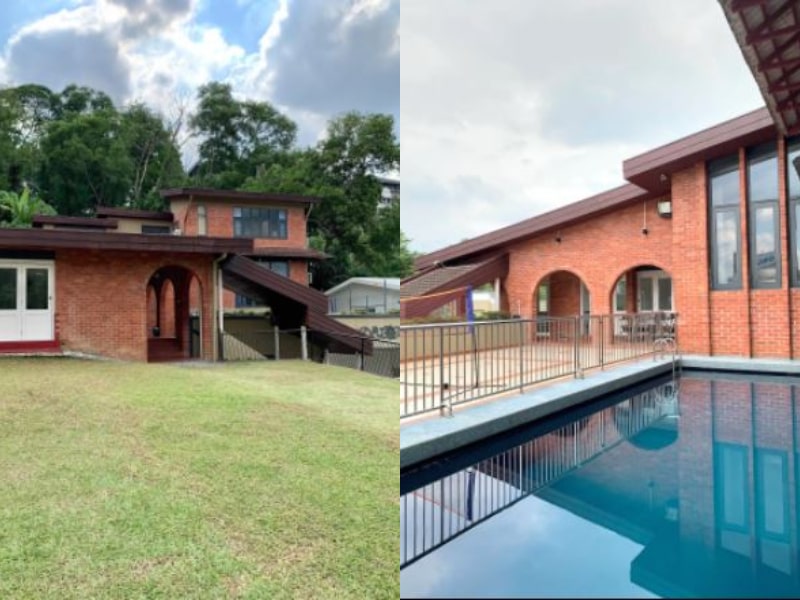 Covered in red bricks that reminisce European style mansions of the past, Villa Adina houses five rooms with seven beds, an expansive lawn for outdoor activities, and a pool. If you have friends coming over, the porch fits up to six cars so they should have no problem parking in. Forgot your toiletries? Don't need to drive all the way home because there are shower gels and shampoos available in the bathrooms.
Location: Petaling Jaya
Price per night: From RM1,120 
Accommodates: Up to 16 guests 
Book here
Secret Garden Bungalow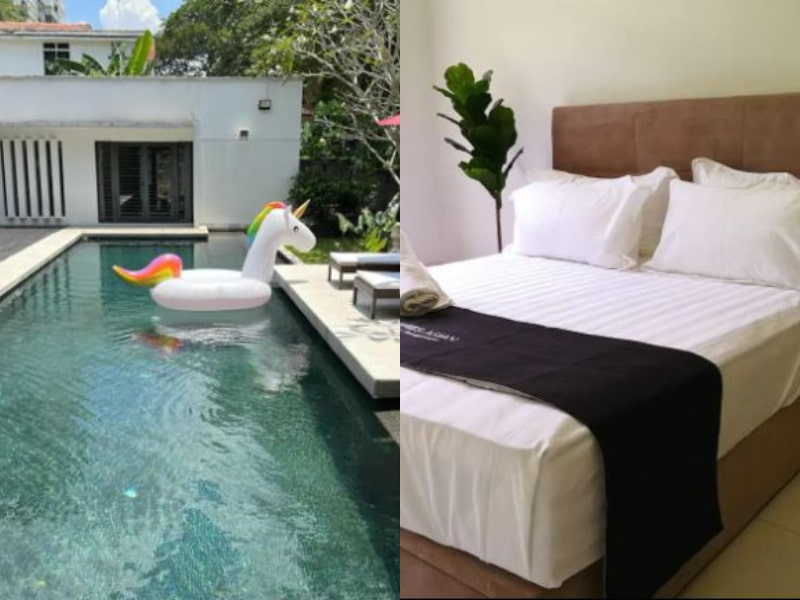 Sitting in a secluded nook away from city noise, this Airbnb in Selangor with a private pool ushers urban dwellers into a state of relaxation. The vibe here is homely with cosy sofas and chairs placed around the property for lounging. If you're up for a competitive game of foosball, there's a table located just a few steps from the pool. 
Location: Petaling Jaya
Price per night: From RM1,120
Accommodates: Up to 16 guests
Book here
Two Sungai Residence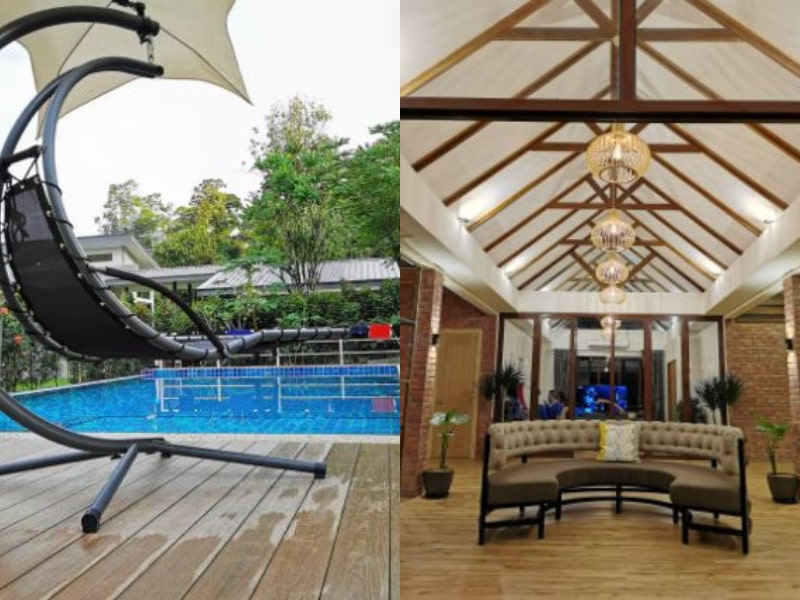 Take a break from urban living and head to Two Sungai Residence, a villa in the midst of Hulu Langat's lush greenery. True to its name, the property sits at the point where two rivers meet. You can choose to take a dip in the flowing river waters or enjoy the pool with an attached jacuzzi. Inside, a spacious dining hall and a fully equipped kitchen await eager hands to cook up a storm. 
Location: Hulu Langat
Price per night: From RM2,842
Accommodates: Up to 20 guests 
Book here
Stay At The Best Airbnb In KL &

 Selangor With

Private Pool

 For A Staycation Like No Other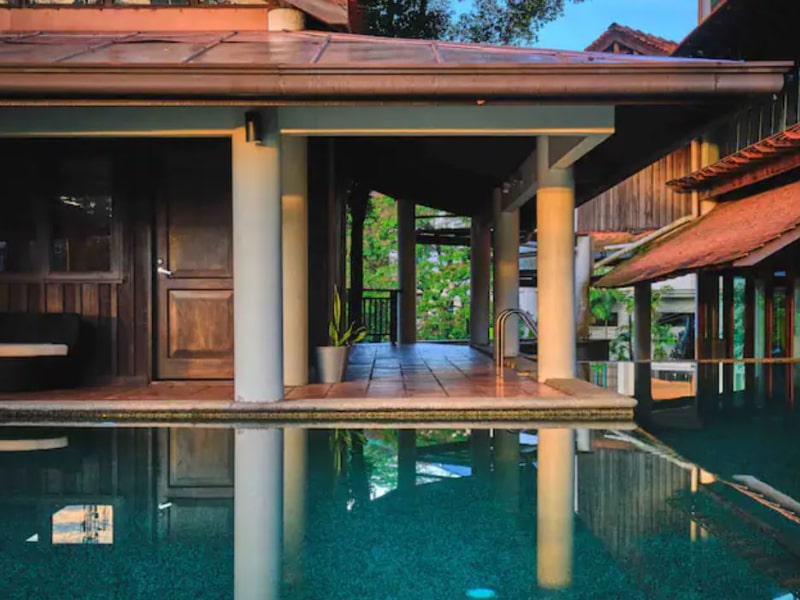 While there's no denying the charm and experience of bunking in a bespoke boutique hotel, you don't really get to call the property "your own". An Airbnb fixes that. It's like staying over at a friend's place, except you pay said friend and they give you full access to everything in the house. And with private pools, these Airbnbs in KL and Selangor will have you coming back again for your next intimate staycation. 
Prefer an authentic out-the-city retreat? Pack your bags (refer to this list for essentials) and head to these camping sites in Selangor for a nature escapade you won't forget.