One of the best parts of Chinese New Year, apart from reuniting with family and feasting on a great many dishes, is munching on tubs of cookies in between. But among the many Chinese New Year cookies, the one that's by far the most beloved in Malaysia is the pineapple tart. These buttery, melt-in-your-mouth treats often take on different shapes and forms, but they all represent good fortune and luck in the new year. If you find yourself craving these tarts, we've pulled up eight of the best pineapple tart recipes for you to try, including one that resembles 2023's zodiac animal, the Rabbit!
Why Do People Eat Pineapple Tarts?
Sweet desserts, like pineapple tarts and a variety of cookies, are often served and gifted in Malaysia during the Chinese New Year because it symbolises sweet beginnings in the new year. The Hokkiens, in particular, consider pineapple tarts to be auspicious as pineapples, or ong lai in the Hokkien dialect, literally means 'fortune come'.
Ong Lai

When You Bake These

Best

Pineapple Tart Recipes

In

Malaysia
Tasty treats that also bring luck? Huat else could you ask for?
1. Nyonya Pineapple Tarts
Kicking off the list is one of the best pineapple tarts in Malaysia, the classic Nyonya-style recipe. Made up of a petal-shaped base, spiced pineapple jam, and lattice top, putting these tarts together will be fun for the kids and maybe even therapeutic for the adults!
Ingredients (makes 40 tarts):
2. Pineapple Tart Rolls
Another pineapple tart recipe that's typically made in Malaysia is these open-sided rolls. For the ridge effect, you'll need a dedicated mould for the job. But when brushed with egg wash and baked, these ridges add a mildly crunchy texture that complements the soft and fibrous jam.
Ingredients:
3. Bunny Pineapple Tarts
It's the Year of the Rabbit, and what better way to usher in the new year than with this adorable pineapple tart recipe? It will require some practice and attention to detail to craft these bunnies, but the results will be well worth your while. If you're looking for a recipe that will impress your guests, this one's guaranteed to make their hearts leap!
Ingredients:
4. Cheese Pineapple Tart Balls
This pineapple tart recipe is fairly common in Malaysia and probably one of the easiest to make since it only requires a simple hand-rolling technique. What makes it a little less traditional is the addition of cheese powder in the pastry, which makes for a unique flavour combination. If mixing sweet and savoury isn't your thing, go for the no-cheese version instead.
Ingredients (makes 53):
5. Double Pineapple Tarts
Is this recipe a little meta? Sure, but there's nothing wrong with having double the ong! That alone makes this one of the best pineapple tart recipes to try, especially if you're planning on gifting these tasty treats to friends and family. Just make sure you have a pineapple cookie press on hand before you start.
Ingredients (makes 24):
6. Piped Flower Pineapple Tarts
The best part about this pineapple tart recipe is that there's no need for special moulds or presses. If you're a home baker, you probably already have a star piping tip lying around. This recipe uses just that, producing an equally beautiful piped flower effect.
Ingredients:
7. Taiwanese Pineapple Cakes
Fans of Taiwanese pineapple cakes, you're in luck! As it turns out, you can make these popular exports at home with this authentic pineapple tart recipe. The angular look can be easily replicated with a few simple steps, though you'll need quite a few rectangular moulds just to bake up a tray.
Ingredients (makes 24):
8. Rose Pineapple Tarts
Now here's a pineapple tart recipe that's pretty unique because it's shaped in the form of a rose. It's less common in Malaysia, but it's a fresh change if you're tired of traditional-looking tarts. You'll need a pie crimper to pinch the petals into shape, but otherwise, it's a very easy design to reproduce.
Ingredients (makes 80):
One Recipe Is Never Enough With These

Best

Pineapple Tart Recipes

In

Malaysia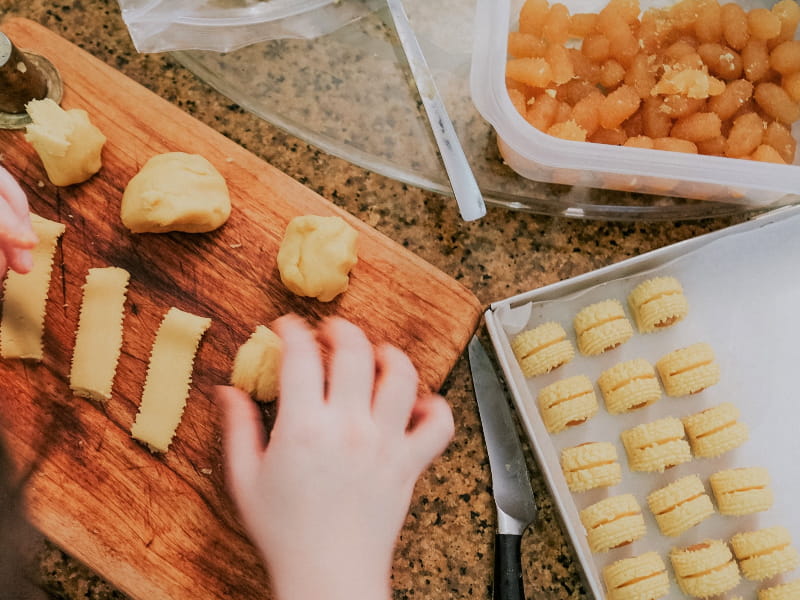 So which one of these seven best pineapple tart recipes in Malaysia will you try? Take your pick—you can't go wrong! Whether it's Nyonya or Taiwanese style, they all deliver the same buttery, sweet, and tangy kick that will leave you and your guests craving for more. Need a little entertainment to keep you company as you bake these pineapple tarts? Then check out Shopee's 2023 mystery-themed CNY video entitled, 'Are they going to make it?'.
Chinese New Year isn't complete without some traditional clothing, the best bak kwa, and a few auspicious plants. Lucky for you, they're all available at great prices during the Shopee CNY Sale from 2nd to 24th January 2023.