If there's one thing every K-beauty look needs, it's lip tints! Most Korean makeup is kept light and simple to emphasise their crystal clear skin. To complete (and enhance) the natural look, a vivid lip stain is the finishing touch to add some healthy colour. Whether you're a fan of matte or glossier formulas, here are the best Korean lip tints to achieve a fresh, gradient, 'just-bitten' pout. 
Best

Matte

Korean Lip Tints
Etude House Fixing Tint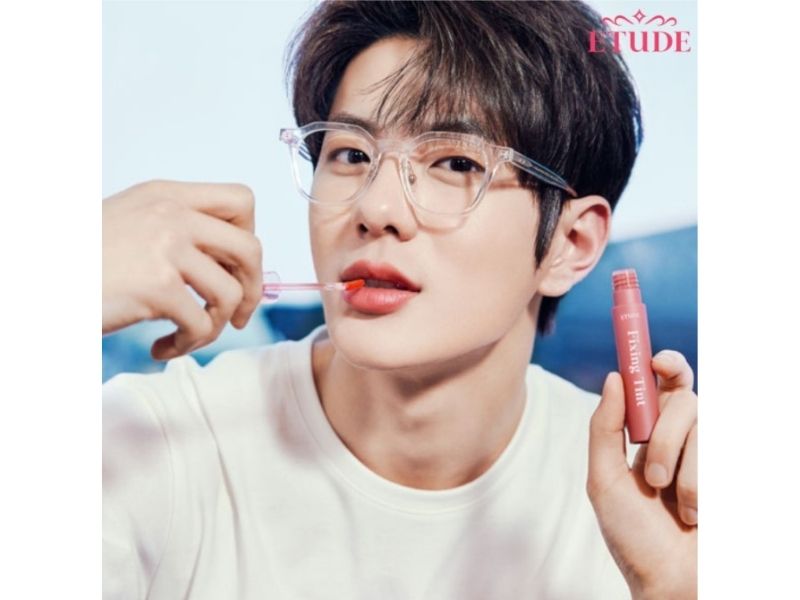 Long-lasting and transfer-proof lip tints are every beauty enthusiast's dream combo. After all, there's nothing more annoying than seeing your lip product completely smudged and transferred onto your face mask. That's where the Etude House Fixing Tint comes in. This Korean lip tint comes in five wearable everyday shades and ticks all the right boxes for a mask-friendly product. It's lightweight, easy to apply, and most importantly, leaves little to no stains on your face mask. 
Tip: Make sure you let it sit for about one to two minutes to let it dry down before wearing your surgical or fabric face mask. 
3CE Velvet Lip Tint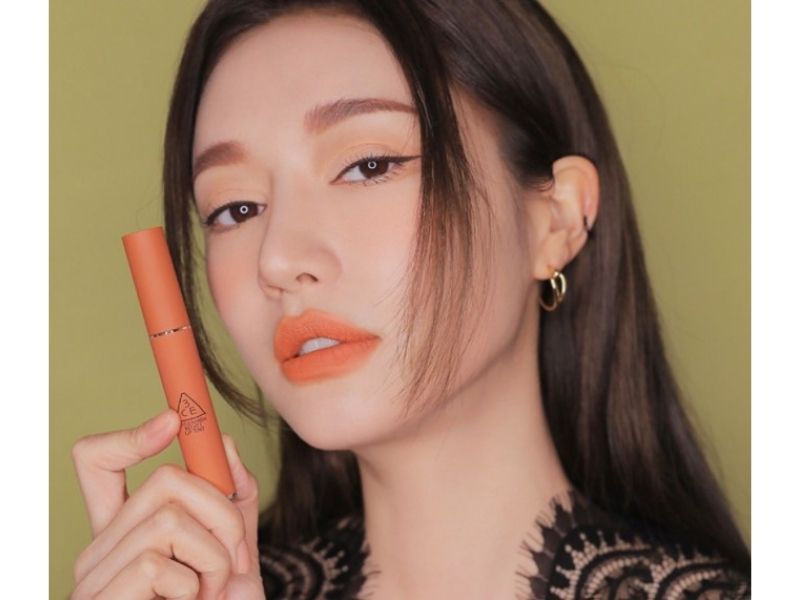 With 20 different shades available, you're certainly not lacking in options when it comes to the 3CE Velvet Lip Tint line. There are neutral nude hues, cool-toned pinks, warm summery peachy shades, vibrant reds, and dark vampy colours—you name it, they have it.  Besides its impressive shade range, the hydrating oil-packed formula is not to be overlooked. Most matte finishes are incredibly drying, but 3CE's lip tints have a smooth velvety texture that feels soft and comfortable on the lips. And having tried this personally, I can attest that this tint doesn't highlight the flakey, cracked patches due to dry lips. 
Etude House Powder Rouge Tint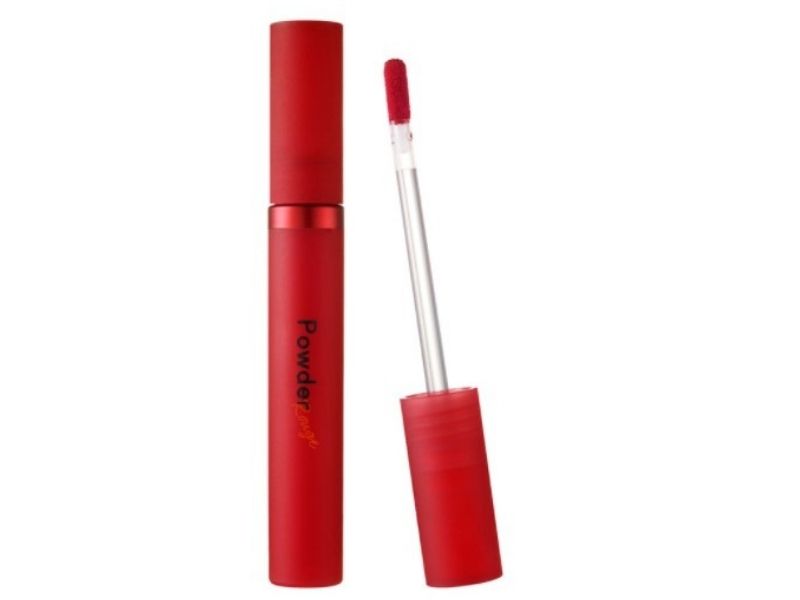 If you're looking for a Korean lip tint with a light-as-air powdery texture upon drying, the Etude House Powder Rouge Tint is for you. It's rich in pigment and leaves an intense depth of colour with a single swipe. Meanwhile, the powdery velvet texture leaves a silky coating—perfect for creating that soft and blurred lips effect. That said, you might want to exfoliate your lips and moisturise with lip balm first to allow the product to apply more easily. 
Peripera Ink Airy Velvet Tint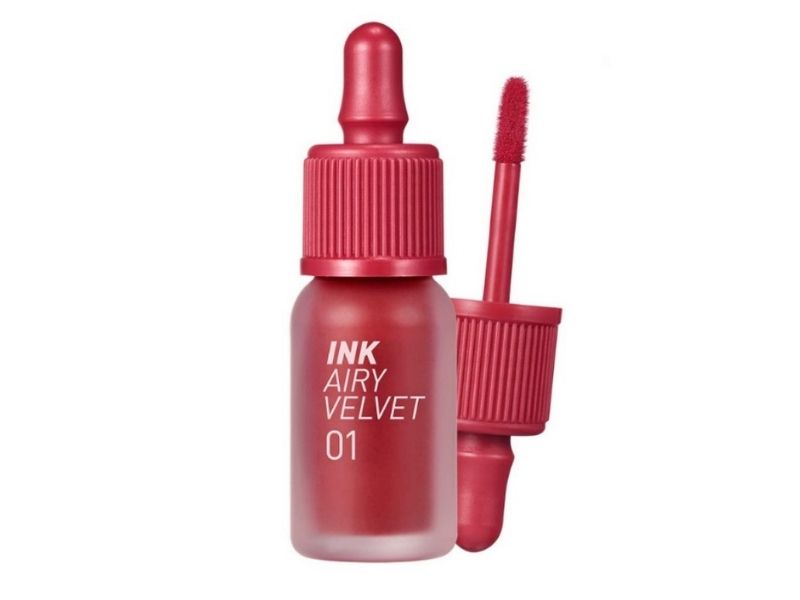 For that natural gradient lip, Peripera's Ink Airy Velvet lip tints do it best. They're not as pigmented as the first three Korean lip tints, but you can easily build up the coverage to your liking. Like its namesake, the product glides on smoothly and feels practically weightless as it dries down into an airy matte finish. However, as noted by online reviews, colour payoff isn't its strongest suit. Though it does fade into a beautiful sheer colour that we honestly wouldn't mind, especially for WFH days!  
Best

Glossy

Korean Lip Tints
Rom&nd Glasting Water Tint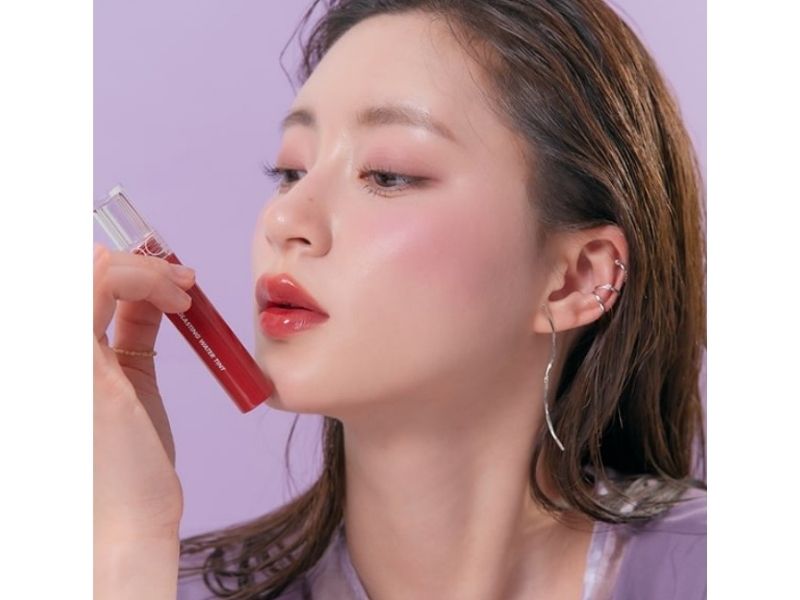 Prefer the look of a glossy finish? Then consider Rom&nd's Glasting Water Tint. It's a water-based tint that does an amazing job at completely covering lip lines and creases while making them appear juicier. In terms of texture and colour, it offers a glossy sheen with a natural ombré stain that doesn't feel sticky at all. FYI, it's got a more translucent pigment compared to the brand's popular Juicy Lasting Tint, which is known for its punchier and more vibrant hues.
Holika Holika Heart Crush Glow Tint Air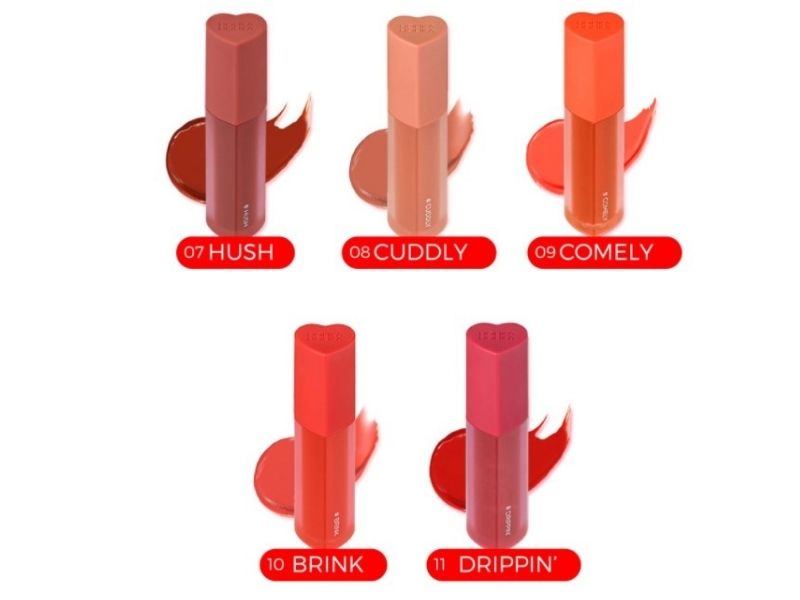 The best thing about this Korean lip tint is that it's as moisturising as it looks. Thanks to its Airlight Glow Capsules, it delivers a transparent shine that feels non-sticky and smooth on the lips. Plus, its pure colour pigments translate to better longevity while the different fruity moisturising ingredients will keep your lips healthy and hydrated all day long. Oh, and if you're a sucker for packaging, it'll be hard to resist this heart-shaped product! 
I'M MEME I'm Pep!Balm: Multi-Use Lip And Cheek Tint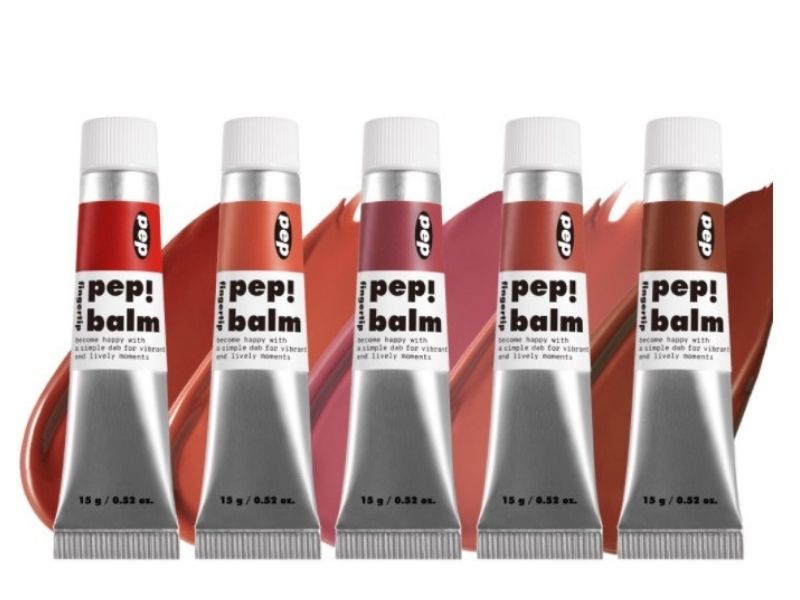 We can never have enough multi-use products in our makeup organiser. And in the K-beauty world, this I'm Pep!Balm is the best Korean lip tint that doubles up as a blusher too. It has five beautiful MLBB shades to flatter all skin tones and a soft texture that blends seamlessly on the lips and cheeks. Plus, the infusion of shea butter instantly soothes and moisturises dry skin and lips with just the first application alone. 
Enhance Your Natural Pout With These

Best

Korean Lip Tints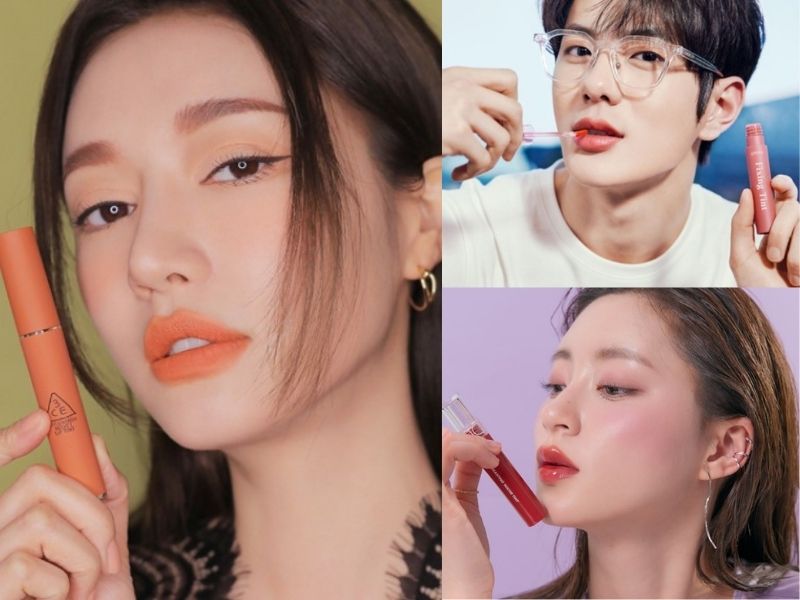 Whether you prefer matte or glossy lips, you can rely on these top-rated Korean lip tints to bring out the best of your glowing complexion. To complement your juicy vibrant lips, you can also check out these highly-raved Korean eyeshadow palettes along with these other K-makeup tricks to take it up a notch. Love following Korean fashion instead? Look towards these 15 stylish K-drama characters for your next #ootd inspo.