There's probably no other supper food that's as delicious as the sticky, oil-doused Hokkien mee. The greasiness is perfect after a night of drinking. The heartiness of the dish makes it great for a satisfying, almost cathartic meal after a long week's work. It's comfort food of the highest level; one unmatched by affordability, accessibility, and taste. If you're looking for the best Hokkien mee in KL and PJ to alleviate your cravings, you're at the right place.
What Is Special About Hokkien Mee? 
Hokkien mee is a dish of simple ingredients: thick yellow noodles, stock, pork lard (copious amounts), leafy greens, fish cakes, and thick soy sauce. But what makes Hokkien mee so damn tasty is the cooking process. It should be stir-fried over fiery charcoal to achieve wok hei, which is a common Cantonese culinary term to describe "wok energy". 
Where To Get The

Best Hokkien Mee In KL

 
Grease is good. 
1. Mun Wah Hokkien Mee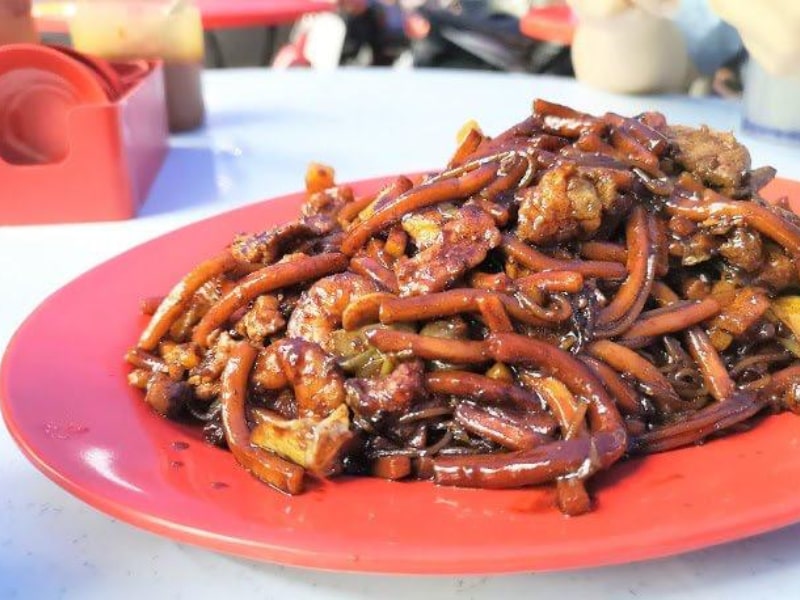 One of the best Hokkien mee restaurants in KL, Mun Wah has been operating out of Jalan Maharajalela for the past 60 years. That's six decades' worth of piping-hot noodles! The shop isn't the most spacious so long waiting times are expected during the weekends. But if you can brave the crowd (and traffic), your tastebuds will thank you. The sides are worth a shout-out as well, especially the fried dumplings. 
Address: 155, Jln Maharajalela, Kampung Attap, 50460 Kuala Lumpur
Opening Hours: 
Thurs – Mon: 4.30pm – 11.30pm
Contact: 03-2144 7404
2. Fatt Kee Hokkien Mee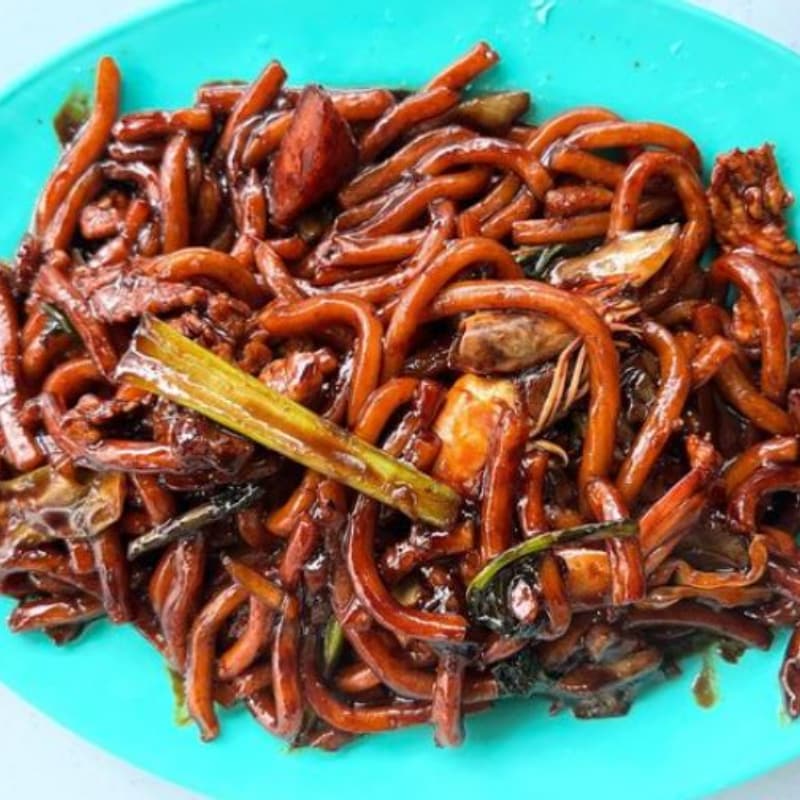 Like Mun Wah, Fatt Kee is also an age-old institution. A Jalan Imbi staple, regulars throng here night-in night-out for plates of greasy delights. Generous with toppings like cuttlefish and fresh kailan, each serving is great for sharing if you aren't too hungry, but still enough for the ravenous eater. Parking is iffy here, an expected occurrence within the busiest parts of KL, but hey, you can save the trouble and hitch a ride here instead. 
Address: 183, Jln Imbi, 55100 Kuala Lumpur
Opening Hours:
Tues – Sun: 5pm – 11pm
Contact: 010-428 0555
3. Tong Lian Kee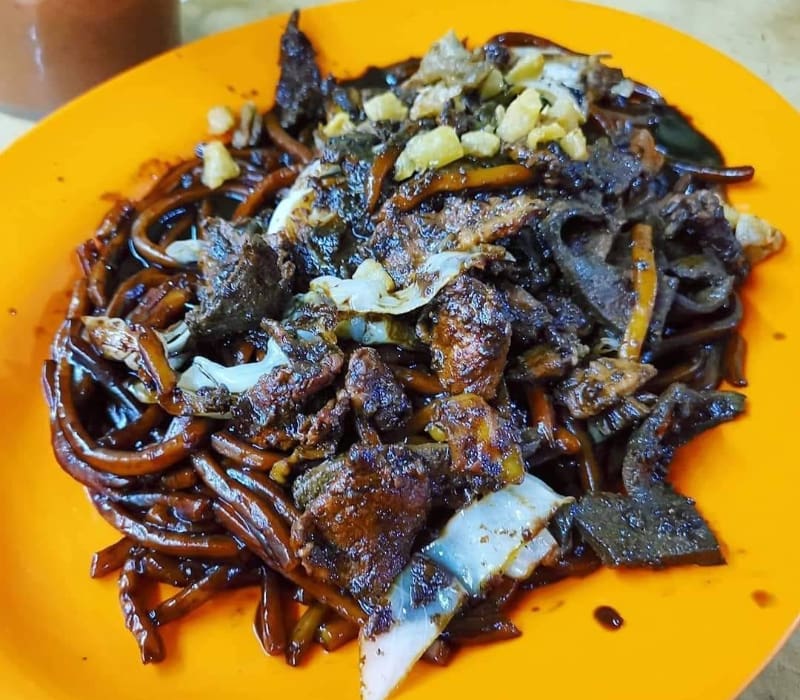 It's pork lard galore at Tong Lian Kee, where a no-holds-barred approach is used to distribute the addictive golden brown cracklings over every plate of Hokkien mee. Each noodle is also thoroughly coated with a divine combination of caramelised soy sauce and oyster sauce. Rest assured that it'll be a sinful but almost transcendent dining experience—that's what the best Hokkien mee in KL does to you. 
Address: Jalan Sarawak, Pudu, 55200 Kuala Lumpur
Opening Hours:
Tues – Sat: 8pm – 12am
4. Kedai Makanan Ming Hoe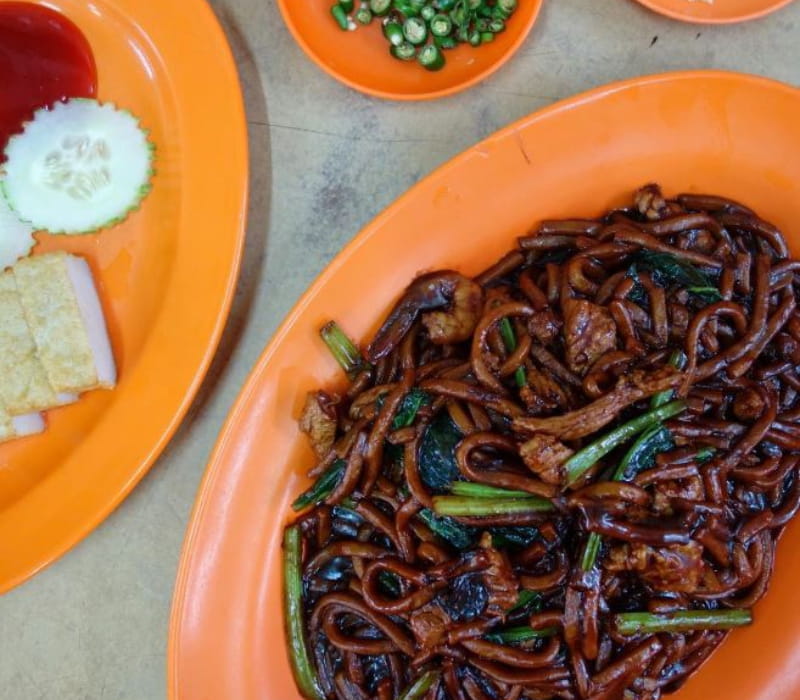 More commonly known as "Jalan Ipoh Hokkien Mee", this unassuming restaurant is always crowded until closing time, which leads to long waiting times, much to the chagrin of hangry working professionals from surrounding office towers. But patience pays off here—in the form of glorious wok-fired noodles. Don't discount the sides too, namely the fried tofu and clams in superior soup. 
Address: Jalan Suppiah Pillay, 3rd Mile Jalan Ipoh, 51200 Kuala Lumpur
Opening Hours:
Tues – Sun: 9am – 3pm, 5pm – 10pm
Contact: 016-240 0956
5. Restoran Setapak Teochew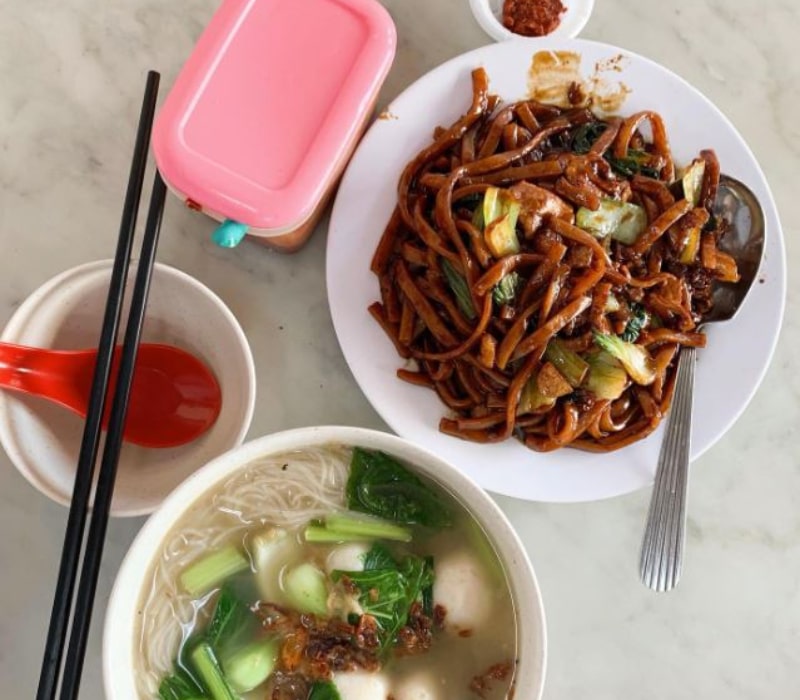 Hokkien mee in a Teochew restaurant? While this eatery is mostly recognised for its authentic Teochew fare, the Hokkien mee here is worth checking out. Using homemade noodles for guaranteed freshness, the resulting dish has an incredible springy texture and mouthfeel that warrants an entry into any best Hokkien mee in KL list. Room for more? Order a couple of Teochew pastries to fill you up. 
Address: 283, Jalan Pahang, Titiwangsa, 53000 Kuala Lumpur
Opening Hours: 
Mon – Sat: 7.45am – 4pm 
Contact: 03-4023 8706
Where To Get The

Best Hokkien Mee In PJ

 
Yes, Uptown is on the list. 
6. Damansara Uptown Hokkien Mee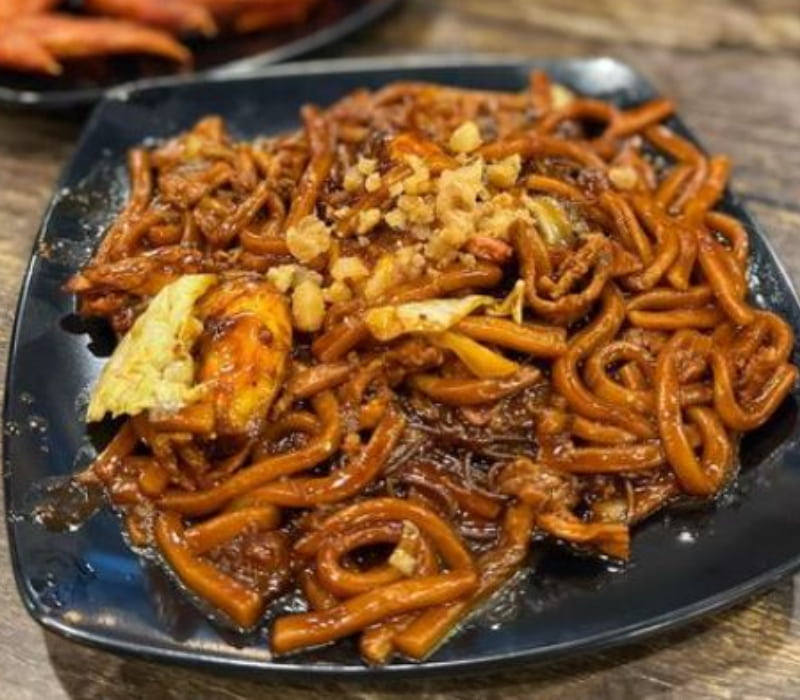 If you ask someone where's the best Hokkien mee in PJ, the likelihood of them pointing to this restaurant is close to certainty. The sprawling tech-forward (QR codes for ordering and paying) outlet is as much a Damansara Uptown landmark as Village Park Nasi Lemak. And despite how busy the place is, you won't have to wait long for your order to arrive, thanks to the brigade of chefs working on the woks like clockwork. Apart from Hokkien mee, the Cantonese fried kuey teow is also a crowd-pleaser. 
Address: 117, 119,121, Jalan SS 21/37, Damansara Utama, 47400 Petaling Jaya
Opening Hours:
Mon – Thurs: 2.30pm – 1am
Fri: 2.30pm – 1.30am
Sat: 12pm – 1.30am
Sun: 12pm – 1am
Contact: 013-334 5550
Website | Facebook | Instagram
7.   Restoran Ahwa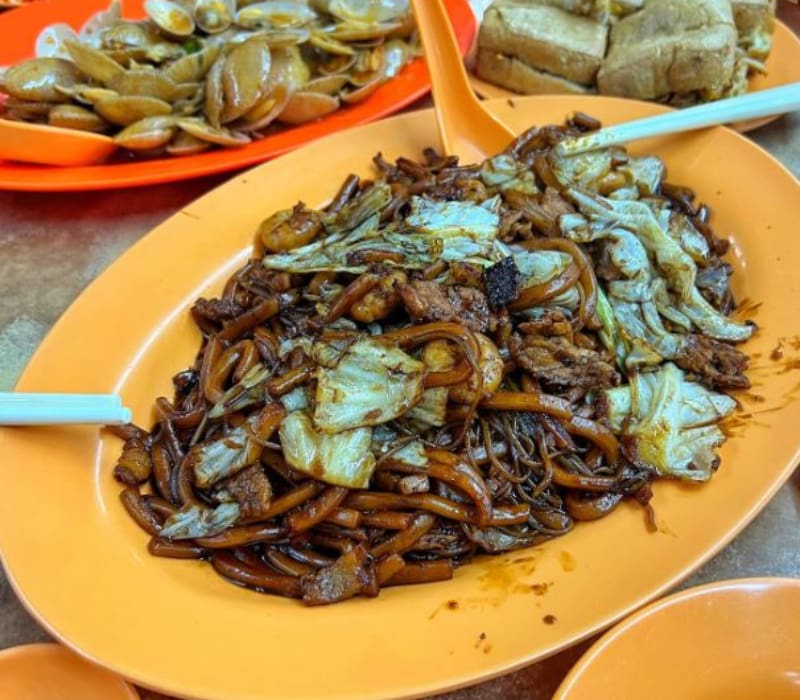 A long-time favourite among PJ folks, Ahwa along Jalan 222 next to Federal Highway has been firing up rich Hokkien mee for as long as history can remember. And nothing has really changed—it's still the same wok hei-abundant noodles that many are willing to line up for. 
Address: No. 66, Jalan 14/48, Seksyen 14, 46100 Petaling Jaya
Opening Hours: Daily, 4.30pm – 11.30pm
Contact: 012-212 0623
8.  Peng Yuan Hokkien Mee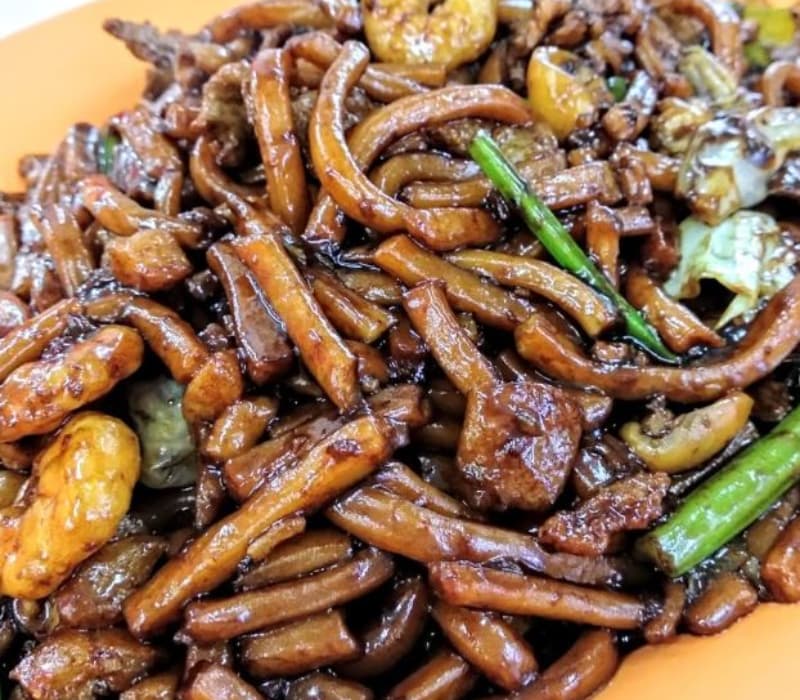 Located at the end of Ahwa is Peng Yuan, a lesser-known but equally noteworthy restaurant. This is perfect if you want to escape the clamouring crowd and enjoy a serving of warm, delicious Hokkien mee in peace. 
Address: 42, Jalan 14/48, Seksyen 14, 46100 Petaling Jaya
Opening Hours: Daily, 3.30pm – 11pm
Contact: 010-281 3382
9. Lao Ping Hokkien Mee
A stone's throw away from the hippy cafes and eateries of Taman Paramount is Lao Ping, a humble stall manned by a seasoned chef who still cooks every single order with care and precision over smoky charcoal flame. Because of this, waiting times vary between 30 minutes to as long as an hour during rush hour. So bring a book to keep yourself entertained while you anticipate the best Hokkien mee in PJ to land on your tongue. 
Address: 1, Jalan 21/1, Sea Park, 46300 Petaling Jaya
Opening Hours: Daily, 5pm – 10.30pm
Contact: 016-307 6510
Dinner Or Supper, You Can't Go Wrong With The

Best Hokkien Mee In KL

And

PJ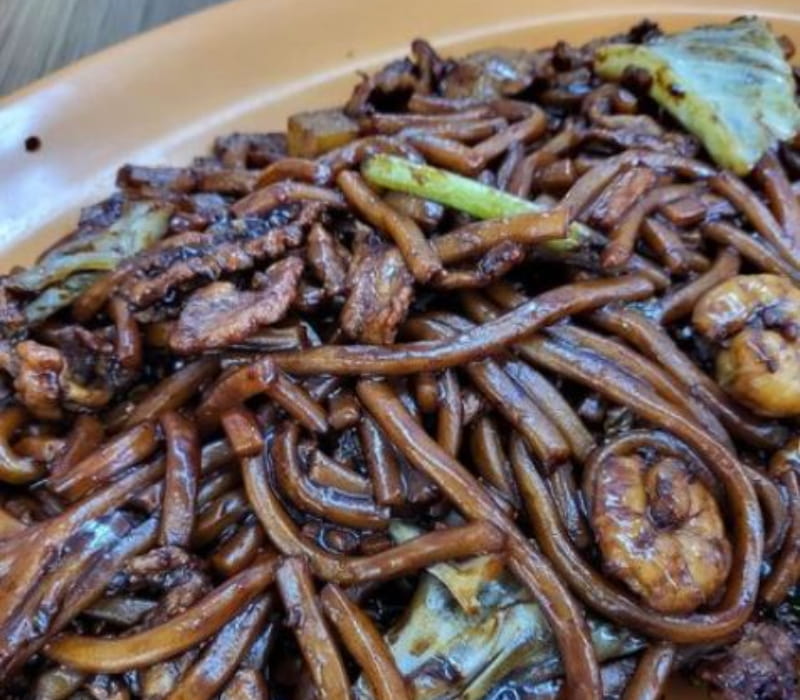 The Hokkien mee isn't the prettiest dish around the block, but those who've tried it know that, well, you should never judge a book by its cover. And don't expect to be in the most comfortable of locations either. The best Hokkien mee in KL and PJ are usually always found in traditional coffee shops where ceiling fans (Damansara Uptown Hokkien Mee is an air-conditioned exception) try their best to cool down sweaty diners. 
Can't get enough of noodles? Slurp up these broth-heavy ramens in the Klang Valley. Or if you're craving homey Chinese grub, consider these spacious restaurants for a simple dinner or a lively gathering.