Biking is a fun exercise that everyone can get into. However, most conventional bikes are clunky and hard to store neatly at home. Folding bikes are a great alternative. The best folding bike in Malaysia is built to stow easily in small apartments, under your desk, and it's even allowed on trains. It's no wonder they're becoming increasingly popular in dense urban areas where most live in condominiums with limited storage space.
How To Choose A Folding Bike
Folding bikes are different from normal bikes for one reason: they fold. This utilitarian ability to turn them suitcase-sized makes it easy to store and bring around. Nonetheless, buying a folding bike requires some thought. You need to know what you're using it for, how much the bike weighs, and its safety features. Here are some pointers to follow:
Size and weight.

Do you have enough space to stow a bigger bike? Or is a smaller cruise better suited for your living quarters? Buy a bike that you'll have no problem storing and bringing out. 

Gear set.

Your riding styles play a major role in your buying decision. For example, if you're a speed freak, you may want a bike with multiple speed capacities.

Brakes and safety features.

Slowing down is as important as speeding up. If you're buying a bike for your kids, prioritise a set of efficient braking pads over everything else. 
So, if you're on the market for a folding bike, you're in the right place! Below, find the best folding bike in Malaysia you can buy right now. As you'll see soon, each bike caters to a specific biking style, whether that's off-road riding or city cruising. However, rest assured that they're all lightweight and fold without a hitch, ensuring a bundle of fun in a small and convenient package. 
Cruise With The

Best Folding Bikes In Malaysia
Marsstar Talus-X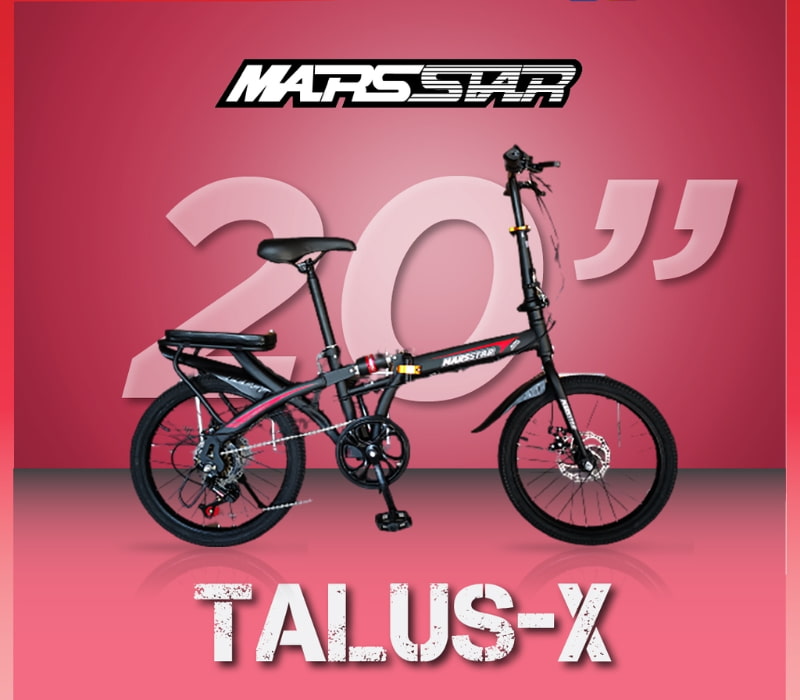 Need a light cruiser to cycle around the neighbourhood or for quick grocery runs? This compactable bike ticks all the right boxes with its steel body frame and seven-speed gear configuration, which makes for a smooth cycling experience. 
When folding, close up the body in three sections to transform it into a carry-on. Then, stow it in your car or cover it up with a canvas canopy when not in use. Easy and convenient!
Folding Absorber Mountain Bike
Mountain biking is picking up steam recently, especially within the Klang Valley. If you've been wanting to give this thrilling sport a go, you need a reliable bike that's also easy to bring around. 
Here's what you need to look for: a sturdy carbon steel body to withstand harsh terrain and a robust bearing system for high-impact landings. Of course, a seamless folding system that opens and closes quickly is a must. This mountain bike pretty much has all the features you need and more, making it the best folding bike in Malaysia to buy if you love the thrill of the hill.
Gomax Folding Bike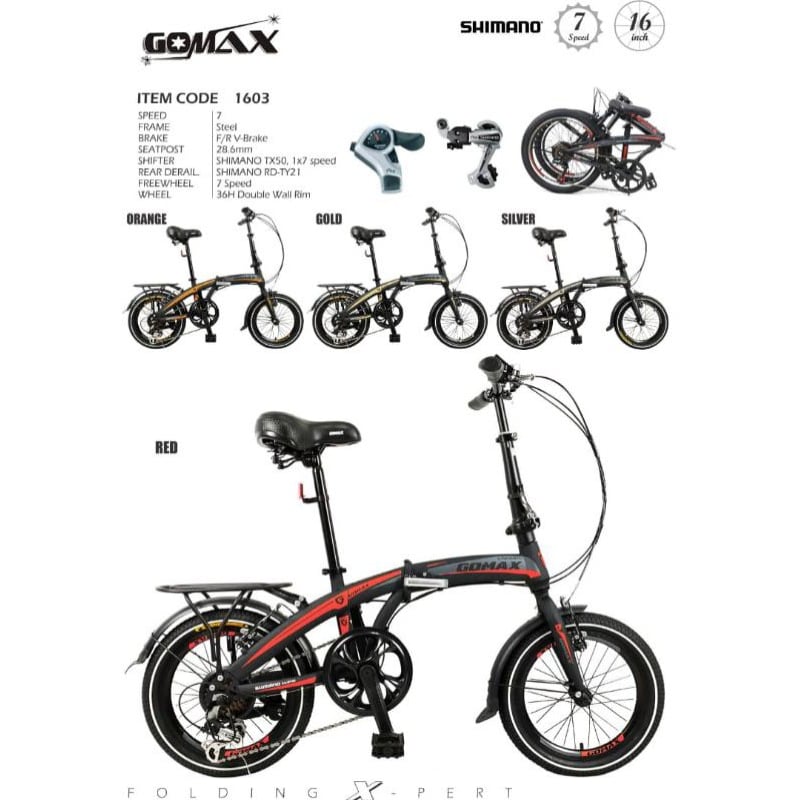 Are you a speedster? Or do you prefer to go slow and take in the sights? No matter what kind of cyclist you are, the Gomax foldable bike has options to satisfy any preference. Most evident is its seven-speed gearbox that gives you full control over the bike's pace, which is paired with an intuitive brake pad for emergency stops. 
The bike comes in two sizes (16-inch and 22-inch), which is perfect if you want to get your teens to be more active. Don't forget about safety equipment; especially helmets and knee pads!
Sancy Double Disc Brake Sports Bike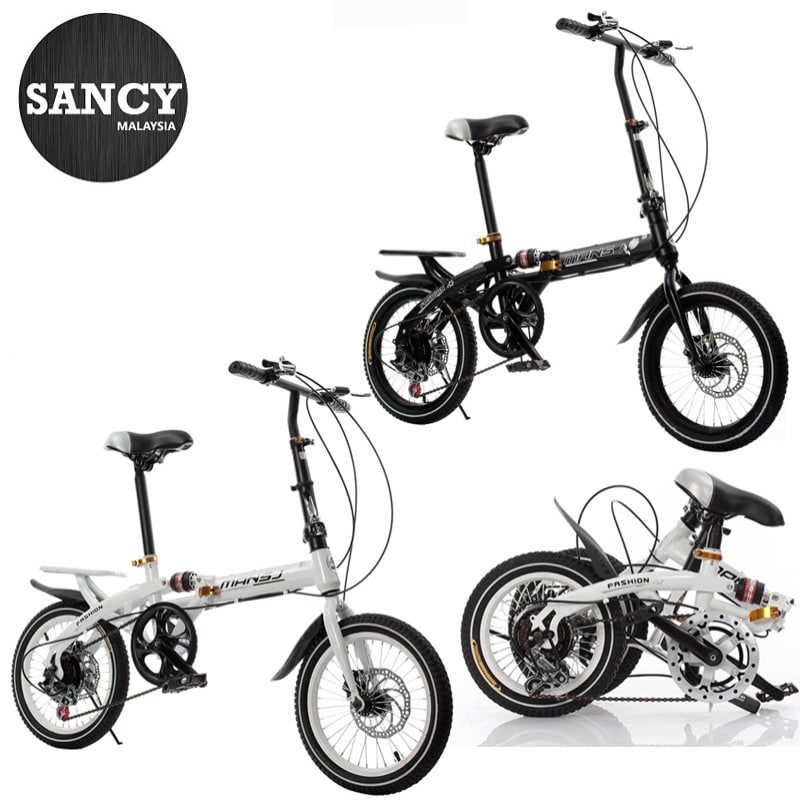 Adorned in black or white, this monochromatic foldable bike is a cool addition that pairs well with any sportswear outfit and running shoes for the perfect athleisure look. Beyond its modern paint job is a range of practical specifications, such as grippy bar handles for better control, a padded saddle for long commutes, and non-corrosive metal disc brakes. 
Folding the bike is easy; just pull the wheels in and the rest will fall into place. Stylish, accessible, and easy to use, it's no wonder this polished cruiser is regarded as one of the best folding bikes in Malaysia.  
TRS Rocher Bike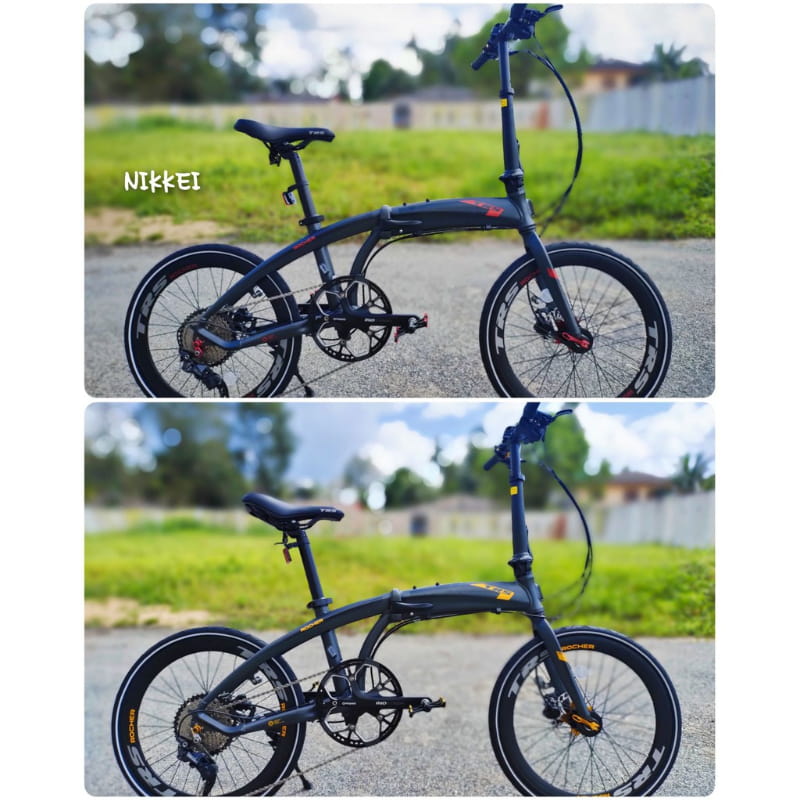 Manufactured by local biking company TRS, the Rocher boasts high-quality parts such as a hydraulic brake system and reflective wheels for night riding. Coming at just slightly over 12kg, it's light enough to transport in your car without feeling the weight. 
A large part of biking is adapting and changing speeds to suit the environment, and the Rocher's 10-speed gear lets you set the pace for a comfortable ride, no matter slow or fast. To top off these features, the bike is emblazoned with red decals over a matte black finish for a distinctive look. 
Freedo Folding Bike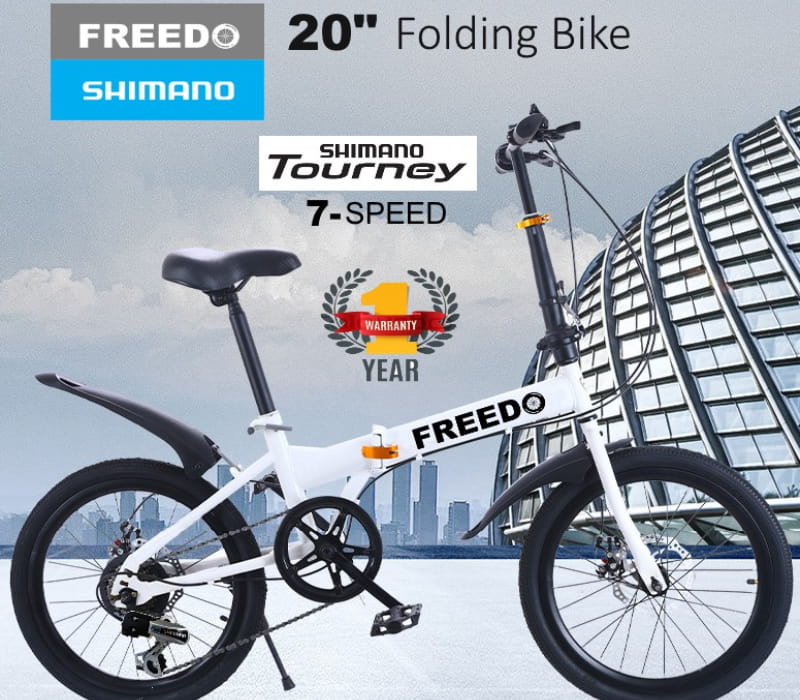 The Freedo is a solid option if you're buying your first folding bike. It offers one frame size, with a range of customisation options. This model features seven gears, comes with dual and rear brake pads for safety, and the highly adjustable saddle height allows for sharing across riders of different sizes. Yes, even children can ride it! Just make sure to install tail lights if they're planning to cycle after dark. Also, don't forget water bottles and holders for them to stay hydrated.
The bike measures about 60cm when folded, making it easy to stow indoors or travel with. All things considered, the Freedo is highly recommended due to its versatility and portability, making it among the best folding bikes available in Malaysia.
TEEMO 20-Inch Folding Bike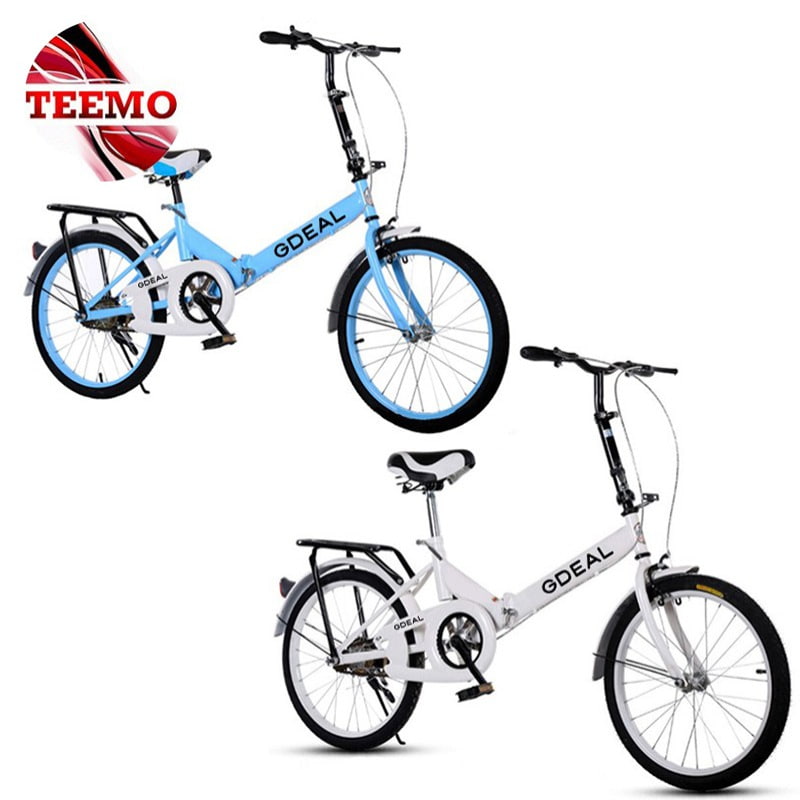 A versatile folding bike that doesn't break your wallet, the TEEMO has almost everything you expect in a folder. It's lightweight with a compact folded size, a sturdy frame, and reinforced locks for on-street parking. To prevent your sweat pants from getting oil stains, there's a protective cover over the sprocket.
Fold it up and it'll fit anywhere from under a desk to a tight corner in the kitchen. With 12kg weight, full range of gears and recognisable components, this is one of the best folding bikes in Malaysia. 
Enjoy The Convenience Of Foldability With The

Best Folding Bike In Malaysia
Like foldable chairs and tables, foldable bikes were created to fulfil their intrinsic purpose but with portability and ease of storage as main selling points. It's for these reasons that these convenient machines are popular among urban dwellers living in space-constrained apartments, who can now enjoy the joys of cycling without worrying about where to store their bikes after.
Having said that, if you prefer to exercise indoors, there are many ways to go about it. But first, you need proper equipment and workout apps to get started.