Newsflash: Rollerblading and roller skating are now cool again. The nostalgic activity has made a comeback and it could very well become the new trendy quarantine hobby, especially for kids. After all, it challenges their balance and coordination, and makes for a good workout! Hence, if your children are begging you to buy them one but you can't decide which type is best for them, don't fret. Here's a recap on the differences between the two main styles, plus the best roller blades and skates for kids that you can purchase for your little ones.
Roller Blades Vs

Roller Skates

For Kids

: What's The Difference? 
Roller Blades = Inline Skates 
Configuration: Roller blades are inline skates whereby all the wheels (ranging from three to five) are arranged in one straight line. The wheels also have a bigger diameter but are slimmer in size. The brakes are located at the heel. 
Benefits: They're better suited for outdoor terrain and can offer a smooth ride on various surfaces thanks to the larger wheels. Meanwhile, the narrow configuration makes it easier to manoeuvre (and make sharp turns), pick up speed, and avoid obstacles. 
Go for inline skates if: your kid has a need for speed and has gone rollerblading before. 
Roller Skates = Quad Rollers 
Configuration: Roller skates are quad rollers that are set up in a two-by-two configuration: two at the front and two at the back. The wheels are smaller in terms of diameter, but have a wider wheelbase than inline skates. The brakes are located at the toe. 
Benefits: They're great for beginners thanks to the stability offered by the wider surface contact and positioning of the wheels. Plus, it's easier to learn how to brake when it's positioned at the front. Turns are wider with quad rollers, and sharper turns will require you to slow down. 
Go for quad rollers if: your kid is just starting to pick up roller skating and prefers something more stable.
The Best Inline

Roller Blades For Kids

 
RCL Inline Roller Blades With Illuminating PVC Wheels
What's cooler than a regular set of roller blades for kids? One that comes with light-up wheels! Watch your children's eyes twinkle with gratitude as you present them this complete roller blade set from RCL that comes with a pair of wrist pads, knee pads, elbow pads, and a helmet. #SafetyFirst
Inline Roller Blades With PU Rubber Wheels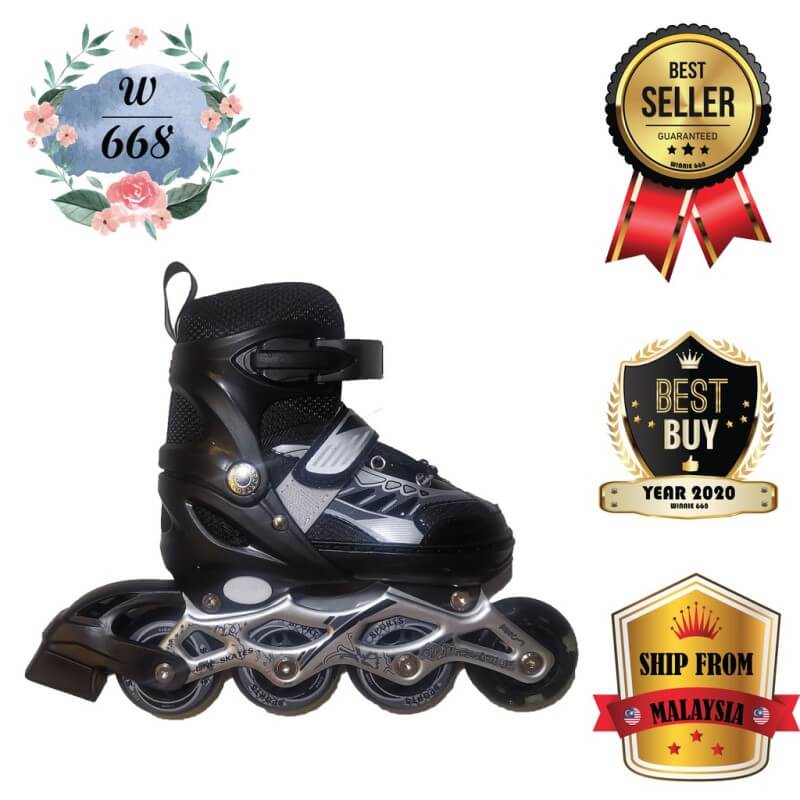 For an extra durable pair, go for these adjustable inline roller blades. The wheels are made of PU rubber, so your kid can tackle any type of outdoor terrain. Suitable for kids from ages three to 12 (and beyond), the first wheel on each side also comes with a flashing light. 
Disney-Themed Roller Blades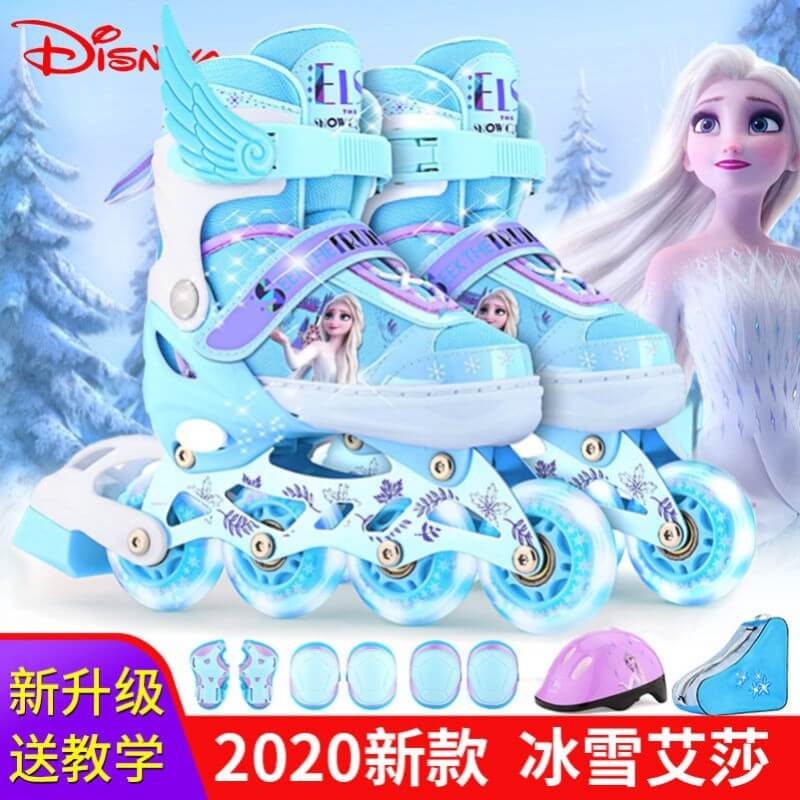 Got a Disney die-hard fan at home? Then surprise them with one of these adorable Disney-themed roller blades for kids that will set their hearts aflutter. From Princess Elsa to Mickey Mouse, take your pick from various sparkly designs that come in charming pastel colourways. 
Adjustable Inline Roller Blades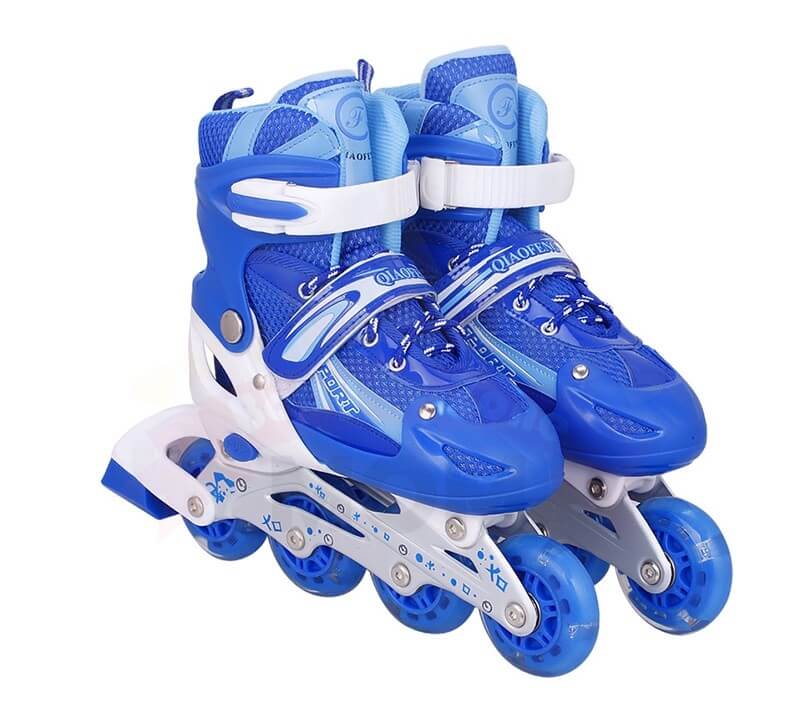 Kids grow quickly, which is why opting for an adjustable pair of roller blades like this one is always wise. All you have to do is push a single button on the side to easily adjust it for a better fit. The sturdy aluminium bracket coupled with durable fasteners and safety buckles further aid foot and ankle support for a smoother ride. 
Roller Blades With Wings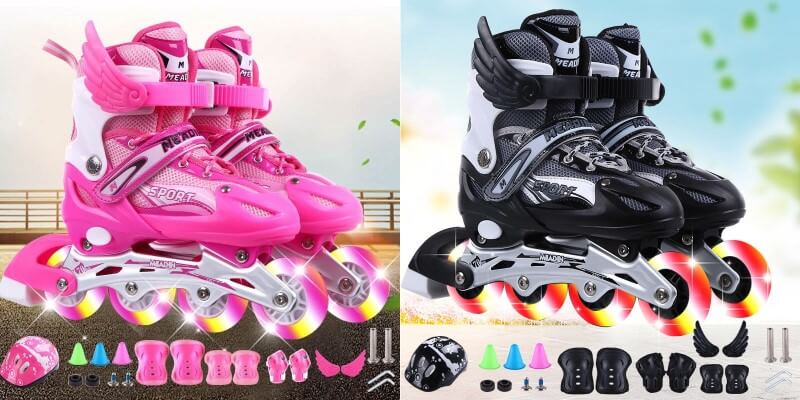 Whether or not they really propel your kids forward, we can't help but find the wings on this pair of inline roller blades a cute addition. Comfort wise, the boot is made of a honeycomb mesh design that's soft and breathable. You can also choose between a single illuminating front wheel, or a full set of light-up wheels. 
The Best Quad

Roller Skates For Kids

 
Transformable 2-In-1 Roller Skates With Light-Up Wheels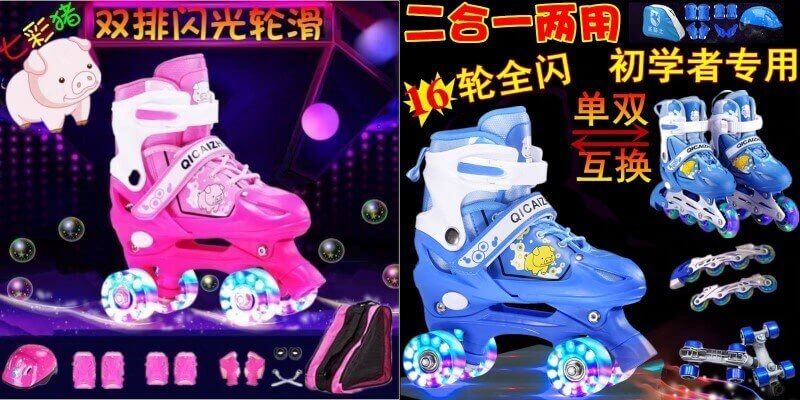 If you can't decide and wish to have both an inline skate and a quad roller for your kid, opt for this transformable roller skate. Great for budding skaters, your kid can start off with a double row of wheels for more balance and stability. Then, once they've made progress, they can swap them out for a single inline row. Of course, it comes with the kid-approved illuminating wheels too. 
Extendable Roller Skates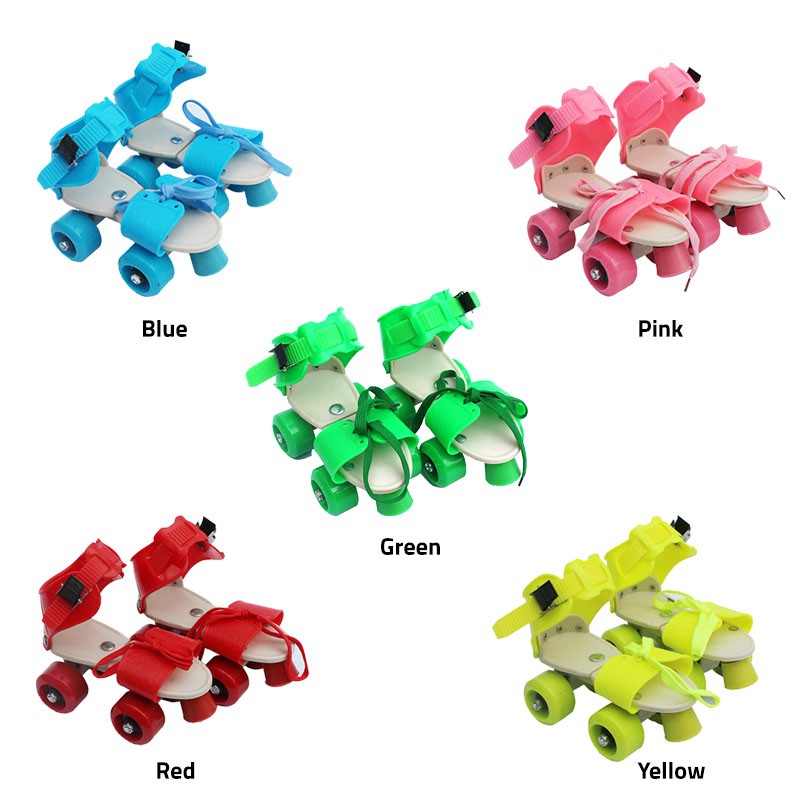 Great for both indoor or outdoor use, these colourful adjustable roller skates are an affordable option that can be worn with regular shoes. The wheels are broad and made from PVC, and the sole is expandable for fast-growing kids! For a secure fit, simply tighten the shoelace and ankle straps. 
Contrasting Multicoloured Roller Skates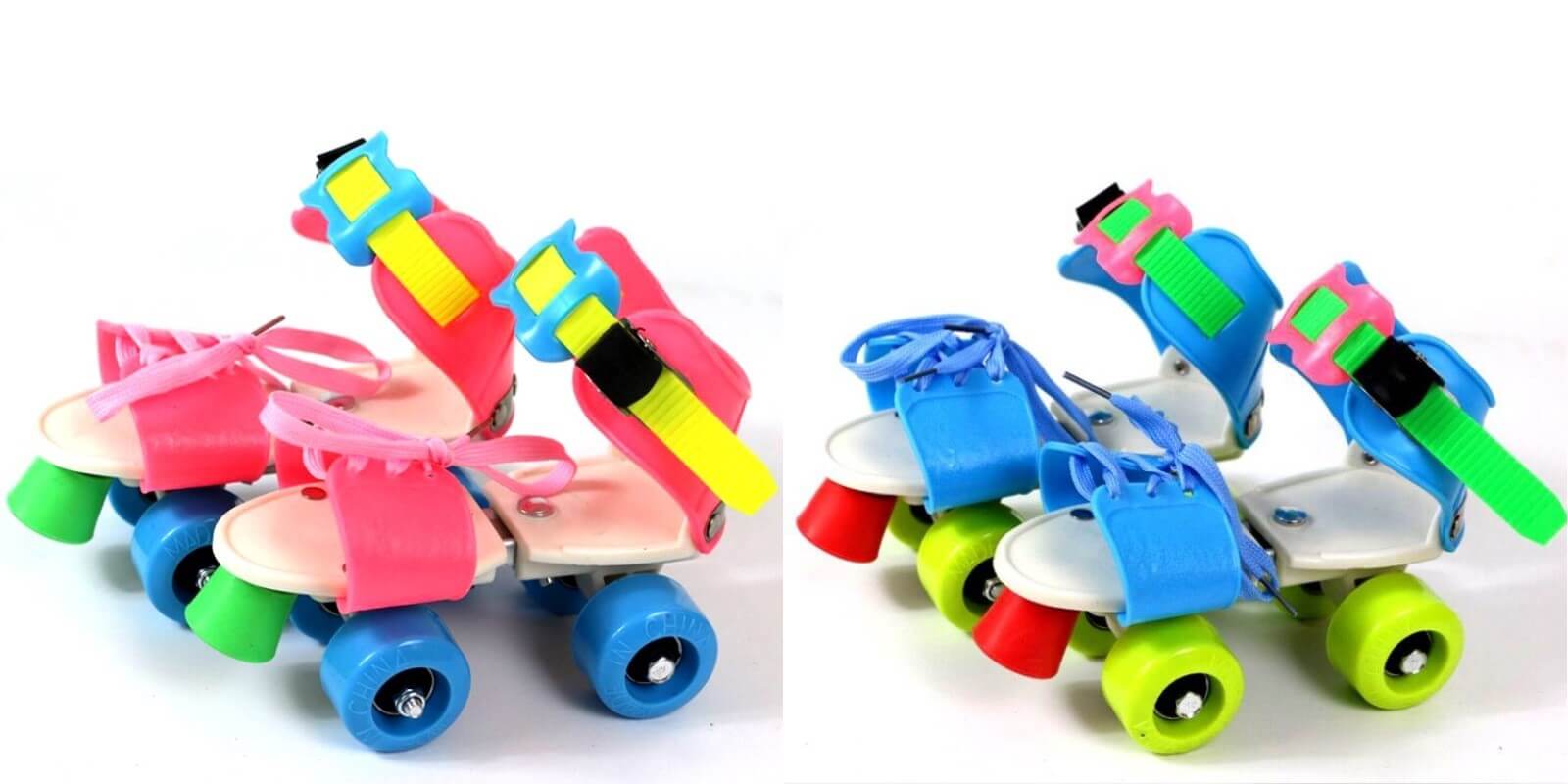 If single-toned skates don't excite your kids, maybe a multicoloured one will! Similar to the previous design but with a contrasting combo of hues, this pair of quad rollers is a more vibrant alternative that will definitely make a style statement as your kid skates along the corridors. 
Staying Active Can Be Fun With The

Best Roller Blades And

Skates

For Kids

 
When it comes to finding the best roller blades and skates for kids, remember to look out for certain features including adjustability, ease of use, comfort, as well as a durable (and fun) design. Most importantly, have all the protective gear—like knee pads and a helmet—on hand so they can enjoy some outdoor fun minus any serious injuries. 
Spending time inside instead? Entertain your kids with these indoor activities or bond over several rounds of these family-friendly board games.