Take it from an experienced user: Fake eyelashes do help enhance the appearance of your natural lashes, further flattering those beautiful eyes of yours. That said, there are different types of falsies to match the different types of eye shapes. What looks good on others might not be flattering on you because not all falsies were created equal. So, to avoid a major false lash faux pas, you need to be sure of which eyelashes to choose to highlight those gorgeous peepers of yours!
Here Are The Best

Fake Eyelashes

For The Different Types Of

Eye Shapes

To Get  Fuller, Longer Lashes 
From almond to deep-set eyes, here are the most flattering, weightless, fake eyelashes that can match everyone's lash needs!
Best Fake Eyelashes For Almond Eyes: Full Volume Lashes
Almond-shaped eyes are wider in the centre and pointed at the edges while the outer layer of the cornea is hidden by the upper and lower lids. If you have an almond eye shape, most falsies styles look great on you. But adding an evenly distributed volume of lashes will give you that sultry glam vibe. You will need a set of full volume fake lashes for a very wispy, fluffy look. Plus, with these, you have the option of skipping the mascara!
Best Fake Eyelashes For Hooded Eyes: Varied-Length Combination Lashes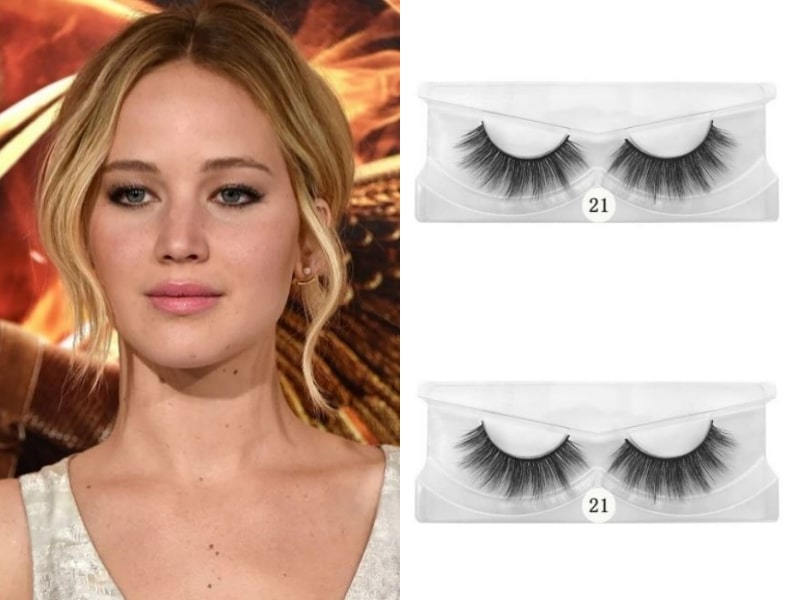 Hooded eyes make your eyelids invisible even when your eyes are fully opened. However, this should not be confused with droopy eyes despite them looking almost similar. Wearing eye makeup can be quite tricky for people with hooded eyes as their brows create a hood that covers eyeshadows, or any products applied to the lids. But not to worry as a pack of fluttery varied-length combination lashes is enough to amp up your makeup look from dull to a modern dramatic look. Now you can kiss goodbye to expensive lash extensions.
Best fake Eyelashes For Round Eyes: Curly Lashes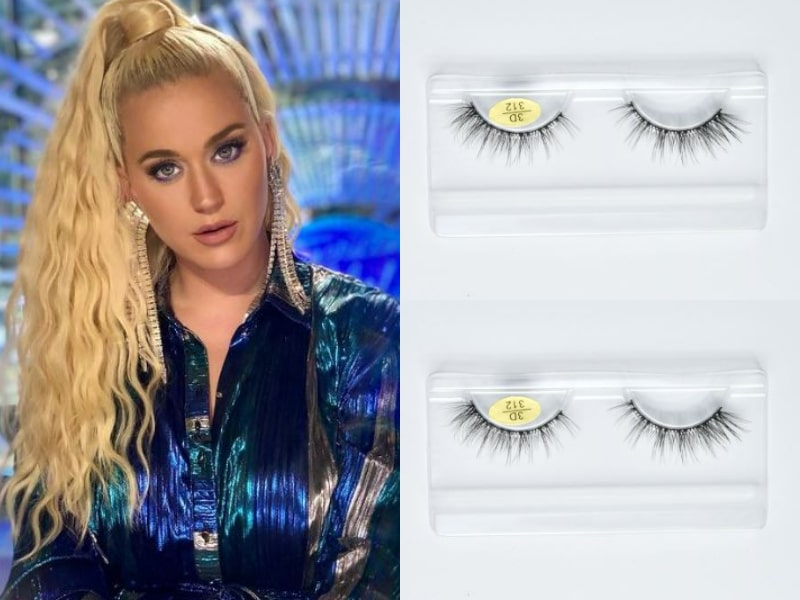 You know you have round eyes when you can see most of your irises. Curly eyelashes will further enhance and lift the curve off your top eyelids. You can also opt for wispy falsies to elongate your lashes, hence creating a cat-eye effect. It's a chic upgrade that'll turn heads and make hearts flutter.
Best Fake Eyelashes For Monolid Eyes: Heavy Multi-Layered Lashes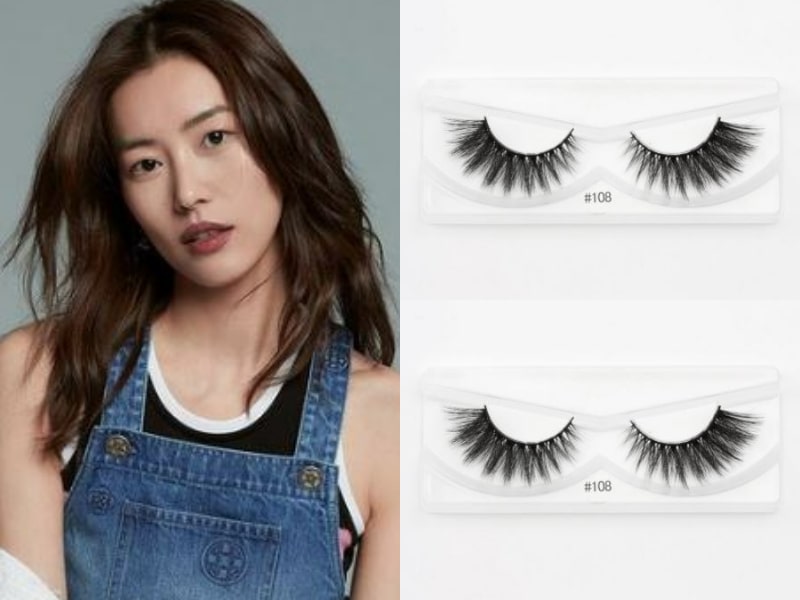 Monolid eyes are common among Asians where no crease is visible. But you can always accentuate your eyes with a pair of fake lashes. All you need is a pack of fluttery, multi-layered lashes to create a full lash and dramatic look. No more pesky black mascara stains on your lids!
Best Fake Eyelashes For Close Set Eyes: Three-Quarter-Length Lashes
Your eye shape is close-set if the inner corners sit close to your nose. You can emphasise your close-set eyes by lifting and lengthening the outer corners and leaving the inner corners free. Adding a pair of three quarter length lashes to your glam squad offers a good balance of oomph yet not too over-the-top. Make sure to blend it seamlessly with your natural lashes for perfect daily wear.
Best Fake Eyelashes For Upturned Eyes: Flared Half Lashes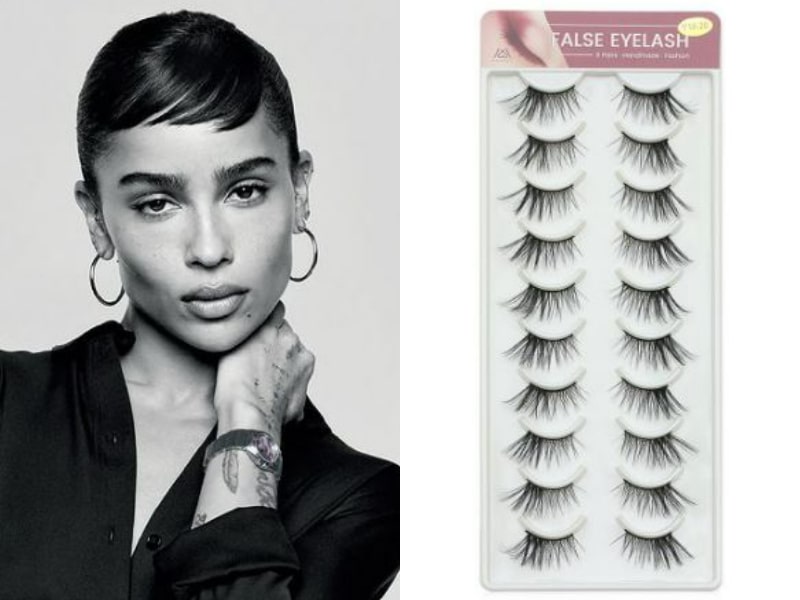 You can rock almost all types of eyelashes if you have upturned eyes as the shape is almost similar to almond eyes. The only difference is that upturned eyes have an upward lift at the outermost corner. This makes it the most perfect eye shape for a cat-eye. Lengthen the outer edges of your eyes with flared half lashes for an extra lift. You can also opt for 3D half lashes to enhance your eyes. They have three times the volume, and thickness, as well as a layered appearance, adding a seductive appeal to your usual everyday look.
Best Fake Eyelashes For Deep Set Eyes: Extra Length Lashes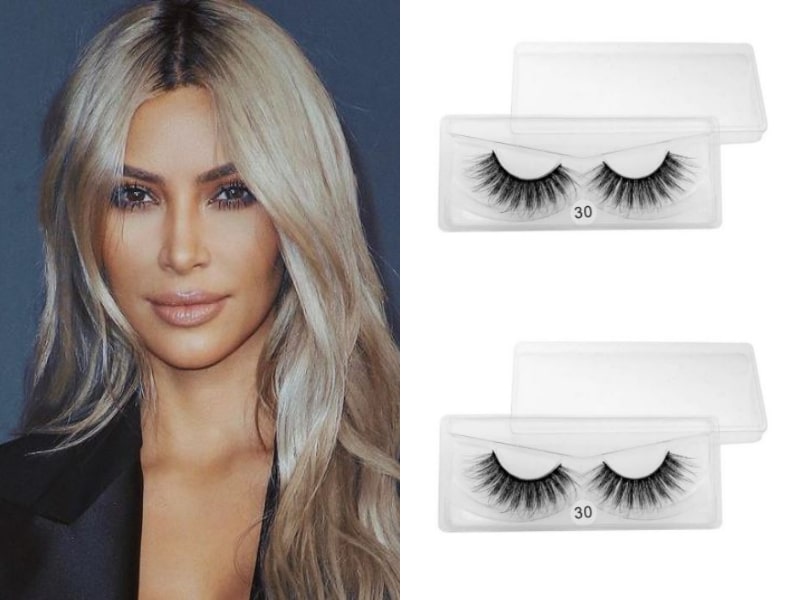 Deep-set eyes are elegant as they give the appearance of a more prominent brow bone while also highlighting your large eyes. This type of eye shape offers you flexibility when choosing false eyelashes due to its versatility in pulling off subtle and dramatic lashes. If you're not sure which falsies flatter your eyes the most, look for extra length lashes with decent curls.
How To Apply Fake Eyelashes In 5 Easy Steps 
Applying false eyelashes may be tricky and messy for beginners. Here's how to put on eyelashes like a pro.
Step 1: You need a pair of falsies, lash glue and a tweezer.
Step 2:  Measuring or trimming is required. Measure your eyelash strips to your eyelids and trim off the excess for a perfect fit.
Step 3: Apply lash glue onto your falsies and wait about 30 seconds, or until it dries a little. You can also bend the strips to ensure the adhesive is applied evenly.
Step 4: Now, you are ready to put on your fake eyelashes. Place a mirror under your face as it helps you to see the strips and eyelids better rather than looking vertically into the mirror. Next, place the faux lashes using your fingers or a tweezer, whichever works best. 
Step 5: Once you've got your lashes on, take a black liquid liner and draw it like how you would normally draw your eyeliner. This is to blend the thin band with your lash line. And you're done!
Blend Your

Natural Lashes

With Fake Eyelashes Using Mascara For A Seamless Look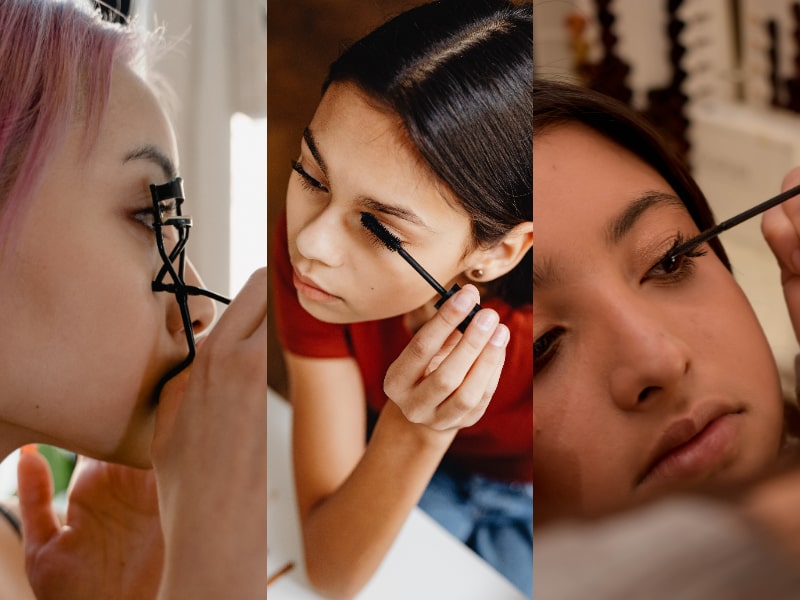 Using both mascara and eyelash curler is one of the best ways to blend your real lashes and falsies together. Once you have applied false lashes to your individual lash, proceed to curl your lashes before amping them up with a few coats of mascara. This will help blend the lashes for a natural look. If you're struggling with pin-straight, short Asian lashes, there are several mascaras for Asian eyes in the market for you to choose from. 
Still find that fake lashes are not so easy to apply? Why not try on magnetic lashes instead? There are a lot of good quality magnetic lashes in the market that feel weightless and are practical for daily use. They're waterproof too! 
Looking for more falsies that suit all types of eye shapes? Head over to Shopee Beauty Carou-Sale.