The excitement of preparing for Hari Raya Aidilfitri is here. Decorating the house and planning special menus are par for the course. The trickiest task, however, is deciding on a baju raya colour theme for 2023 that everyone in the family agrees with. If you're looking to solve this conundrum earlier rather than later, who better to help you out than Datuk Wira Ameer Ali Mydin, the Managing Director of MYDIN himself?
In this exclusive interview with the Shopee Malaysia Blog team, the retail mogul reveals 2023's top baju raya colour and design trends. (Spoiler alert: It includes the colour he's donning in the photo above!) Plus, MYDIN's special Raya offerings and what the celebration is typically like for him and his family.
Note: The following interview has been edited for clarity and brevity.
2023 Trending Baju Raya Colours

, Designs, And Goodies You Can Look Forward To At MYDIN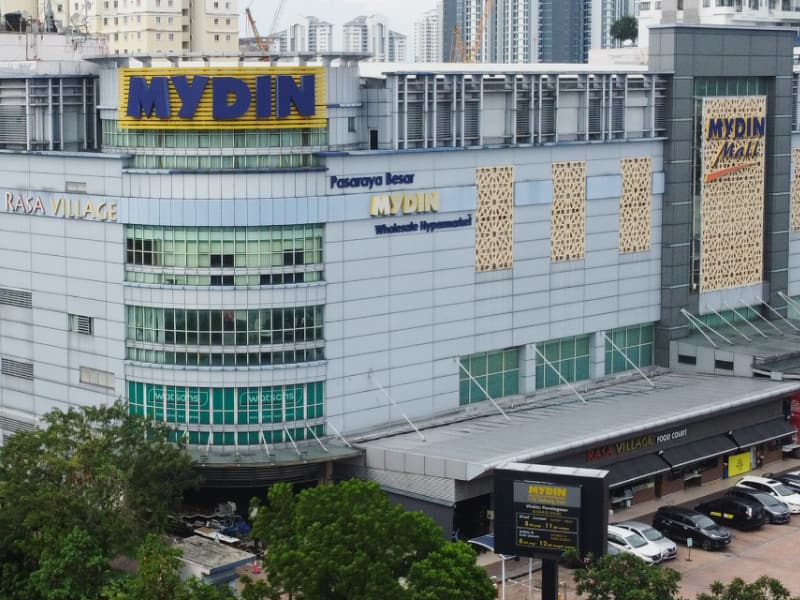 Let's get right into it. What is MYDIN's take on baju raya colour trends for 2023?
We're looking at three main colours for 2023's baju raya colour trends—lavender, red, and black. While the first two colours are derived from 2023's colour trend forecast by Coloro and Worth Global Style Network, black is inspired by the movie, Mat Kilau, which was a big hit last year. Since the main character primarily wore black in the movie, we have not only ordered more black baju raya, we have also come up with tanjak- and keris-shaped baju melayu buttons for those who want to be different, particularly the younger generation.
What are some of the best-selling baju raya designs and styles of late?
For the men, they don't necessarily go for baju melayu only. In the last two years, they tend to wear the kurta with pants or even jeans. It's a bit more flexible, and you don't have to wear the sampin. You can wear it on the first, second, or third day of Raya.
As for the ladies, they tend to go for baju kurung Riau, the more shapely version of the baju kurung. We also noticed that embroidered pieces do very well. So our baju kurung this year will feature a minimal touch of embroidery. People are going back to simplicity these days, and what we're offering is more subtle.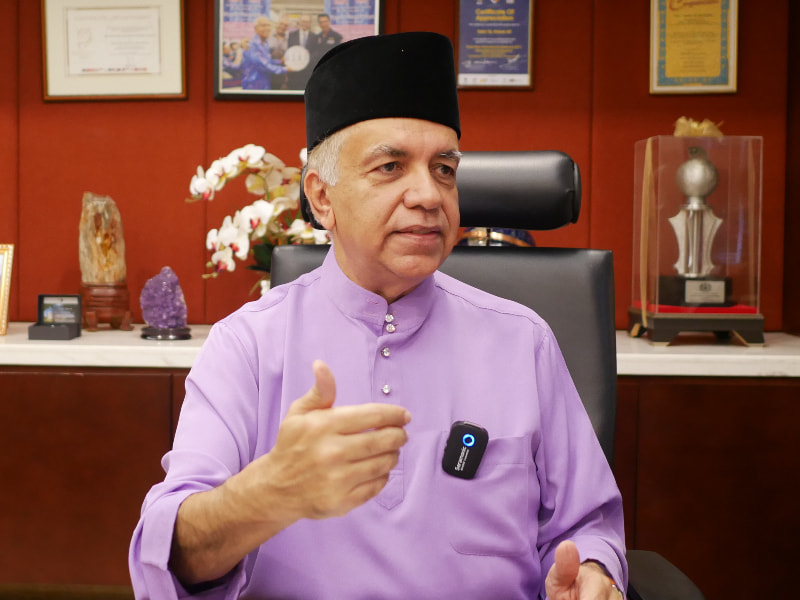 Can you give us a sneak peek of MYDIN's Baju Raya Collection for 2023?
What we're going for this year is 'classic' instead of fashion that's trendy. As we cater to the M40 and B40 groups, we want to be able to offer them evergreen pieces that they can wear beyond  just Raya, say, for work the next week. The collection will comprise baju melayu, kurta, baju kurung Riau, baju kurung Pahang, and kebaya with a modern twist. We will also have traditional clothing in plus size and matching sets for mum and kids. As for the colours in the collection, there will be lavender, red, and black, as well as classic pink, earthy colours, and green. We will be introducing the collection in early March, so stay tuned!
While simplicity is at the heart of our baju raya designs this year, they may be too plain for some people. To enhance the look, we have various types of dokoh (traditional necklace). And even that, we noticed that the dokoh has gone back to basics, so you'll find the single dokoh or the usual trio. 
We will also be introducing a new set of brooches that are longer in shape compared to the circular ones. I learned from my wife, Datin Siti Hawa, that the latter tend to droop, which doesn't help the tudung stay in place. This new range will come in gold, silver, rhodium, and crystals.
Apart from baju raya, festive decorations, and household furnishings, are there any Raya specials that customers can look forward to purchasing at MYDIN?
Cookies. People want a variety where they can choose between smaller jars of cookies or slightly more premium cookies, depending on their needs. So we'll cater to both this year. We'll still have the basic cookies, but we'll also bring in premium pineapple tarts as people would buy them for gifting.
In the spirit of gifting, we've come up with lots of ready sets that would make for wonderful and meaningful gifts. In our ladies' Muslim set—and people love this—we have a prayer mat, lycra telekung, and brooch. These lycra telekung will be plain and come in a variety of colours. Similarly, for the men, we have a set consisting of a kain pelikat, prayer mat, and baju melayu button. We always believe that when people make doa, God gives back to you. So this is a good gift to get someone. They will be available on our Shopee and MYDIN outlets.
On A More Personal Note
We are two months away from celebrating Hari Raya Aidilfitri. Have you started your Raya preparations at home? What does it usually entail?
You know, we live a very simple life. So it's basically just baju raya that needs preparation. For that, my wife (pictured above) will have to decide what colour to get. She loves Malaysian batik, and since we're going to Kelantan for work, my wife has asked to visit some batik shops there. I hope she can decide then which batik she wants to buy, and from there on, we can choose our baju raya colour theme for 2023. I didn't mention it just now, but we will have a massive range of batik coming to MYDIN too.
If you had to choose a colour now, what would it be?
Well, I was hoping my wife would just choose lavender as our baju raya colour theme so I don't have to get another set. But knowing her, and it's Raya for that matter, it's always nice to have something new. Black would be nice because of Mat Kilau. I think everyone must have a black baju melayu anyway. That would be something different for me because I've never had a black baju melayu for Raya.
What do you look forward to most every Raya?
Life is such that we're always tied up with work. So this is the time for family. You get a few days where you can actually just spend time with them.
What's a typical Raya like in the Mydin household?
We don't have big open houses. Fortunately, my mother stays with me, so everybody gathers at my house. After morning prayers, we usually have lunch together before going somewhere for a day or two. When we're back, we attend corporate open houses to meet up with friends and taste some excellent food.
What are some must-haves on your Raya menu?
You know, I think my wife tends to be a bit more conservative with her Raya dishes, so she always cooks rendang with ketupat and lontong. I think these are our must-haves. She not only cooks for the house, she also distributes food to our neighbours, which is part of Malaysian hospitality.
She always bakes one or two types of cookies too. I've asked her why she bakes when MYDIN sells so many types of cookies. But you know, it's not the same. She wants to do something, and if that makes her happy, why not?
What are some of the most memorable Raya moments you've had?
My most memorable moments were when my father was alive. He passed away when he was 88. Of course, we all want a long life for our parents but life is such. I think being with your family is the most memorable part.
At the end of the day, it's good to have at least one meal with your family at home and it could be a very simple meal. I think families are not so demanding. We tend to think they are, but I think all of us, as we grow older, just want to have a meal together. If it's so difficult, one nasi goreng will do lah. I make very good nasi goreng. At least, I think so [laughs].
Like Datuk Wira Ameer, Complete Your Family's Raya

2023

With

Colour

-Coordinated

Baju Raya

And A Home-Cooked Meal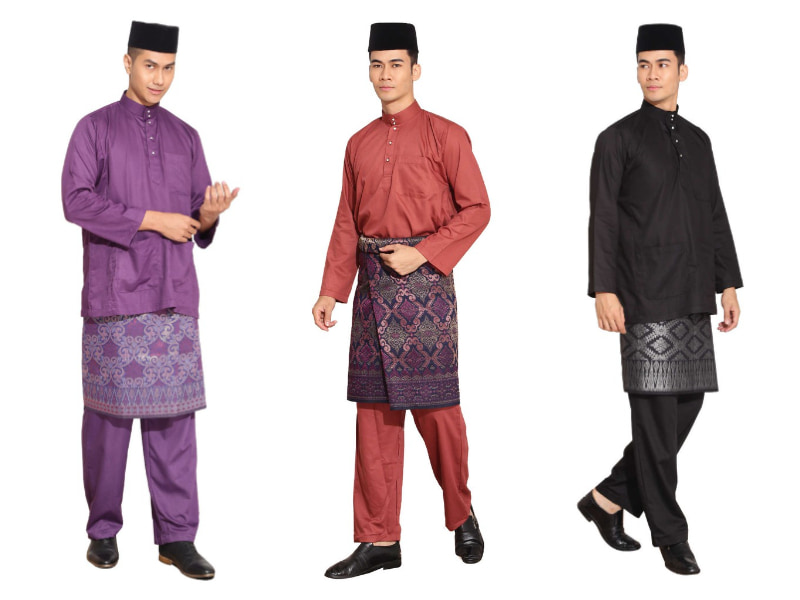 So if you want to look on-trend with 2023's hottest baju raya colours, remember to choose lavender, red, or black. But if none of them tickles your fancy, just take your pick from the many other hues in the colour wheel! After all, it's all about choosing a colour that makes you and your family look good and feel confident. More importantly, make sure your baju raya is comfortable (read: roomy) enough to accommodate the scrumptious Raya feast that you'll be enjoying!
Since Raya is a time of celebration and joy, why not make the best of it? If you're planning to spruce up the home, stock up on groceries, or dress up in colour-coordinated baju raya, MYDIN's official store on Shopee has everything you need so you can shop away from the comfort of your home. And while you're fasting, check out the healthiest foods and best kurmas that will keep you energised throughout the day.
Selamat Berpuasa, dear reader, and have a wonderful Hari Raya Aidilfitri. For all things Ramadan and Raya, swing by Salam By Shopee.