For many people, it's customary to have turkey for Christmas. The quintessential bird of the holiday season is the centrepiece of any Christmas spread. But cooking a turkey? Now that's uncharted territory even for some professional chefs. That's why we're here to help! From a classic roast turkey to a scrumptious shredded turkey burger, you won't be crying fowl foul over these effortless turkey recipes. 
How To Prep A Turkey For Cooking
Thaw it.

In other words, defrost.

Thawing your turkey ensures it's cooked evenly, yielding moist and tender flesh. Take the bird out of the

refrigerator

about an hour before you plan on cooking it. If your turkey is frozen, move it from the

freezer

to the refrigerator two to three days ahead of time, then follow the aforementioned thawing process. 

Clean it.

The turkey is a huge bird. If you're buying it whole, you may need to put up a pair of

gloves

to check the cavity for any unwanted parts. 

Brine it.

Brining involves submerging the turkey in a salt

bath

before cooking. This treatment helps the turkey retain more moisture during cooking and prevents it from drying out. Besides turkey, you can also brine

chicken

,

fish

, and

seafood

!

Season it.

Give the turkey a good rub-down with plenty of salt and pepper. Don't forget to season the insides as well!
Enjoy

Turkey For Christmas

With These Super-Easy Recipes 
Classic

Roast Turkey
When thinking about turkey for Christmas, you can't go wrong with a classic. There are many ways to roast a turkey but this recipe cuts to the chase and isn't too complex. The stuffing consists of pantry staples like thyme and rosemary while the rub is homemade herb butter. Note: Don't rush into cutting the turkey right after you remove it from the oven. Place it on a wire rack and allow it to rest for at least 30 minutes. A little bit of patience guarantees a deliciously moist turkey. 
Recipe Ingredients:
Turkey:
1 5 to 8kg turkey, fully thawed

2 sprigs of rosemary, thyme, and sage

Lemon

, quartered 

Onion

, peeled and quartered 
Herb Butter:
¾ cup of

unsalted butter

6 garlic cloves, minced

1 tsp of salt

½ tsp of black pepper

1 tbsp of rosemary, finely chopped

1 tbsp of thyme, finely chopped
Bed Of Vegetables (Optional):
Slow-Cooked Garlic Herb Turkey Breast
Cooking for a party of two? Don't have the stomach for a roast turkey? This turkey breast recipe is the perfect alternative and it doesn't even use an oven! With a slow-cooker, you won't have to worry about the turkey overcooking as it steams at high temperature, opposed to the harsher conditions of an oven. Once done, lightly grill the turkey on a cast iron pan to get irresistible golden-brown skin. 
Recipe Ingredients:
Turkey Breast:
2.5 to 3kg of turkey breast 

½ tsp of salt

1 brown or

yellow onion

, halved

1

garlic

, halved

3 sprigs of rosemary

8 sprigs of thyme
Garlic Butter:
1 tbsp of sage, finely chopped

150g of unsalted butter

1 ½ tsp of salt

½ tsp of black pepper

1 tbsp of parsley, finely chopped

4 garlic cloves

1 tbsp of

thyme

, finely chopped

1 tbsp of

rosemary

, finely chopped
Garlic Butter Gravy:
Turkey Tacos
Turkey for Christmas with a twist! Go creative this holiday season with crunchy, bite-sized tacos that you can make in minutes. Plus, you'll only require a handful of simple ingredients to form the base of the taco. The recipe leaves room for your preferred toppings, but we recommend fresh avocados, grated parmesan cheese, and a splash of lime juice for an appetising finish. For the complete Mexican experience, serve with a side of nachos and salsa dip!
Recipe Ingredients:
Juicy Turkey Burger
A burger turns a frown upside down—and this scrumptious turkey burger is no exception. Stacked with lean ground turkey, it's a healthier alternative to beef burgers since lean ground turkey contains lower cholesterol. When it comes to seasoning, the set-up is straightforward with onion powder, garlic, salt, pepper, and seasoned breadcrumbs. Adding to the patty mixture is Worcestershire sauce, a condiment not foreign to us due to it being used for street-style Ramly burgers. 
Recipe Ingredients:
Related: Here's Where You Can Find The Juiciest And Most Filling Burgers In KL
Roast Turkey

Thighs
If turkey isn't the star this Christmas but you still want its presence on the dinner table, prepare some oven-roasted turkey thighs that everyone will enjoy digging into. Similar to the slow-cooked turkey breast recipe above, you'll generously cover the turkey thighs in a silky herb butter concoction. What you'll get out of the oven are tender pieces of turkey thighs that fall right off the bone. Serves terribly well with a bowl of warm, fluffy white rice!
Recipe Ingredients:
½ cup of salted butter

2 tsp of dried thyme

2 tsp of garlic powder

1 tsp of

cayenne pepper powder

4 turkey thighs

453g of

baby potatoes

2 onions, chopped

8 garlic cloves, minced

2 tsp of dried parsley 

1 lemon, zested and juiced

2 tsp of dried rosemary

Olive oil

Salt and pepper
Easy Turkey Sandwich
Having turkey for Christmas can be a simple, understated affair. Like a well-stacked sandwich. Not just any sandwich, but a recipe courtesy of YouTube-famous and best-selling cookbook author, Joshua Weissman. The deli meat is made from scratch with turkey breast and a spice mix, which guarantees freshness. Finally, you'll need the usual suspects to wrap things up: cheese, lettuce, your bread of choice, and rich dijon mustard sauce. 
Recipe Ingredients:
Deli Meat:
Sandwich:
Count On These Convenient Recipes If You're Cooking

Turkey For

Christmas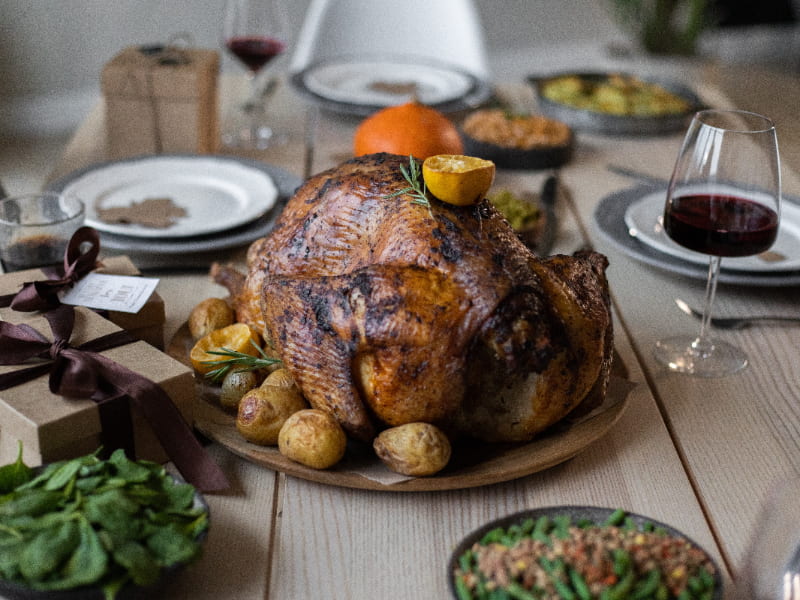 Having turkey for Christmas is a tradition that's withstood the test of time. If you want to join in this age-old heritage, why not give the aforementioned turkey recipes a try? Whether it's a roast turkey for a Christmas eve party or burgers for a no-frills get-together, cooking a turkey isn't that difficult if you know your way around it. 
Gift-shopping for colleagues but don't know what to get? Read this list for creative gift ideas (no mugs and photo frames, we promise) that will put a smile on your co-worker's face. Parents, if you're looking for ways to entertain your kids while you cook up a storm, check out these interactive games to engage them for hours on end!