Sarees are a staple for many women when it comes to traditional Indian clothing, but how many draping styles do you know? From traditional drapes like the Nivi drape to modern adaptations like belted sarees or mermaid draping, there are endless possibilities on how to tie a saree. Ahead, we've compiled 10 different types of saree draping styles, so you can find the one that suits you best this Deepavali.
Types Of

Saree Draping Styles

&

How To Tie Them
Nivi Drape 
One of the most popular types of saree draping is the Nivi drape. It highlights the body's curves and silhouette without requiring any complicated styling methods. Plus, it can be used on practically any fabric. Be it with materials like silk and cotton or newer fabrics like chiffon, net, or brasso, the nivi drape is incredibly versatile. If you're a beginner at saree draping, this style is the best for learning how to tie a saree.
Gujarati Style 
This type of saree draping was initially worn among Gujarati women before it eventually became a go-to style choice. It's especially favoured as a bridal saree at weddings with either long or short pallus (the loose end of a saree). The Gujarati drape is also known as the Seedha Pallu (or Siddha Pallu), as the saree pallu is placed at the front, concealing the entire bodice.
Saree Pants Style Draping
A trendy way on how to tie a saree is by draping it over a fashionable pair of pants. It gives a modern twist to a traditional saree and allows you to infuse your personal style into your Deepavali outfit. You can choose to keep it casual with jeans or opt for a cleaner look with black or white pants. For the party-goers, you can bring the party to your own living room with bold printed bottoms or flared pants for added drama.
Maharashtrian Style Saree Draping
Maharashtrian or Nauvari Sarees are known for their timeless elegance. They're around nine yards (8.23 metres) in length and longer than the traditional saree, which ranges from 5.5 to 6 metres long. It's also known as the Kaashtha saree, as Kaashtha refers to how the saree is tucked at the back.
Dhoti Style Draping
Another pants-like saree draping style is the dhoti drape. This draping method was popularised by many Bollywood actresses including Sonam Kapoor, Shilpa Shetty, and Samantha Akkineni. And for good reason, as the style still maintains the traditional elements of a saree while providing an edgier appeal.
Lehenga/Skirt Style Draping 
If you can wear your sarees with pants, who's to say you can't wear them with skirts too? You can choose to drape your saree or dupatta over your lehenga choli to add another layer of drama to the look. Otherwise, you could also learn how to tie your saree in a lehenga style too.
Neck Scarf Saree Draping 
These days, the types of saree draping styles are getting more innovative. For example, you can even tie it as a neck scarf! In this method, instead of carrying the pallu over your shoulder, you're wrapping it around your neck. Plus, it even gets you out of accessorising if you don't feel like wearing a necklace. That said, don't be afraid to have fun experimenting with all kinds of jewellery to spice up your look.
Butterfly Draping
For something a little sexier, you can try the butterfly saree draping style. This type of saree is tied slightly lower at the waist than usual to bring attention to your feminine silhouette. Ensure the pleats of your pallu are extra thin and choose silky fabrics to imitate the wings of a butterfly. Finish off with a backless and sleeveless top to give the illusion of a taller height.
Fish Cut/Mermaid Saree Draping
Finding the right petticoat is key to nailing this saree draping style. It plays a major role in creating the shape of the mermaid tail that features a fitted waistline and flared-out hem. This is further enhanced by how it is draped and pleated. With this style, chiffon or georgette fabrics work best.
Belted Saree 
Belted sarees are an influencer- and celebrity-approved trend that never fails to bring some added glamour to your look. The best thing about this saree draping style is that it doesn't require much effort at all. You can apply whatever draping style you like, then throw on a matching belt over, and you're good to go! Let your creative juices flow freely and play around with different types of belts—corsets, metallic, embellished, wide, thin—according to your mood, theme, or occasion.
Up Your Deepavali Looks With These Various

Types Of Saree

Draping Styles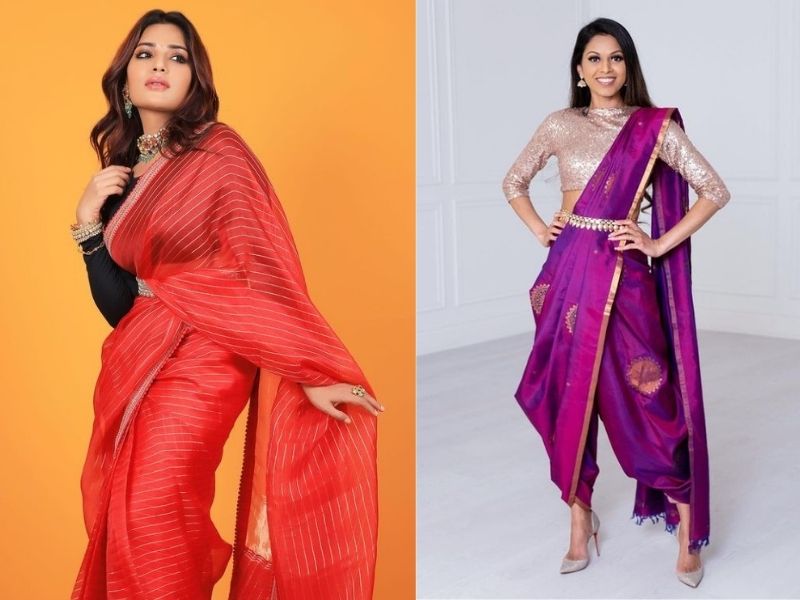 So now that you know about the many different ways on how to tie a saree, let us know which one's your favourite in the comments below! Curious about other ethnic attire to wear during Deepavali? Then check out our guide on traditional Indian clothing for men and women. 
We hope you have a gala time celebrating the festive season with friends and family at home. Don't forget to devour some delicious chicken or mutton curries and, of course, murukku. And why not catch Shopee's hilarious yet heart-warming short film, Deepava-LIT, while you're at it? Stay safe and happy Deepavali!