Murukku is among the most popular snacks in Malaysia. Originating from India, the crunchy treat is sold everywhere from roadside stalls to shopping malls; a true testament to its popularity. It's packed with spices without being too overbearing, meaning you can easily go overboard sans the guilt. As Deepavali inches closer, we want to introduce several murukku recipes for you to try out at home. They are easy, quick, and don't require a lot of work. But we promise the results will be just as tasty and addictive. Here's how to make murukku from scratch! 
Follow These

Murukku Recipes

This Deepavali 
Baba's Crispy Murukku
A household name, Baba's is famous for its selection of handpicked herbs and spices. As such, you can find many of its products anywhere from sundry shops to grocery chains. This murukku recipe uses the company's mix, which contains a blend of rice and gram flour. The rest of it is easy. Mix the flour with a handful of staple ingredients and generous amounts of ghee and butter to finish this ultimate snack!
Recipe Ingredients:
Ribbon Murukku
Here's how to make murukku with a literal twist! Instead of the usual spiral-loop appearance, this recipe's end product is a photogenic ribbon-shaped snack. Also known as the ribbon pakoda, it has an airy texture that makes it extra crunchy, while cumin and chilli powder give it a flavourful kick. 
Recipe Ingredients:
Butter Murukku
Like biting into a butter cookie, but better. A butter murukku recipe has the usual flavour profiles of a normal murukku, albeit the texture is more flaky and doughy. To create a melt-in-your-mouth experience, it's crucial to incorporate the butter evenly into the flour mix. Additionally, examine that the dough is crack-free before putting it into the fryer. This extra step ensures the murukku stays in shape throughout the cooking process. 
Recipe Ingredients:
Sweet Murukku
Fancy a sinful treat during the festivities? Then you won't be disappointed by sweet murukku recipes! Crispy plain murukku is dunked into jaggery-flavoured syrup for a decadent aftertaste that isn't overpowering. What's also interesting here is the shape. Instead of a spiral, the finished murukku comes in a palm-sized ball—just nice for a mouthful!
Recipe Ingredients:
Jaggery Syrup:
Spicy Murukku
This murukku recipe will please the palate of every spicy food-loving Malaysian. Using red hot chilli powder as the anchor ingredient, the rest of the recipe counts on familiar ingredients such as sesame seeds and hing. The recipe doesn't take long to complete either; only about 30 minutes! Overall, it's a quick fix if you are thinking about how to make tasty murukku in a jiffy!
Recipe Ingredients:
Spinach Murukku
Enjoy greens in your teatime snack with some spinach murukku! Also known as palak murukku, spinach puree is thrown into the mixture, giving it a pleasing light green colour. The inclusion of vegetables in this murukku recipe doesn't just serve an aesthetic purpose, though. It provides a mildly sweet taste that counters the savouriness of the murukku. Goes great with a cup of masala chai!
Recipe Ingredients:
Spinach Puree:
Peanut Murukku
To make your murukku extra crispy, consider including peanuts. To prepare, grind the nuts into a fine paste using a set of pestle and mortar. Then, add the paste into the flour blend and mix thoroughly. Normal peanuts are used here, but you can also go with cashew or pistachio—both yield equally fragrant results. 
Recipe Ingredients:
Bookmark These

Murukku Recipes

To Create Delicious Snacks This Deepavali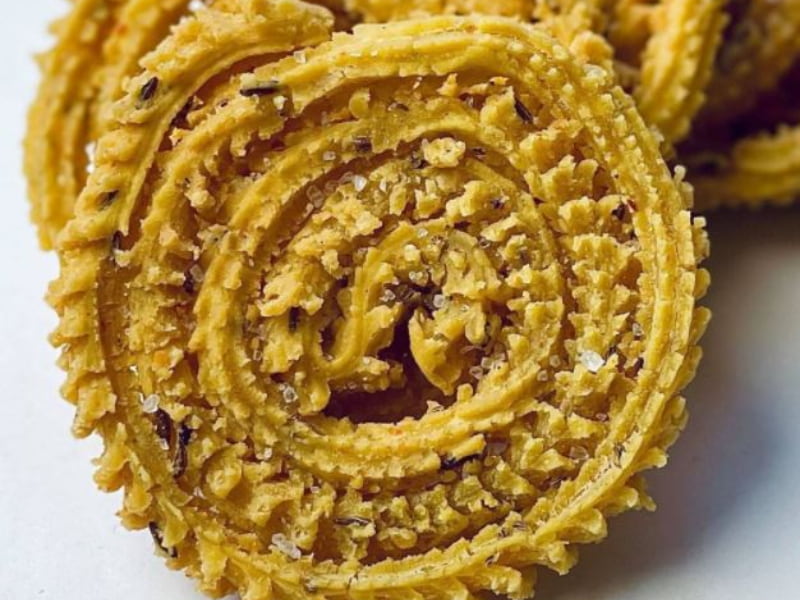 Murukku is enjoyed throughout the year, not only during Deepavali. Hence, if you want to learn how to make murukku, we recommend going for a bigger batch so your snack corner will always be fully stashed. Don't forget to load up on cookies and candies too, because what's a celebration without the occasional indulgence? Fancy making thosai? No problem, we got that covered too. Check out this easy and detailed step-by-step guide.