POV: You've just watched Nevertheless and now you're thinking of getting a neck tattoo. We don't blame you, because we're honestly considering the same thing. Besides its beautiful imagery, neck tattoos portray bravery and show that you're not afraid to take risks or make bold choices. That said, they're known to be one of the most painful places to get inked. And since they can't be easily concealed with clothes either, they also require a lot of commitment. If you're still dead set on getting one anyway, then consider one of these 11 neck tattoos for men to find your best ink match. 
11 Coolest

Neck Tattoos For Men

 
Butterfly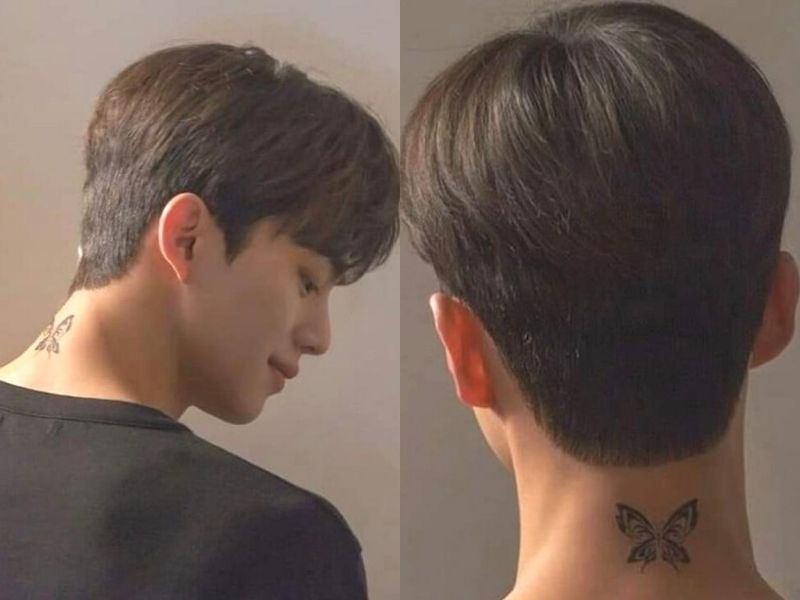 One of the trendiest and most viral ink designs at the moment is the butterfly neck tattoo for men. The inspiration? The male lead from K-drama Nevertheless, Park Jae-eon (Song Kang)! Like their metamorphosis process, butterflies come with many meanings that ultimately represent faith, transformation, and freedom. 
Wings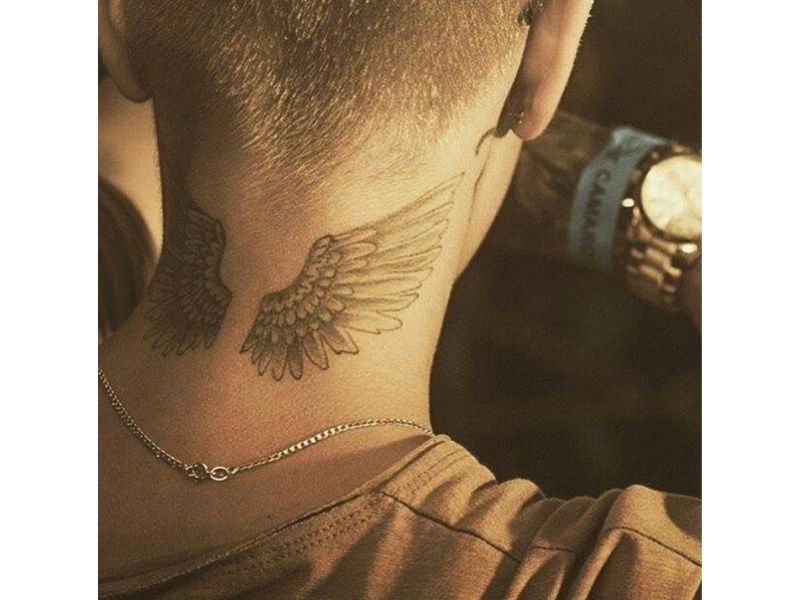 For the free-spirited souls, you can't go wrong with a classic pair of wings. This design has long been a popular tattoo choice for its poetic symbolism of freedom and liberty. They represent an ability to overcome the shackles of whatever is holding you back. 
Floral Tattoos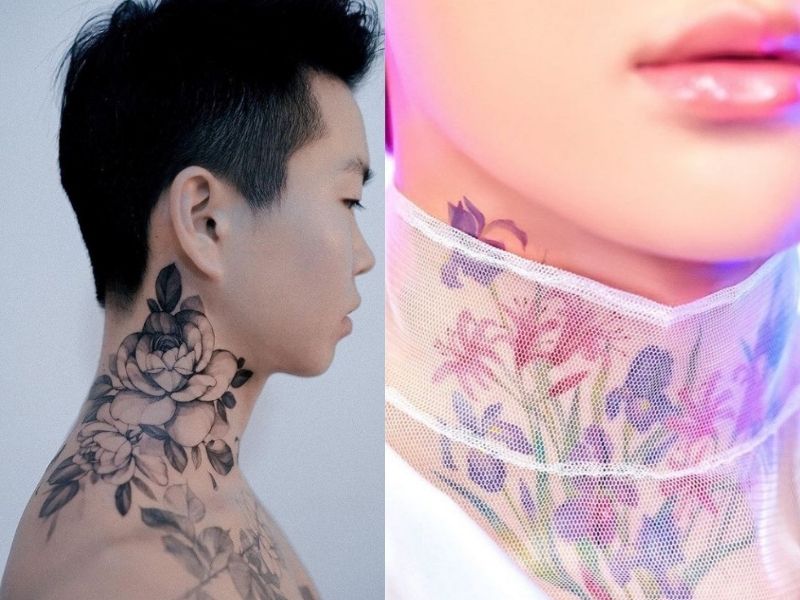 Who said floral tattoos are only reserved for women? Men can rock them too! Enhance your flower boy beauty with a stunning arrangement of flowers of your choice. Floral neck tattoos for men come in a large variety of options. From black and coloured ink to different flower types and sizes, there's bound to be a style for you. 
A Meaningful Word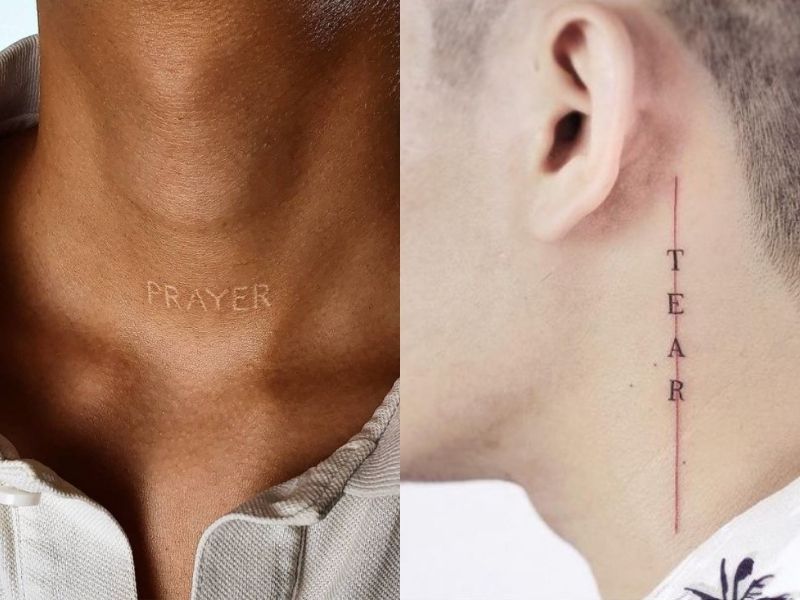 Neck tattoos for men don't have to be so grandiose all the time. If you're not keen on covering your whole neck with ink, keep it subtle with a simple text. It's a minimalist design that's just as impactful. Pick a word (or a short phrase) that holds special meaning to you and have it tattooed in your favourite font. 
Thorns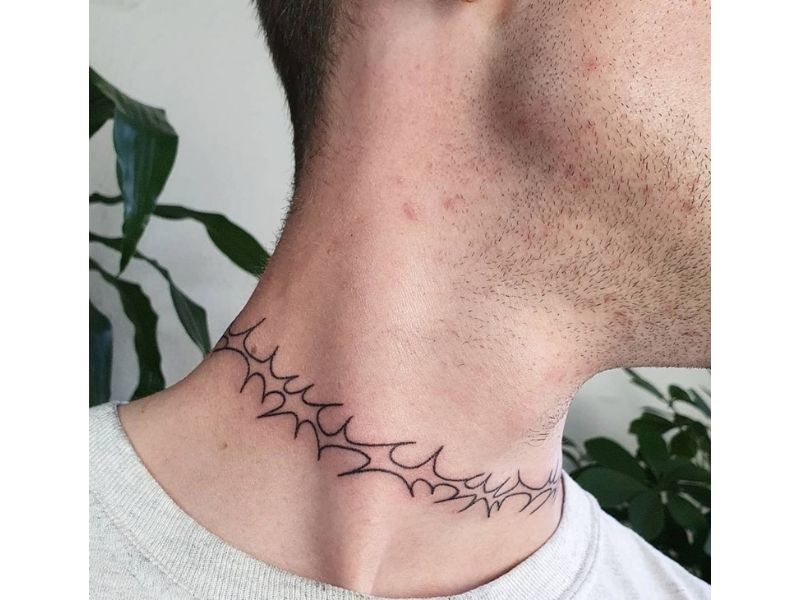 Thorns can hold different meanings depending on the wearer. To many, they're more commonly known as a symbol of sacrifice and protection. Meanwhile, others may view it as a visible reminder of past pains to help them grow and learn from their mistakes. Or sometimes, you can simply choose it for its aesthetic (it really doesn't need to be that deep). 
Cross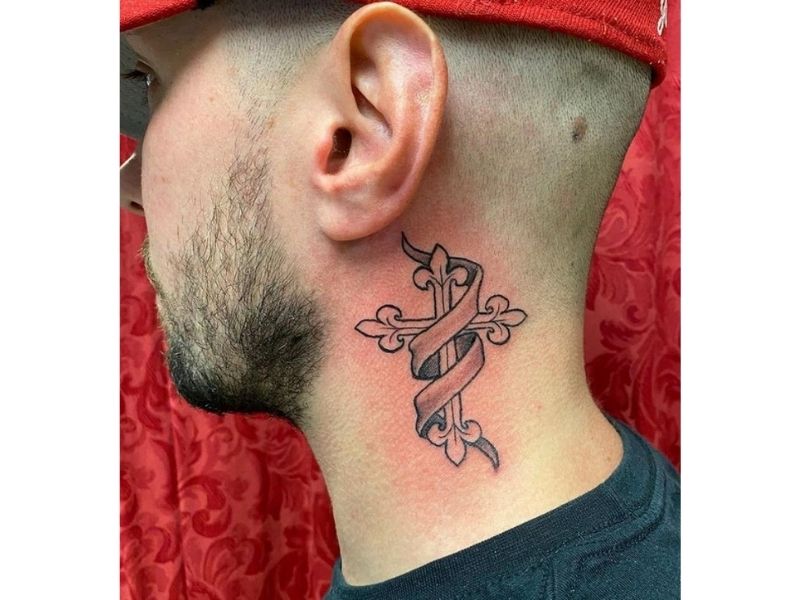 Cross neck tattoos for men are a bold declaration of your devotion to faith and religion, especially in Christianity. It's a symbol of self-sacrifice, peace, rebirth, and eternal hope amid oppression and hardship. 
Crown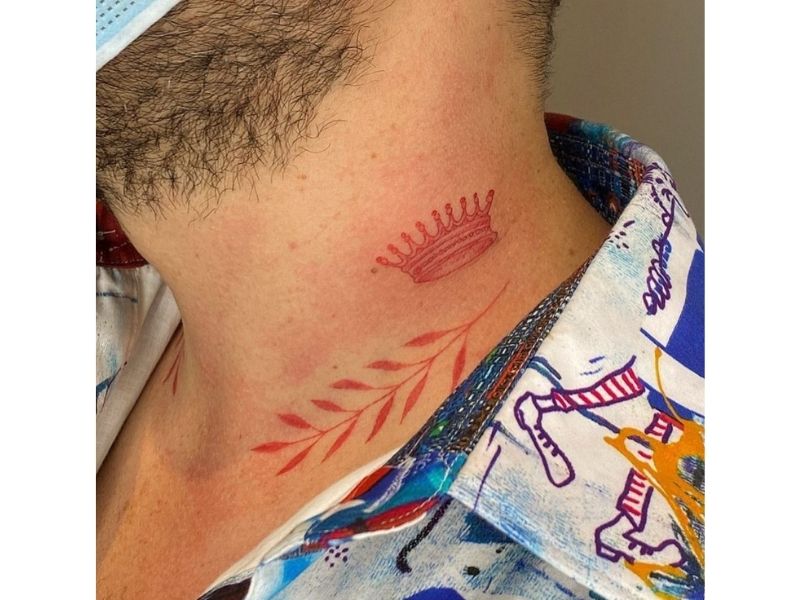 Crowns are a powerful image of strength, victory, royalty, honour, and dignity. For some, these tattoo designs signify a great achievement in life. So flaunt your royalty status and wear this kingly head adornment as your neck tattoo with pride. 
Dry Tree Branches/Veins/Shattered Glass
Turn to some of your fave, fashion-forward K-pop stars to get the most creative inspiration for neck tattoos for men. BTS' V left fans buzzing with excitement over his eerie yet captivating tattoo design during their 'ON' comeback era. And he's even switched it up with each stage performance by making slight changes to the thickness of his tattoo. One design showcased thin strokes that mimic dry tree branches while thicker lines or shard-like fragments represented veins and shattered glass in other designs. 
Bats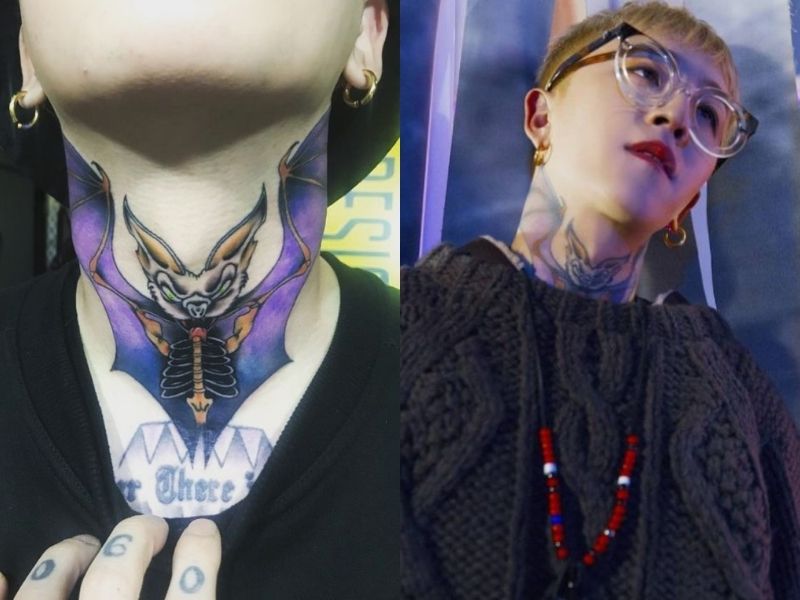 As mysterious creatures of the night, bat neck tattoos for men offer a moodier (and somewhat creepier) touch to any style. This gothic design is typically associated with death and rebirth but is also viewed as a symbol of communication and intuition. 
Matching Tattoos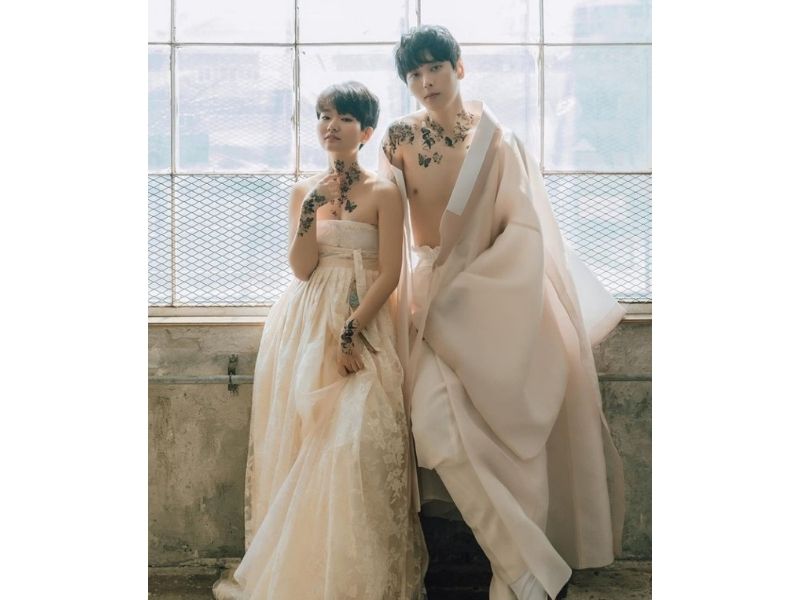 For the unconventional couple, why not get matching tattoos to commemorate your special anniversary date or wedding day? Though ring tattoos are usually the preferred choice, that doesn't mean you can't ink your commitment somewhere else. Get your couple motifs tattooed all over the neck and shoulders to make a bold statement while expressing your love and loyalty. 
Anime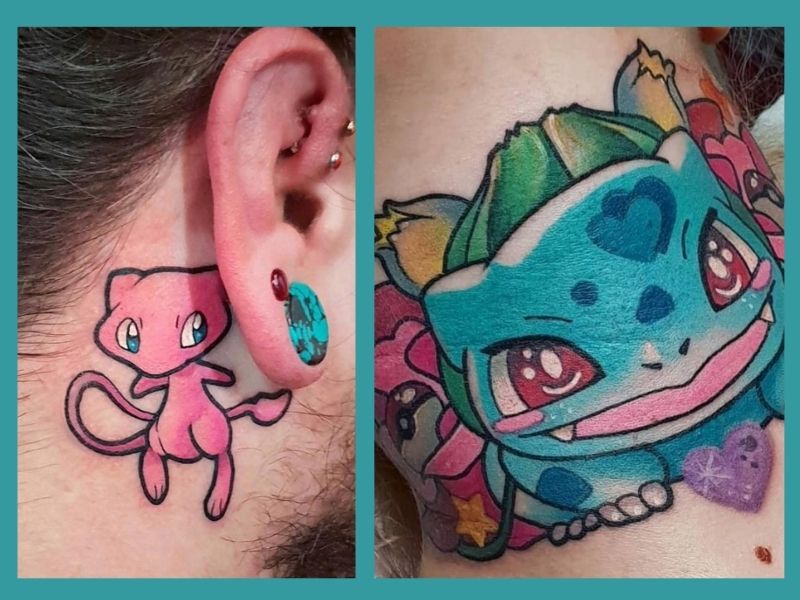 If you grew up watching anime, these colourful Pokémon tattoos are for you! Anime tattoos are a great way to relive your childhood days and keep your dearest characters close to your heart. A smaller design to decorate the side of your neck makes for a delightful surprise whenever you turn your head. Otherwise, you can consider a full front neck tattoo sleeve to turn heads with an eye-catching ink. 
Related: 10 Best Pokémon Games You Can Play On Mobile And Nintendo Switch
Express Yourself With These Bold

Neck Tattoos For Men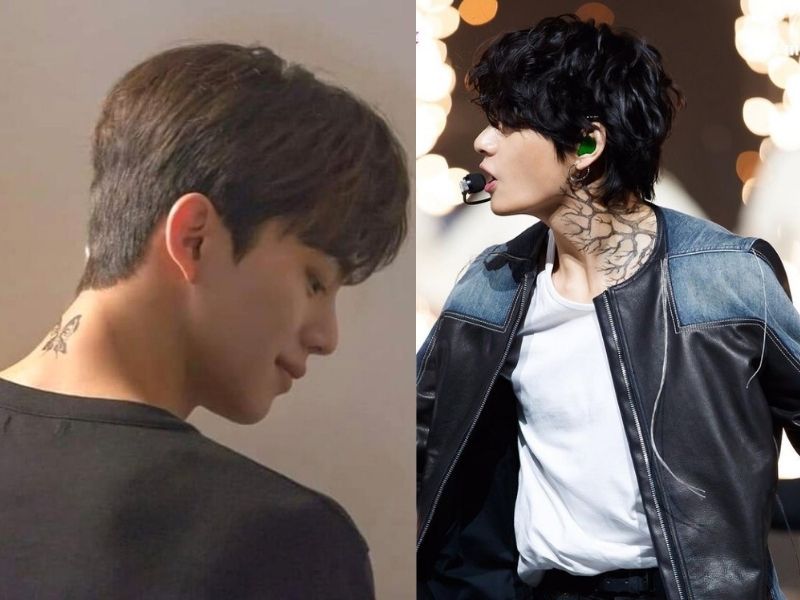 Whatever neck tattoo you decide to get, make sure to wear it proudly and have #NoRagrets. Don't forget to follow up with your tattoo artist's personal aftercare instructions to ensure that your skin and ink heals properly. Otherwise, there are always tattoo stickers for a temporary and far less painful alternative. Want to take your style to the next level? Then complement your neck tattoos with these TikTok e-boy outfits to magnify your grunge-inspired aesthetic.