Pokémon turns 25 this year! Yes, it has been that long since those "pocket monsters" have invaded the world over. Here's a little history lesson for you: The first-ever Pokémon game—Pokémon Red and Green—made its debut on 27th February 1996. Since then, we have had tons of Pokémon games to savour, and new ones are in the pipeline. With that in mind, we take a look at the best Pokémon games you can play now and also some sneak peeks into upcoming games you can look forward to!
Best Pokémon Games

You Can Play Today
Pokémon Go
You must have been living under a rock if you haven't heard of Pokémon Go. This is one of the best Pokémon games that whipped the world into a frenzy upon release. To this day, Pokémon Go is still being actively played by over 60 million people and is constantly updated with new features. Who knew a simple game of walking and capturing Pokémon would turn out to be such a phenomenon?
Pokémon Sword and Shield
Released in 2019 for the Nintendo Switch, Pokémon Sword and Pokémon Shield are role-playing games with adventure elements featuring a new generation of Pokémon. You play as a Pokémon Trainer embarking on a journey to become the strongest in the region, while unravelling the mystery behind some legendary Pokémon. You can also do battles with a giant version of these monsters! Who can say no to a giant Pikachu?
Get it here for the Nintendo Switch 
Pokémon Let's Go
Pokémon Let's Go brings the experience of a classic Pokémon RPG that is easily approachable for newcomers to the series and yet deep enough for seasoned players. Featuring two of the most adorable Pokémon from its huge roster, choose either Pikachu or Eevee as your lead companion and explore the Kanto region while duelling other Pokémon Trainers together!
Get it here for the Nintendo Switch
New Pokémon Snap
New Pokémon Snap is the perfect chillax game for when you just want to frolic around in lush sceneries and snap photos of Pokémon in their natural habitats. You can then edit and share your favourite Pokémon shots as well as see what other players have taken. Compete with players around the world for the highest-scored photos and be the best Pokémon photographer!
Get it here for the Nintendo Switch
Pokémon Café Mix
Your favourite Pokémon running and managing your very own cafe? Yes, please! The free-to-play Pokémon Café Mix combines both café sim and puzzle elements for a unique gameplay. Recruit Pokémon as part of your café staff and work together to expand your café by growing the collection of menu items as well as adding new areas to draw in more customers.
Pokémon Smile
Here's a Pokémon game that can be loads of fun and beneficial for the kids as it encourages them to cultivate good oral hygiene. Using a phone's camera, Pokémon Smile lets children defeat cavity-causing bacteria with some skilful brushing and rescue Pokémon that have been captured. With over 100 species of Pokémon to rescue and tons of awards to collect, there will be no shortage of motivation for the kids to keep coming back!
Pokémon Mystery Dungeons: Rescue Team DX
Pokémon Mystery Dungeons puts forth the question: "What if you woke up one day, and you were a Pokémon?" In this game, you can meet and recruit over 400 Pokémon to go on dungeon-crawling quests together. Build a rescue team to tackle the mysterious, ever-changing dungeons filled with turn-based battles. You will also need to manage your fellow Pokémon friends' strengths and weaknesses to form capable rescue teams.  
Get it here for the Nintendo Switch
Best Upcoming

Pok

é

mon

Games

To Anticipate
Pok

é

mon

Unite
How does a strategic team battle game within the Pokémon universe sound? You will get to play that scenario in the upcoming Pokémon Unite that pits players in 5-on-5 team battles. It is set to introduce a new kind of Pokémon battle that requires teamwork and strategy. Of course, there will also be Pokémon out in the wild for you to capture, level up, and evolve!
Availability: TBA (iOS, Android, and Nintendo Switch) 
Pok

é

mon

Brilliant Diamond And

Pok

é

mon

Shining Pearl
Pokémon Diamond and Pokémon Pearl were first released in 2006. The new remakes of these two games are slated for a late 2021 release for the Nintendo Switch system. The classic original story will be faithfully reproduced. Players will once again be able to return to the Sinnoh region in updated graphics. The remakes will also include easy-to-understand, player-friendly conveniences of the modern Pokémon series.
Availability: Tentatively late 2021 for the Nintendo Switch
Pok

é

mon

Legends: Acreus
The next big, all-new Pokémon adventure game will come in the form of Pokémon Legends: Acreus, and it is shaping up to be among the best upcoming Pokémon games. Scheduled for an early 2022 release, the brand new game will blend action and exploration with the traditional Pokémon RPG roots. The story is set as a prequel to Pokémon Diamond and Pearl. It will have players exploring the earlier days in the Sinnoh region. In the midst of catching Pokémon, you will also get to create the region's first Pokedex and uncover the mystery surrounding the Pokémon known as Acreus.
Availability: Tentatively early 2022 for the Nintendo Switch
Celebrate The Momentous Anniversary By Playing These

Best

Pok

é

mon

Games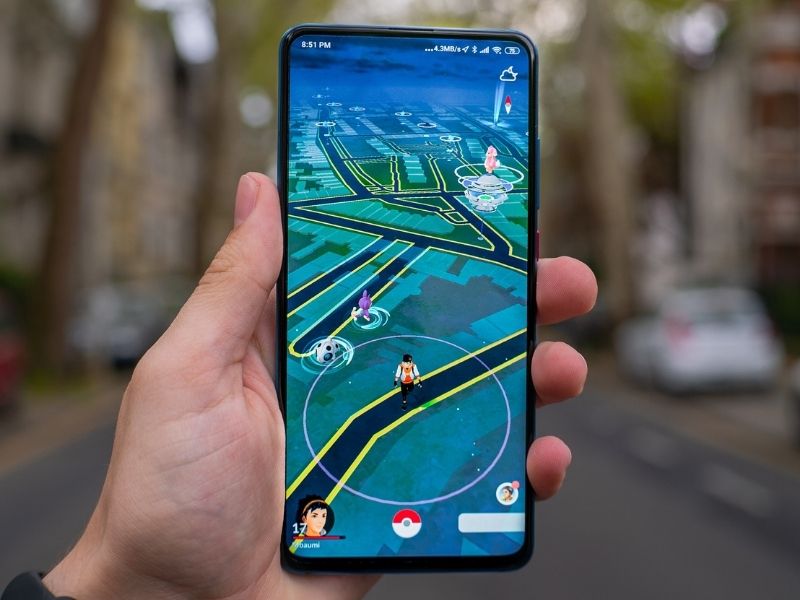 It has been a remarkable 25-year span ever since the first Pokémon game was introduced to the world in its black-and-white format for the Game Boy handheld console. As shown by some of the best Pokémon games featured here, they appeal to just about everyone, from the very young to the old. The cultural juggernaut is showing no signs of slowing down anytime soon. And we can all look forward to more Pokémon games and content that capture the imagination. Here's to another 25 years of bringing joy and colour to the world!
Next, you should also check out these seven games to play if you like Among Us.