It's time to celebrate the mother figure in your family! For kids, one simple way to do so is by making a handmade card for mum. A personalised Mother's Day greeting card means so much more than a store-bought one. Plus, she'd be able to keep it as a lovely memento. If your kids are up for some arts and crafts, here are some handmade Mother's Day card ideas they can DIY. To take it up a notch, we've also included a few designs that double up as gifts with the addition of treats, gift cards, and small beauty items.
Easy And Simple

Mother's Day Greeting Card

Ideas For Kids
From tulips to balloons, these six Mother's Day greeting cards only require a handful of stationery supplies.
3D Paper Tulip 
Is mum a fan of tulips? Then get your kids to surprise her with this 3D paper tulip design. Basic stationery is all you need, and the only skills required are cutting, folding, and pasting. While it's fairly simple to DIY, you could still print out the template of the tulip and stem outline from the video tutorial to make things fuss-free for the kids.
Supplies you'll need: 
Fingerprint Balloons
Children are the best gifts to mothers, so why not make a handmade card that incorporates their fingerprints? Just like this tutorial, get your kids to strategically place each painted-on fingerprint on the card to resemble balloons. Then, draw in the balloon strings and attach a self-adhesive ribbon to complete the beginner-friendly design. 
Supplies you'll need:
Handprint Holding Heart 
Besides fingerprints, your kids can also make a Mother's Day greeting card using their handprint. For instance, this DIY design that'll serve as a reminder of how little her children once were. Don't forget to let your kids write their personalised message for mum in the heart cut-out that the hands are holding.
Supplies you'll need: 
Surprise Ladybird
With just basic origami and cutting techniques, your little ones can surprise mum with a sweet message in this ladybird Mother's Day greeting card. Go with two white hearts on the inside of the ladybird, or even four if your kids have lots to write.
Supplies you'll need:
Flower Bouquet
A fresh flower bouquet for mum costs a pretty penny, but this one doesn't and it lives on forever! If the compass bit is tricky, just trace around any suitable round objects at home. Once you and your kids get past the cone, it's only a matter of drawing, cutting, and pasting on the flowers and ribbon. To bring the flowers to 'life', spritz some floral perfume on the finished card.
Supplies you'll need: 
Pop-Up Message Mother's Day Card 
This glittery heart-shaped Mother's Day greeting card may be a bit more work than the rest, but it's a fun design that reveals a secret message when mum pulls the heart apart. Although this tutorial uses individually cut-out letters for the message, feel free to let your kids handwrite their message using markers instead.
Supplies you'll need: 
Mother's Day Greeting Card

Ideas That Double Up As Small Gifts
How about a gift and a card all in one? These four Mother's Day greeting card ideas come with mum's favourite treats.
Nail Polish / Lip Balm Card With Gift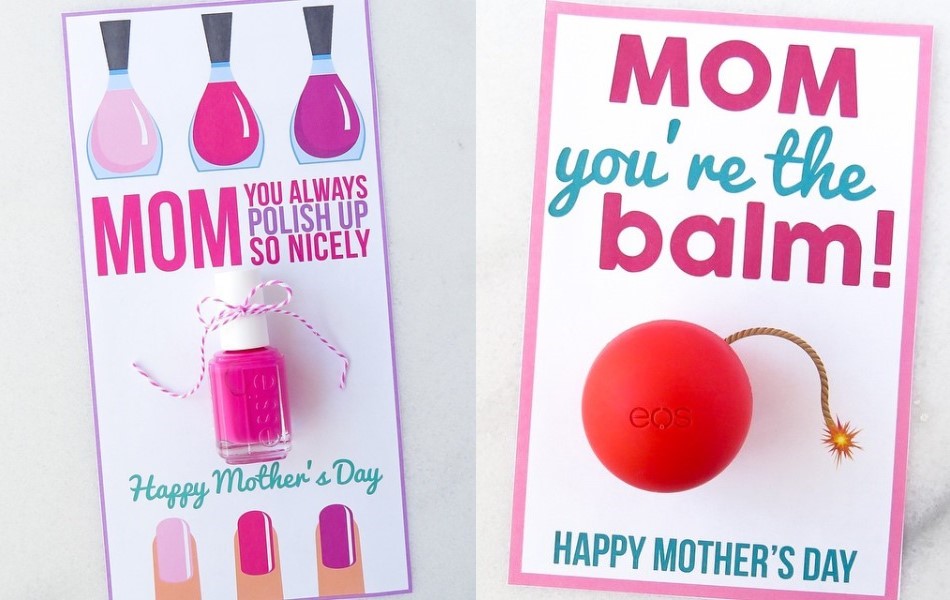 For mothers who appreciate a little self-care, you can't go wrong with a Mother's Day greeting card that comes with a sweet surprise in the form of her favourite beauty goodies! Whether it's a nail polish or lip balm that she loves, here are two adorable templates you can print out for your kids for free. As for the gift itself, feel free to choose mum's favourite hue, scent, or brand such as OPI, ORLY, Elianto, as well as Laneige, Nivea, Vaseline, and more.
Supplies you'll need: 
Takeaway Coffee Cup With Gift Card
If mum is a coffee lover, she'll enjoy this Mother's Day greeting card very much. It's a simple DIY card for kids to make, and with your help of pairing it with a gift card or voucher from her favourite coffee shop, it's a clear winner!
Supplies you'll need: 
Teacup With Tea Bag 
Does mum prefer sipping on tea? Then this teacup card design will hit the sweet spot. This tutorial uses paper plates to make the teacup, but you can also use half an individual egg carton and some pipe cleaners to make a sturdier, 3D version (tutorial here). Finally, add in her favourite tea bag in the teacup and you're all done! 
Supplies you'll need: 
Paper Bag With Card And Chocolates
For all the hard work mum has done, she deserves a sweet treat. This handmade paper bag filled with her favourite chocolates and a mini Mother's Day greeting card is just what she needs. The construction of the paper bag is a tad challenging and requires the use of a cutter, so you'll probably need to give your children a hand with it.
Supplies you'll need:
Personalise Your

Mother's Day Greeting Card

With These Handmade Ideas For Kids 
With these handmade Mother's Day greeting card ideas in your arsenal, there's no need to take the kids to the store to pick out a generic card for mum. Something that's handmade by the kids will be more meaningful and thoughtful. Plus, for cards that double up as gifts, there's also the fun factor of choosing little treats to surprise mum with!
If your little ones can't get enough of arts and crafts, check out these easy DIY projects for kids. Need some Mother's Day gift ideas? We've curated a list of recommendations here.