As much as we all desire to have a fancy giant refrigerator at home with plenty of room for storage, our living spaces (and not to mention our wallets) dictate otherwise. For those living in small apartments and student dorms, having a small or mini fridge makes more practical and economical sense. We have previously offered you a look at the top refrigerator brands, so now let's turn our attention to some of the best mini fridge models in Malaysia for small storage available in the market today.
How Much Electricity Does A Mini Fridge Use?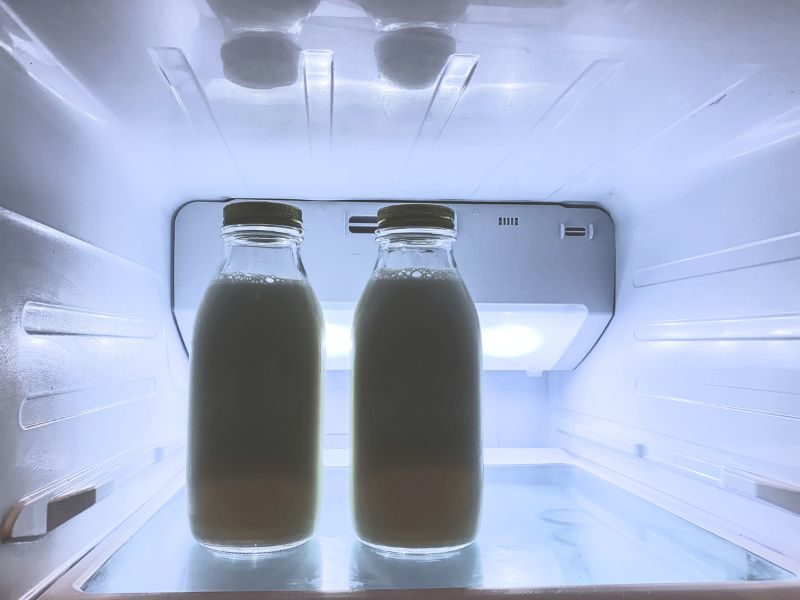 One of the most common questions people have regarding mini fridges is how much electricity they consume. A conventional refrigerator typically uses anywhere from 100 to 400 watts (depending on size). In comparison, a mini fridge generally takes up between 55 and 85 watts. The lower energy usage, of course, translates to lower monthly electricity bills. Hence, if cost-saving in the long run is your top priority, consider the following mini fridge models in Malaysia below. 
6 Recommended

Mini Fridge Models In Malaysia

For Small

Storage
Hisense 140L Mini Bar Fridge (RR158D4AWB)
One of the bestselling mini fridge models in Malaysia, the Hisense RR158D4AWB comes with a number of convenient features. Its reversible single door lets users open the fridge from both the left and right sides, while its adjustable legs provide stability on uneven floors. Not to mention, the black glass door design will surely add a touch of elegance to your kitchen space.
Furthermore, it has a separate chiller up top and a fresh crisper at the bottom to store fruits and vegetables. If you sleep near your fridge, you'll be glad to know that it operates silently.
Hisense 60L Mini Bar Fridge (RR60D4AGN)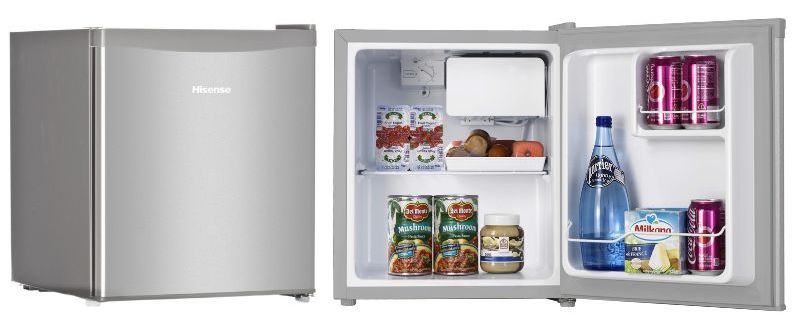 If you like what you see on the Hisense RR158D4AWB but wish it is smaller, the Hisense RR60D4AGN is your answer. It shares a few of the features as the former such as a reversible door and a separate chiller. In addition, you will also find an adjustable thermostat that allows users to set up to seven temperature ranges.
Sharp Mini Bar 60L (SJM60MK)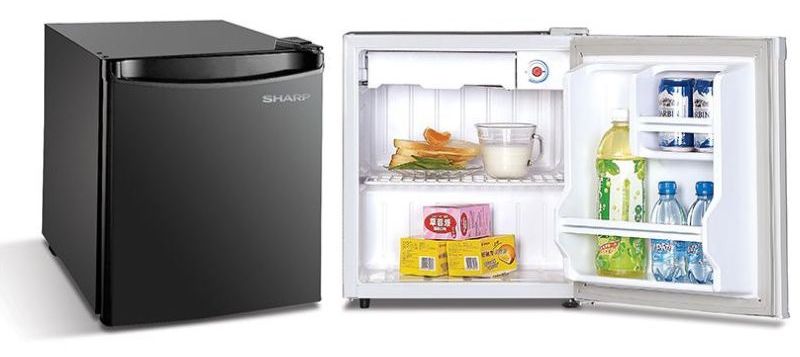 The Sharp SJM60MK features, among others, a 3L freezer with ice maker, utility box, reversible door, adjustable feet, and recessed handle for easy opening. Despite its limited space, you can still store a 1.5-litre bottle together with a couple of smaller bottles and canned/packet drinks.
Haier Mini Bar 50L (HR-60H)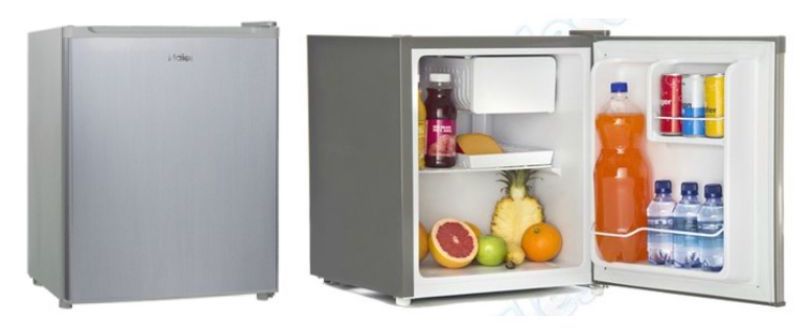 The Haier HR-60H will help you save further costs with its low energy consumption. It has a stylish finishing with a sleek hidden handle and LED lighting that lets you see what's inside clearly—handy when you are rummaging for food in the middle of the night!
Pensonic 45L Mini Bar With Freezer Compartment (PMF-661)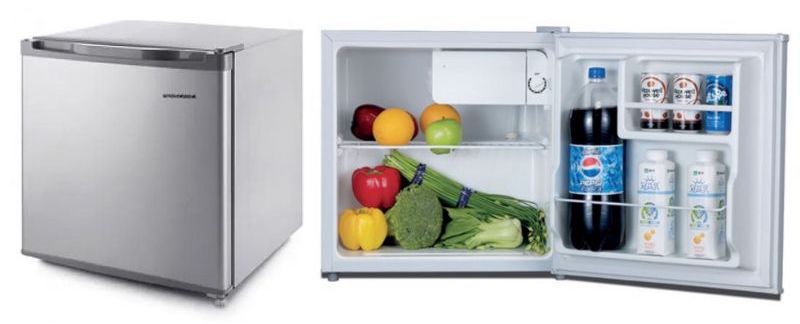 If you can't do without a freezer in your fridge, you'd best take a look at the Pensonic PMF-661. It has a freezer compartment that can preserve small food items. And with a semi-automatic defrost feature, defrosting can be easily done with just a push of a button.
Other nice-to-have features you can find on this fridge include mechanical temperature control, a reversible door, and adjustable front feet.  
Propappa 8L/13.5L Portable Mini Fridge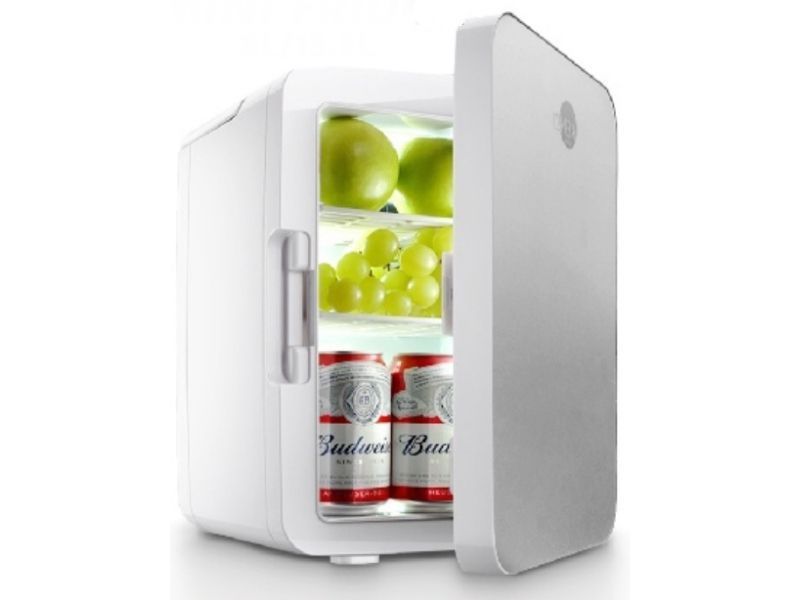 This portable mini fridge is great if you need some form of cold storage that is easily accessible. Skip the trip to the kitchen when you can chill up to four bottles (or six bottles for the 13.5L model) of 550ml mineral water or eight cans of 330ml soft drink (or 15 cans for the 13.5L model) in the comfort of your room. For the ladies, it provides a convenient space to store your makeup and cosmetic products in optimal condition.
Not only that, it also has a warming feature that is suited to heat up pre-packaged food, beverage, and milk bottles. Thanks to its lightweight and portable form factor, you can bring it to parties over at a friend's house or even to the beach. What's more, it is also perfect for long road trips; just hook it to a car power system.
These

Mini Fridge Models In Malaysia

Are Great For Small

Storage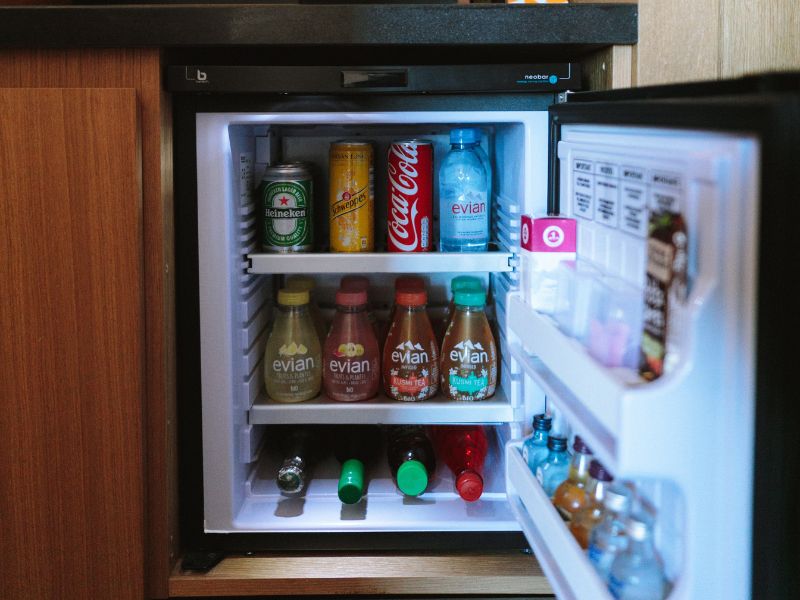 There are more to a mini fridge besides its space-saving and cost-saving benefits. Some people might opt to use one for practical reasons which suit their needs, but it can also make for extra convenient storage to complement a full-sized refrigerator. Put these recommended mini fridge models in Malaysia on your shopping list if you ever need to buy one.
Also, be sure to check out our curated list of the best fridge brands in Malaysia here!
Check out Tech Thursday for 1-day only lowest price, unbeatable deals, and extra 20% Coins Cashback every Thursday!