Need some lunch box ideas for kids now that MCO is over and schools have reopened in Malaysia? Packing school lunches for children can be quite the task, especially when you need to come up with new menus each week and ensure they look appetising for your little ones. Thankfully, there are tons of back-to-school meal inspirations online. Whether your kid loves sandwiches, Asian cuisine, or pescatarian options, keep scrolling for some great lunch box ideas that will have them looking forward to recess! 
Sandwich

Lunch Box Ideas For Kids

  
Sandwiches don't have to be boring. Here are four diverse ways to make a fun meal out of bread. 
Ham & Cheese 'Kebabs'
Give your regular ham and cheese sandwiches a new twist with this kebab-style presentation. Slice everything—the bread, ham, cheese, and cucumbers—into small squares and poke them through some skewers to build a few mini sandwich 'kebabs'. Then just pop them in a food container and you're done!
Jam & Cream Cheese Flower Sandwiches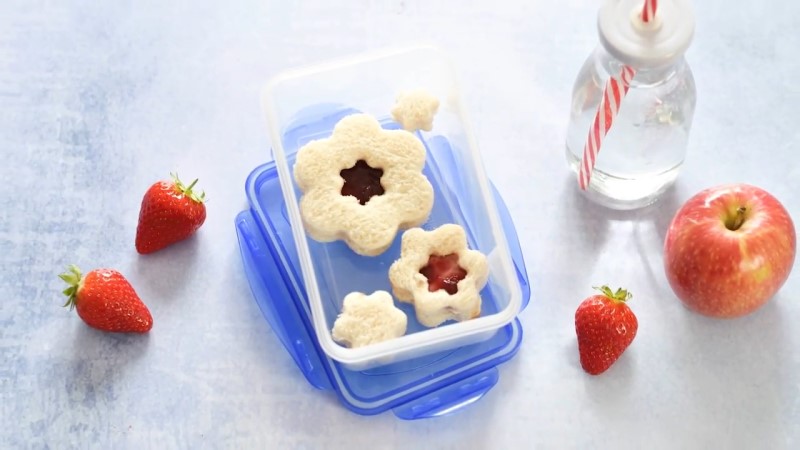 You'll need a cookie cutter in the shape of a flower to create this visually-pleasing snack. For the filling, this tutorial uses jam and cream cheese. But of course, feel free to pick a filling of your choice, be it peanut butter, marmalade, or Nutella. Ensure you make a centre cut-out for the second piece of bread to allow the jam (or your preferred filling) to peek through.
Owl Roast Beef Sandwich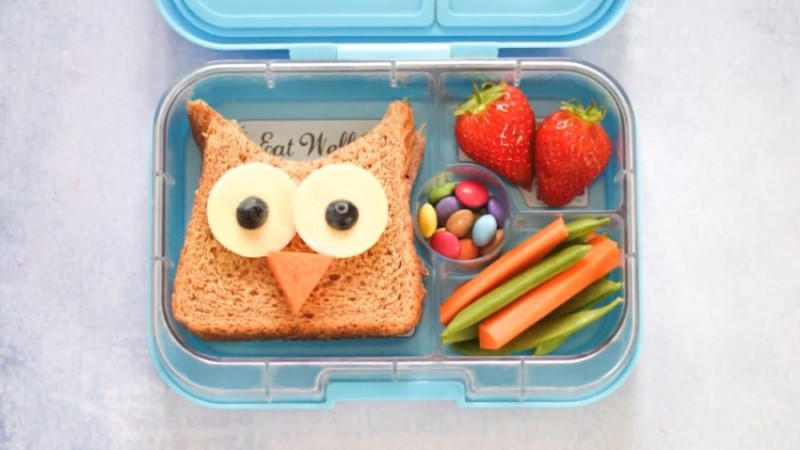 Sandwiches that resemble animals are always welcome in a kid's lunch box! To create this owl sandwich, place a slice of roast beef between the bread. Then, either use a large round cookie cutter or the top of a drinking glass to create the semi-circle that forms the top of the owl head. Next, use a mini Babybel cheese and a halved blueberry or grape to form the eyes and pupils, and a carrot to form the beak. Serve alongside some crunchy vegetables and fruits to complete the meal.
Tuna Mayo Cucumber Sushi Rolls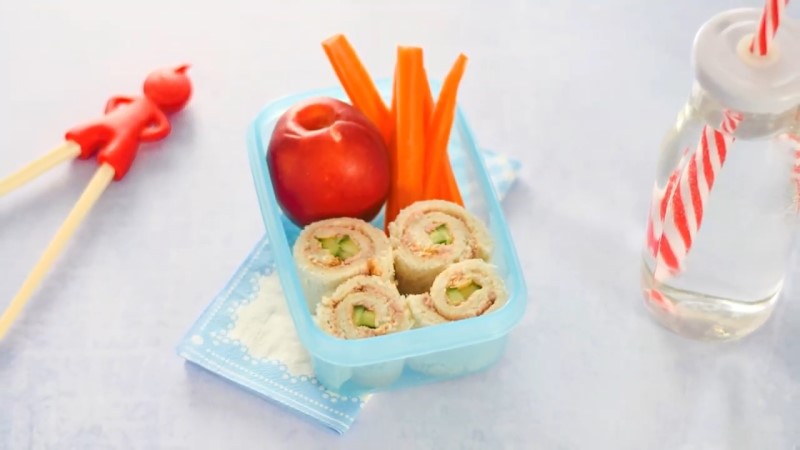 Here's another lunch box idea for kids that's quick and easy to make. What's great about this back-to-school meal is that you can also customise the fillings according to your child's taste. For this tutorial, however, tuna, mayonnaise, and cucumber make up the main fillings of this sushi roll sandwich. It's accompanied by carrot sticks and an apple for added fibre. Tip: Try serving this meal with chopsticks to train their motor skills.
Asian

Lunch Box Ideas For Kids
Does your child enjoy Asian cuisine? Then here are three Asian dishes that will whet their appetite. Don't forget to accompany them with some Asian drinks! 
Taiwanese Braised Pork Rice (Non-Halal)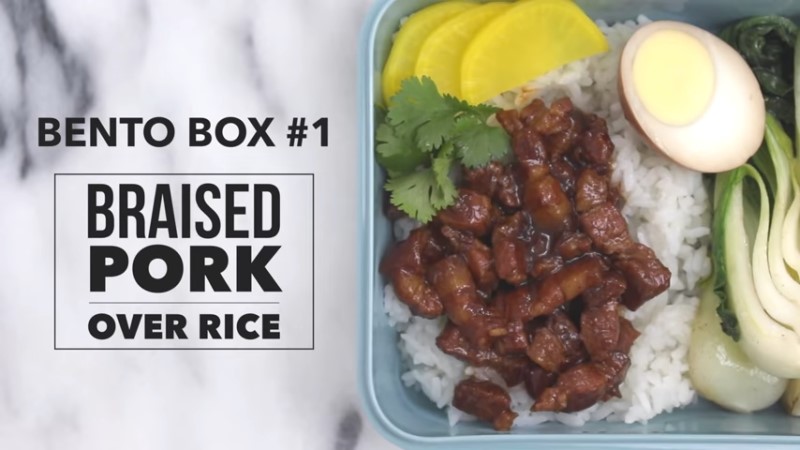 Nothing like melt-in-your-mouth stewed pork belly over rice for days when the kids are craving comfort food. Baby bok choy, Taiwanese soy sauce eggs, pickled radish, and some cilantro are the perfect accompaniment to this deliciously addictive dish. Serve this meal in a stainless steel container to keep the food warmer for longer; even better if it comes with separate compartments! 
Pan-Fried Tofu With Miso Ginger Sauce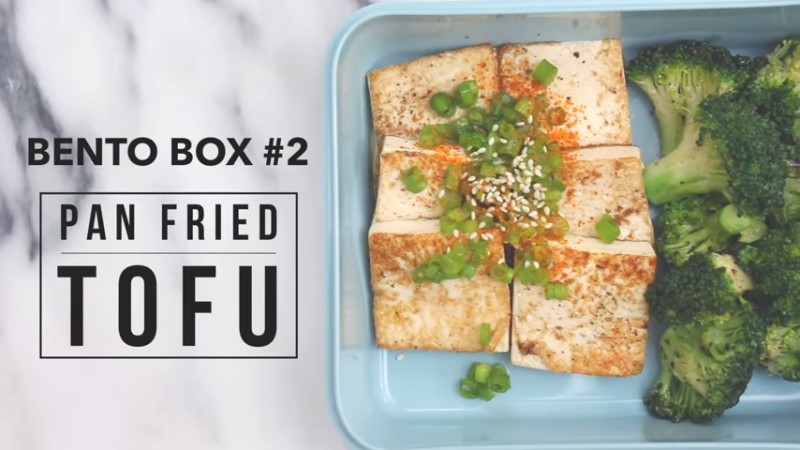 Tofu is a great source of protein as it contains all nine essential amino acids, on top of being rich in minerals like iron and calcium. If your kids are a fan of tofu, this pan-fried tofu dish drizzled with miso ginger sauce is a nice umami-flavoured meal to fill them up during recess. Garnish it with spring onions, sesame seeds, and chilli pepper for extra oomph, and serve it with a side of broccoli.
Potstickers With Edamame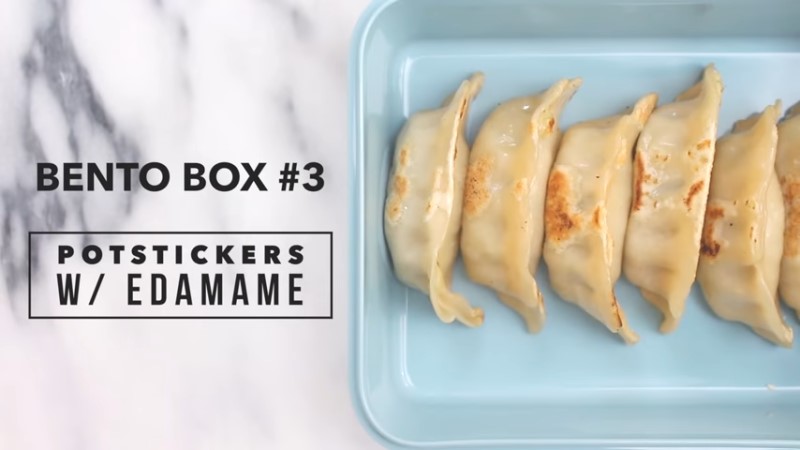 Potstickers are essentially steam-fried dumplings that are stuffed with the same juicy meat filling. This recipe is easy to prep the night before. All you have to do is cook the dumplings, prep the dipping soy sauce, and sprinkle some sea salt flakes over the edamame. It's a light snack that any peckish kid will appreciate.
Pescatarian

Lunch Box Ideas For Kids

 
Need meat-free options? Try these fish-based bento box meals! 
Fish Nuggets + Chickpea Mac & Cheese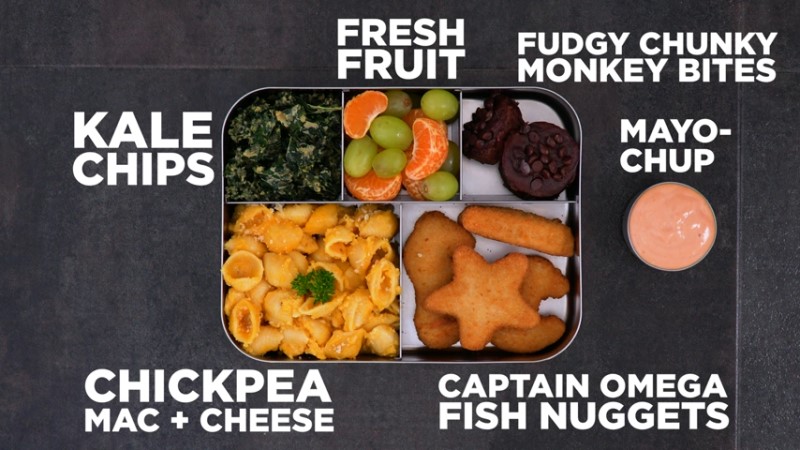 Which kid doesn't love nuggets? Instead of deep-frying them though, try using an air fryer or oven for a healthier cooking alternative. For the dipping sauce, go for ketchup and/or mayo, or mix them together as a mayo-chup! Serve alongside some chickpea mac and cheese pasta, kale chips, fresh fruits, and a healthy sweet treat.
DIY Fish Tacos + Tomato Salsa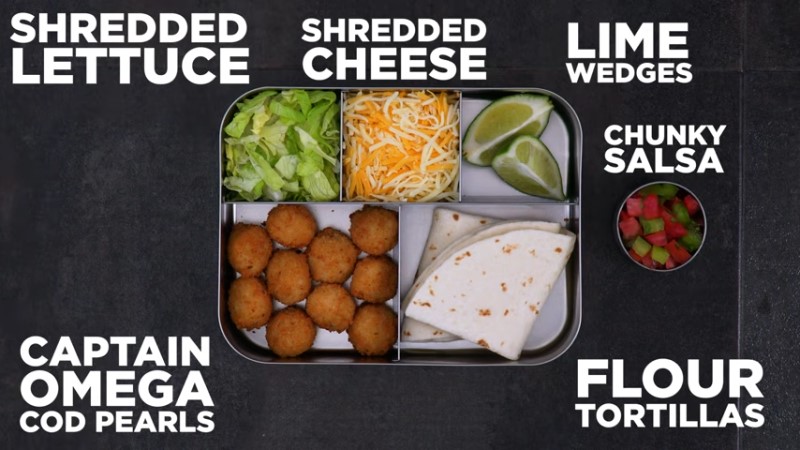 Here's a fun lunch box idea for kids that allows them to assemble their own tacos! Ingredients you'll need for this DIY fish tacos include either soft tortilla wraps or crispy taco shells, round fish nuggets, shredded lettuce and cheese as toppings, a chunky tomato salsa, and a squeeze of lime juice. Pack them individually in a lunch box that comes with separate segments. 
Fish Fingers + Honey Mustard Dip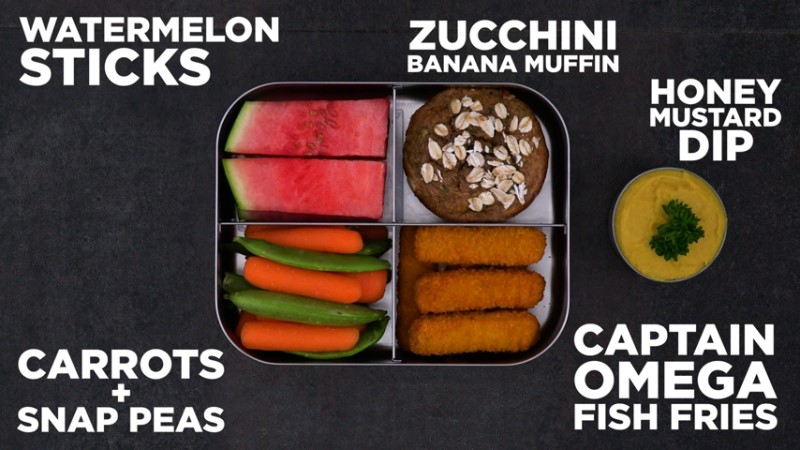 This bento box meal for kids is more of a snack box that's perfect for enjoying on-the-go thanks to the bite-sized servings. Opt for breaded fish fingers, baby carrots, and snap peas—all of which go well with a homemade honey mustard dip. For fruit, cut a small watermelon into sticks, and to sneakily incorporate veggies into their daily diet, try zucchini banana muffins! 
Get Your Children Excited For Recess With These Fun

Lunch Box Ideas For Kids

 
It's important to provide nutritious meals for the kids at school, but that shouldn't translate to bland lunches. With these yummy lunch box ideas for kids, you'll save time brainstorming new recipes and your little picky eaters will get to enjoy a sumptuous snack at recess. It's a win-win! 
Browsing for a new backpack for your kid now that MCO is no longer in effect and Malaysian schools have reopened? Here are 12 stylish and durable options to choose from, for preschoolers all the way to secondary students.