Crumbly, sweet, and so addictive. Like the rest of the world, Lotus Biscoff treats in Malaysia are known as a teatime snack or a quick-fix when hunger pangs strike at midnight. But did you know that they—as well as the Biscoff-flavored spread—are also awesome when incorporated into baked goods? As home-baking becomes the hobby of choice for many during Covid-19 lockdowns, Lotus Biscoff adds another dimension of flavours to your creations. Here are some easy Lotus Biscoff-inspired recipes to try out.
Up Your Homebaking Game With These

Lotus Biscoff Recipes

 
No-Bake Cheesecake 
No-bake means no ovens required! This Lotus Biscoff recipe is perfect if you just can't get enough of the biscuit. From the savoury crust to the cream cheese filling, there's Lotus Biscoff in all aspects of the cake, even the garnish! In terms of prepping, the heavy work is done with a food processor or zip-lock bag to crush the biscuits into fine crumbs. The rest is straightforward and simple. Bring this to your best friend's birthday party to impress them!
Recipe Ingredients:
Cupcakes
Got a potluck coming up? Use this Lotus Biscoff recipe to create a sure-win box of cupcakes! A classic party food, you can never go wrong with cupcakes. Perfect for all ages, this rendition has a bite to it from the Lotus Biscoff biscuits as the velvety sponge slowly melts in your mouth. Some conventional baking is required here, so bring out the stand mixer and cupcake trays. Tip: to achieve even spongy textures, make sure to whisk the eggs well.
Recipe Ingredients:
Brownies
There's not a storm that a fudgy and gooey brownie can't weather. The ultimate comfort food treat, brownies cheer you up when you're down and bring you joy when you're already over the moon. And now, by adding Lotus Biscoff goodies to a brownie, you have the ultimate pick-me-up! Specifically, this recipe uses Lotus Biscoff biscuits as a topping, which is then layered with a white chocolate reduction in a feathered pattern. Once your brownies are done, cut them into small cubes for the perfect bite.
Recipe Ingredients:
Doughnuts
In Malaysia, Lotus Biscoff doughnuts are hard to find. So, why not make your own? This recipe uses Lotus Biscoff biscuits to glaze the finished doughnuts. The end result is a fluffy snack that's set off with crumbled toppings for a slight crunch. To achieve well-shaped rings, use a doughnut tray for the mixture to set in place. As a tip, don't immediately remove the doughnuts from the tray after they're done. Instead, allow them to rest at room temperature for about five minutes before gently nudging them out with the edge of a knife.
Recipe Ingredients:
Cookies
Proceed with caution as these cookies are a double dose of in-your-face flavours that renders you in a state of dessert bliss. Seriously though, this Lotus Biscoff cookie recipe elevates the classic New York chocolate cookie with a volcanic gooey filling. Compared to other styles of chocolate chip cookies, these ones are looser in texture so they have more of a crunch. That said, the ratio between cookie dough and filling is something to take note of. Be careful not to overstuff them to avoid the filing from leaking in the oven.
Recipe Ingredients:
Ice Cream
What happens when you fuse ice cream with finger-licking cookie butter? A sinful frozen delight. And the best thing about this Lotus Biscoff recipe is that there are only four ingredients! Creamy with hints of caramel and toffee, this is the perfect snack for a sweltering Malaysian afternoon. Pair it with a cone or have it straight from a plastic container, you'll only wonder why you didn't make more after finishing everything in one sitting. 
Recipe Ingredients: 
Your Desserts Will Only Taste Better With

Lotus Biscoff Recipes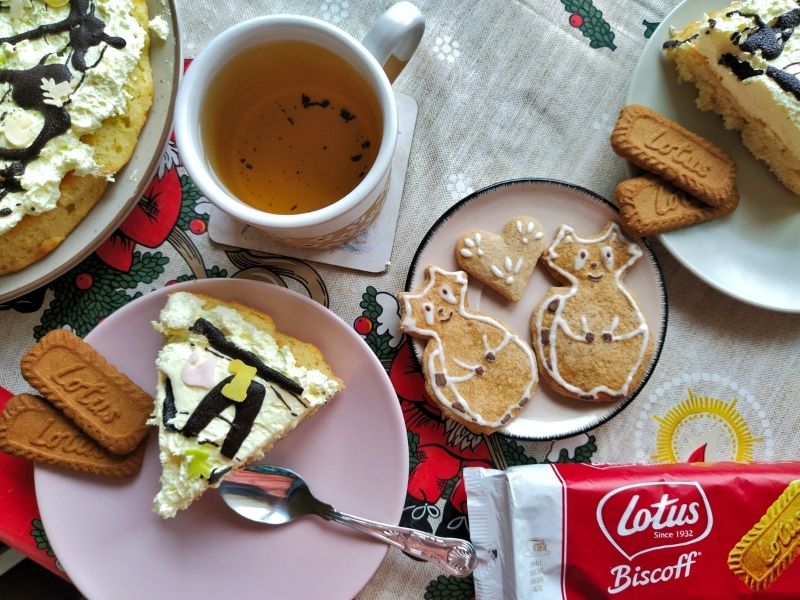 Lucky for us, Lotus Biscoff is popular in Malaysia. Which makes it so much easier to replicate the aforementioned recipes! Whether it's using the spread to top off a cheesecake or sprinkling crumbled biscuits over fresh doughnuts, Lotus Biscoff is a distinctive caramelised addition to your homemade creations! Want to bake but don't have the necessary appliances? Not to worry—these no-bake recipes will do the trick.