If you're looking to up your skincare routine, finding a good type of cleanser machine for your face is a good place to start. Facial cleansing brushes have become the beauty world's 'it' tool for their multifunctional features, because let's admit it, washing our face can be a real chore sometimes. Even more so when you have to remove layers of makeup and sunscreen before going in with another round of cleansing.
That's where facial cleansing brushes come in. They allow you to wash your face hands-free and at a much quicker pace. Not only that, but they'll also do a better job of exfoliating or removing any dirt and grime from the trickier areas of your face. Are they a necessity? Probably not, but they certainly make the cleansing process a whole lot easier. If you're looking to boost your skincare routine with one, here are five facial cleansing brushes worth checking out. 
Best

Cleanser Machines For

An Extra Clean

Face
CkeyiN LED Photon Facial Cleansing Brush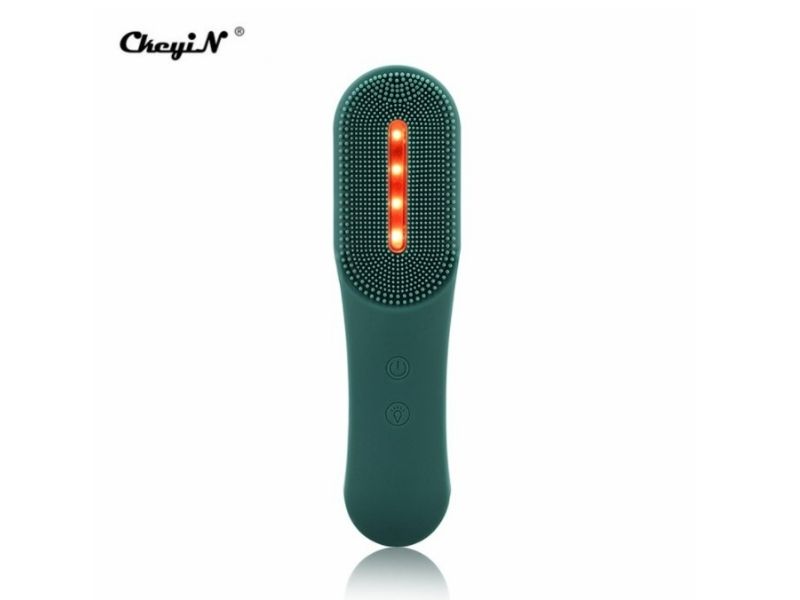 As with most high-technology skincare gadgets, facial cleansing brushes tend to be on the pricier side. So, if you're not willing to splurge, the LED Photon Facial Cleansing Brush from CkeyiN offers a decent budget-friendly option that won't leave your wallet crying. The high-quality silica gel and longer bristles are designed to feel gentle on the skin for a more comfortable cleaning experience. Plus, as the name suggests, this cleanser machine for the face comes with three LED light therapy settings to tackle other specific skin-related problems. All of which work towards combating acne, promoting collagen production, and giving you brighter skin. 
Aurora D. 55 C Sonic Cleansing Massage Brush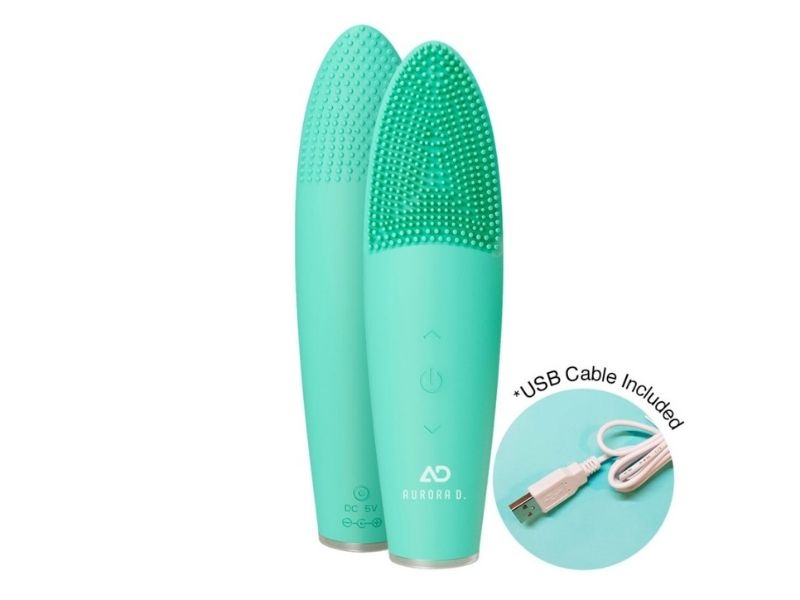 This double-sided cleanser machine for your face has a sonic vibration that goes up to 8,000 times per second to give your pores an even deeper clean. Its unique and tapered finger shape closely fits the contours of your face and makes it easier to cleanse every angle including surfaces that are harder to reach. Apply your cleanser to the front side of the brush to wash your face. 
Then, switch over to the back for its thermal massage system. This will help improve the blood circulation around your face, unclog your pores, and allow your skincare products to absorb better into the skin. Additionally, it's also IPX7 water-resistant for up to one metre, so you can freely use it in the shower without any worries. 
Habo By Ogawa Automatic Foaming Facial Cleansing Massager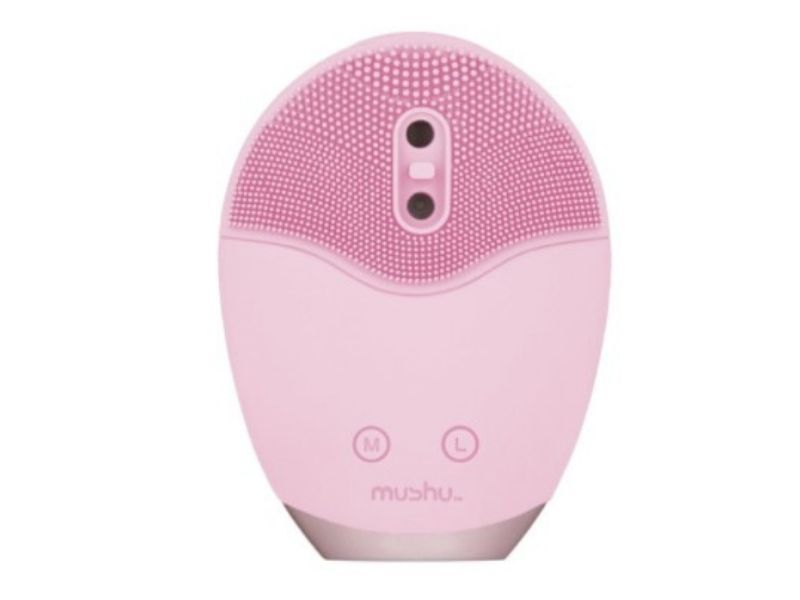 If you have oily skin or wear a lot of makeup, then Ogawa's facial cleansing brush is a convenient cleanser machine to try for your face. It's got double the amount of sonic pulsations, five customised massage modes, and 0.5mm bristles made of medical-grade nighttime silica gel to give you a gentle yet thorough cleanse. What's particularly great about this product is that it has a small opening for you to squeeze your cleanser directly into the device itself. This means there's no messy dripping to deal with. 
Not to mention, it's also user-friendly as it comes with only two buttons, making it perfect for beginners to operate. The left side (M) activates the acoustic vibrations and foaming function while the right side (L) is used to modify the vibration intensity. Oh, and it's got a smart stop feature too, so you really can't mess up with this facial tool.
2-In-1 Electric Facial Cleansing Brush & Eye Massager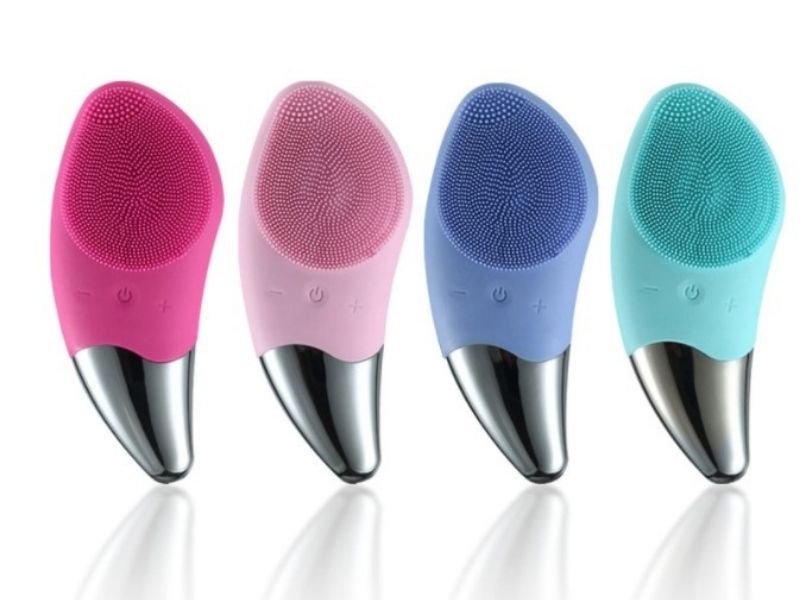 Another excellent budget-friendly option is this waterproof eye massager and facial cleansing brush duo. Its long battery life allows you to enjoy optimal cleansing without having to worry about your device running out of juice. What's even better is that the charging time is about one to two hours instead of the standard six, which is relatively a lot quicker than most facial cleansing brushes. There are different-sized bristles to help you target different areas of the skin to clean. 
The "regular" cleaning bristles are designed for a light and gentle wash around the sensitive U area which is the cheeks, chin, and jawline. Meanwhile, the "precise" cleaning bristles are used to extensively clean the T-zone and inner corners of your face. Lastly, the "deep" cleaning bristles are made for heavier cleaning to improve acne and fine pores. The result? An even skin texture and a brighter, radiant complexion that is sure to have everyone wanting to know your skincare secrets. After cleansing, go in with the pointed massager to give yourself the ultimate self-care treatment. 
CkeyiN 5-In-1 Electric Rotating Facial Cleansing Brush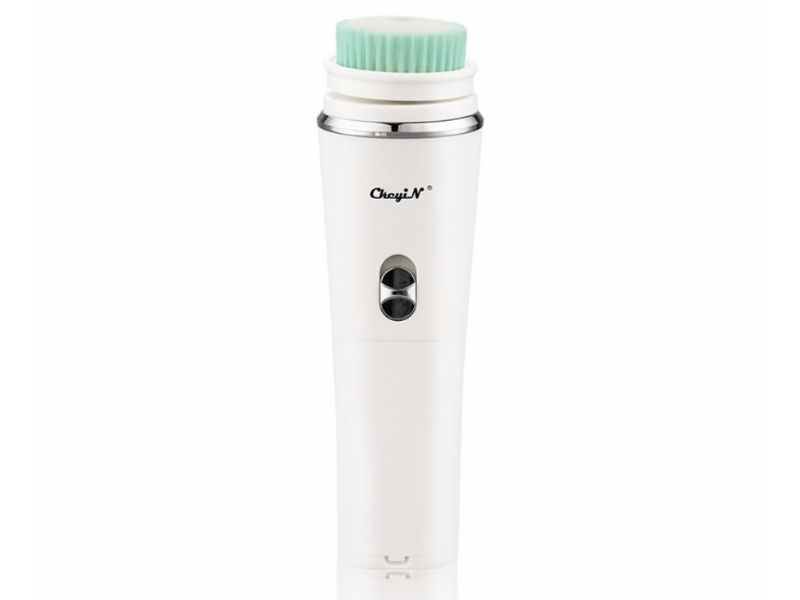 This CKeyiN rotating facial cleansing brush comes with five interchangeable brushes that cater to different skincare needs and skin types. The Pumice stone head attachment smoothens out rough skin while the silicone brush head treats dry, sensitive skin. Meanwhile, the three other remaining brush attachments will assist with removing dark circles under your eyes, exfoliating, and cleaning all the impurities and pore dust found on your face. 
Set the device on 'Gear Low Speed' during the day for a soothing morning routine. This will give your skin the wake-up call it needs. Then, change it to 'Gear High Speed' for your nighttime routine to wash off any grease or makeup residue. Combined with its 360-degree rotating brush, this cleanser machine for your face will get you a step closer to achieving the crystal clear skin of your dreams. 
Pamper Yourself At Home With These

Face Cleanser Machines For

Some Much-Needed TLC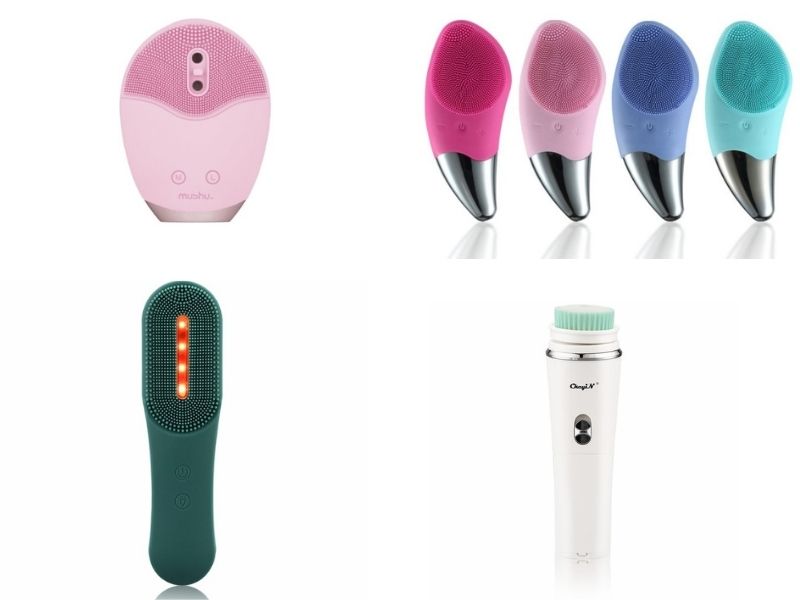 Put together your own little makeshift spa-esque treatment at home with these face cleanser machines for a good pampering session because you deserve it! Do bear in mind that while cleansing brushes can be highly beneficial to your skin, they're not the sole contributor to having a glass-skin complexion. Check out our other article to find out more about the lifestyle changes and essential skincare products you need to maintain your healthy, glowing skin.