Decorations—check. Costumes—check. Food—not yet? Well, it's not a Halloween party without some scary good food! Whether you're hosting one or attending one, this spooky season is the best time to get creative with food. And we're not just talking about sugar cookies with Halloween motifs. We're talking sweet and savoury Halloween food ideas that are guaranteed crowd pleasers and scarers. So if you can stomach it, we've got 13 spooky picks coming right up. But fear not—we rate them all from 0 to 10 on the scary scale, and we can safely say none of them go past five.
Simple And Kid-Friendly

Halloween Food Ideas
Most of these killer recipes are terrifyingly easy to make, so don't be afraid to get the kids involved!
1. Mummy Brie
Scary scale: 0 (won't even scare a baby)
There's nothing like warm, gooey cheese on crackers. But since it's Halloween, why not give good ol' baked Brie a spooky makeover with just a few staple ingredients?
Ingredients:
2. Rice Creepies
Scary scale: 0 (more weird factor than fear factor)
It can't get any easier and kid-friendly than this Halloween food idea. If you've got extra candy eyes lying around the pantry, just use them in place of the gum paste peepers.
Ingredients:
3. Frankenstein Pretzels
Scary scale: 0 (practically a friendly face)
These Frankenstein pretzels are so simple to put together, your kids can almost make them on their own. Even better, they're nowhere near as scary as the fictitious monster.
Ingredients:
4. Reese's Bats
Scary scale: 0 (child's play)
As easy as ABC, these no-bake Reese's Bats won't make hearts flutter but they'll give your kids an activity to work on for at least half an hour.
Ingredients:
5

Oreos

20 candy eyes

1 tbsp creamy peanut butter
5. Mummy Hot Dogs
Scary scale: 0 (not even a bit) 
While this recipe wraps frankfurters in strips of cheese, you can also try it with bread dough or puff pastry for a proper sausage roll disguised as a mummy!
Ingredients:
6. Skeleton Gingerbread Cookies
Scary scale: 0 (totally safe for kids) 
These warm and spiced cookies make a great canvas for kids to shape and decorate. But if you don't have a set of Halloween-themed cookie cutters, a gingerbread man one works perfectly fine too.
Ingredients:
7. Cursed Candy Apples
Scary scale: 1 (bloody mild)
Here's a Halloween food idea that takes the candy apple into spooky territory. The red caramel is a brilliant play on blood and isn't as scary to make as it seems!
Ingredients:
8. Meringue Ghosts
Scary scale: 1 (think Casper the Friendly Ghost)
Fluffy meringue makes the perfect base for these little ghouls. Crisp on the outside and chewy on the inside, this Halloween food idea will beguile every sweet tooth in the house.
Ingredients:
9. Oreo Spiders
Scary scale: 1 (if you have an intense fear of creepy-crawlies)
Three ingredients are all you need to bring this Halloween food idea to life. But if you have the time, bake up some Oreo cupcakes as a pedestal for these wacky eight-legged creatures.
Ingredients:
Oreo chocolate

Candy eyes
10. Halloween Pumpkin Pie
Scary scale: 1 (maybe just a little)
If you're not keen on carving an actual pumpkin, carve your Jack-o'-Lantern on a pie crust instead. Made with rough puff pastry and a homemade pumpkin filling, this pie is crusty, sweet, and surprisingly uncomplicated.
Ingredients:
Crust
Filling
Topping
11. Wizard Cupcakes
Scary scale: 1 (cute but a little bizarre)
Up your Halloween dessert game with these curious-looking cupcakes. What's interesting is that the pumpkin puree provides an all-natural orange tint to the cream cheese frosting, while Oreos and chocolates make an adorable edible hat.
Ingredients:
Chocolate muffin
Pumpkin frosting
110g cream cheese

50g unsalted butter

100g

pumpkin puree

20g icing sugar
Decoration
3 Oreo cookies

6 candy eyes
12. Eyeball Truffles
Scary scale: 3 (will probably give you the creeps)
Dare to devour these grotesque, bloodshot 'eyeballs'? If your answer is yes, this is a great Halloween food idea for daredevils like you.
Ingredients:
13. Witch Finger Cookies
Scary scale: 4 (oddly realistic) 
This Halloween food idea may give kids and adults the jeepers creepers, but the combination of buttery shortcake, almonds, and raspberry jam is drop-dead delicious.
Ingredients:
Have A Frightfully Good Meal With These Creative

Halloween Food Ideas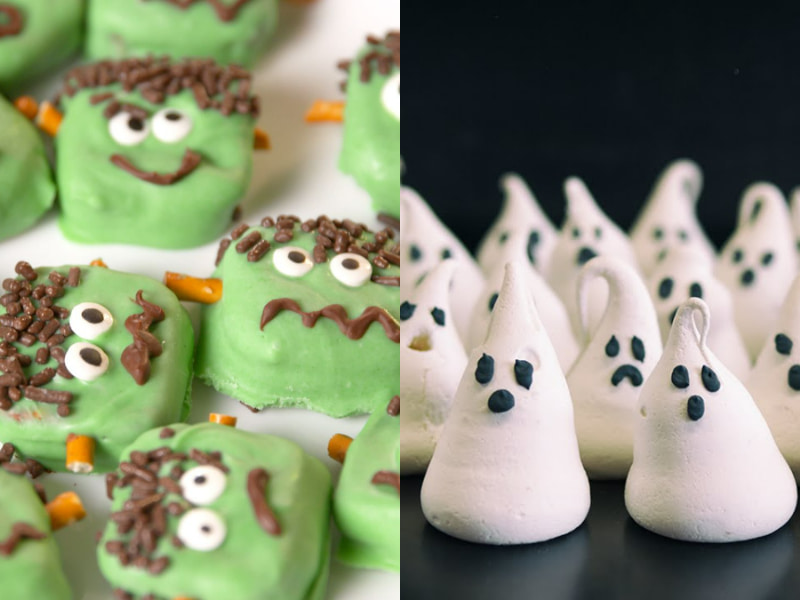 So before everyone goes trick-or-treating, wouldn't it be great to have a spooktacular meal with some of these Halloween food ideas? Most of them are quite simple to begin with and won't take much time to prep. Plus, making these treats together will really help your family get into the spirit of Halloween!
If you're pulling out all the stops for this year's Halloween party, consider having a dedicated Halloween arts and craft corner for the kids and ordering some booze for the adults.