There are all kinds of fashionable wristwatches, and then there are G-Shocks. Casio's ever-popular line of wristwatches carries an enduring reputation of being nearly indestructible, for they are built like a tank. These rugged watches have not only endeared themselves to specific crowds because of their functionalities but are also seen as a fashion piece by some. There are hundreds of G-Shock watches out in the market, but here, we take a closer look at a special model—the first-ever G-Shock smartwatch, the GSW-H1000. 
A Brief History Of G-Shock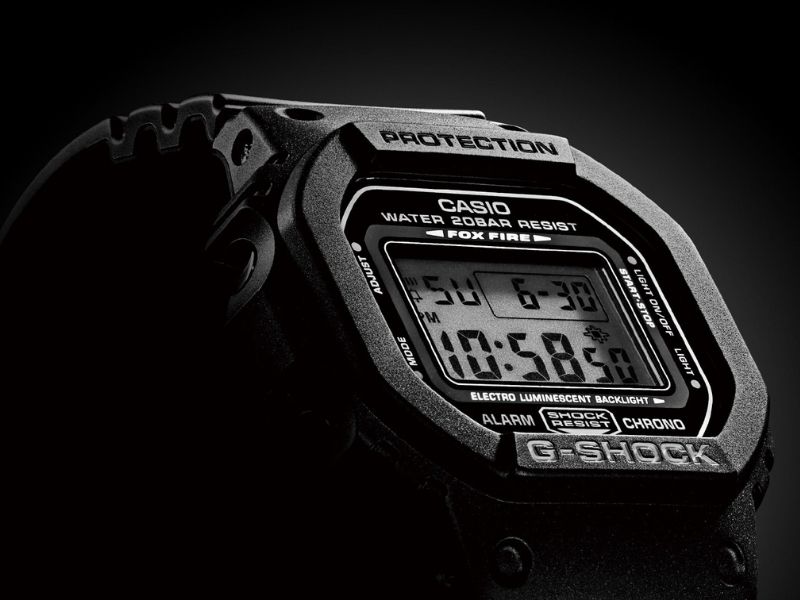 Casio's G-Shock line of wristwatches has been around for over 30 years since its debut in the early '80s. They are conceived based on the "triple 10" principle—10 years of battery life, 10 bar water resistance, and the ability to survive a fall of 10 metres.
Naturally, these ultra-durable watches are popular with people from certain professions that require working in challenging environments. For example, firefighters, police officers, and the military. But G-Shock watches aren't just purely functional. Plenty of people love the big, bulky form factor and see it as a stylish accessory on the wrist. Casio has embraced its status as a fashionable item and has released special edition designs. The watchmaker also has G-Shock watches designed for the ladies under the Baby-G brand.
In line with the technological evolution over the years, Casio has incorporated more and more sophisticated features into the G-Shock watches. Features like GPS, step tracker, and compass have made their way into some of the more advanced G-Shock models. As such, it was only a matter of time before we got a full-fledged G-Shock branded smartwatch in a world with Apple Watches and many different Android smartwatches.
In April 2021, Casio finally debuted the G-Shock GSW-H1000.
5 Things To Know About The Casio

G-Shock GSW-H1000
It Runs On Google's Wear OS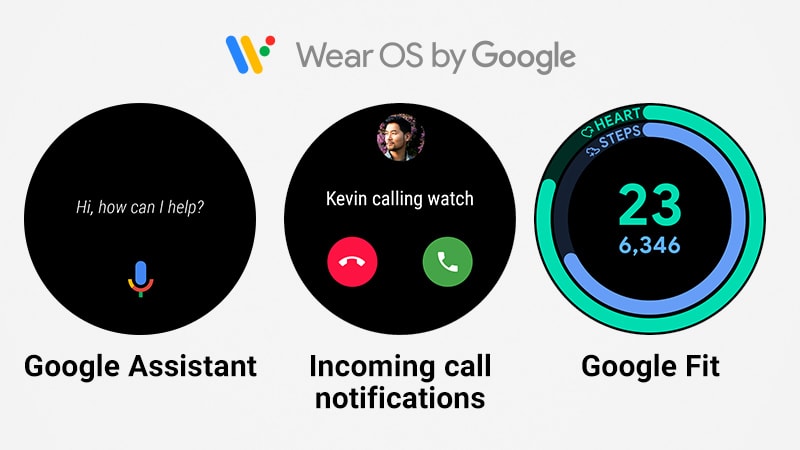 The G-Shock GSW-H1000 runs on the Wear OS platform instead of any proprietary software. Wear OS (formerly Android Wear) is Google's Android-based operating system designed for wearables. The bulk of non-Apple smartwatches are powered by Wear OS, including the latest Samsung Galaxy Watch 4.
With Google's software in it, the GSW-H1000 comes with apps like Google Assistant, Google Pay, and Google Fit. You will also be able to download from the thousands of apps available on the Google Play Store. In addition, the smartwatch can alert you with notifications for incoming calls, emails, social media, and more.
It Maintains Its Signature G-Shock Design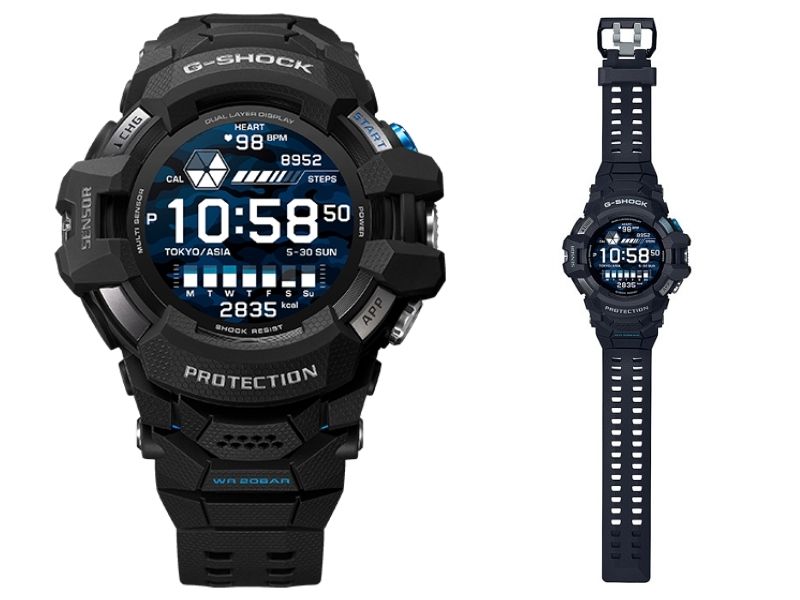 The GSW-H1000 looks just like any other G-Shock watch despite it being a full smartwatch. It still has functional side buttons and a titanium case back that offers protection from corrosion.
On the front, it has a dual-layer display that combines an always-on, monochrome LCD for time-display with a high-definition colour LCD display for showing things like maps, sensor data, and more. It is a touchscreen display, thus allowing users to touch and swipe around to access all the menus and features.
It's Still Tough As Nails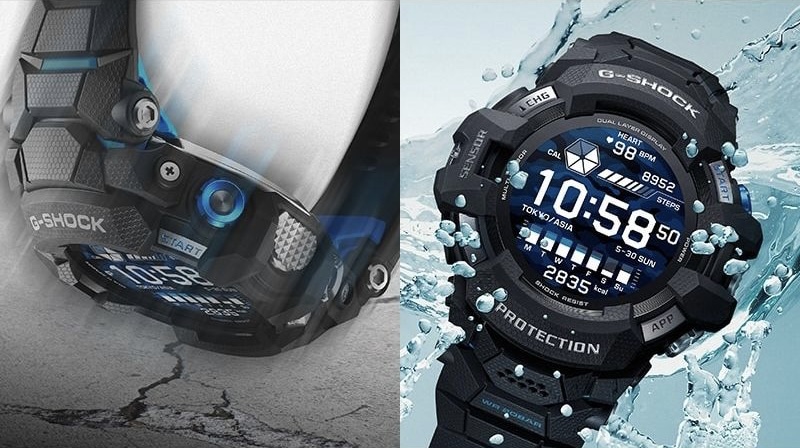 Smartwatches, in general, might not be the toughest of wearables, but this is the G-Shock we are talking about. You can expect a similar level of indestructibility as all the other regular G-Shock watches.
Casio certainly does not compromise on the GSW-H1000's build protection, despite it being a different kind of watch with more complex components. It features the original shock-resistant construction with a water-resistant microphone and charging port. The watch itself has 20-bar water resistance (aka a depth of 200 metres).
It Comes Loaded With Features For The Physically Active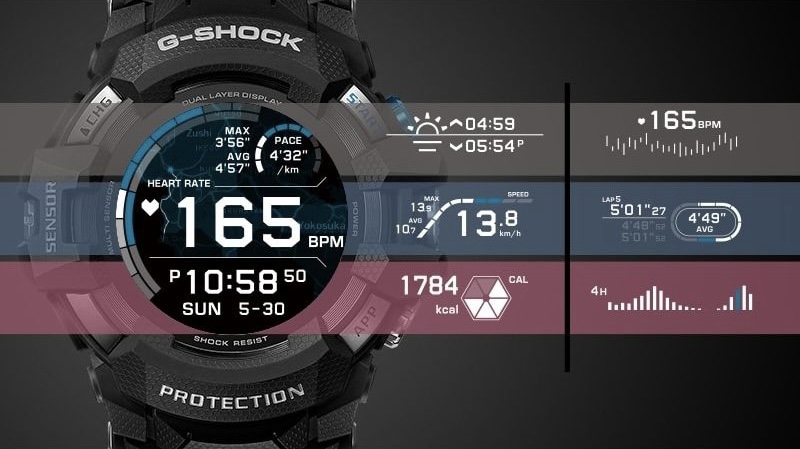 Apart from all the smart functionalities, the GSW-H1000 offers a multitude of sports and activity-tracking features that should satisfy even the most physically active of users.
Running, cycling, walking, road biking, swimming, trekking, surfing, fishing, and indoor workouts are just some of the 39 types of activities covered. In addition to metrics like distance, speed, and pace, the smartwatch can also keep track of heart rate readings and burned calories.
It's Compatible With Both Android Phones And iPhones
Even though it runs on Google's platform, iPhone users will have no issues using the GSW-H1000 with their phones. The smartwatch syncs to a phone via the Wear OS by Google app, which is also available to download on the Apple App Store.
Casio

G-Shock GSW-H1000

Price And Availability In Malaysia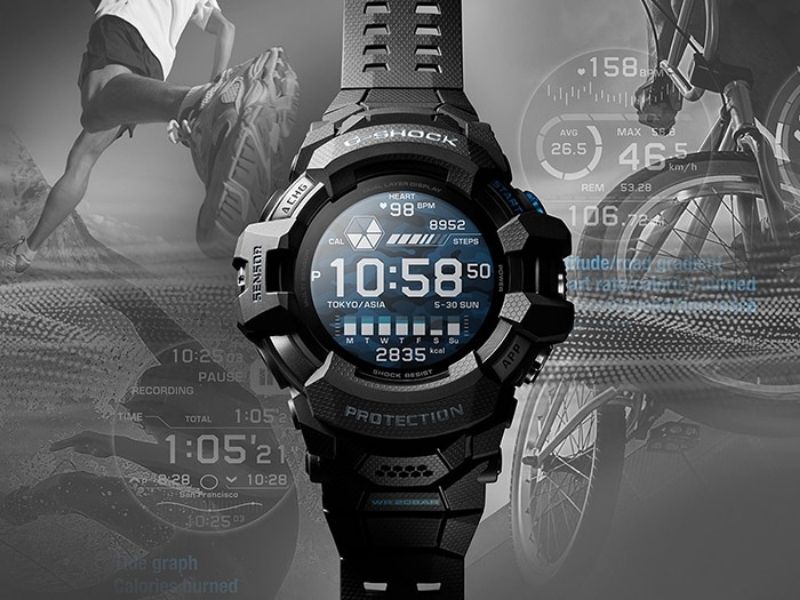 The G-Shock GSW-H1000 combines smartwatch capabilities with robust activity-tracking functionalities, all wrapped up in the iconic rugged G-Shock package. It is the perfect watch to get if you want a daily wearable that has the triple B: beauty, brains, and brawn!
As for the cost, the G-Shock GSW-H1000 is officially priced at RM2,999 and you can find it on sale on Shopee Malaysia.
Check out Tech Thursday for 1-day only lowest price, unbeatable deals, and extra 20% Coins Cashback every Thursday!