BTS is everywhere, from dominating YouTube and Spotify charts to having their faces plastered on canned coffee drinks. Needless to say, these global icons are adored by many (a legion of ARMYs) around the world. If that is not enough, the boys also have a virtual presence in video games… not one but plenty of them! If you have missed seeing the seven-member group together (currently on a long hiatus from group activities), these BTS games—which include quiz games, an Animal Crossing-inspired game, and a music rhythm game—will give you your daily serving of BTS while you patiently wait for their reunion and comeback!
7 BTS Games That Are A Must-Play For Every Fan
From story-based adventures to various quiz games, there are enough BTS games to keep the ARMY in you contented.
1. BTS Island: In the SEOM
Building on the premise of "what if the BTS members got stranded on a deserted island?", you might think that BTS Island: In the SEOM is a survival game, but it is far from that. This game could not be more chill as the boys have so much to do on the island. They have to build their own little paradise and even tend to the cute animal inhabitants. Therefore, there is plenty to do and discover on the island as it is always bustling with activities. Plus, there will be constant updates to bring new elements in keeping the game fresh. All these, coupled with a progressive story, will keep players engaged. If you love chillax games like Animal Crossing, you're going to love this!
Download BTS Island: In the SEOM for free: iOS l Android
2. BTS World
In BTS World, you are the boy group's manager, and your task is to help them make a successful debut! The game takes place at a time before BTS was introduced to the world, with each member living their individual, non-celebrity life. Here, you play an important role in preparing for their debut. You even get to indulge in side stories depicting each member as an ordinary citizen with jobs as a farmer, pianist, animal carer, and others.
Download BTS World for free: iOS l Android
3. Rhythm Hive: Cheering Season
Remember music rhythm games? The ones where you have to frantically tap on the screen in time to "catch" fast-moving tiles and score points? Rhythm Hive is one such game which features BTS' discography, among others. Besides tapping to the beat of your favourite BTS tracks, you can also create your personal diary with stickers that can be earned in-game. Moreover, you can also leave message cards featuring your voice and even check out voice cards recorded by the artists themselves! What's more, the game also features track lists by BTS' label mates including TOMORROW X TOGETHER, ENHYPEN, and Seventeen.
Download Rhythm Hive: Cheering Season for free: iOS l Android
4. BTS Universe Story
BTS Universe Story is an interactive storytelling game which features the members as anime/manhwa-inspired characters. Using the in-game story creation system and tools, you can create your own story starring virtual BTS members. With a choice-based playthrough system that will impact how the story goes, you get to play out the story your way and uncover the fate of each character. As the game's tagline goes—"your story becomes our universe".
Download BTS Universe for free: iOS l Android
5. BTS Wordle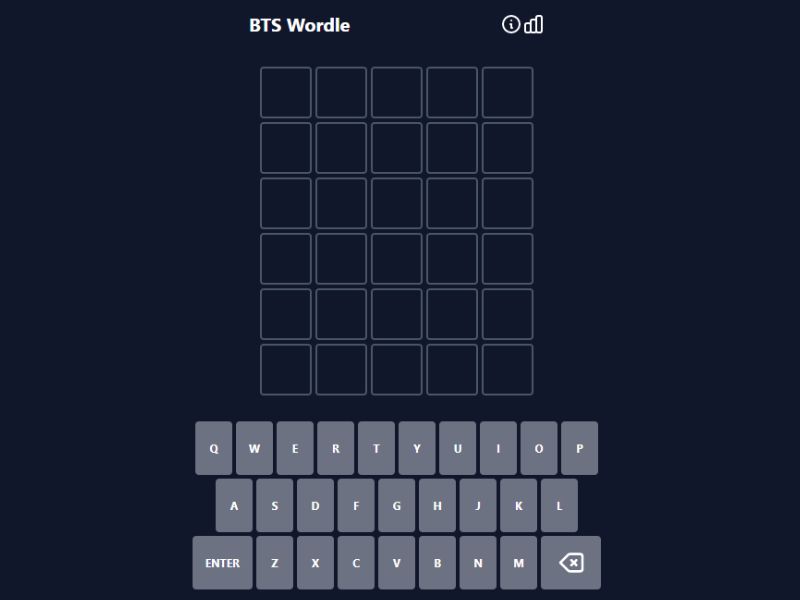 Wordle took the world by storm earlier this year with everyone and even their grandmothers seemingly obsessed with the daily word-guessing game. Naturally, it spawned a bunch of copycats and different variations from music- to geography-guessing and yes, even one dedicated to the Korean megastars! With the same simple rules, you'll be guessing a daily-refreshed word that is related to the boyband—whether it's from the lyrics of their songs or something the members once famously said.
Play BTS Wordle for free here
6. BTS Heardle
Much in the same vein as BTS Wordle, BTS Heardle is a guessing game in which players will attempt to guess a random BTS song that will be featured daily. You have seven attempts to guess the mystery song correctly, with only a lyric sentence as your first clue. In subsequent attempts, there will be brief snippets of the song to aid you in your guesses. Think you have what it takes to be the ultimate BTS song-guesser?
Play BTS Heardle for free here  
7.

BTS Quiz Games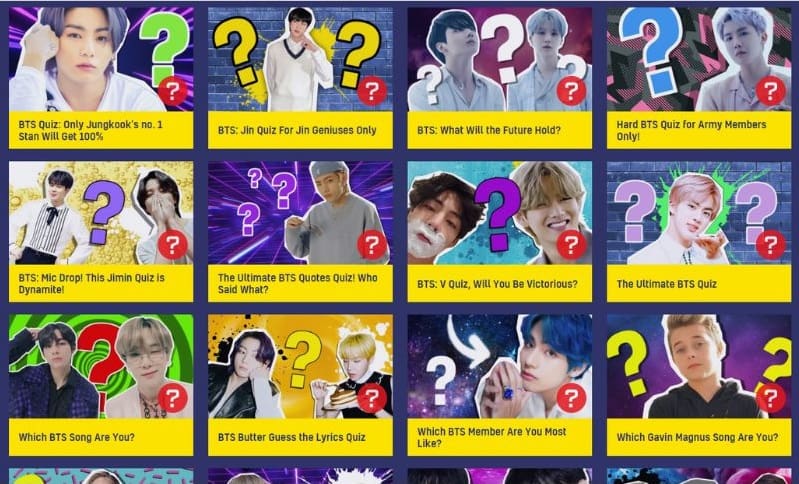 Want to test your knowledge as a self-confessed ARMY? Or perhaps find out which BTS member is your soulmate? There is no shortage of BTS quiz games you can find on the Internet. From trivia to quizzes which could reveal how you are associated with the members, these BTS quiz games are a fun way to kill time or be fodder for banter with your fellow ARMY buddies. We recommend checking out ProProfs Quizzes, Beano, Sporcle, and Buzzfeed to find a variety of BTS quiz games you can try.
Get Your Daily Dose Of BTS With All These Fun Games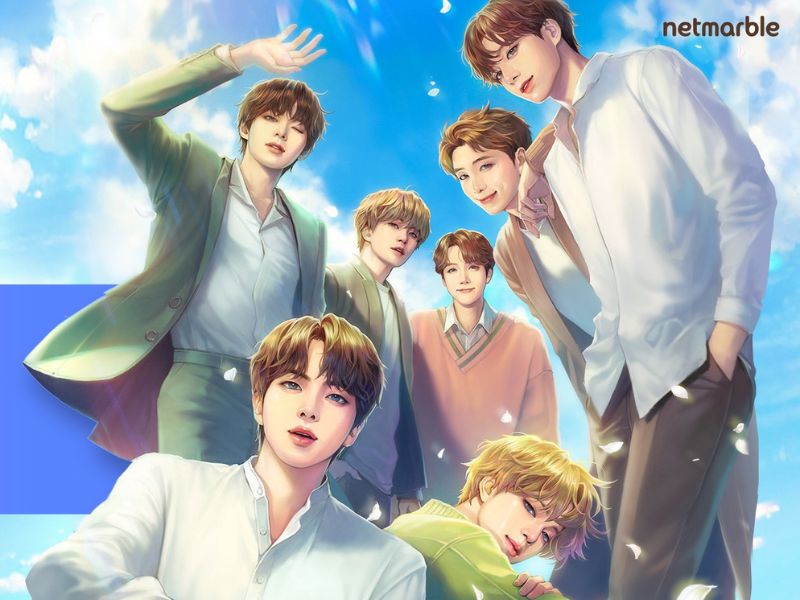 Which BTS game is your favourite? With plenty of games starring the boy group (and more we presume are in the works), all you ARMYs out there will not be starved of content despite the prolonged absence of the group from the limelight. Share these games with any BTS stan you know!
Related: From Onstage To Airport Fashion, Here Are 14 Of BTS' Best Outfits