At the heart of Kuala Lumpur lies Petaling Street. Sitting right next to the River of Life, the iconic cultural hub exudes old school charm and is rather laidback compared to its more glamorous counterparts in the Golden Triangle. Although the location has always been known for its night markets and dirt-cheap street goods, it's also a nesting ground for some of KL's hippiest F&B spots. Bookmark these Petaling Street restaurants and cafes for a satisfying time of feasting and drinking.
Find Good Food And Great Drinks At These

Petaling Street Restaurants

& Cafes 
Da Bao 打包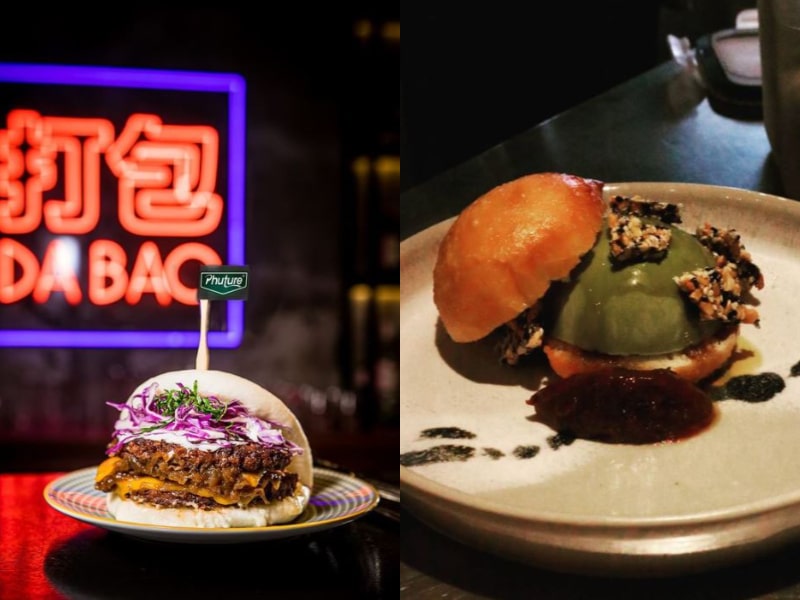 This restaurant-bar in Petaling Street puts a modern twist on traditional mantou. Think of it as a burger, but with fluffy steamed mantou replacing the buns. Portions are huge. Filling options include Taiwanese fried chicken topped with garlic aioli and braised pork belly with preserved mustard greens. Wash it all down with a cocktail from the bar upstairs or a bao dessert comprising matcha ice cream wedged between two deep-fried mantou.
Address: 145, Jalan Petaling, City Centre, 50000 Kuala Lumpur
Opening Hours: Tues – Sun: 11am – 3pm, 6pm to 9pm
Contact: alex.pivotry@gmail.com
Merchant's Lane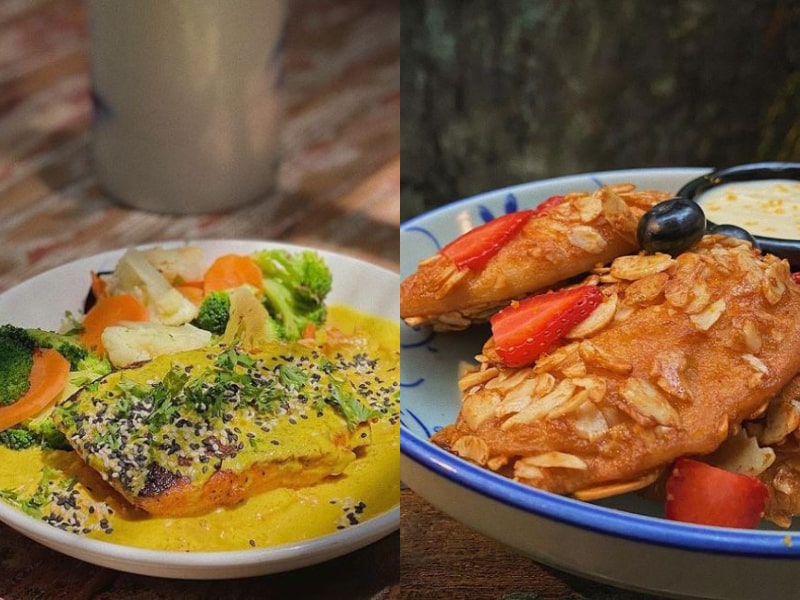 Despite its discreet location, Merchant's Lane is one of Petaling Street's most popular cafes. Tucked upstairs in a pre-war shophouse, the ambience is modern but isn't lacking in heritage. The furniture is rattan and the walls are mostly untreated, which adds to the charmingly dated decor of the place. The food combines East and West, so don't be surprised to find stir-friend spaghetti and chicken rice on the menu.
Address: 150, Jalan Petaling, City Centre, 50000 Kuala Lumpur
Opening Hours: 
Mon – Fri: 11.30am – 9pm
Sat – Sun: 10.30am – 9pm
Contact: 03-2022 1736
Lim Kee Cafe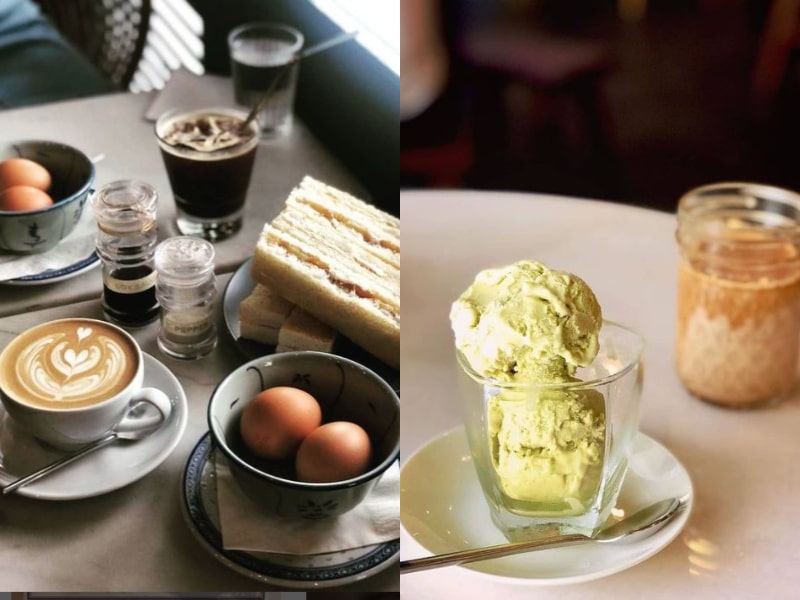 Housed inside Tian Jing Hotel, Lim Kee Cafe gives you the impression of an old-school Chinese kopitiam with marble tables and wooden stools. However, the menu takes it a step further by infusing modern elements into desserts and drinks. Sure, there's the customary Hainanese kaya toast but this cafe near Petaling Street has ice cream of flavours ranging from mascarpone to yoghurt raspberry. 
Address: 66-68, Jalan Sultan, City Centre, 50000 Kuala Lumpur
Opening Hours: Daily, 9.30am – 6pm
Contact: 03-2022 1131
Ho Kow Hainanese Kopitiam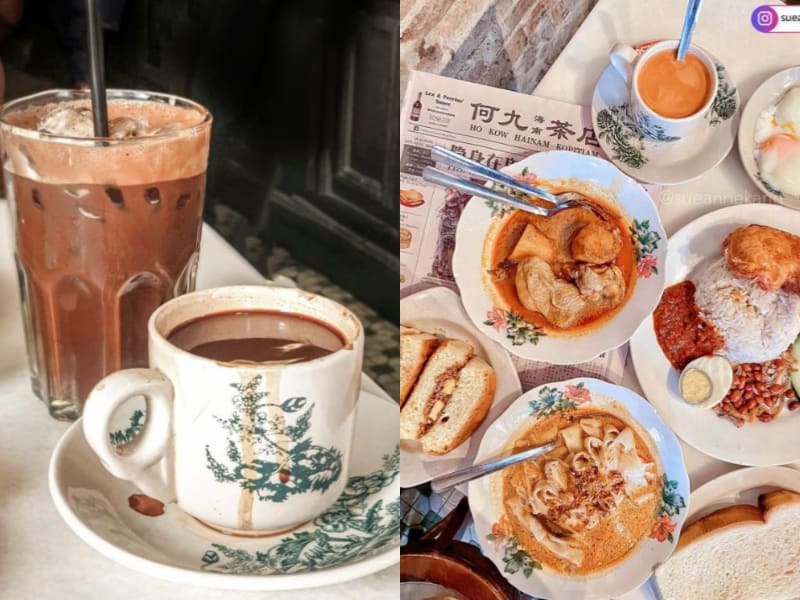 An old kid on the block, Ho Kow is a staple Petaling Street restaurant since 1956—and it's still packed to the brim on weekends! The menu hasn't changed much with mostly Hainanese classics like kaya toast, chee cheong fun, and nasi lemak. For drinks, it's impossible to go wrong with a cup of cham that harmoniously blends coffee and tea into a satisfying concoction. 
Address: 1, Jalan Balai Polis, City Centre, 50000 Kuala Lumpur
Opening Hours: Tues – Fri: 7.30am – 3pm
Contact: hokowhainamkopitiam@gmail.com
Luckin Kopi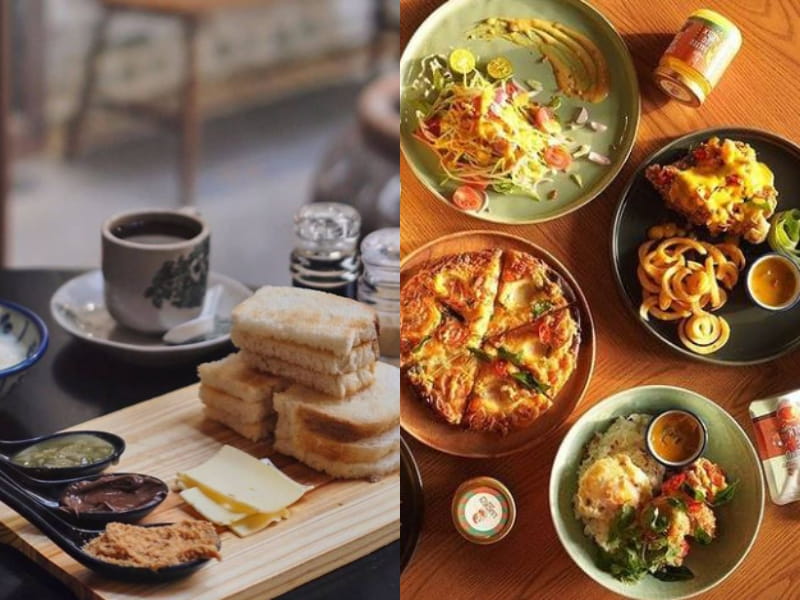 Similar to Merchant's Lane, Luckin Kopi is located on the upper floor of a hundred-year-old shop lot. The decor is quaint with foliage and brick tiles for ample photo-taking opportunities. For the most part, this cafe near Petaling Street serves Malaysian comfort food—rojak, mee siam, nasi lemak, and the like—but there are also creative takes on old-time offerings. Case in point? The Luckin Toast. Yes, that's the one in the photo above. 
Address: 14, Jalan Panggong, City Centre, 50000 Kuala Lumpur
Opening Hours: 
Mon – Thurs: 8am – 6pm
Friday – Sunday: 9am – 6pm
Contact: 012-610 8856
The Hungry Tapir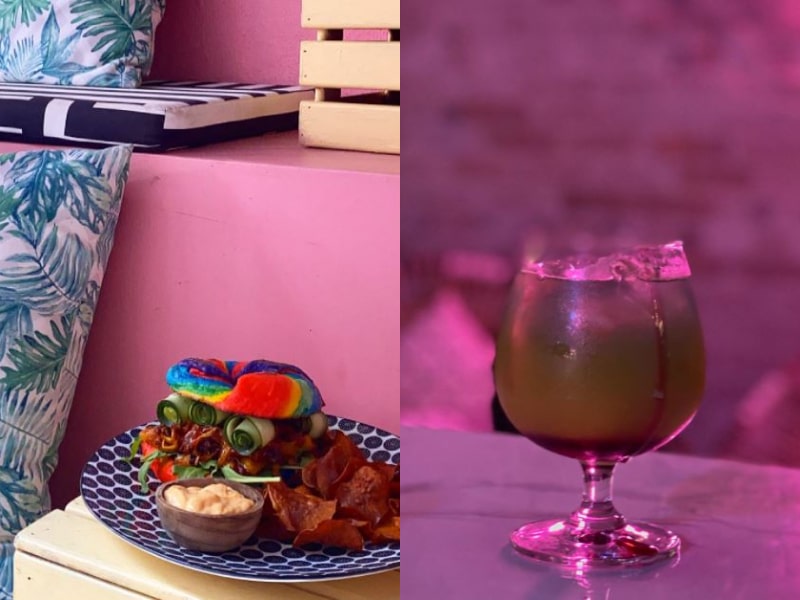 Get to detox and indulge at The Hungry Tapir, a vibrant plant-based hub for delicious vegan food in Petaling Street. It offers a wholesome range of vegan and vegetarian dishes from jackfruit roti jala to truffle mac and cheese. Don't miss the cocktails too, which are concocted using fresh fruits and fine liquor. 
Address: 135, Jalan Petaling, City Centre, 50000 Kuala Lumpur
Opening Hours: 
Tues – Thurs & Friday: 12pm – 10pm
Fri – Sat: 12pm – 12am
Contact: 03-2022 2137
Related: 8 Best Cocktail Bars In KL To Relax And Unwind After A Long Day
Shhhbuuuleee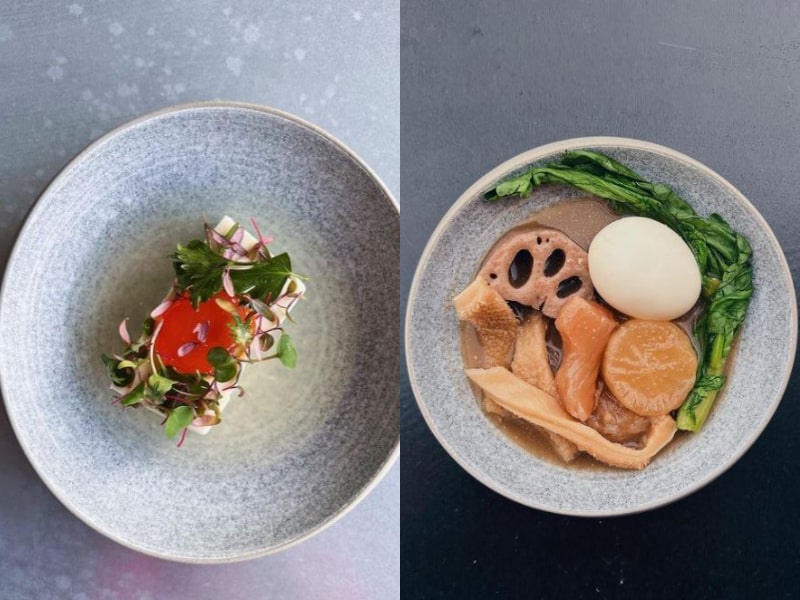 This latest Petaling Street restaurant is a mouthful. Shhhbuuuleee sits on the rooftop of REXKL and features a minimalist space perfect for al fresco dining. Find intricately-plated starters that look as good as they taste. For instance, the tofu in tomato water is an elegant dish that sees a cured yolk resting on fresh tofu. As for drinks, highballs, sake, and natural wines take the spotlight. 
Address: 80, Jalan Sultan, City Centre, 50000 Kuala Lumpur
Opening Hours: Wed- Sun: 5pm – 12am
Contact: 012-612 0786
Phil's Pizza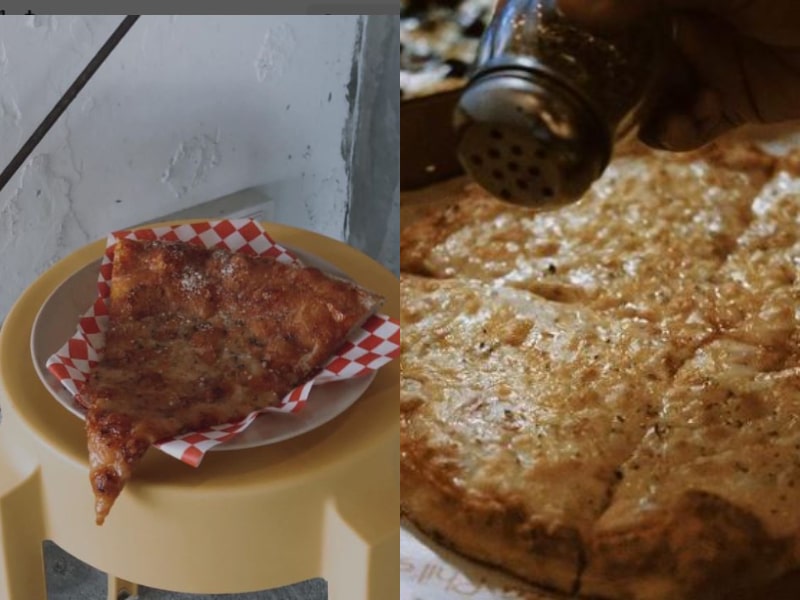 Four floors down from Shhhbuuuleee in REXKL is where you'll get a slice of New York. Started in Bangsar, Phil's Pizza serves 18-inch pies by the slice for a filling on-the-go bite. Topping choices consist of classics like Margherita and Pepperoni. But if you're feeling adventurous, try the Hot Wings slattered in spicy chicken chunks and cheeses. Pair your pizza slice with a tangy citrus soda.
Address: 80, Jalan Sultan, City Centre, 50000 Kuala Lumpur
Opening Hours: Tues – Sun: 11am – 11pm
Contact: tooooocheesy@gmail.com
Chocha Foodstore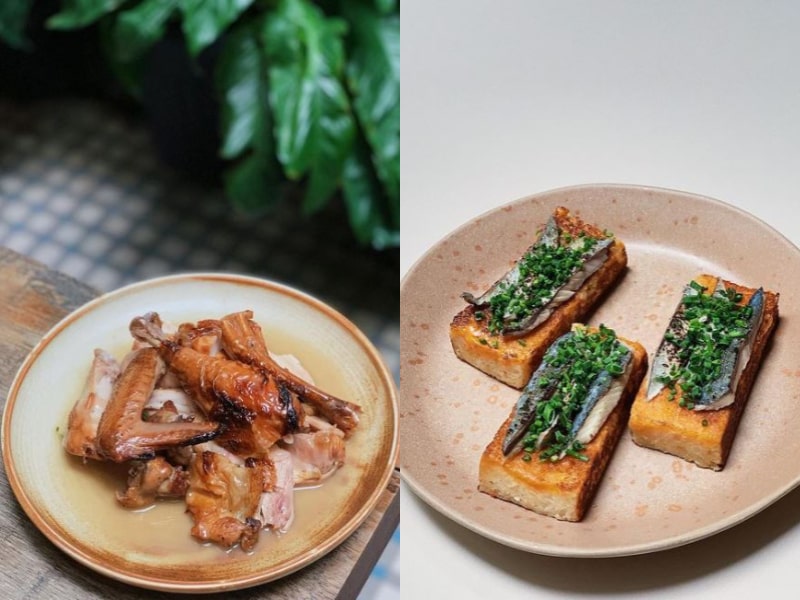 Nestled in a colonial building, Chocha Foodstore is where you can drop by for contemporary Malaysian cuisine using locally sourced ingredients. From smoked free-range chicken in lemongrass leaves to squid-paste noodles fermented with chillies and kesum, it's Malaysian flavours you know and love—tastefully elevated with international influences. Coupled with great ambience, this Petaling Street restaurant is great for date nights too.
Address: 156, Jalan Petaling, 50000 Kuala Lumpur
Opening Hours: Tues – Sun: 12pm – 3pm, 5pm – 12am
Contact: 03-2022 1100
Small Shifting Space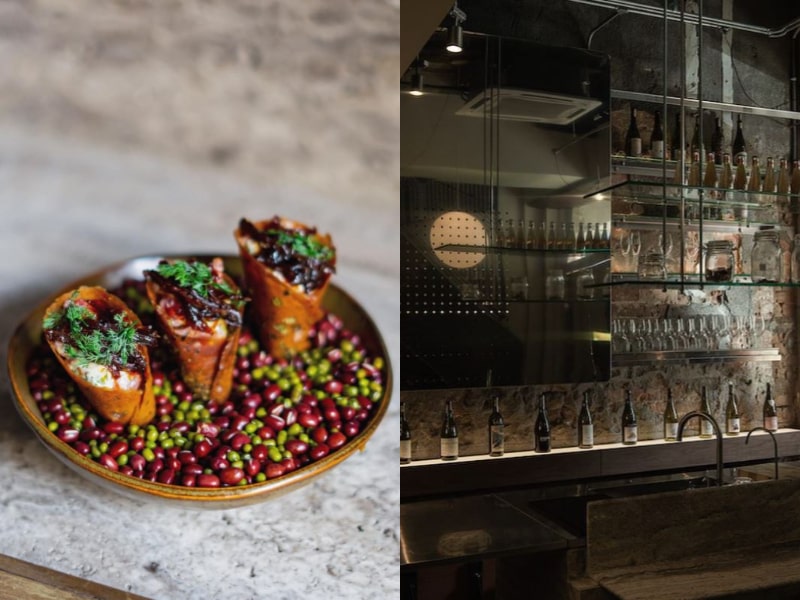 Petaling Street is busy with impressive architecture, but one bijou two-storey shophouse stands out: Small Shifting Space. Colloquially known as SSS, this eye-catching landmark is a collection of small plates, natural wines, delicious coffee, and community events. Meanwhile, the Brutalist interior comes alive with exposed brick and cement walls to accentuate the shiny metal doors. This small space is certainly big on character.  
Address: 141, Jalan Petaling, City Centre, 50000 Kuala Lumpur
Opening Hours: 
Wed: 3pm – 10pm
Thurs – Fri: 3pm – 12am
Sat: 12pm – 12am
Sun: 12pm – 10pm 
Contact: 017-440 5591
Bookmark These

Cafes

&

Restaurants

Near

Petaling Street

To Fulfill Every Craving Possible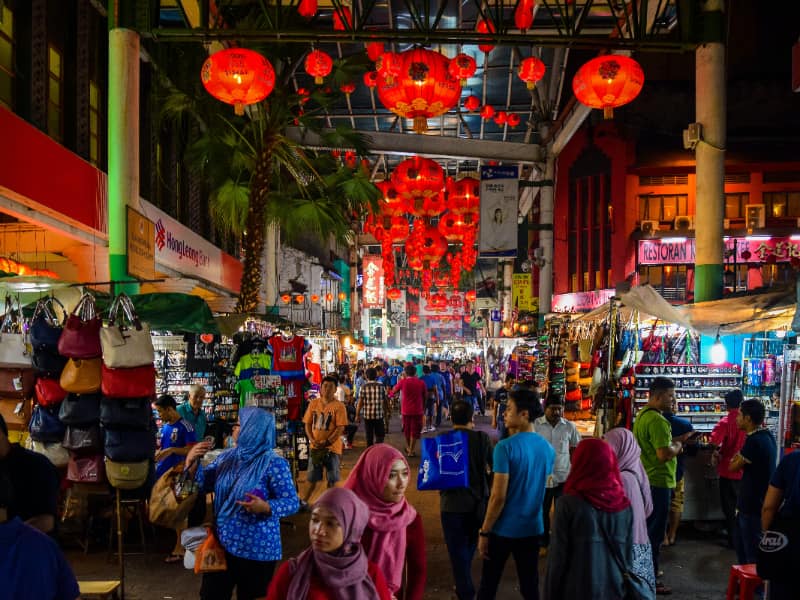 Great food and drink aside, it's also rather easy to visit these restaurants and cafes near Petaling Street. They're all within walking distance from the Pasar Seni station, so you don't have to worry about fighting for parking spaces! That said, Petaling Street gets really crowded during the weekends. Hence, it's important to practice social distancing with masks on at all times. Looking for more places to eat and be merry? Check out our guided lists on halal dim sum spots in KL, authentic Nyonya food in Melaka, and the best cafes that Penang has to offer.