As effective as curling irons may be, they can also be incredibly damaging when used too frequently. And, let's be real, even just the possibility that we might accidentally burn our hair off is a pretty scary thought. Thankfully, there are many different ways to learn how to curl your hair without having to reach for your curling irons.
Tips On

How To Curl Your Hair

Without Heat
If you're trying to reduce the amount of heat you use in your styling routine, we've got you covered with these simple tips and hair tools. Below, we've compiled a list of methods on how to curl your hair without any heat gadgets to help you maintain healthy locks. 
Best For Big Waves: Heatless Curling Headband
This heartless curling headband went viral on TikTok for its fairly simple process. It's become such a popular method that it got featured in Euphoria through Cassie Howard's intense beauty routine. Even actress Sydney Sweeney who plays that character swears by it in a HBO Max Tiktok video, as a staple part of her morning ritual. "Most of those tools during Cassie's 4 a.m. manic routine I brought from my own house because that is my manic routine," Sweeney said. Essentially, you just need to place this tool over your head and start wrapping each section around the band outwards. Secure each section with a hair tie, leave it overnight and wake up with big, natural waves in the morning. 
Best For Natural Curls: Use An Elastic Hairband 
Before the viral TikTok headband, there was the regular elastic hairband method to help you learn how to curl hair without heat. This involves wearing the band around your head and separating your hair into two sections. After that, simply twist these sections outwards and start tucking them into the hairband all the way through. Then spritz on some hairspray and let it air-dry to set the style in place. 
Best For Tight Curls: Flexi Rods
If tighter, spiral-like heatless curls are what you're going for, flexi rods are for you. How you decide to curl your hair with flexi rods is entirely up to you. But the easiest way is to hold your flexi rod horizontally and then wrap the tips of your hair section. Once you've tucked in all the stray hair, wind the rest of the hair upwards till you've reached the roots. Then secure the hair by crossing the ends of the flexi rod over each other. This method works on any hair texture, so even curly-haired 'gals can add definition to their natural curls.  
Best For Mermaid Waves: Heatless Hair Wave Formers
Looking to achieve some loose mermaid waves? Then try this wave former tool. Like its namesake, this heatless styling tool is designed to mimic the shape of a wave. After shampooing and conditioning your hair, dry your hair till it becomes damp. Place a small section of your hair (around two centimetres) into the hook and slowly pull the tool out. While your curls may last longer by leaving them overnight, we wouldn't recommend sleeping in these wave formers. Lest you're willing to suffer from neck aches the next morning, leaving them on for about three and a half hours should suffice. Alternatively, if you prefer more defined, S-shaped curls, you could try this spiral curling version instead. 
Best For '90s Retro Blowout: Retro H

air Rollers
The voluminous layered hairstyle of the '70s and '90s are coming back in style for their soft and glamorous curls. And there's almost no better way to achieve this than to use a timeless hair tool that now bonds every woman from any generation: hair rollers. Besides Cassie's hairband hack, these big hair curlers have swiftly become another #hairtok favourite. Prep your hair with a styling mousse, then roll the hair sections from the bottom to the top and keep them in place with a hair clip or bobby pin. Let them dry for about two to three hours and you're met with the big hair goals of your dreams! 
Best For Voluminous, Bouncy Curls: Use An Old T-Shirt
Sometimes, you don't have to look too far to learn how to curl your hair. This old cotton T-shirt hack proves that you can achieve salon-like blowout curls without breaking the bank. Simply roll your T-shirt up and tie the ends together to create a large doughnut shape. Comb through hair to make it neat and smooth, and then part it into sections. Loop these sections into the makeshift T-shirt doughnut and secure it with bobby pins. After a good night's rest, carefully unwrap and remove the pins to unveil voluminous, bouncy curls. 
Best For Loose Effortless Waves: Braid Your Hair
You can never go wrong with this classic method for some effortless heatless curls. As long as you know the basics of braiding, you're pretty much all set! Plus, you get to rock an ultra-cute hairstyle too while going about your day. Make sure to apply a smoothing hair oil to tame any unwanted frizz and follow up with a texturising hair spray. 
Learn

How To Curl Your Hair

Without Heat For Healthier Locks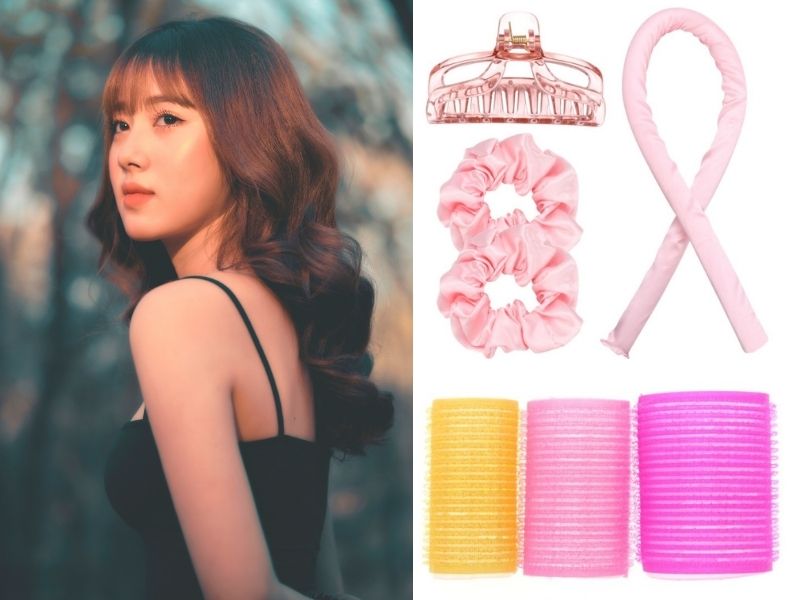 From #hairtok hacks to braiding, there are so many methods that can help you learn how to curl your hair without using any heat! That said, there are also days when you just can't beat the convenience of curling irons. We've broken down all the different types of hair curlers in our guide here to help you find your best fit.