We are well aware that donating blood is for the greater good, and while there are many who stepped up to do the deed, the collective effort isn't quite enough to fill up our country's blood reserve. Back in 2020, the Health Ministry called on Malaysians to donate blood as the country's blood banks were running worrying low due to movement restrictions imposed to curb the pandemic. And earlier this year, the ministry had again issued an urgent plea for donors with certain blood types. Now that life is almost returning to normal, there is no better time to offer your life-saving properties to replenish the stock. If you are keen to donate your blood in Malaysia but have some questions, here are the important bits you need to know about blood donation in Malaysia. 
What Are The Requirements For

Donating Blood In Malaysia

?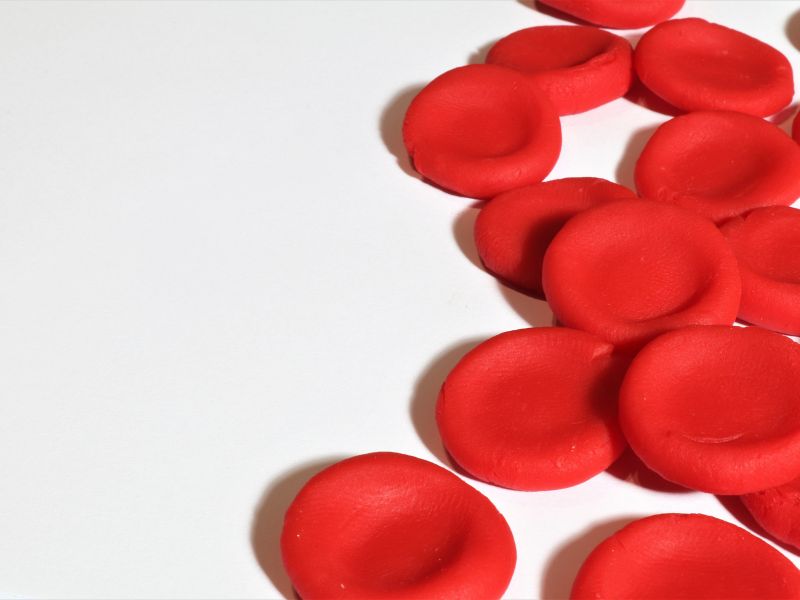 First off, not everyone is eligible to donate blood as factors like age, body condition, and lifestyle come into play. To be eligible to donate blood in Malaysia, here are the requirements to follow:
Be between 17-70 years old 

Weigh no less than 45kg

Be in good health and have no health issues/medical illnesses

Not be taking any medications

Have a minimum of five hours of

sleep

and must have taken a meal within four hours before donating blood

Not involved in any high-risk sexual activities, have multiple sexual partners or be in a homosexual or bisexual relationship

Not be taking any drugs via the intravenous method

There are also a couple of things to note for new donors, on top of the requirements above:
Be between 17-60 years old
Those aged 17 are required to produce a letter of approval from their parents/guardians
Meanwhile, those between 61-70 years old will need to undergo yearly health screening
For females who wish to donate blood, you must also be:
Not pregnant

Not breastfeeding

Not having

menstruation

. But if you are,

you can only donate blood from the fourth day onwards after menstruation commences.
Who Cannot

Donate Blood In Malaysia

?
Unfortunately, certain health conditions render a person not fit to donate blood. You are ineligible if you have the following (not limited to):
Cold, sore throat, fever, or flu

Chronic infectious disease

HIV

Haemophilia

Hepatitis

Cancer
Can A Tattooed Person

Donate Blood In Malaysia

?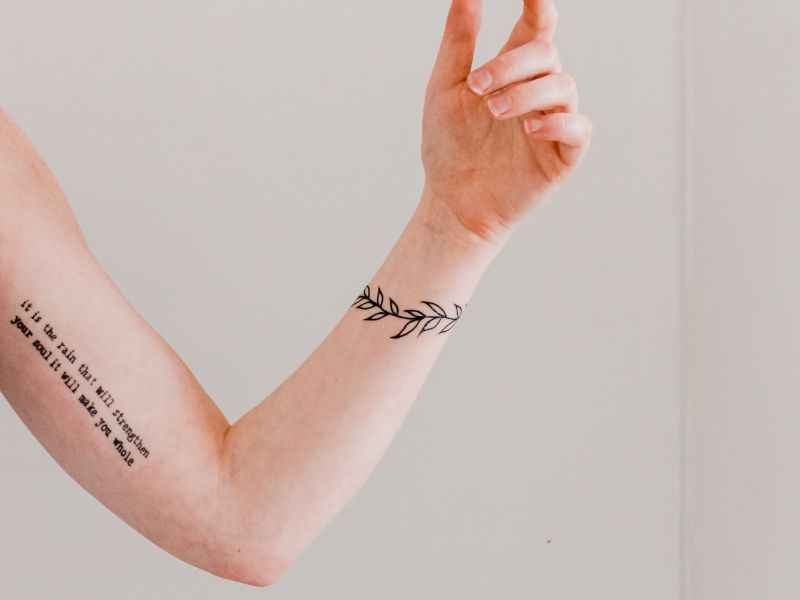 A good rule of thumb is you should refrain from donating blood if your tattoo is less than three months old. According to the World Health Organisation, you can only donate blood six months after the date of your tattooing procedure.
The same goes for body piercings. 
What Do You Need To Bring Along For Your Blood Donation Appointment?
If you are eligible to donate blood in Malaysia, you will need to bring one of these original documents to the blood donation venues in Malaysia:
MyKad/Identity card

Malaysian driving licence

Working pass with your MyKad number and photo

Student pass with your MyKad number/passport number and photo

(For foreigners) Passport

(For repeat donors) Blood donation booklet with your photo
Do note that for foreigners, you must have resided in Malaysia for more than one year and have a fixed permanent address.
Additionally, here are some tips to prep you before going to your appointment:
Consume iron-rich foods such as fish, red meat, poultry, spinach, and beans while avoiding fatty foods such as hamburgers, fries, or ice cream
Stay hydrated

Get plenty of sleep the night before

Wear comfortable clothing. Ideally, a shirt with sleeves that can be easily rolled up.
Where Can I

Donate Blood In Malaysia

?
Ready to donate? Awesome! But don't know where to start? No worries! You can visit one of the establishments listed below to kickstart your blood donation effort in Malaysia.
1.   National Blood Centre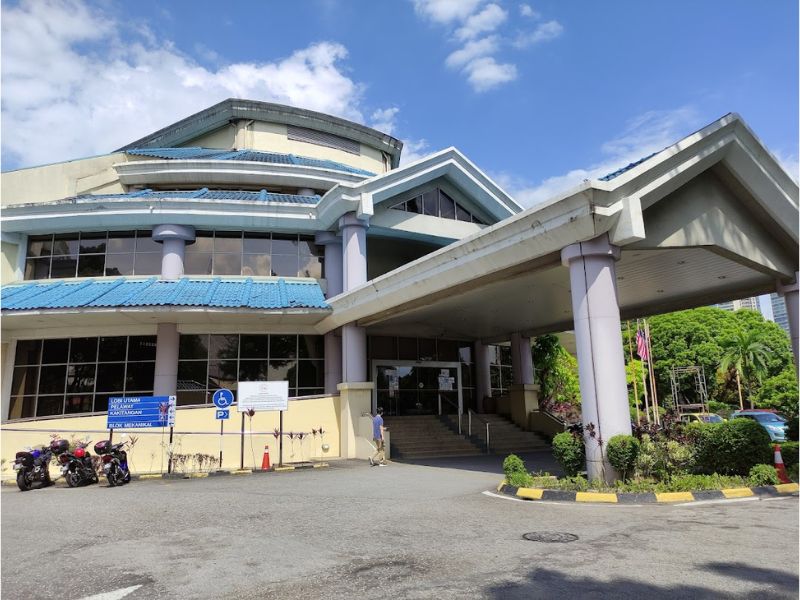 The National Blood Centre is the country's premier blood transfusion, medicine, and transplant establishment. The centre is located next to the National Art Gallery and is a stone's throw away from Taman Tasik Titiwangsa.
Address: Pusat Darah Negara, Jalan Tun Razak, 50400, Kuala Lumpur
Opening Hours:
Mon – Fri: 7.30am – 8pm
Sat – Sun: 8am – 4pm
Contact: 03-2613 2688 l pdn@moh.gov.my
2.   Pusat Darah Negara Donation Suite – Mid Valley Megamall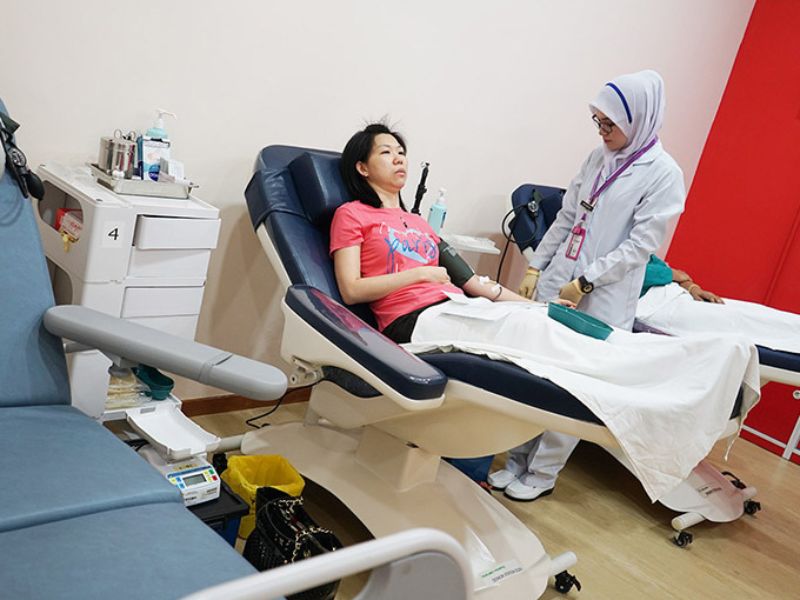 You can drop by the PDN donation suite in Mid Valley Megamall to donate your blood while you're out for shopping and entertainment in one of Klang Valley's largest shopping malls.
Address: T-063, 3rd Floor Mezzanine (Next to Daiso Japan), Mid Valley Megamall, Lingkaran Syed Putra, 59200 Kuala Lumpur
Opening Hours: Daily, 10am – 9pm
Contact: 03-2280 0349
3.   Pusat Darah Negara Donation Suite – Puspanita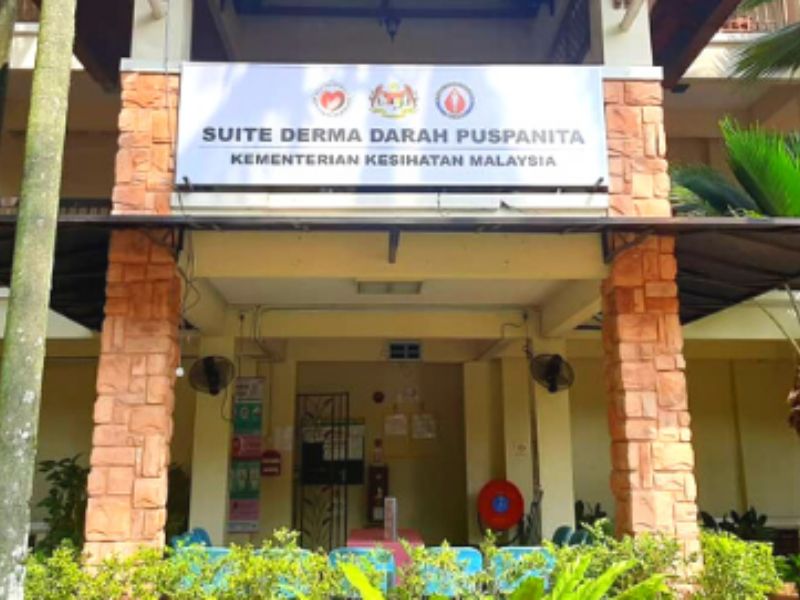 For those staying in Putrajaya, Cyberjaya, or the surrounding area, you can head over to Puspanita which has a donation suite to facilitate blood donation.
Address: Lot PT 2280, 2283, Persiaran Seri Perdana, Presint 10, 62000, Wilayah Persekutuan Putrajaya
Opening Hours: Daily, 10am – 6pm
Contact: 03-8881 0084
4.   Selected Government Hospitals
Alternatively, you can visit certain government state hospitals with blood banks that accept donations in Malaysia.
Hospital Sultanah Aminah (Johor Bharu)

Hospital Tuanku Jaafar (Seremban, Negeri Sembilan)

Hospita Melaka (Melaka)

Hospital Tengku Ampuan Rahimah (Klang, Selangor)

Hospital Raja Permaisuri Bainun (Ipoh, Perak)

Hospital Sultanah Bahiyah, Kedah (Alor Star, Kedah)

Hospital Pulau Pinang (Pulau Pinang)

Hospital Tuanku Fauziah (Kangar, Perlis)

Hospital Raja Perempuan Zainab II (Kota Bharu, Kelantan)

Hospital Sultanah Nur Zahirah (Kuala Terengganu, Terengganu)

Hospital Tengku Ampuan Afzan (Kuantan, Pahang)

Hospital Umum Sarawak (Kuching, Sarawak)

Hospital Queen Elizabeth (Kota Kinabalu, Sabah)

Hospital Labuan (Labuan)
5.   Blood Donation Drives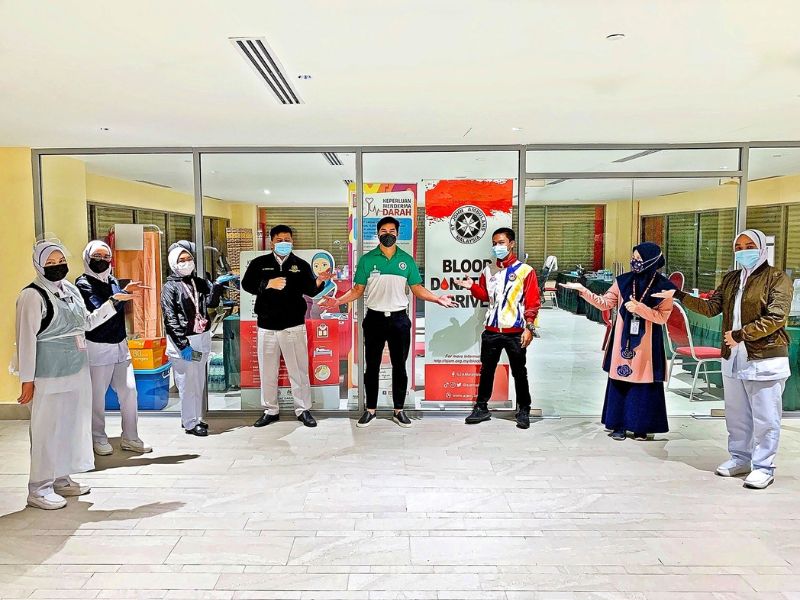 Blood donation drives are occasionally held at places with a lot of visitors, such as shopping malls and learning institutions. While some may be temporary, some appear to be long-term events, such as the one at 1 Utama Shopping Centre. You can go to the website BloodGo to find out about blood donation events happening near you.
Digital Blood Donor Card Now Available In MySejahtera App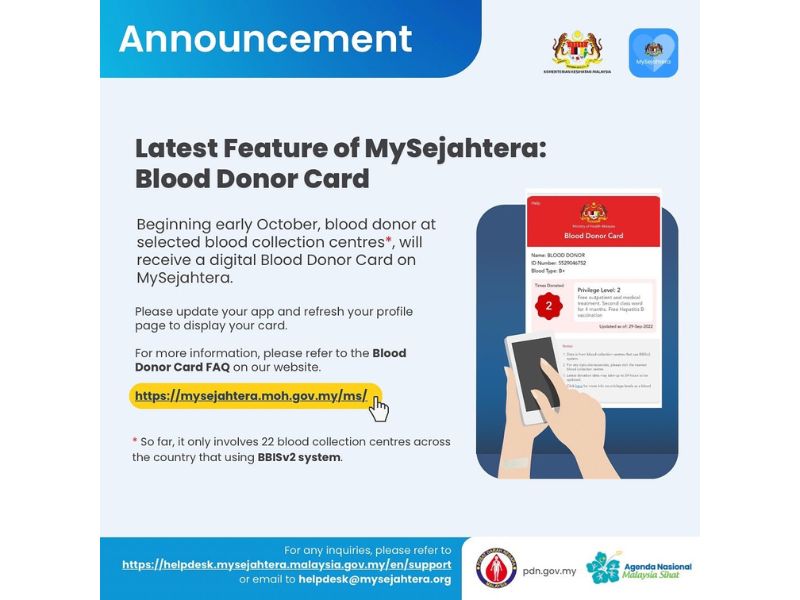 If you have previously donated blood in these selected blood donation centres in Malaysia, you can now have your digital Blood Donor Card displayed in the MySejahtera app! Update your app to the latest version, and refer to this FAQ page to learn more.
Donating Blood Not Only Save Lives, But Is Also Beneficial To The Donor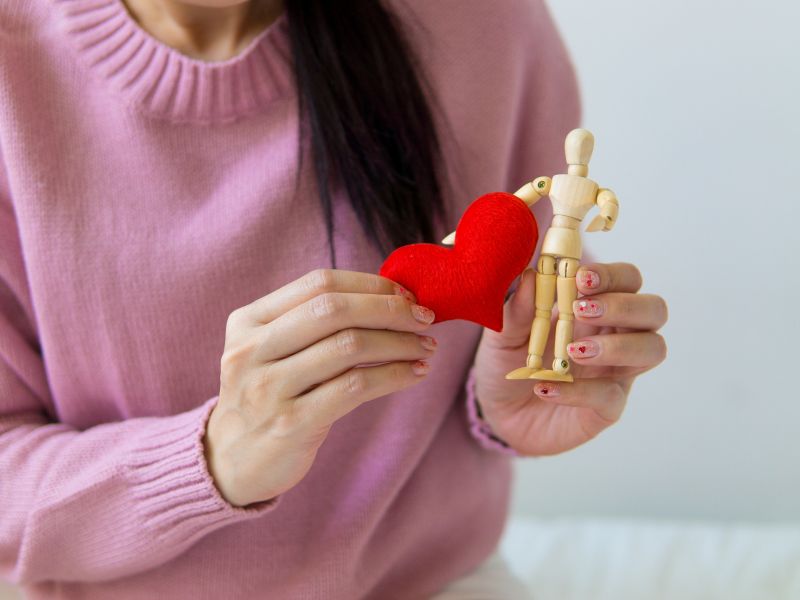 It takes just a few minutes to donate your blood, and those few minutes can help save up to three lives. What's more, donating blood can help reduce stress, improve your emotional well-being, and may even lower your blood pressure and the risk of heart attacks. It is never too late to start donating blood (unless you are above 60) so plan a visit to a blood donation centre in Malaysia to donate your precious blood!